Tropico Mobile Test – One Tropico 3 to go, please… – Review – The Tropico Game App for iOS and Android
The Tropico Mobile Test – The Tropico Mobile Game App for Android and iOS in Review (German/English, Video with many subtitles). Feral Interactive has converted Tropico 3 for mobile devices like mobile phones and tablets, iPhone and iPad. In this video we watch the app, I introduce the game and tell you something about my opinion.
Switch Dark / Light Mode:
---
This article is available here as a text, but there is also a YouTube video (German Voiceover, with subtitles in many different languages). So you can choose how you want to enjoy it.
Tropico Mobile Review – Video
(German Voiceover, with subtitles in many different languages)
Tropico for Android and iOS Test – Intro
Moin Moin, here's the Zap. In this episode, I introduce the mobile game Tropico. This was released some time ago for iOS and Android and has just been extended with a free AddOn. I'll show you what the game can do, how it works and at the end give my opinion and a rating. Above all, I want to give you the necessary information that you might need to decide for yourself if the game could be something for you or not.
The publisher has kindly provided me with a free test sample. However, this has no influence on my report and my evaluation.
Tropico Mobile – Prologue
Tropico is a franchise that has existed on the PC since 2001. There are now six parts of the series and all are quite popular. Some have also appeared on consoles such as Playstation 4 and Xbox One. Now Tropico is also available in a mobile version for the first time.
Remark about me: I am "still" no expert for mobile titles, but I play more and more on mobile devices and I also have a lot of PC gaming experience. However, mobile games are becoming more and more important for the market and on the other hand also more mature and complex games. They are developing at least partly away from Clicky strong-colored cash shop stalls towards real games. That's why I think that some of the better games deserve a detailed review.
Tropico Mobile – What's so special about it?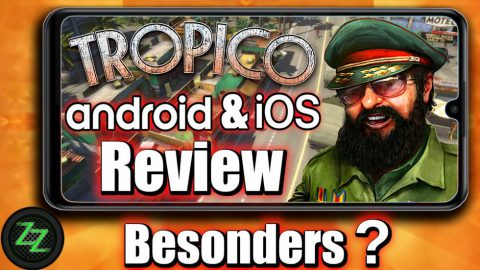 With the variant of Tropico for mobile devices, developer Feral Interactive and publisher Kalypso Media have taken an unusual path in many ways.
For one thing, Tropico, unlike almost all mobile games, is a full-price game. This means you buy it once for a fixed price and then you own the whole game.
So there is no in-game shop, no other monetizations, no content behind paywalls, and no artificial time delays that you can buy away for real money. All these features are otherwise included in almost every mobile game.
These somewhat shady monetizations have also earned the mobile games market a pretty bad reputation. And Kalypso deliberately goes a completely different way here. That's something you have to mention urgently and I would like to praise it especially.
The next special feature is that the game can be played offline. No permanent online synchronization is required, no game abort in the radio-hole. Even if the data volume should be empty, Tropico still runs, and you can have fun in the Caribbean. Once installed, the game only needs an online connection from time to time for a possible update or for a backup of the save games in the cloud.
And then the present Tropico version is an unexpected backflip when you look at the actual series. While on the PC, Playstation and XBox El Presidente the sixth version of the game already suppresses its underlings, Tropico Mobile is a very exact implementation of Tropico 3 from 2009.
Reading recommendation:
Tropico 6 Tips and Tricks (Part 1/3)
Tropico 6 Gameplay Videos (German)
Brief – Summary Tropico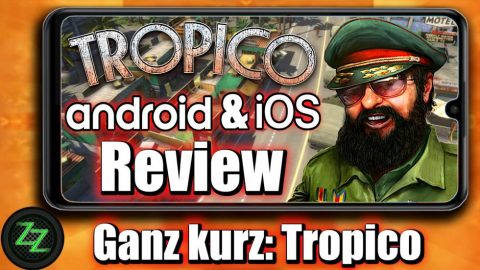 If you have never heard of Tropico before, a very brief summary of what Tropico is all about.
Tropico is a satirical simulation of states with a high economic share, but also numerous political and social aspects. It mainly takes place during the Cold War period, but also, depending on the series, has some side trips back to the time of the conquest of the Caribbean or into the future.
We play El Presidente, who with the support of his advisors Penultimo or in this part Juanito governs his people, pampers, or suppresses, depending on the situation or preferences. We are responsible for all construction work on the island, all political decrees, all diplomacy.
And so, on the one hand, we have to keep an eye on our treasury, but also balance the mood among the people and the mood of the superpowers. Ideally, we always put some money aside to replenish our bank account in Switzerland. And all this without being voted out or chased out of the palace by rebels.
Tropico Mobile Version Review – Technology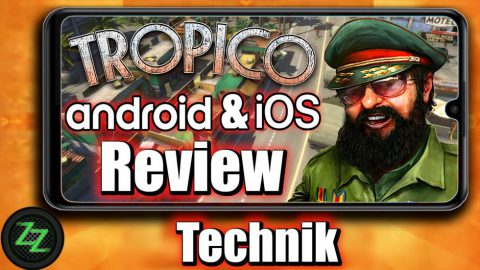 Transferring a game that is actually played with a mouse and keyboard to the small mobile screen that is operated with touch control requires special adjustments.
The camera control is completely controlled with one and two-finger swiping gestures. Whether panning, zooming, or tilting the camera, everything is easy to control after a short learning phase.
On my test device, a Huawei P30, everything ran absolutely smoothly. And this even though the program told me that my device was not compatible. On top of that, I chose the fullscreen mode, where the program warns me again that unexpected errors could occur. But everything ran smoothly and without any problems except for small camera hoppers.
The menus are almost 1:1 comparable with the PC version, but for my taste, they partly take up too much space on the screen. In some submenus, as for example in the building settings, one sometimes has to scroll around in small areas to find the desired information or options.
Some important things are rather hidden in the menus. But with some playing time, you will get used to the nested menu construction. This is at least partly due to the small space on the screen.
Here the developers had to compromise between ease of use and legibility of the menu items and the possibility of still being able to operate the menu items even with larger fingers. I understand that, even if it is sometimes a bit of a search at the beginning to find certain options.
But now it is difficult for me to judge how well this works for newcomers. Because I knew about most of the game elements that they should have certain options and then I searched for them. But I can't say how well it works when a newcomer tries out the game without this pre-knowledge.
Tropico Mobile Test – Construction Mode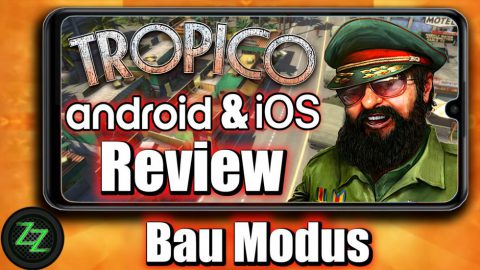 The developers have introduced some particularly complex innovations into the construction mode. After all, touch control is far less precise than clicking with a mouse.
In order for this to work better, there is a grid view in which the world is displayed vertically from above in a kind of blueprint. But also in the 3D view, there are some new control elements, like arrows to rotate or automatic docking of houses that need street connection.
On the whole, I find this part very well done. It takes some getting used to, but then it's almost always easy to put your buildings exactly where you want them to be.
---
Tropico Mobile – Gameplay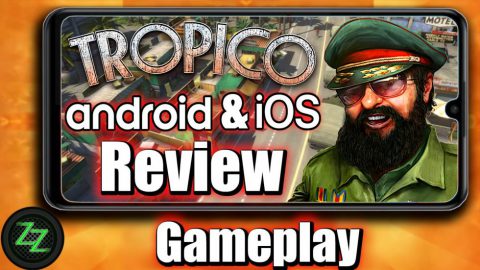 Anyone who is familiar with Tropico will feel right at home here. And those who also remember Tropico 3 will recognize that this mobile offshoot is an almost 100% implementation of the original Tropico 3.
The campaign missions, the voice output, the music, the tasks, the problems of the inhabitants, everything is as you know it from the PC game. And if you don't know the original game, there is a tutorial and an extended tutorial mission. These provide a nice introduction to the interface and the game itself. Almost everyone should be able to cope with it.
---
Tropico Mobile Game Review – Scope and Features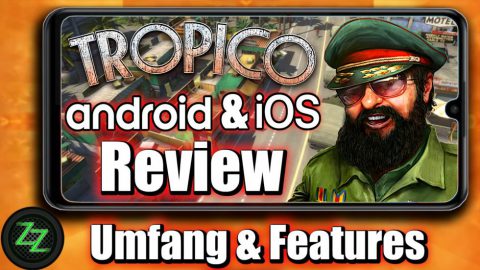 Tropico Mobile offers the complete Tropico 3 campaign with a total of 15 complex missions and 10 additional missions from the Absolute Power DLC of the original game. With these 25 missions alone, you can probably have well over a hundred hours of fine dictator fun.
And if that's not enough, there are 28 Sandbox Mode cards to choose from. Here you can make numerous specifications for the start and finish conditions so that there is also a high replay value.
There's a long list of successes or achievements that create additional incentives for players who want everything to be complete.
---
Tropico for iOS and Android Test – El Presidente
We can choose our own dictator from a variety of known dictators of world history. There are personalities like Che Guevara, Fidel Castro, Pinochet, Peron, and also some fictional figures to choose from.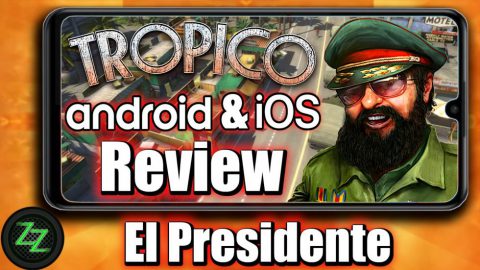 As befits Tropico, we can also create our very own El Presidente with numerous costumes, hairstyles, hats, and accessories according to our ideas. Even female dictators can oppress their people here.
In addition, the game, like its role model, offers the possibility to select several settings for the background story for our El Presidente. There are a number of different choices for how we came to power, negative traits like alcoholism or gambling addiction, miserliness, or paranoia. And each option has specific advantages and disadvantages that can have a strong impact on the gameplay.
---
Tropico Mobile App – Opinion and Conclusion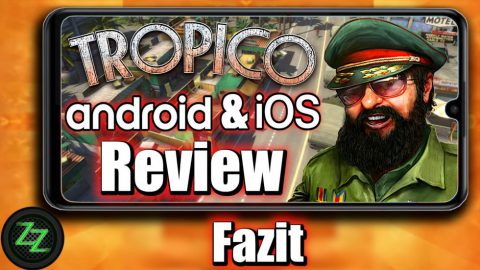 When the game was announced a few months ago, I was fascinated by the idea of getting a game for mobile phones that doesn't require a cash shop or in-game monetization. At first, I was rather skeptical whether Kalypso would keep its word here. Just buy the game once and everything is included. Kalypso kept their word, thanks for that.
When the game came out, the hardware requirements were far beyond what my mobile phone at the time could provide. Now with my new P30, I can finally enter the mobile dictator world. And I am amazed.
Speaking of devices and which device can start the game. The game does not run on every device. There is a compatibility list of which devices Tropico can play, but it doesn't seem to be complete. When I started the game, I was told that it is not supported. But it still works great.
All predecessor models are on the list, but the current device versions were simply not maintained. This list should be kept more carefully and updated regularly by the developer. Otherwise, you might think like a customer, "Oh, my phone is not on the list, then I'd rather not buy it".
I played through Tropico 3 several times on my PC. Even if the successors sometimes had better graphics or more buildings and options. Tropico 3 was a special milestone of the series, and I'm very happy that it has been converted. Ok, but for someone who didn't know Tropico 3 before, this probably doesn't play a big role.
In general, one can say, "Hats off, well done Feral Interactive". I haven't seen such an accurate and complete conversion of a PC game to a mobile device before.
And the adaptations of the control system to the completely different control system have also been very successful, except for a few outliers. Sometimes the camera suddenly jumps across the island. It's not clear to me where this camera jumping comes from, it's annoying at that moment, but it's not really bad.
Sometimes setting the buildings in 3D mode is a bit tricky, often my own fingers are in my sight. But for that, there is the new 2D Planner mode, which solves the problem very comfortably. From time to time, a menu will close unintentionally or a construction process will be aborted.
The menus are too nested in some areas. Here we tried to use the limited space effectively. Unfortunately, the more important elements are placed further back, so that you have to search for them. And beginners may not even be able to find some options.
But for me, at least, these are small things. This annoys me for a moment when it occurs, but don't cloud the fun in the long run. That's why that's actually complaining on a high level.
Otherwise, the proven Tropico system also works perfectly on mobile phones. And even though I already know the levels from the original, I really enjoy it.
And for the moments when you're on the road or waiting for something, it's a great activity. It's not a Click-Here and Click-There a Little Bored Mobile Game, but a complete and complex construction game. Much better than almost anything I've ever played at mobile games before.
Tropico Mobile Review – Rating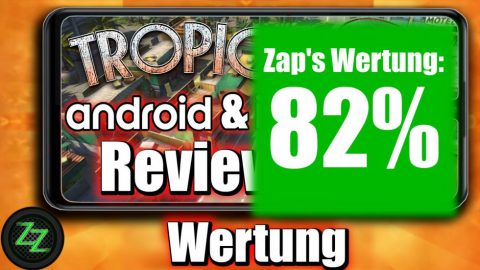 For €12,99 you get here a very extensive product. If you like city building and management games, Tropico Mobile is a great thing. For a medium price, you get a very well-rounded and complete game with which you can have many hours of fun. So the price-performance ratio is definitely very positive.
For a somewhat outdated basic game that already belonged to the good games of its genre at that time, I set a baseline score of 85%. For the recycling of old PC content, I deduct 5% and for the not quite perfect control and the complicated menu design, I deduct another 3%. The exceptional positive feature is that there is no cash shop, and it is a complete Pc game implementation with very long playability, this gives 5% as a bonus on top.
This results in a final result of 85 – 5 – 3 + 5, so at the end that will be an 82% rating. I hope that I can see more such mobile titles in the future, as Feral Interactive has demonstrated here.
Tropico Mobile App (Android / iOS)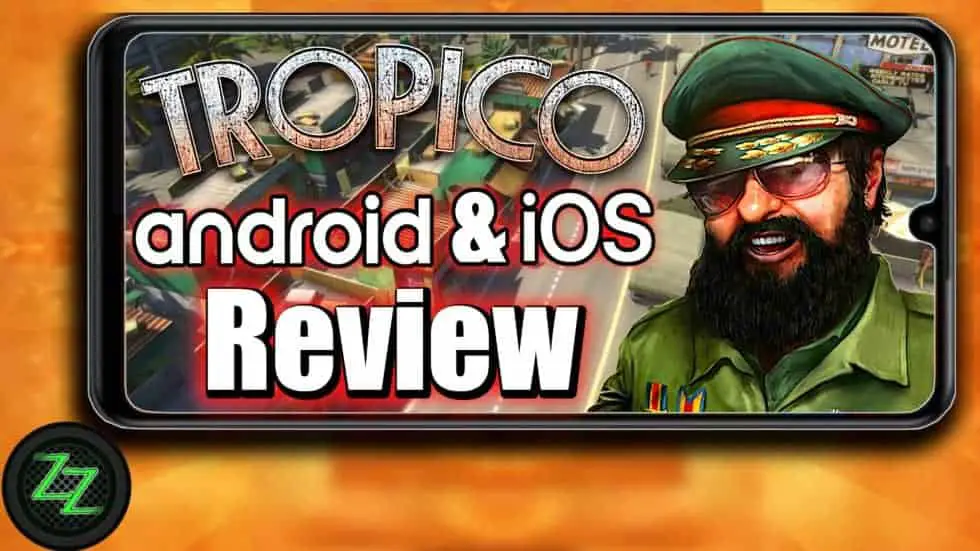 The Tropico Mobile Test – The Tropico Mobile Game App for Android and iOS in Review (German/English, Video with many subtitles). Feral Interactive has converted Tropico 3 for mobile devices like mobile phones and tablets, iPhone and iPad. In this video we watch the app, I introduce the game and tell you something about my opinion.
complete PC game on Mobile
Adaptation for Touchscreen steering
List of compatible devices not correct
Summary
For 12,99€ you get here a very extensive product. If you like city building and management games, Tropico Mobile is a great thing. For a medium price, you get a very well-rounded and complete game with which you can have many hours of fun. So the price-performance ratio is definitely very positive.
Outro
How do you like what you have seen about Tropico Mobile so far? Have you already played the game or would you like to buy it? Do you have any questions about the game? I would be happy to receive any comments and discuss them with you.
Then I wish you a great day, let it be well with you, ciao ciao, your Zap
Links:
Release Trailer: https://youtu.be/YmhwPB_ZqBk
Publisher Website: https://www.feralinteractive.com/de/mobile-games/tropico/
Tropico Mobile in Google Store: https://play.google.com/store/apps/details?id=com.feralinteractive.tropico3&gl=DE
Tropico in Apple Store: https://geo.itunes.apple.com/app/tropico/id1264531625?mt=12
Reading recommendation:
Tropico 6 Tips and Tricks (Part 1/3)
Tropico 6 Gameplay Videos (German)
---
Reading – recommendations:
A lot of detailed game news and information about games and gaming can always be found here at ZapZockt.de – As a Steam user, you can also follow the ZapZockt Steam curator to always be informed about my reviews directly on the platform.
There are also many game reviews that might interest you, and if you don't want to miss anything, subscribe to the newsletter. As a Google News reader you can also go there and read the latest articles.
Shopping – Tip:
Ad / Affiliate Link
Games can often be bought cheaper. Legal, reliable and safe is the way to do it at my partner site Gamesplanet. This game, all DLCs, many more tactics, strategy, and many more titles are available there and almost always much cheaper than at Steam, Uplay, Epic, or other shops.
For every purchase, via this link, I receive a small commission. So you get games cheaper and at the same time support my work, my thanks in advance for that.