In the action role-playing game Forspoken from Square Enix, we travel with Frey to a fantasy world and learn fantastic magic and parkour skills to defeat chaos and find a way home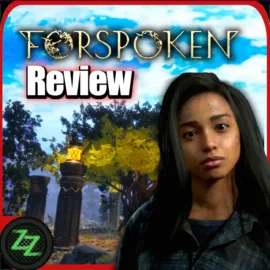 In this Forspoken Test / Review (no Let's Play) you will get everything you need to know about the Action RPG with Open World Gameplay. There have already been a lot of uproars, and I'll tell you my opinion after more than 30 hours of play. Forspoken came out with a release date of 01/24/2023 for PlayStation PS5 and PC on Steam and the Epic Games Store.
This post is available here as text and as a YouTube Video (German Voice-Over, English Subtitles). So you can choose how you like to enjoy it most.
Forspoken Review Video
German Voice-Over, many subtitles
Forspoken Review – Intro
Hi there, this is the Zap. In this Forspoken Review, you get a little insight into the new fantasy role-playing game with action-combat and all kinds of criticisms, which already went through the media in advance. I'll tell you how it is played, and what's in it, and at the end, you'll get a rating from me. But most of all, I want to give you all the info, so you can decide for yourself if you might enjoy the game.
Forspoken was developed by Luminous Productions and published by Square Enix. So far, there is already one more popular game from this studio, Final Fantasy XV. I received a free test key, my thanks for that. However, this should not affect my review, as I always test all games with the thought in the back of my mind, how would I feel if I had paid full price.
Background – Hardware Minimum and critique about the game upfront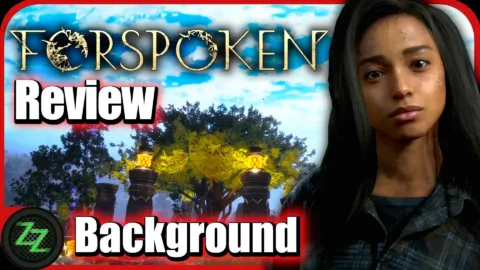 This time, a few very important things first, because Forspoken is a highly controversial title. Therefore, it is, unfortunately, necessary to first address why the game is so hotly debated and what that means for this review. All in all, this also makes the review a bit longer than usual. If some points don't interest you, you can use the chapter markers to switch between the topics.
Point 1: This is a review of the PC version.
All technical details cannot be transferred 1:1 to the consoles. It is definitely not a game for weak hardware, the minimum requirements show that, but also my experience confirms that. At least, the hardware has a very strong effect on the beauty of the world. And with 97 gigabytes download size and unpacked 121 gigabytes space requirements, even downloading is already a challenge for slower internet lines.
I tested the game on two quite different systems. On the one hand, my main computer is an R9 3900X paired with an RX 6900 XT. I also tested the game on an older R7 2600x with an Nvidia GTX980. It turned out that especially graphics memory is a limiting factor. GPUs with 8 GB video memory or less have problems with the texture size of the game, and Radeon GCN cards, i.e. RX 580 and older, cannot render the game at all.
My 3900x with 6900 XT graphics card manages 50 to 60 FPS with ultra details and ray tracing shadows in 1440p. This also corresponds to the gameplay scenes shown in the video. This graphics level is quite a bit higher than the console quality, but it also requires hardware that is probably a bit more expensive than the purchase price of a console. If you want to play this game on 4k without upscaling, then you really need the latest and correspondingly expensive hardware.
However, you can get quite a bit of performance out of it by turning down options and adapting it for smaller PC hardware. Forspoken also offers extensive possibilities for this. However, this is only possible within limits, and then the graphics quality quickly suffers massively. I also noticed this with the 2600x/980 combo.
To achieve 1440p on the slower device, I had to turn the game down to medium and use upscaling. And then, unfortunately, some pretty details are degraded to pixel mush and garnished with mud textures. I'd rather not even talk about the isolated spots that aren't that nice, even with high details.
This is apparently also the case with the console version. However, I don't have first-hand experience, so I'll refer to an analysis video from the English-language YouTube channel Digital Foundry, which I can highly recommend. On the PS5, FSR upscaling and no ray tracing shadows are used to ensure halfway performance.
Disappointingly, the PlayStation 5 probably reaches some technical limits, and Forspoken doesn't look as nice in many scenes there. And of course, there were some moderately pretty screenshots shown around in the press and social media beforehand. But I don't want to say more about that, since I haven't tested the version myself. Everything that follows is related* to the PC version.
Point 2: There was controversy surrounding the game in the run-up to this because Square Enix probably didn't send pre-test samples to some of the larger gaming media. Instead of a test report, there were some negative opinion pieces that put the game in a negative or at least very dubious light even before release.
When publishers delay review samples like this, especially for a game that can easily have more than 30 hours of gameplay, it has often been a sign in the past that the game was not yet presentable. And that it might contain bugs or quality flaws, where people are afraid that this will become known too soon. This has been publicly addressed and fundamentally rightly criticized, but some have then also overdone the clickbait a bit.
I also only received my test sample 2 days after release, and accordingly, this review, as I would like to test the game intensively, will appear about a week later after release. And after such a period of time, due to the fast pace of the media and the quickly decreasing attention today, there is probably little interest left. But I wanted to do it anyway because I wanted to form my own opinion in any case. To do this, I completely avoided all other reviews in advance, as far as I could.
Point 3: Then followed another negative pre-campaign, because the main character is a black woman, and this was interpreted as a political agenda by corresponding circles. The game was accused of "wokeness" and it quickly moved into the political, to which I will say nothing more than that the game itself just tells a non-political fantasy story. But of course, this led to more negative headlines surrounding Forspoken.
Point 4: Then comes more trouble, because right after release there were clips of somewhat strange-looking dialogues to be seen, which were heavily criticized. If you mistakenly think that it's a pure medieval fantasy game, you might conclude that these somewhat out-of-context lines contain inappropriately modern language, often interspersed with swearing.
However, if you take into account that the main character comes from our world, grew up more or less on the streets of New York, and then is only thrown into the fantasy world involuntarily through a dimensional rift, the language then actually seems completely appropriate.
Point 5: Finally, the price of $80 or €, which is much higher than the previous price level, has caused strong emotions among potential buyers. If you compare it to the common $60 price range for AAA PC games before, that's a massive 30% price increase.
Combined with all this negatively charged press, it was already a tough start for Forspoken. Even though much of it was hyped up and greatly exaggerated for clickbait reasons, some criticism can't be completely dismissed, but more on that later.
One more note on the structure of this review. Normally I put my personal opinion mainly in the conclusion, but in Forspoken a lot of things go differently than expected and unfortunately so much goes wrong that this time I will always go straight to it when I address an element.
Forspoken Gameplay Screenshots – Ingame Pictures (Part I)
Click or tap on the image for a larger view.
In the enlarged view, you can scroll right and left on the edges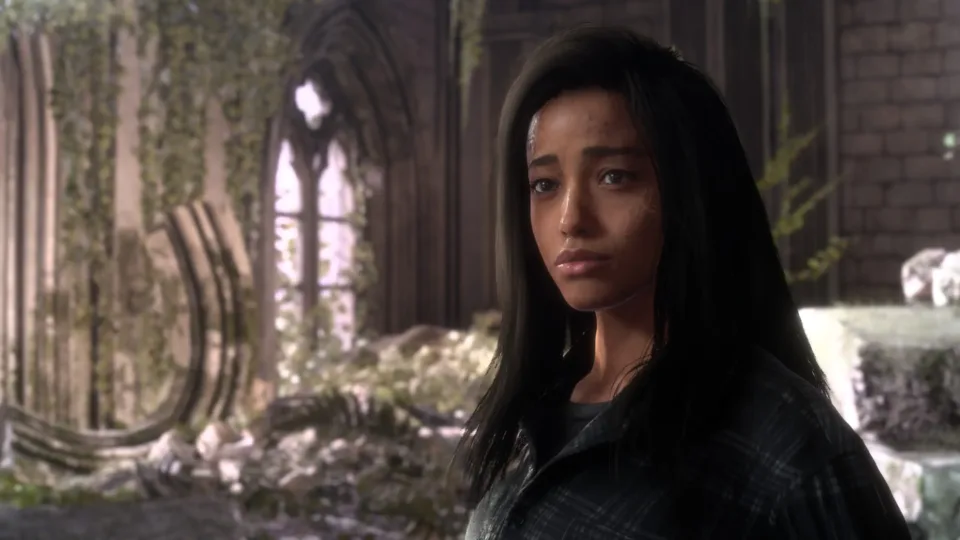 Game Type – Fantasy Action RPG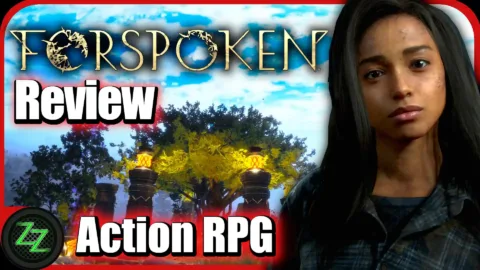 Forspoken is an action role-playing game with a moderate amount of story, though the RPG systems tend to be lighter in nature. There are no real decisions to make in the story, and there are no alternative storylines, in that area, Forspoken is completely linear.
Besides numerous completely scripted cutscenes with lots of dialogue, the gameplay consists mainly of exploration and often fast-paced and action-heavy combat. Here we combine Freye's newly acquired magical abilities as attacks, paired with the parkour skills that she has anyway, which she strengthens further via magic.
There is limited equipment to be found, and it can be upgraded somewhat, giving you a choice of various small stat boosts. Equipment can't be found from the normal enemies, they only drop upgrade material. Instead, there are special dungeons and challenges where you get an item as a completion reward. And in rare cases, main quests also give items or new game mechanics.
You get experience points and advance in levels. However, these character levels are relatively unused. You don't get any special bonus points when you level up, and you don't get a choice to increase anything.
The main way to improve your character is mana. This is available everywhere in the world, and you collect it by running through it. You also sometimes get some mana as a quest reward or in fights against stronger enemies.
Mana is invested in a kind of skill tree, which is almost exclusively related to spells. In the skills screen, you can decide relatively freely which spells you want first. However, at some point, you'll have them all, at least if you take the time to explore the corners of the game. Set mana points can be retrieved at any time. A few movement skills are included, but they are found in magic wells.
You shouldn't get confused at the beginning, because at first, it looks like there is a lot more mana to get in the game than you even need for the existing skills. But then suddenly you get completely different skill trees activated, in my case the second one came into play after more than 15 hours and that wasn't the last one.
There are other systems that improve our skills, like magic runes on our fingernails, shrines that improve stats when activated, or challenges that can be picked up at bookcases found in rest houses and guilds scattered all over the place, among other things.
These skill-related tasks give a boost to a stat or ability when you achieve certain goals, like "kill 100 monsters with an attack against their weak point".
Oh yeah, it's worth mentioning that there are sometimes little puzzles in the game. However, this is limited to a kind of lock picking, for example, to open doors or crates. In doing so, you have to solve a shifting square mini-game, which only occasionally provokes any real thinking.
All in all, rather little character customization is offered in the role-playing area. While there are many different systems that improve stats, and you can choose between different skills, there really aren't any other classes or completely different play styles due to different alignments of the heroine. So in this area, Forspoken is rather shallow.
Gameplay – Story and Characters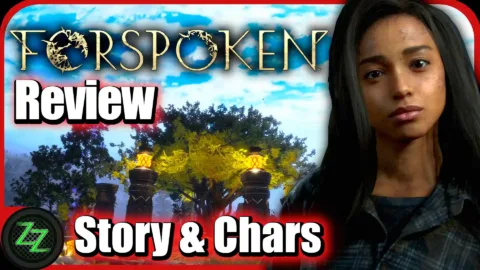 The storytelling in Forspoken is an interesting mix of fantasy and real-world. You start out as Alfre, or Frey as she is usually called, in present-day New York. There, the main character has absolutely no easy life, and after growing up without parents in shelters and with alternating foster parents, she quickly goes off the rails and has all sorts of problems with the gangs in her neighborhood.
At some point Frey gets caught up in the fantasy world of Athia, I won't spoil here how. She has a permanent companion in the form of a magical bracelet, which she intentionally calls a "cuff" even though he doesn't like it. Both come from different worlds, and both end up in Athia in a world where they both seemingly don't belong.
And both characters are thoroughly dissatisfied with their enforced community and often make sarcastic comments about it and about the other partner in this involuntary relationship. This results in some conversations that may seem odd if taken out of context and perhaps unaware that the characters speaking are not native to this medieval fantasy world. Mostly, though, it fits the characters and the circumstances of their journey.
Frey and Cuff often have conversations with each other about the events taking place, and since no one but Frey can hear the bangle's voice, this sometimes makes for additional quirky moments when bystanders react to their apparent soliloquies. The fact that she then often expresses herself in words that would be appropriate in her native New York makes for additional rough edges in her conversations with the locals. Overall, Cuff reminds me a lot of the talking skull from Torment, if anyone is still familiar with that today.
However, there are some oblique points in the conversations that can't be justified by this particular situation. And some characters from Athia are then again a very own category of strange. And here the texts of the dialogues then also fluctuate between completely okay, quite weird, absolutely inappropriate, or sometimes also empty and lifeless.
Crafting and Gathering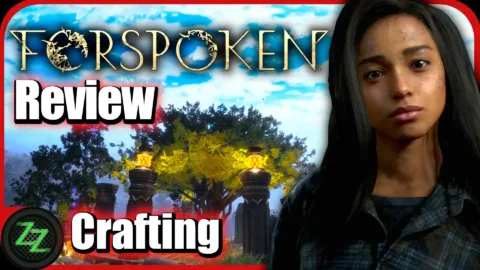 In the world of Athia we can find various herbs, all kinds of minerals, and ingredients with which we can brew healing potions or spice up our equipment a bit. For this purpose, there are workbenches in safe hiding places. There we can also increase the number of potion places and the inventory for materials.
As the game progresses, Frey learns even more ways to improve her abilities. For example, the Tanta, the great sorceresses of Athia, increase their power with magic runes on their fingernails. Frey learns this as well, and we can then make further adjustments to the character's stats that way.
There are all sorts of ways to customize one's equipment, but unfortunately, the range of changes to the character is very, very limited. So I also found an equipment setup for myself fairly early on that worked well. And after that, disappointingly, crafting got stale pretty quickly.
You can just collect tons of materials in the game, but most of those aren't really needed at all. Overall, this feature offers a lot of collecting opportunities, but it is then used far too little in the game. Much more could have been done here.
Forspoken Gameplay Screenshots – Ingame Pictures (Part II)
Click or tap on the image for a larger view.
In the enlarged view, you can scroll right and left on the edges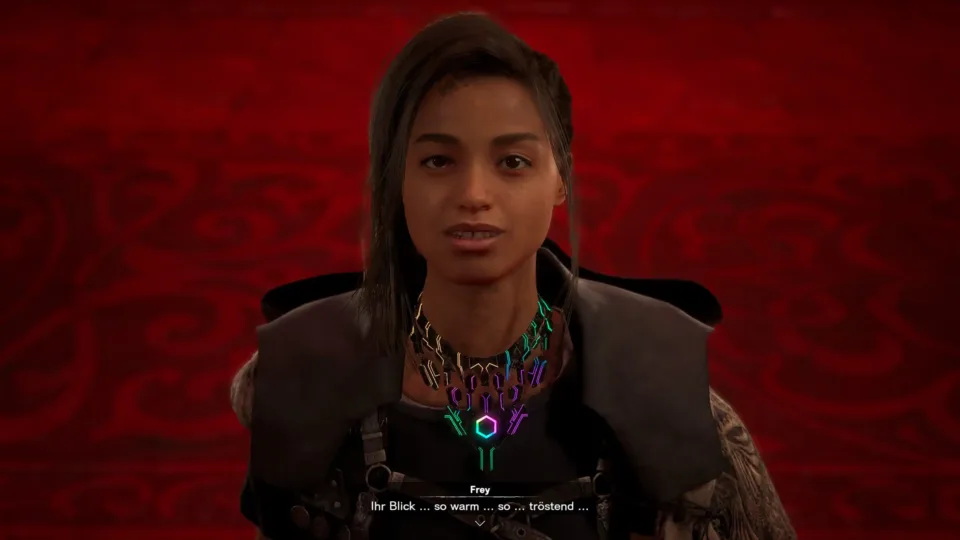 Gameplay – World and Level Design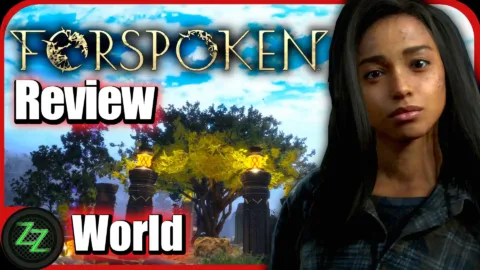 The world of Forspoken is divided into several different layers. On the one hand, there are the cities, then the open world, and on top of that there are small dungeons. So it doesn't offer a completely open world, but a large free world and separated areas that you enter through loading screens.
Outside of the towns, we have very free movement options. Frey can climb almost any mountain, jump into deep chasms and swim through the water thanks to her magically enhanced parkour abilities. The movement is fun and when the performance is right, the gameplay here is also very appealing to me. Far from perfect, but absolutely interesting and entertaining. I think this is the strongest part of the game and also what you spend the most time with.
The world is very jagged, and groups of monsters as well as special places are often set like little splashes of color in the otherwise moderately varied world. This feels okay in parts, but sometimes very stale, more like a role-playing game from the 90s. At least Frey can traverse these lands very quickly with her parkour skills.
However, if you compare it to the open worlds of more modern games like Skyrim, Witcher, Fallout, Cyberpunk, Far Cry, and the like, there the level design is more cohesive and there are a lot more unique locations.
In Forspoken, the landscapes also change styles and there are little things along the way everywhere that make traveling around more varied and interesting, but still, the world is highly repetitive. And the fact that you meet humans you can talk to almost only in the capital, with a few exceptions, doesn't help the world design either.
Here it's more like you're always traveling from one handmade point to the next, and the route in between is often rather uninspired and boringly designed. On top of that, buildings and assets are used over and over again in all games. In Forspoken, however, this is especially evident in the fact that entire houses, or I'll call them "event places", have been thrown into the world via copy and paste. There are quite a few of them, so it's not too noticeable, and there are also unique places every now and then. But still, there's a recurring "I've seen this house 10 times before" feeling, and that scratches at my desire to explore the world.
This is somewhat mitigated by found objects that you can collect. Mana points to learn spells, plants, ores, and lots of crates are scattered everywhere, so you get a little more motivation to look in every corner. However, as an explorer, you quickly have most of the materials in such quantities that there is no meaningful use for them in the game.
In each of the aforementioned dungeons, we have to pass several battles and a boss fight, and at the end, we get a piece of equipment and some story as a reward. This is quite a nice intermediate element, but not particularly innovatively designed in terms of the dungeon. The building elements repeat themselves over and over again and the structure of the "labyrinth" consists of a lot of 90-degree angles and almost linear traversal.
At least the boss fights are quite challenging and varied. And unfortunately, the equipment items are often hardly distinguishable from the other items and you rarely get a real "boost" from them. All in all, this dungeon feature seems artificial, not very exciting, and somewhat unnecessary.
Let's move on to the design of the towns and cities, and how you navigate through them. While outside, you're allowed to hop up walls super nimbly, with magic-enhanced parkour abilities, and sometimes glide through the air, the controls in the settlements are severely limited.
In the capital city of Cipal, as an extreme contrast, you are not allowed to use any parkour skills at all. Very often there are glass walls that block your passage or prevent you from hopping down somewhere, although it actually looks like you could go on there.
And then there are story sections, like the city tour by the craftsman's apprentice, where you are restricted even further and sometimes aren't even allowed to run or climb. It all feels very inconsistent and makes the experience in the capital an absolute low point in the game for me.
This is made even worse by the level design, which is too sterile and sometimes a bit lacking in detail. It's supposed to represent a run-down city, but there's hardly any trash, dirt, or even a mud puddle. NPCs barely move and mostly stand around in groups, and when they do say something, they usually utter insignificant one-liners.
Instead, Cipal consists mainly of completely clean stone elements, which are also at least partially designed with little love for the textures and often repeat themselves. There are corners, especially the lower city, that are very nice, and where the level designers have put a little more effort into it. But in many other places, this was not the case, and as an overall picture, it looks very strange and fragmented.
And there are some logical flaws, so you wonder what sense it makes to build a huge prison tower that actually only consists of an endless spiral staircase and a single prison cell at the very top. This tower, as well as some other lovelessly designed areas, make this city look flat and unbelievable.
Gameplay – Action Combat and Parkour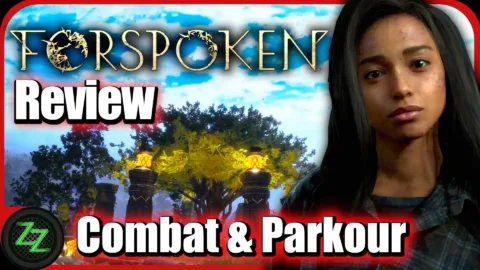 A real highlight in the game is the combat system. It's fast action and requires quite a bit of skill on the keyboard and mouse or gamepad even on the basic setting of the "Normal" difficulty level in order to defend yourself against the monsters with their quite individual attacks.
You have to constantly keep moving and depending on the opponent and the game settings, a fight can last between 10 seconds and a few minutes. Often you fight against single strong enemies, but also again and again against groups of animals or broken zombies, mostly 3-5, and sometimes even up to 50 at once. It's not so easy to keep track of the battlefield.
The combination of the numerous skills and Frey's magically accelerated parkour and dodging abilities takes a bit of getting used to. And overall, it often gets very hectic on the battleground.
But if Forspoken does anything right, in my eyes, it's these battles. I had a lot of fun here, it's sometimes difficult and challenging, but very rarely unfair, and with enough practice, you can get through most of the fights just fine.
If the game only offered this difficulty level or higher, fighting would certainly only be something for real action fans, gamepad specialists, or WASD acrobats. But since Forspoken offers an extensive range of customization options here, the combat is adaptable to any type of player, allowing anyone and everyone to find their own balance between challenge and fun.
Later on, when you have unlocked several magic schools, there are quite enormous combination possibilities. And each individual skill can also be upgraded, which in addition to the skill also strengthens the overall power, which I found very motivating. However, using the many skills requires some finger dexterity.
Visually, the combat is almost always something pleasing* to the eye, on high details the graphics engine really digs deep into the effects fireworks box. And as frustrating as Forspoken was in parts in other areas, it was these battles that kept the game fun for me, so I wanted to keep playing.
And exploring the world with parkour skills is another fat plus. Athia is an enormously rugged land. High mountains, deep valleys, jagged rocky edges, and a lot of stone pillars mean that you'll need Frey's special running and jumping abilities a lot.
There are lots of hidden resources, treasure chests, and special places that can only be reached with more elaborate jumping passages. And I had fun with that, too. I'm not usually a jump'n'run fan, but this form of 3D freestyle parkour with proverbial treasure chest carrots in front of your nose somehow resonated with me and then motivated and entertained me surprisingly well. But that is of course a matter of taste, like so many things.
Tech, Graphics, Sound, Engine, Translation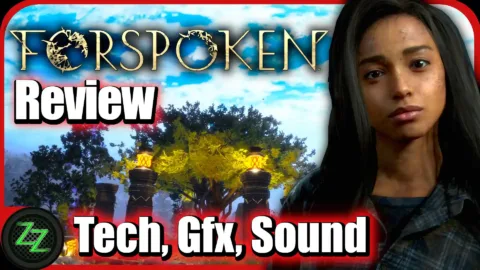 Forspoken was developed in the in-house Luminous Engine. It is basically capable of rendering very pretty landscapes and city scenes. However, it probably needs ray-tracing effects to render the lighting properly.
With ray tracing, Forspoken got a pleasant light and shadow play. But without it, unfortunately, it looks flat and somehow mislit in many places. As a result, it's not as nice to look at on weaker hardware and arguably on consoles as it should be. Combined with the highly inconsistent quality in the level design, this makes for some corners in the game that really don't look that good. And this is where the criticism of the game is often regrettably justified.
The 3D models are very detailed and the textures themselves are almost always high quality, if you can play with high texture quality and the engine gets the extensive data loaded fast enough. Otherwise, you often have mud textures in front of your eyes on smaller hardware, or a strange mix of HighRes and LowRes textures, when the system can't keep up with streaming the assets, which is then visually particularly negative.
Forspoken offers a new and very special technique to shovel the extensive data into memory, named Direct Storage. Roughly speaking, the game no longer has to make requests to the CPU to transport the textures and models from the drive, via CPU and RAM to the VRAM of the GPU, but the graphics card gets direct access to the drive. This works somewhat with HDDs and SATA SSDs, but this technology really trumps NVME SSDs.
And when direct storage works, it's very impressive. The loading time of a game state from the main menu directly after restarting the game is a maximum of one second from my NVME SSD, rather less. That is enormously fast and absolutely a technical masterstroke considering the data volumes.
Very commendable is the options menu section in Forspoken, whether it's gameplay and difficulty adjustments, graphics fine-tuning, or control configuration, there is hardly a feature in Forspoken that you can't change to your liking. This allows all types of players to play Forspoken, from the action hardcore fan to the easy-peasy relaxed gamer.
And with support for a wide variety of input devices and the extensive configurability of the controls, everything should be customizable even for gamers with physical limitations.
Let's get to the sound. I can only say a little about the music, I listened to 1-2 tracks on the menu screen, sounded quite nice. For the video recording, however, I play almost entirely without music, for copyright reasons.
The soundtrack of the game is okay in the combat area. The combat sounds and skills have adequate sounds, but nothing so outstanding that anything particularly stood out in my memory.
What I did notice, however, is that the environmental sounds and ambient sounds were unfortunately at a very low-quality level, and also fundamentally there was just far too little attention paid to background noise and general sound backdrop. This disappointingly makes for a feeling of emptiness and coldness in many areas of the game, and this again particularly negatively affects the capital city.
The quality of the voice acting is in the good middle-class range for my taste. For the quality of the texts that the speakers have recorded, however, they can do very little. And here there is a very, very wide field from profound and emotional moments in the main story to flat and inappropriate chatter at many NPCs in the capital.
The game offers 14 different language versions. Besides English, French, German, Italian, and Spanish, there are also variants in Arabic, Japanese, Korean, Portuguese, Russian, Chinese, and Thai.
Forspoken Gameplay Screenshots – Ingame Pictures (Part III)
Click or tap on the image for a larger view.
In the enlarged view, you can scroll right and left on the edges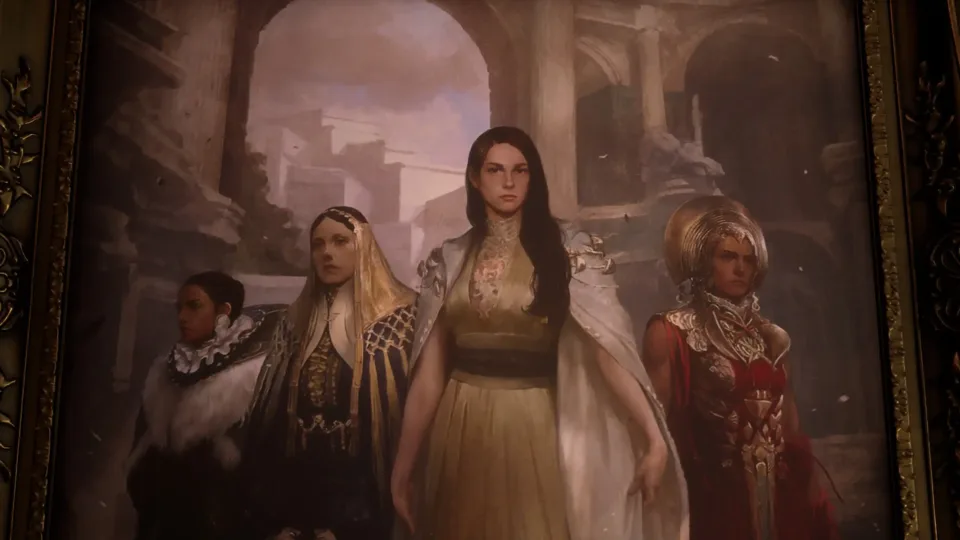 How well does Forspoken run on the Steamdeck?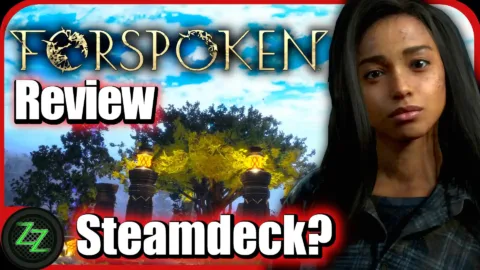 Currently, Forspoken is not officially optimized for Steamdeck. However, it is quite playable and with the 800p resolution and low details, also usable in terms of performance. However, it is only a short fun on battery power.
The few on-screen texts don't scale that well, but overall the gaming experience wasn't bad at all. There is certainly room for optimization, but Forspoken is also playable for Steamdeck players.
---
Forspoken Test – Opinion and Conclusion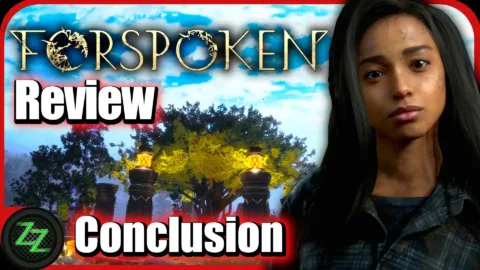 Graphics are really fancy, in most cases, and on expensive hardware
The graphics are very fancy in parts, but this results in quite high hardware requirements. These limit the target group somewhat. Additional optimizations would have benefited the game by all means. And if you turn down the game's image quality, some corners of the world, especially the already not-so-beautiful capital Cipal, become rather unattractive.
There was some grumbling on the Internet about the English dubbing, but also numerous dissenting voices. I played in German and there the voice acting is mostly okay for me.
Slow fades and interstitial screens are annoying
But sometimes there are unnaturally long gaps between sentences, and sometimes transitions between characters take way too long for my taste. But too slow changes in camera positions, seem to be a problem in general, even in other scenes without dialogue.
There are hardly any smooth fades, but very often there is a hard transition to a black screen, then sometimes to an intermediate screen with a text insertion, then to black again, and from there to a new scene.
Also, the movement is mostly restricted, and you can't skip these sequences. So you stand around and wait for the sequence of dialog, transition, and possible fade-ins in between to finally be completed. This is absolutely not helpful for the so-called pacing of the game, i.e. the feeling of how fluid the gameplay is.
Apart from that, a lot of the criticized text passages are due to the unique nature of the characters involved. The two main characters don't appear to be out of this world because they just aren't.
The quality of the text varies from emotionally stirring to mind-numbing and stupid
And the reaction of the NPCs to Frey's apparent soliloquies causes further confusion if you don't know the background. With knowledge of the story, however, much of it makes sense, but by far not all of it.
And in many places, the criticism is also completely justified, because the storytelling and the relevance of the texts that the NPCs say is unfortunately often only minimal. And when they blather on about quite meaningless stuff, you often wish you could skip the dialogue.
Some mini-episodes with NPCs and also conversations with Cuff or even in the main story sections are really strange. Sometimes you get one of the rare opportunities to discuss important events with Cuff and he just utters empty phrases, sometimes people in town offer conversation options but it's just cliché-heavy chatter.
And even worse, they keep the exclamation mark and if you don't remember exactly who you've already talked to, you may have to endure the same text again later. And I mean that, unfortunately, as I say it, it's sometimes really exhausting and not entertaining to talk to the NPCs because the texts are so banal.
This also has a very negative effect overall on the feeling you get from the city. It just doesn't feel immersive and like a city, more like a hollow and cold stage set.
Not nice: Pre-order bonus with better stats and inappropriate RGB optics
Let's move on to something completely different that I noticed in a negative way. There is a Collectors Edition and there was a pre-order bonus. From this, you get three items right out of the gate, a cape, a variant for the magic nail polish styles, and a necklace.
Both clothing items look reasonably chic for my taste, but completely inappropriate. They are futuristic RGB neon garments that also permanently change color. This makes no sense for the fantasy world, nor for Frey's actual home. They've gone completely off style here, or maybe recycled an already finished object from a sci-fi project, I don't know. But it just doesn't fit the game.
RGB color changes may suit some people's tastes, but not mine. Stupidly, these two items give a medium-strong value advantage over the stuff you find in the game at the beginning, so I still wore them for a very long time, even if I would have preferred to do without the strange visuals.
And the fact that you get actual game benefits for pre-ordering them, in addition to adding visual character customizations, quite apart from how inappropriate they are, I think is a very poor choice by the game designers.
Checklist game design, but many features are too shallow
Unfortunately, I sometimes got the impression that the developers had drawn up a plan for the game, and which features they wanted to include. And then they worked through this rigorously. Some things were integrated into the game more badly than well, seemingly just to check off the corresponding item on this list. Dungeons, boring, but check, crafting, half-baked, but check, herb gathering, unnecessary, but check. You get what I mean, right?
And besides the really great combat and fancy graphics, this regrettably results in a feeling I can best describe as "1995 it would have been a great RPG". It's just that the competition has learned a lot more since then in terms of storytelling, quest design, level design with environmental storytelling, and many other points that modern RPGs, such as those from CD Projekt Red or Larian Studios, manage to do much better.
Way too expensive for a half-baked game
And as an absolute sticking point, for a game that contains a lot of weaknesses in addition to some strong moments, the price is too high. Many publishers are currently raising the price of their AAA titles to $70 or €. Presumably, due to inflation and thus the decreased value of our money, this is also halfway justifiable.
But the fact that Square Enix is now raising the price of Forspoken to not only 70, but even $80 or € is a bitter blow for RPG fans. And it seems all the more serious for a game that still has so many problems and all sorts of areas that were not properly finished at release.
And here I have to ask myself, would I have bought Forspoken for $80? My answer would be quite clearly, no. And so, as sorry as I am, as a summary I can only say Forspoken is a game with many problems, but not completely bad. If you like this kind of action combat, the game can be really addictive. Overall, you can have a lot of fun with Forspoken if you can look past the gaps and technical pitfalls. But better wait for a sale, the price of $80 or € demanded at release is most likely not worth it for most players.
Forspoken Review – Rating
Taking all the pros and cons together, Forspoken is a good game that can look very fancy. There are some half-baked game features, and it comes at a very high price. Taking all this into account, Forspoken gets a 75 % basic rating from me.
Technical problems and inconsistent quality in the level design then unfortunately also cause a -5 % deduction. This brings me to a rating for Forspoken at release of 70 %.
If the graphics deficiencies are improved on weaker hardware constellations and the capital is possibly upgraded, I could imagine that the deduction could be made up for with some updates. Maybe Forspoken will end up at 75 percent in a few weeks. If you can get it for a lower price at some point, you can then buy it with peace of mind.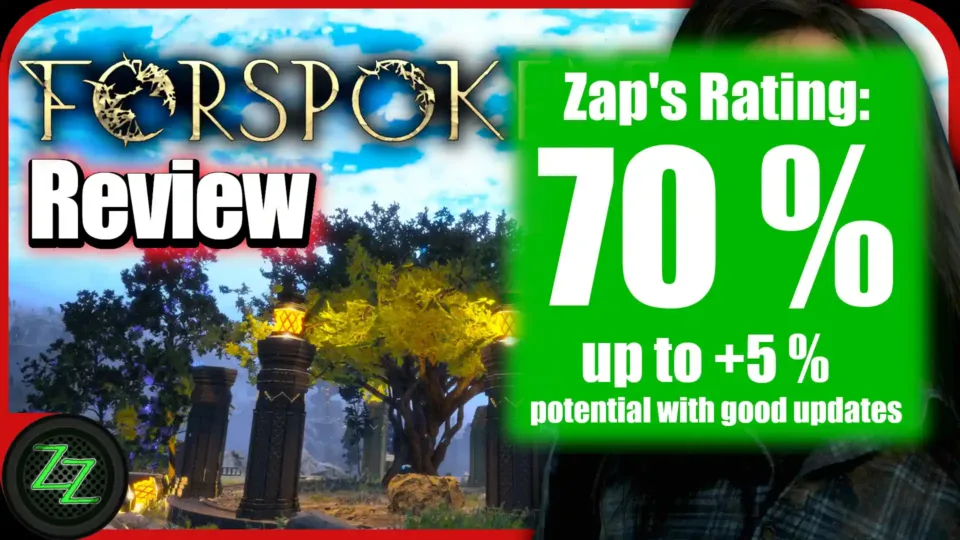 Forspoken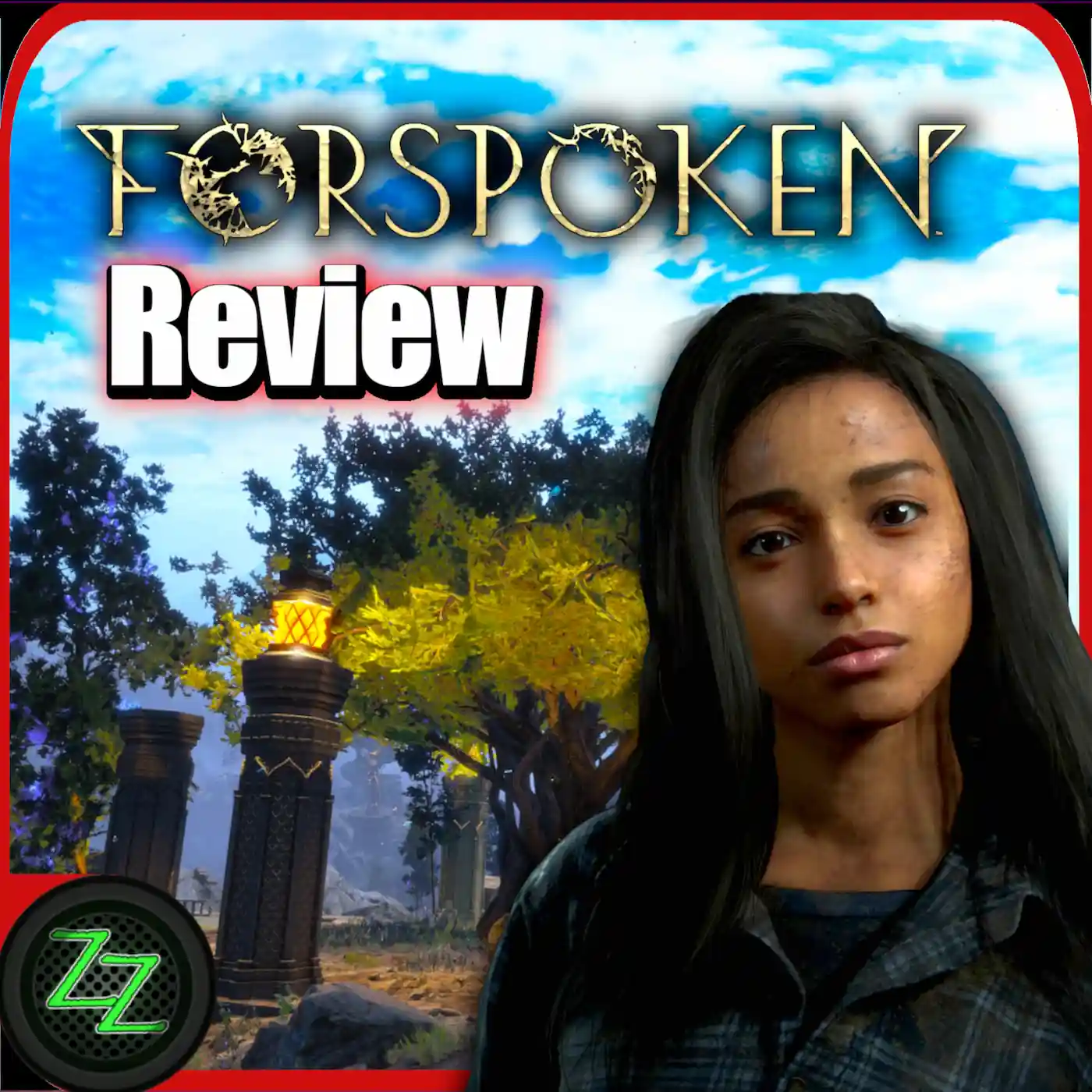 In the action role-playing game Forspoken from Square Enix, we travel with Frey to a fantasy world and learn fantastic magic and parkour skills to defeat chaos and find a way home

In this Forspoken Test / Review (no Let's Play) you will get everything you need to know about the Action RPG with Open World Gameplay. There have already been a lot of uproars, and I'll tell you my opinion after more than 30 hours of play. Forspoken came out with a release date of 01/24/2023 for PlayStation PS5 and PC on Steam and the Epic Games Store.
Graphics (Highend Hardware)
Graphics (Small and Medium Hardware)
Rating
Taking all the pros and cons together, Forspoken is a good game that can look very fancy. There are some half-baked game features, and it comes at a very high price. Taking all this into account, Forspoken gets a 75 % basic rating from me.

Technical problems and inconsistent quality in the level design then unfortunately also cause a -5 % deduction. This brings me to a rating for Forspoken at release of 70 %.

If the graphics deficiencies are improved on weaker hardware constellations and the capital is possibly upgraded, I could imagine that the deduction could be made up for with some updates. Maybe Forspoken will end up at 75 percent in a few weeks. If you can get it for a lower price at some point, you can then buy it with peace of mind.
Outro
Do you like action-packed RPG battles and exploring an infested world down to the last corner? Or are hardware problems and partly flat game design at a high price not your style? Feel free to write me your opinion in the comments or in the Community Discord.
You can find more gaming news, game reviews, and guides on the ZapZockt YouTube channel or here at https://zapzockt.de – thumbs up, subscribe, and share with friends won't hurt. And then I wish you a great day, ciao ciao, your Zap
Links and Sources
Buy Forspoken at Epic Games Store [Ad / Affiliate Link]
Forspoken Gameplay Screenshots – Ingame Pictures (Part IV)
Click or tap on the image for a larger view.
In the enlarged view, you can scroll right and left on the edges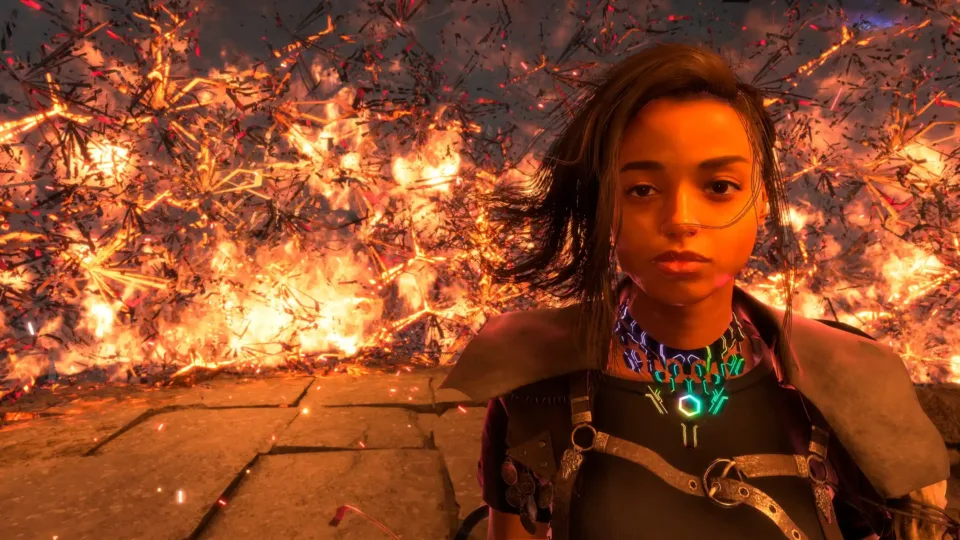 ---
Reading – recommendations:
A lot of detailed game news and information about games and gaming can always be found here at ZapZockt.de – As a Steam user, you can also follow the ZapZockt Steam curator to always be informed about my reviews directly on the platform.
There are also many game reviews that might interest you, and if you don't want to miss anything, subscribe to the newsletter. As a Google News reader you can also go there and read the latest articles.
Shopping – Tip:
Ad / Affiliate Link
Games can often be bought cheaper. Legal, reliable, and safe is the way to do it at my partner site Gamesplanet. This game, all DLCs, many more tactics, strategy, and many more titles are available there and almost always much cheaper than at Steam, Uplay, Epic, or other shops.
For every purchase, via this link, I receive a small commission. So you get games cheaper and at the same time support my work, my thanks in advance for that.