The New Sandbox Crafting RPG from the Portia Creators in Review – My Time at Sandrock Sends Us on a New Adventure, More Beautiful, More Extensive, and More Sandy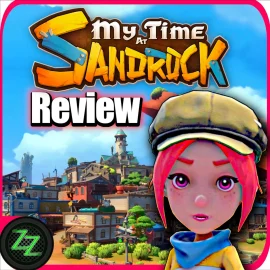 My Time at Sandrock is the sequel to My Time at Portia. We are the craftsmen of a village in the desert in a post-apocalyptic world. We supply our fellow villagers with items, repair things and get raw materials from the environment and from the caves and dungeons in the surroundings, where we also have to fight against monsters, robots, and crooks.
In the ZapZockt.de review of the My Time at Portia successor, you will learn everything about the new indie game from Pathea Games with PC gameplay video footage (German – English Subtitles). My Time at Sandrock offers adventure, workshop, and farm simulation mixed with role-playing and social gameplay. The release date of the Early Access Indie Game is May 26th, 2022 for PC on Steam & Epic Games Store, PlayStation PS4/PS5, Xbox One/Series X/S, Nintendo Switch, Android, and IOS as well as macOS will follow.
---
This post is available here as text and a YouTube Video (German Voice-Over, English Subtitles). So you can choose how you like to enjoy it most.
My Time At Sandrock Review Video
German Voice-Over, many subtitles
---
My Time at Sandrock Review – Intro
Hi there, this is the Zap. In this My Time at Sandrock review, you'll get a sneak peek at the new sandbox RPG crafting game that is a direct sequel to the popular My Time at Portia. I'll tell you how it is played, what's inside and at the end, you'll get a rating from me. But most of all, I want to give you all the info, so you can decide for yourself if the game might be fun for you.
Sandrock is developed and self-published by the Chinese-American studio Pathea Games. So this is an IndieGame. So far, there are already a few titles from this team with Ever Forward, Planet Explorer, and My Time at Portia. I received a free test key, my thanks for that. This shouldn't affect my review though, as I always test all games with the thought in the back of my mind, how would I feel if I had paid full price.
---
Background – Sequel to My Time at Portia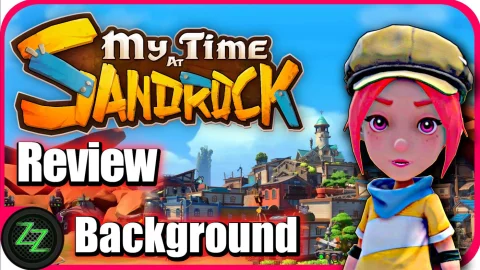 My Time at Sandrock is the next generation of My Time at Portia. This is a fairly well-known game that first appeared back in 2018. It combines an end-times atmosphere with cute graphics, a kid-friendly story with a farm sim, and craft gameplay. At the same time, it also offers all sorts of very unique ideas and an extensive story. Roughly, you could also compare it to Stardew Valley or Harvest Moon.
The focus is on collecting, crafting, numerous quests, and social relationships with the townspeople. But there are also battles, caves and mines to be explored like dungeons, and masses of events and side activities.
Meanwhile, the game is available for actually all gaming platforms, from Steam and Epic Games for PC to iOS, Android, PlayStation, Xbox, and up to macOS. Portia has already sold several million copies and has been given ratings in the upper mid-range to top range.
---
Game Type – Sandbox Crafting RPG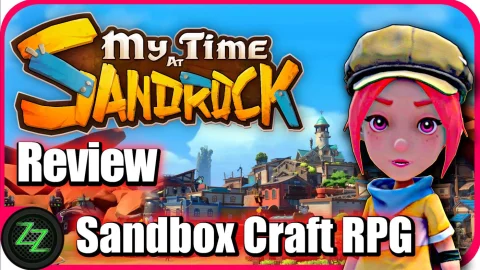 In My Time at Sandrock, we start with fairly extensive character creation. In which we get gender selection, different hairstyles, a few different faces, and other options to craft our very own avatar for the game.
And crafting is one of the main pursuits we'll be doing throughout the game. We collect materials and build our first tools from them. Gradually, we build more and more machines to refine the raw materials into higher-quality components.
Later activities include farming and ranch building, raising livestock, exploring dungeons, and hunting monsters and bosses. Through mounts and vehicles, house building and many other possibilities, the game is constantly expanding. In addition, there are mini-games and events, such as a hammer game, arcade machines, sand fishing, dance competitions, sliding races, or sand buggy races.
Every action in the game, whether chopping rocks, slaying enemies, crafting items, or completing quests, earns us experience points. And so, little by little, we move up in levels. With the level-ups, we get more lives, higher damage but also knowledge points.
We invest our knowledge points in the four skill trees, which are sorted by gathering, workshop, combat, and social. Here we get enhancements for faster leveling or more resources and can make choices about how we want to customize our character. For example, in the combat tree, there are different specializations for the different weapons, such as dagger, sword, spear, or ranged.
By gathering and crafting, we gradually become a better craftsman. As a result, we can fulfill increasingly difficult orders from the craftsmen's guild bulletin board. So we can climb our way through a complex tree of more than 100 materials and currently over 40 different tools and refining machines. And since almost everything costs money, we also desperately need the higher orders to generate more revenue.
---
Gameplay – World and Characters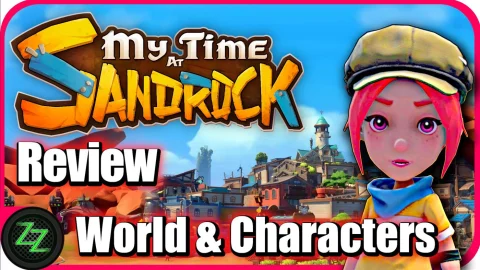 The small village of Sandrock is located in a large desert, thus water is a particularly scarce resource. And we quickly learn that we must show special respect for the water and the few plants, otherwise there will be trouble with the sheriff.
Sandrock itself consists of about 25 buildings, most of which we can enter. In every house, people are living here, as the city is filled with numerous personalities that we get to know little by little. But not all of them are available right at the beginning because when we are newcomers, not everyone talks to us yet, and some houses are still locked at the start.
The mile-long list of people is great. For one thing, they keep showing up in quests as clients and people to talk to, both in story quests and in crafting tasks from the bulletin board. On the other hand, we need some of them for certain services, like research, stores, etc.
And on top of that, we can also build a relationship with each and every NPC in the game, ranging from being completely indifferent to having a romance. This attitude towards us, we can improve through conversations, games, quests, and gifts. And many of the NPCs unlock different benefits if you are friends with them, or they even love you.
The village actually has a mayor but is currently led by the priestess of the Church of Light. This "religion" has probably evolved over time in the underground, more on that in a moment in the Story section.
In the surrounding area, there are all sorts of old ruins, caves, and junkyards. There we can find relics, data discs with knowledge from prehistoric times, and in general several very scarce resources and rare machine parts. And in addition, besides wild animals that we can hunt, there are also direct monsters, robots, and crooks that we have to deal with.
---
My Time at Sandrock Screenshots (Part 1) – Ingame Pictures
Click or tap on the image for a larger view.
In the enlarged view, you can scroll right and left on the edges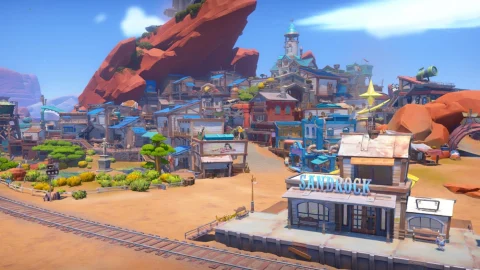 ---
Gameplay – Story
At the beginning of the game, we reach the small desert town of Sandrock, where we have been hired to replace the village's own craftsman, who is retiring. Since they don't have that much faith in us, they hired someone else for the same job at the same time, so there's constant competition here.
The world of Sandrock is post-apocalyptic. This is because centuries ago there was a huge catastrophe that killed large parts of the population and forced the remaining inhabitants to go underground. Only in the last few decades have the remaining people dared to return to the surface. During the time underground the religion of the Church of Light was formed, which comes along with a lot of optimism and worship of the sun, but I don't want to spoil more about that.
Since society was rebuilt on the debris of a destroyed culture, we can examine these ruins of the old world. However, these are often actually high-tech facilities sunk in the sand. We find old relics and junk of the vanished world there, but in the end, they could be modern technology from our point of view.
So there are a lot of scraps to be found in the desert from which we can extract resources. But also very rare machine parts or data discs that we can give to our researchers to develop new crafting recipes. In addition, there are parts of ancient artifacts to find as collection items, such as remains of extinct animals or statues, that we can assemble in the museum if we have found complete sets.
There is a large main story that takes us through the world, introduces inhabitants in more detail, and always brings new tasks. Besides that, we get numerous letters in our mailbox, in which old friends or inhabitants of the village send us messages and tell us little stories. And then there are also all kinds of topics of conversation when we talk to the Sandrockers, here there are additional little stories.
---
Tech, Graphics, Sound, Engine, Translation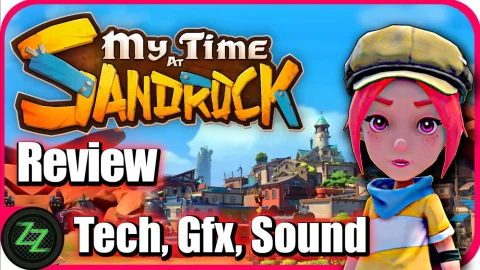 My Time at Sandrock is built in the Unity engine, this provides a stable base and largely good performance. It crashed on me 2 times in about 25 hours of testing, but since the version I tested is an alpha of a game that is also being released as Early Access, I think that is perfectly fine.
The graphics are at least upper-middle class, sometimes scratching the lower edge of top quality. Even though Pathea is only a small indie studio, they do an excellent job here, reaching almost AAA standards. The models, textures, and animations are all of a high standard.
In the options menu, we have numerous adjustment options on offer to adapt the visuals and gameplay to our preferences and possibly weaker hardware. All inputs are optimized for keyboard and mouse, but also for the gamepad, and are fully customizable.
The audio dubbing of the actions, the ambient sounds, and the music are good. Nothing where you would be extremely surprised to hear, but I never felt any sounds were missing.
Voice output, however, is not yet available, but I have already seen a teaser video, in that at least voice-overs of the dialogues are being prepared in English. My Time at Sandrock will get full voice-action done by professional voice artists. Chinese is also in the works, but German will probably only be available as subtitles.
The game contains a huge amount of text. Dialogues, item descriptions, recipes, books, letters, there is very, very much to read. And these texts are available in a total of 10 languages.
In addition to German and English, Chinese is available in two variants, French, Italian and Spanish, as well as Russian, Thai, and Japanese. The German and English translations still had little rough edges, and there were also books or tooltips that were not even there yet. But this happens rather rarely and did not break the gameplay.
---
Kickstarter, Early Access, and State of the Game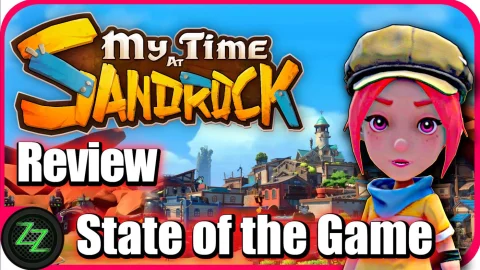 My Time at Sandrock was released as an Early Access title on May the 26th, 2022 for PC on Steam and Epic Games. Versions for PlayStation and Xbox, Nintendo Switch, IOS, Android, and macOS will most likely be available again soon. This was also the case with the predecessor, but development will be completed on PC first, and then the other versions will be implemented and released.
If I disregard the lack of voice acting so far, the game doesn't really need the "Early Access" label at all. It's very stable, it's already highly comprehensive, and I haven't really noticed any serious content gaps right now. The overall quality and production value of the game are both very recommendable.
I assume that they simply still have so many plans to develop the game further. But here you don't need to worry about investing in a barely playable construction site. My Time at Sandrock is already a complete and highly playable game on its Early Access release date.
It was built with a Kickstarter campaign as base funding, by the way. Here almost 10k people paid money already at the start of the actual development, and through this, more or less additional features were unlocked for the future. On this list, besides more clothes, more relationship NPCs, or more character editor possibilities, there are also such interesting things as a multiplayer mode, robot armor, a racing game, and more dungeons.
So far I have no knowledge of mods or a planned My Time at Sandrock mod support in general. But maybe the developers from Pathea will surprise us once the My Time at Sandrock release date for Playstation, Xbox, and Nintendo Switch is "checked off". But that will probably take until early 2023, an exact release date for the console version of Sandrock is not yet known.
---
My Time at Sandrock Gameplay Screenshots (Part 2) – Ingame Pictures
Click or tap on the image for a larger view.
In the enlarged view, you can scroll right and left on the edges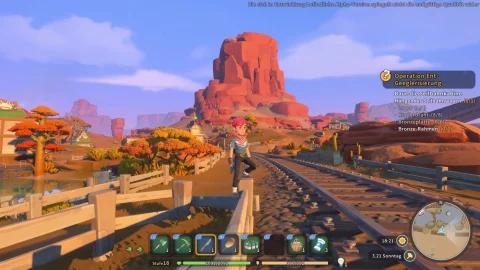 ---
My Time at Sandrock Test – Opinion and Conclusion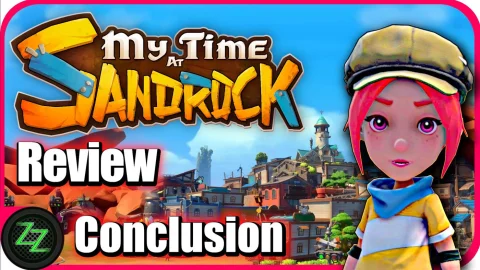 I never played the predecessor because I somehow thought it was more of a game for kids. I regret that very much by now. Because My Time at Sandrock was a lot of fun and really captivated me.
The story is kid-friendly, but I actually consider that a big plus. I'll be happy to play the game together with my nephew in the near future. Parents don't need to be afraid here, the game is absolutely family-friendly, and the predecessor was approved in Germany for 6 years and up. If the multiplayer is ready soon, this could be really fun for joint family gaming sessions.
Sandrock is enormously complex, and at times still lacks a bit of beginner's help. In parts, the story progress is a bit too tied to the crafting of a particular item. And then, it can take longer to progress, better get a candy bar.
Often there are exact step-by-step instructions for building. But every now and then there isn't, and then you have to figure out what machine can make that item, what material you need, etc.
I'm sure this could be solved more nicely. But once you understand the principle, it becomes less annoying, but it could make for minor blocker moments in gameplay.
You always have a limited amount of energy available per day. Personally, I would have liked to have more of it. Often the energy was emptied quickly, and then for the rest of the day, there was not much left with farming and mining resources. But at least the game always offers some activities that you can do without energy. And otherwise, you can also go to bed earlier, for which you even get a bonus the next day.
The amount of crafting surprised me just as positively as the story, the level of detail in the world, and the variety of different game mechanics. There is gathering and crafting, there are story-heavy parts, there are some social mechanics, and also proper exploration tasks in caves and dungeons. And with the friendships, lots of skins and clothes, upgrading your house, and the many collectible items, you can probably keep yourself busy for months.
I don't have much to complain about otherwise. The game is not perfect, there are a few small corners in the inventory system, so far some tooltips, book texts, or dialogues are not 100% well translated, and some are not even included yet.
There is also by far not all game content in the game that the developers have planned. And the balancing is possibly also improvable. But overall, My Time at Sandrock already offers a lot more in-game content and fun at the Early Access release than many full-price AAA titles. My Time at Sandrock is a sandbox RPG diamond in the desert sand.
After more than 25 hours of testing, I don't feel like I've played through the game anytime soon. So here I assume easily 40-50 hours of playtime as a minimum, with upcoming expansions even more.
Is My Time at Sandrock better than My Time at Portia? It is an evolution of the well-known and popular system. It offers a completely new story and new locations, as well as all sorts of improvements in gameplay, and completely new features are in the pipeline, such as multiplayer mode. In my opinion, fans of My Time at Portia can't go wrong here, there's more of what you loved. It's the proven concept, expanded, enhanced with a new world and storyline, and all sorts of new stuff to play with as well.
---
My Time at Sandrock Review – Rating
For the price of $24.99 or €24.99 (20,99 with release discount), My Time at Sandrock already offers a nearly complete game at Early Access release that combines many different elements of RPG, sandbox, survival, and life sim games.
For the great concept, the extensive features, and the story and world that are suitable for children, but still appealing to adults, I would like to give a base score of 90 %. Minimal gaps in translation result in a 3 % deduction. This brings me to a current final rating on the My Time at Sandrock Early Access Release Date of 87 %.
Since Pathea still has a large amount of additional content planned and the game should thus receive some major updates in the coming months, I expect that this rating could still rise above 90 %.
You can find more Gaming News, Game Reviews, and Guides at the ZapZockt YouTube Channel or here at ZapZockt.de – Pressing thumbs up under the video, subscribing to the YT channel, or sharing it with friends can't be bad. And then I wish you a great day, ciao ciao, your Zap
Links and Sources
Buy My Time at Sandrock for Steam at Gamesplanet cheaper*
Buy My Time at Sandrock at the Epic Games Store*
(* Ad / Affiliate Link – For each purchase through this link we get a small commission from the seller)
My Time at Sandrock Steam Page