Download free games 2020
This post is also available in:

Deutsch
Here is a list of links where you can currently download free games. This includes Steam Games, but also games from the Epic Store, Uplay, Origin, GOG, PS4, XBox, Switch, and many other sources.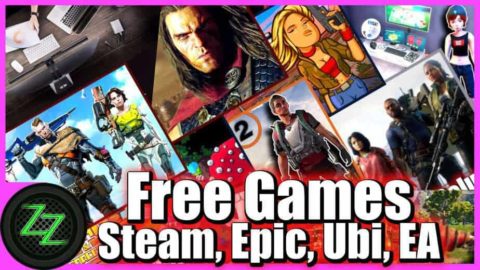 In this article, I will list the latest free games for download as far as possible from now on. This concerns mainly free PC games at Steam, but also free games in the stores of other providers. And if I find links to games for PS4, XBox or Nintendo Switch, they will be listed here as well.
Last Update: August 28th, 2020
German Version:
About this list:
Especially in the current difficult time with Corona and the quarantine, it might be helpful for some people to relax with a new game as a distraction. But not everyone has money to buy new games all the time and especially not in the current emergency situation. Free PC games or even free console games are hopefully a little help for you.
I will try to keep this article as up to date as possible. But I can't always do this 100 % correct, so please forgive me if there are games here whose giveaways have expired or if some are missing. If you notice that there is an expired game here or you know of other Free Game Giveaways, please write to me in the comments below.
Of course, this list will change every few days. I try to list new games here as often as possible. So you might want to put the link to this page in your favorites and check back here from time to time if you can download new free games.
If you don't know exactly how to activate Steam Keys or Epic Store Keys, I've explained it in detail on this page. There you will also find links to my partner site Gamesplanet, where you can get games for free, but at least cheaper.
At the end of the article, you will also find links to games that are not completely free, but which you can try out for free at the moment, or which are available as a free demo.
Current Free Steam Games giveaways:
Crazy Steam Brothers 2
Crazy Steam Bros. is a classic horizontal shoot'em up inspired by the gameplay of old arcade machines. Anton and Dupont are brothers, inventors and also a little bit crazy! With the help of their landlady, Miss Lily, they must defeat the evil baron and their hordes of bearded soldiers.
https://store.steampowered.com/app/355080/Crazy_Steam_Bros_2/
Home Darkness – Escape?
A classic hidden object game, combine items, solve puzzles and find treasures!
You play a man who has spent his whole life searching for treasures. After finding historical information, he decided to search for an old hidden treasure in an old house. Our hero has no idea what secrets and riddles await the one who decides to enter this mysterious house.
https://store.steampowered.com/app/761640/Home_Darkness__Escape/
Destiny or Fate
A Roguelike Deckbuilding Game
Destiny of Fate is a roguelite deck building game. Pick a hero, build a deck and a group of mythical creatures and embark on an endless adventure! Are you ready to forge your own destiny or will you sink?
https://store.steampowered.com/app/919220/Destiny_or_Fate/
Beneath a Steel Sky
After Robert Foster was kidnapped by brutal soldiers and his relatives slaughtered, he finds himself in Union City – a huge metropolis under the tyranny of a fascist AI. Alone, apart from the circuit board of his best friend, Foster must find out the dark truth – and why they came for him in particular.
https://store.steampowered.com/app/1368340/Beneath_a_Steel_Sky/
Circle_of_football_soccer_or_Whatever
It's no ordinary soccer game, but a fast-paced soccer game with hilarious pitches, easy to learn controls and hard to master gameplay. Have fun with your friends and compete in online multiplayer matches! Kick, attack your opponents and score GOOOALS to climb the leaderboard!
https://store.steampowered.com/app/1245570/Circle_of_Football_Soccer_or_Whatever/
Permanent-Find and download free games on Steam
Steam also offers a large number of permanently free games and of course the usual Free2Play games (caution, InApp purchases, CashShops, etc). Under the following link you will find a list of all games currently classified as "Free" at Steam
Find and download all free games at Steam
New free games in the Epic Store:
In the Epic Store of Epic Games there are actually new, free games every week. This week on offer (valid until 03 Sept. 2020):
Hitman
Experiment and have fun in the ultimate sandbox as the best killer in the world, Agent 47.
There is a world outside our world. A world without laws and morals. A world that never sleeps and is omnipresent. And once you enter it … you can never go back. Welcome to the world of contract killers. You are Agent 47, the best killer in the world.
Offer ends on 03.09.2020 at 17:00 (GMT +1)
The ShadowRun Collection
The Shadowrun Collection contains Shadowrun Returns (base game), Shadowrun Dragonfall – Director's Cut (base game) and Shadowrun Hong Kong – Extended Edition (base game).
Since its creation almost 25 years ago, Shadowrun's unique world of cyberpunk and fantasy has achieved immense cult status. Creator Jordan Weisman returns to the world of Shadowrun and transforms the classic game setting into a turn-based tactical RPG for single players. In the urban hustle and bustle of Seattle's Metroplex, the search for a mysterious killer leads you on a trail that will take you from the city's darkest slums to the most powerful megacorporations.
Offer ends on 09.03.2020 at 17:00 (GMT +1)
PS: If you plan to buy something at the Epic Store, please enter my Creator Code "ZapZockt" there, then the games won't cost you more, but I get a small commission for it. You would help me a lot with that, thanks in advance.
Free games at GOG.com
GOG Stey at Home – 26 Games for free
The Good Old Games Shop of GOG.com, respectively CD Projekt Red, always offers some free games anyway, but this has now been expanded. Under the motto "Stay at home and play games" they offer 26 games for free download, and the DRM is free, so you can install them several times or give them to friends.
Link to the campaign:
https://www.gog.com/partner/stay_at_home
Furthermore currently for free at GOG:
Higurashi When They Cry Hou – Ch.1 Onikakushi
The first chapter of Higurashi When They Cry will be made free-to-own on GoG until an effective vaccine for COVID-19 is discovered! If you're looking for a way to pass the time while staying at home, then there's never been a better chance to try out this renowned masterpiece.
https://www.gog.com/game/higurashi_when_they_cry_hou_ch1_onikakushi
General: search for free games at GOG
Under the following link, you can always find all games that are currently available for free at GOG:
Always find and download all free games at GOG
Free games at Uplay / Ubisoft
Currently there are no free games at Ubisoft / Uplay that I am aware of.
But there is a website where Ubisoft lists promos, betas and other free offers:
Free games at Microsoft Store
In the Microsoft Store there are always promotions where you can get free games. Here's a link to a filtered search, with which you can easily find such offers in the store:
https://www.microsoft.com/en-us/store/top-free/games/pc?IsDeal=true&price=0To0.01
Download free XBox Games
Microsoft is offering a collection page, where you can find all Free2Play Games as well as Games, that are free for limited time as a promo, demo or for other reasons. This catalogs where listed on Microsoft store as well as on the Xbox Site, and both can be found here:
https://www.xbox.com/en-US/games/free-to-play
https://www.microsoft.com/en-US/store/top-free/games/xbox
Free Games for Playstation PS4 and PS5
There is a page in the Playstation Store, where Sony lists all free Games for you:
https://store.playstation.com/de-de/grid/STORE-MSF75508-FREETOPLAY/1
Free Indie-Games for Download
There are always indie studios that make their games available for free. Either because they are a bit older, or for marketing reasons or some Indie Game Devs do it just for a hobby. Here I list such free Indie Games, which you can download legally and freely right away. If you are also an Indie Game Developer and you want to have your game here, just write to me here, per mail, per discord, twitter, etc.
The Fire of Ardor – Quest for the Soul Stone
A free single player dungeon crawler with RPG elements and real-time combat.
You play a nameless hero who fights his way through a dungeon in order to acquire the soul stone that opens the dimension gate to the realm of the daemon lord Ardor.
https://cpfr.gitlab.io/the-fire-of-ardor/
Clandestinity of Elsie
World War Two veteran and mentally-damaged alcoholic Hayden Warrick awakens from a night of drinking to find that his wife Elsie has mysteriously disappeared.
https://store.steampowered.com/app/379320/Clandestinity_of_Elsie/
Try games for free
Legend of Keepers – Career of a Dungeonmaster – Permanent free demo
Legend of Keepers is a very amusing rogue-like dungeon master game. You can try this for free. If you want to know more about the game, you can read my review.
https://store.steampowered.com/app/1151080/Legend_of_Keepers_Prologue/
Walking Simulator
A somewhat weird game, but probably permanently free, is Walking Simulator. Here is the name program. Inspired by Hideo Kojima's Death Stranding you transport boxes from A to B in this game
https://store.steampowered.com/app/1214280/Walking_Simulator/
Reading – recommendations:
A lot of detailed games news and information about games and gaming can always be found here at ZapZockt.de
There are also many game reviews that might interest you, and if you don't want to miss anything, subscribe to the newsletter. As a Google News reader you can also go there and read the latest articles.
Shopping – Tip:
Ad / Affiliate Link
Games can often be bought cheaper. Legal, reliable and safe is the way to do it at my partner site Gamesplanet. This game, all DLCs, many more tactics, strategy, and many more titles are available there and almost always much cheaper than at Steam, Uplay, Epic or other shops.
For every purchase, via this link, I receive a small commission. So you get games cheaper and at the same time support my work, my thanks in advance for that.
Social Media:
This post is also available in:

Deutsch