Here is a list of links where you can currently download free games. This includes Steam Games, but also games from the Epic Store, Uplay, Origin, GOG, PS4, XBox, Switch, and many other sources.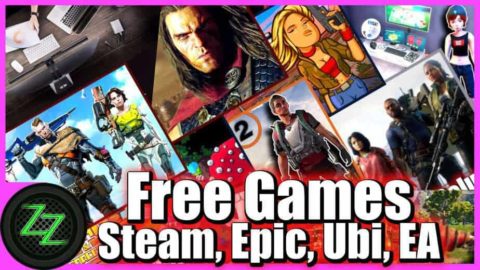 In this article, I will list the latest free games for download as far as possible from now on. This concerns mainly free PC games at Steam, but also free games in the stores of other providers. And if I find links to games for PS4, XBox or Nintendo Switch, they will be listed here as well.
Last Update: June 10th, 2021
German Version:
About this list:
Especially in the current difficult time with Corona and the quarantine, it might be helpful for some people to relax with a new game as a distraction. But not everyone has money to buy new games all the time and especially not in the current emergency situation. Free PC games or even free console games are hopefully a little help for you.
I will try to keep this article as up to date as possible. But I can't always do this 100 % correct, so please forgive me if there are games here whose giveaways have expired or if some are missing. If you notice that there is an expired game here or you know of other Free Game Giveaways, please write to me in the comments below.
Of course, this list will change every few days. I try to list new games here as often as possible. So you might want to put the link to this page in your favorites and check back here from time to time if you can download new free games.
If you don't know exactly how to activate Steam Keys or Epic Store Keys, I've explained it in detail on this page. There you will also find links to my partner site Gamesplanet, where you can get games for free, but at least cheaper.
At the end of the article, you will also find links to games that are not completely free, but which you can try out for free at the moment, or which are available as a free demo.
Current Free Steam Games giveaways:
Crazy Steam Brothers 2
Crazy Steam Bros. is a classic horizontal shoot'em up inspired by the gameplay of old arcade machines. Anton and Dupont are brothers, inventors and also a little bit crazy! With the help of their landlady, Miss Lily, they must defeat the evil baron and their hordes of bearded soldiers.
https://store.steampowered.com/app/355080/Crazy_Steam_Bros_2/
Home Darkness – Escape?
A classic hidden object game, combine items, solve puzzles and find treasures!
You play a man who has spent his whole life searching for treasures. After finding historical information, he decided to search for an old hidden treasure in an old house. Our hero has no idea what secrets and riddles await the one who decides to enter this mysterious house.
https://store.steampowered.com/app/761640/Home_Darkness__Escape/
Beneath a Steel Sky
After Robert Foster was kidnapped by brutal soldiers and his relatives slaughtered, he finds himself in Union City – a huge metropolis under the tyranny of a fascist AI. Alone, apart from the circuit board of his best friend, Foster must find out the dark truth – and why they came for him in particular.
https://store.steampowered.com/app/1368340/Beneath_a_Steel_Sky/
Circle_of_football_soccer_or_Whatever
It's no ordinary soccer game, but a fast-paced soccer game with hilarious pitches, easy to learn controls and hard to master gameplay. Have fun with your friends and compete in online multiplayer matches! Kick, attack your opponents and score GOOOALS to climb the leaderboard!
https://store.steampowered.com/app/1245570/Circle_of_Football_Soccer_or_Whatever/
Epic Conquest 2
An Action RPG inspired by the classics, with special touch in the game mechanics and anime-style story telling!
https://store.steampowered.com/app/1235360/Epic_Conquest_2/
Tiny World
Explore the grand Arronian Empire and the isles that are before you. Embark on the mystery that has risen a titan of old, that threatens to sunder the world bringing in a new era of shadow. You have been given the chance to uncover the secrets hidden beneath the earth and with your new found power defend the world from darkness…or so it would seem.
Tiny World is an adventure RPG style game set from the Birds Eye view point. Follow along the journey of Tinn and with him uncover dangers beneath.
https://store.steampowered.com/app/1067380/Tiny_World/
AddForce
AddForce takes you to a imaginary miniature solar system where you can travel between planets while you are affected by gravity. You should be aware not to run out of oxygen, fuel or rocket ammunition. These can be obtained by destroying AA Turrets placed on the planets. Avoid crashing into the land, though – that could cost you lots of HP – so try and maneuver carefully. Planets are not only orbiting the Sun as in real life, they are located in random positions to the solar system's main plane; making visuals more fascinating, and reducing distances at the same time.
https://store.steampowered.com/app/681950/AddForce/
Feed the Animals
This game helps improving children's coordination skills.
"Grab an animal and help them reach their destination: a crate of food.
But be careful not to touch any of the tree stumps."
Level 18 is a bonus where you ought to avoid windblown leaves and collect the apples, with Ladybird.
https://store.steampowered.com/app/749900/Feed_the_Animals/
Lonely Astronaut
Pilot the corpse of a long-abandoned astronaut floating in a cosmic graveyard in this one-button arcade game. In the process, you might find out something about the human condition. But probably not.
https://store.steampowered.com/app/755830/Lonely_Astronaut/
PRO DRIFT RELOADED 2020
Bringing A Completely New Drift Experience with high-quality graphics featuring a full controller and wheel support.
https://store.steampowered.com/app/710640/PRO_DRIFT_RELOADED_2020/
Bow to Blood: Last Captain Standing
Become a Captain! Fly your ship and command your crew as you compete to become Champion in a winner-takes-all reality show. Build relationships and plot betrayals to avoid getting voted off the season and become the last captain standing. Optional VR support.
https://store.steampowered.com/app/956500/Bow_to_Blood_Last_Captain_Standing/
Super Animal Royale
An animal fight for survival! Super Animal Royale is a fast-paced, 64-player 2D Battle Royale in which murderous animals with teeth, claws and machine guns fight for survival in an abandoned safari park.
https://store.steampowered.com/app/843380/Super_Animal_Royale/
Tessa's Ark
A Sci-fi RPG set in a world where humans have shed the limitations of the corporeal body to inhabit existence as beings of pure thought. Solve puzzles to unlock the secrets of the digital reality.
https://store.steampowered.com/app/652030/Tessas_Ark/
Neptunian Donut
It is a platformer. A hard trip to the Neptune. Beware of sharks, barrels, UFO, hard sound and hard levels!
https://store.steampowered.com/app/713540/Neptunian_Donut/
Alpha Polaris : A Horror Adventure Game
Alpha Polaris is an oldschool adventure game focusing on slow-burning character driven horror and environmental themes. It draws inspiration from such sources as Inuit legends and Cthulhu mythos.
https://store.steampowered.com/app/405780/Alpha_Polaris__A_Horror_Adventure_Game/
Runes: The Forgotten Path (VR)
In Runes you are a renegade wizard fighting for survival in a virtual fantasy world. Use the movement of your hands to cast powerful spells, solve puzzles and fight enemies. Explore rich and detailed worlds in complete VR immersion in this story driven fantasy adventure.
https://store.steampowered.com/app/457130/Runes_The_Forgotten_Path/
Kyklos Code
Kyklos Code is a first person action puzzler where you are reset to your starting location every 10 seconds. You can toggle the reset state of other objects in the world to solve puzzles. By activating new reset locations you can advance through the game.
https://store.steampowered.com/app/718030/Kyklos_Code/
PROP AND SEEK®
Prop and seek is a hide and seek game which 32 players take turns to hide or seek. You can be a prop to hide or be a hunter to find all hidden props.
https://store.steampowered.com/app/1131720/PROP_AND_SEEK/
FLS
FLS is a Scifi Sandbox Racing game. It's simple: Rings and Speed.
In FLS you get score based on your skills. Reflexes and accuracy are the most important to progress on the leaderboards. Reaching the top of the leaderboard can require a lot of dedication and practice, although the game is accessible and easy to pick up. The scoring system is sensitive to the slightest imperfections, always leaving you room for improvement.
https://store.steampowered.com/app/1207020/FLS/
Find and download permanent free games on Steam
Steam also offers a large number of permanently free games and of course the usual Free2Play games (caution, InApp purchases, CashShops, etc). Under the following link you will find a list of all games currently classified as "Free" at Steam
Find and download all free games at Steam
New free games in the Epic Store:
In the Epic Store of Epic Games there are actually new, free games every week. This week on offer:
Control
After a secretive agency in New York is invaded by an otherworldly threat, you become the new Director struggling to regain Control.From developer Remedy Entertainment, this supernatural 3rd person action-adventure will challenge you to master the combination of supernatural abilities, modifiable loadouts and reactive environments while fighting through a deep and unpredictable world.
Offer ends on 06.10.2021 at 17:00 (CET)
PS: If you plan to buy something at the Epic Store, please enter my Creator Code "ZapZockt" there, then the games won't cost you more, but I get a small commission for it. You would help me a lot with that, thanks in advance.
Free games at GOG.com
GOG Stey at Home – 26 Games for free
The Good Old Games Shop of GOG.com, respectively CD Projekt Red, always offers some free games anyway, but this has now been expanded. Under the motto "Stay at home and play games" they offer 26 games for free download, and the DRM is free, so you can install them several times or give them to friends.
Link to the campaign:
https://www.gog.com/partner/stay_at_home
Furthermore currently for free at GOG:
Higurashi When They Cry Hou – Ch.1 Onikakushi
The first chapter of Higurashi When They Cry will be made free-to-own on GoG until an effective vaccine for COVID-19 is discovered! If you're looking for a way to pass the time while staying at home, then there's never been a better chance to try out this renowned masterpiece.
https://www.gog.com/game/higurashi_when_they_cry_hou_ch1_onikakushi
Shadow Warrior Classic Complete
From the creators of Duke Nukem 3D, comes the ever-explosive, forever controversial Shadow Warrior, a first-person shooter that takes the Build engine to its extreme limits. Offering a destructible environment with a bevy of weapons–ranging from razor-sharp katanas, 4-barrel shotguns, and even your own fists–Shadow Warrior is sure to satisfy the hunger for some Lo Wang and not leave you hungry an hour later.
https://www.gog.com/game/shadow_warrior_complete
General: search for free games at GOG
Under the following link, you can always find all games that are currently available for free at GOG:
Always find and download all free games at GOG
Free games at Uplay / Ubisoft
At the moment, Ubisoft / Uplay has some free games, such as Hyper Scape, Trackmania, Might&Magic Chess Royale, Rabbids Coding and also always some free trial versions, for example to Division 2, Ghost Recon Breakpoint, The Crew 2, Trials Rising or Uno.
But here's a website where Ubisoft lists promos, betas, and other freebies:
Free games at Microsoft Store
In the Microsoft Store there are always promotions where you can get free games. Here's a link to a filtered search, with which you can easily find such offers in the store:
https://www.microsoft.com/en-us/store/top-free/games/pc?IsDeal=true&price=0To0.01
Download free XBox Games
Microsoft is offering a collection page, where you can find all Free2Play Games as well as Games, that are free for limited time as a promo, demo or for other reasons. This catalogs where listed on Microsoft store as well as on the Xbox Site, and both can be found here:
https://www.xbox.com/en-US/games/free-to-play
https://www.microsoft.com/en-US/store/top-free/games/xbox
Free Games for Playstation PS4 and PS5
There's a page on the Playstation Store where Sony lists all the free games available to you:
Go to Playstation Store page for free games
Free Indie-Games for Download
There are always indie studios that make their games available for free. Either because they are a bit older, or for marketing reasons or some Indie Game Devs do it just for a hobby. Here I list such free Indie Games, which you can download legally and freely right away. If you are also an Indie Game Developer and you want to have your game here, just write to me here, per mail, per discord, twitter, etc.
The Fire of Ardor – Quest for the Soul Stone
A free single player dungeon crawler with RPG elements and real-time combat.
You play a nameless hero who fights his way through a dungeon in order to acquire the soul stone that opens the dimension gate to the realm of the daemon lord Ardor.
https://cpfr.gitlab.io/the-fire-of-ardor/
Clandestinity of Elsie
World War Two veteran and mentally-damaged alcoholic Hayden Warrick awakens from a night of drinking to find that his wife Elsie has mysteriously disappeared.
https://store.steampowered.com/app/379320/Clandestinity_of_Elsie/
Try games for free
Legend of Keepers – Career of a Dungeonmaster – Permanent free demo
Legend of Keepers is a very amusing rogue-like dungeon master game. You can try this for free. If you want to know more about the game, you can read my review.
https://store.steampowered.com/app/1151080/Legend_of_Keepers_Prologue/
Walking Simulator
A somewhat weird game, but probably permanently free, is Walking Simulator. Here is the name program. Inspired by Hideo Kojima's Death Stranding you transport boxes from A to B in this game
https://store.steampowered.com/app/1214280/Walking_Simulator/
---
Reading – recommendations:
A lot of detailed game news and information about games and gaming can always be found here at ZapZockt.de – As a Steam user, you can also follow the ZapZockt Steam curator to always be informed about my reviews directly on the platform.
There are also many game reviews that might interest you, and if you don't want to miss anything, subscribe to the newsletter. As a Google News reader you can also go there and read the latest articles.
Shopping – Tip:
Ad / Affiliate Link
Games can often be bought cheaper. Legal, reliable and safe is the way to do it at my partner site Gamesplanet. This game, all DLCs, many more tactics, strategy, and many more titles are available there and almost always much cheaper than at Steam, Uplay, Epic, or other shops.
For every purchase, via this link, I receive a small commission. So you get games cheaper and at the same time support my work, my thanks in advance for that.