YouTube COPPA – YouTube changes 2020 by COPPA
All important information around YouTube, COPPA and the YouTube changes 2020 by the lawsuit of the FTC based on COPPA – keyword "content made for kids".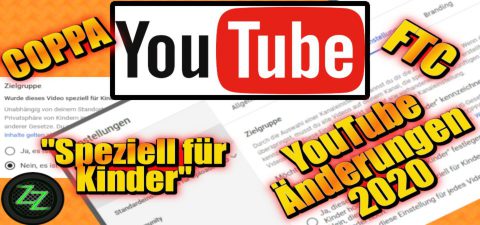 YouTube was sued by the FTC and was fined 170 million for collecting data from children and showing targeted advertising on children's content. To continue showing children content in the future and avoid even greater fines, YouTube COPPA must comply more seriously with its rules and regulations, and this applies to all YouTube channels, all over the world and possibly every YouTube viewer.
Legal disclaimer and general information:
I am not a lawyer and cannot and must not give legal advice. I am just a YouTuber with some experience on YouTube and the Internet. And all the following texts represent my personal assessment. This can be in parts or completely wrong. I have made every effort to research the facts as comprehensively and correctly as possible and will continue to adapt, correct and expand this text.
Please do not make any decisions based solely on any statements in this text. Especially not when it comes to a larger online business, your financial existence depends on it or worse. Please inform yourself fundamentally and in case of doubt or if it really concerns everything, let yourself be advised by a specialist lawyer. I will be happy to accept comments on possible mistakes in the text, as well as opinions or further information (no registration required).
This article is "Work in Progress", I will probably add a lot more content here in the next days and weeks, extend, change and maybe delete some of what turned out to be wrong.
Hi, dear YouTuber and YouTube viewers,
YouTube has had massive problems with content for kids over the last few months. First, there were pedophiles in the comments under videos with children on the way, then there were massive complaints through targeted advertising on content for children.
YouTube has received a complaint from the authorities and, as a result, YouTube has agreed to some changes to the FTC and at the same time accepted a fine of US$ 170 million. In addition, there are numerous new regulations on YouTube that will come into effect on January 01, 2020. So this is not about abstract plans that might happen at some point. The whole thing starts now and will be in effect very soon (in about 5 weeks when writing this text).
The whole topic is very complicated and to understand it correctly, I give more background information:
Who is the FTC?
The Federal Trade Commission (FTC) is the Federal Trade Commission of the United States. In addition to other tasks such as the control of company mergers, it is also responsible for consumer protection. A major focus here is on fair trade and fair cooperation between companies in the USA, but also between all foreign institutions that want to trade in the USA. The FTC is an authority with 1200 employees and is led by 5 commissioners who are directly appointed by the President of the USA (currently Donald Trump).
The FTC may impose penalties on companies that do not comply with certain laws. In individual cases, the FTC may also prohibit companies from merging, and companies from building monopolies may be smashed. Among other things, the FTC enacted the regulations for the protection of children against data collections on the Internet in 1998, which are known as COPPA.
What is COPPA?
These provisions have been brought together under the Children's Online Privacy Protection Act (COPPA). This means a decree to protect the online privacy of children. These rules were enacted as early as 1998 and must be followed by all companies that either has their registered office in the USA (such as YouTube) or do business in the USA in any form whatsoever. And so these rules actually also apply to almost every YouTuber, because we all have viewers from the USA.
These Regulations define numerous rules on how to deal with children and their data on the Internet. COPPA prohibits the collection of data from children on the Internet unless their parents have explicitly consented to this being ok. And since a lot of YouTube functions collect data, they must now be deactivated if there is a risk that data from children will be collected as well.
What has happened in recent years and how did the FTC take action against YouTube?
YouTube has in its Terms of Service (TOS) the statement that you may only create an account if you are 13 years of age or older. Apart from that, there is YouTube Kids, an app that has been specially developed to only offer content that is suitable for children. This content is specially selected, partly automatically, partly manually controlled. So, in theory, there is a separation between YouTube for people 13 years old and older, and YouTube for children under 13 years.

Nevertheless, many viewers on the normal YouTube site are under 13 years old. On the one hand the "only over 13" rule is not really controlled, and then there are extremely many parents, who either create their own accounts on YouTube for their children (here you could assume the consent of the parents), or give their children devices in the hand, which are logged on to the account of the parents.
But also through the spread of mobile devices among children and even toddlers, these children are registered with Google with their own phone number, sometimes here the data collection by Android and other Google platforms is also massively expanded. In any case, in this case an account on YouTube will be connected more or less directly. In this article I will not talk about general problems with mobile devices for children, accounts with Android/Apple/etc, this would probably go beyond the scope.
Due to this insufficient separation of the audience, millions of times (or far more often) of content from normal YouTube was also displayed to children under the age of 13. And since YouTube shows personalized advertising on the normal page, makes extensive evaluations, who looks at which content and likes, who comments where, liked and disliked, subscribes, etc., a lot of data from children was collected. And since this is forbidden according to COPPA, without exact permission explanation of the parents, here millionfold against US rights were offended. Hence the $170 million fine and to avoid further penalties, massive changes to YouTube will follow in the coming months.
A particular problem in relation to the FTC, far removed from COPPA, also arises from market justice in advertising between YouTube and traditional media. On television and in other media specifically designed for children, strong rules apply as to how advertising should look, specifically aimed at children.
However, since YouTube did not consider these rules to be correct for themselves since they had set TOS for normal YouTube that it was only intended for 13+ viewers, they could not, so to speak, place advertising limited by regulation. At the same time, however, YouTube was well aware (the FTC suspects) that despite the 13+ clause in the TOS, a large number of children are on the move on normal YouTube, and also offered advertising space specially adapted for this target group. And also offered to advertisers directly as <13Age. With purposeful positioning exclusively in these contents.
According to a testimony by a US lawyer well versed in Internet law, see video below by Ian Corzine, this was a massive trigger for complaints against YouTube to the FTC. Probably also filed by major television and media companies competing with YouTube for advertising revenue. And the long-running general dispute between old, traditional media and the "new" Internet media naturally also plays a major role here (similar to Article 13/17, etc.).
An official statement from YouTube on COPPA, children's content, and how Creator should deal with it
First of all a video, directly from YouTube, where a YouTube employee explains some things.
Here are also 2 links with more detailed information:
YouTube announcement about COPPA
New Article in the YouTube Help Pages about the topic
Excerpt from the YouTube help on COPPA and "Content especially made for kids":
According to the FTC's guidance on COPPA, a video is child directed (which we call "made for kids") if:

– Children are the primary audience based on the factors described below.
– Children are not the primary audience, but the video is still directed to children based on the factors below.

When deciding whether or not your channel or video is made for kids, you should consider various factors, including:

– Subject matter of the video (e.g. educational content for preschoolers).
– Whether children are your intended or actual audience for the video.
– Whether the video includes child actors or models.
– Whether the video includes characters, celebrities, or toys that appeal to children, including animated characters or cartoon figures.
– Whether the language of the video is intended for children to understand.
– Whether the video includes activities that appeal to children, such as play-acting, simple songs or games, or early education.
– Whether the video includes songs, stories, or poems for children.
– Any other information you may have to help determine your video's audience, like empirical evidence of the video's audience.

Note: YouTube Analytics (YTA) is not designed to help determine if your content is child directed. You should use the factors outlined by the FTC above to set your audience.

How old is a kid? The age of a "kid" in the United States is defined as anyone under the age of 13. However, the age of a kid may be higher in other countries, so consider the factors described above as appropriate given how kid is defined in applicable laws in your country, and consult legal counsel if you have additional questions.

What if my content is applicable to a wide audience, but not kids specifically?
As the creator, you know your content best. If you intended to reach a kid audience, it's likely that your video is made for kids. If you're not sure about your audience, take a look at the features of your video – does it have actors, characters, activities, games, songs, or stories that kids are particularly attracted to? If so, your video may be directed to kids. The key is to balance all the COPPA specified factors that apply to this analysis. For example, the fact that a kid is featured in a video does not necessarily mean that the video is made for kids. You will have to look at all other attributes of the video like the intended audience, whether the video uses language that is intended for kids to understand, and the subject matter of the video (a medical video versus a play video). For further information on whether content is kid-directed, see the FTC's guidance. You should also consider consulting a lawyer if you aren't sure whether your content should be designated as made for kids.

In addition, creators outside of the United States will need to take into consideration additional obligations they may have under applicable laws when evaluating whether content is made for kids. Note, while the age of a kid in the United States is defined as anyone under the age of 13, the age of a kid is defined differently in different countries so consider the factors described above as appropriate given how "kid" is defined in relevant laws, and consult legal counsel if you have additional questions.

Freshly rolled in: More precise definition, how the FTC are presenting the whole thing, among other things with a guide with which content creators should be able to classify how their content is to be evaluated:
ftc.gov/news-events/blogs/busi…content-directed-children
YouTube COPPA Changes 2020 – Summarized:
A lot is going to change. All channels that in any way offer content that might be interesting for children ("especially for children") will undergo major changes. And these changes will come not only for channels with kids content but for almost all channels. And YouTube doesn't seem entirely sure where it's going either. YouTube recommends that anyone with further questions or uncertainty should consult a lawyer…. Ok, here it gets serious.
Upcoming changes on YouTube and how they affect creators and viewers
YouTube recently added a question to the Creator to their upload interface, whether the uploaded video is intended for children or not. Here YouTube asks "Was this video created specifically for children? (required)" and you will have two choices to answer. With the answer "Yes, it's specifically for children" you specify that this video contains content that could appeal to children. And with "No, it's not specifically made for children," you specify that it's not interesting for children.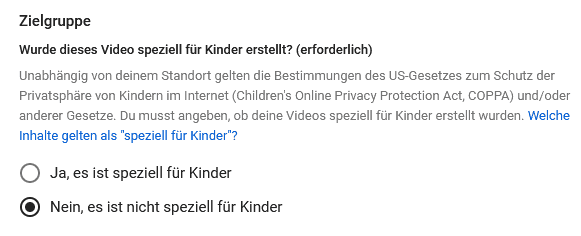 And YouTube requires all channel owners to set a fixed setting for the entire channel. In this dialog, which is displayed once in the Dashboard and can then be found in YouTube Studio under "Settings" in the bottom left corner, you can generally define how you rate your channel. There are three different choices here: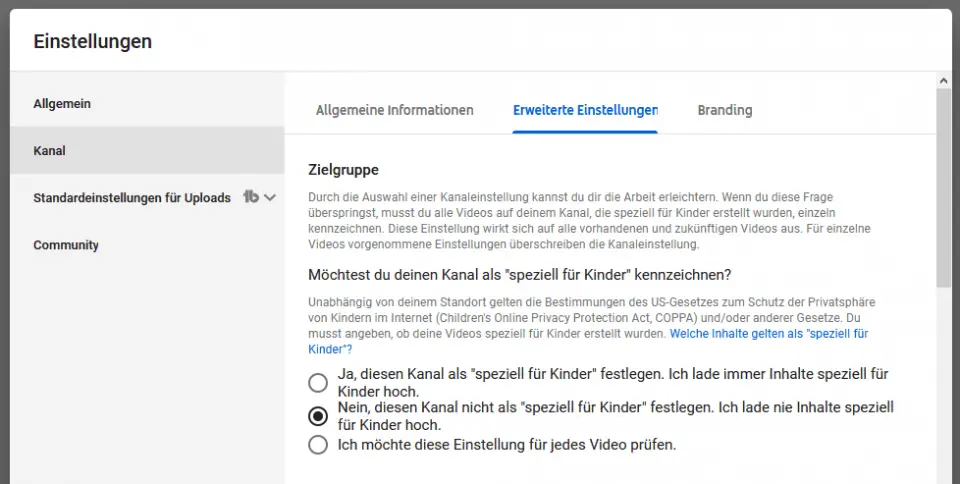 This automatically sets the appropriate selection for all videos on the channel. Even after this selection, you can overwrite this default setting with settings for individual videos.
Dear Creator, consider very carefully what you click here because this can have a massive influence on possible income. And a wrong attitude can have massive consequences. Because an AI and also the FTC will carry out controls. Videos with wrong settings can then be automated or manually switched, but possibly also deleted. Probably a wrong setting can also result in strikes and the danger of a channel deletion.
What do these settings mean?
The selection "No, not for children" corresponds to the previous YouTube setting. There are all YouTube functions, there is data collection and evaluation, etc.. But the video will not be shown in YouTube Kids and will not be shown on accounts that could be assigned to children.
But more interesting is what happens when you select "Yes, specially made for children" and how this affects the videos.
For videos with the setting "especially for children", numerous functions of YouTube will be deactivated or at least severely restricted in the future.
Functions affected
These functions are switched off for children's content via video, among other things (presumably not completely):
comments
Notifications about new videos
Likes/Dislikes
suggested Videos (partly)
Subscriptions
targeted advertising, i.e. only special advertising suitable for children is played without a Targeted Audience, ergo extreme sales losses
Endcards
Infocards
channel memberships
YouTube Merch
Channel watermark
Super-Chat and Super-Sticker
donation button
Community Tab
Playlists
watch later
and more
What happens with the wrong settings?
I wouldn't take that lightly either, because the FTC has threatened to charge fines of $42,350 directly from Content Creators, PER VIDEO. So with mixed content, you should think very carefully about what you are doing. And even if it's not so likely that the FTC will now take international action against Creator, it's possible that they'll take action against YouTube in turn. And then YouTube will start to delete massively content and channels that make false statements here or whose content is generally borderline with regard to the safety of children on the Internet.
► Reading recommendation:
YouTube tips by me about:
Zuschauerbindung und Audience Retention
Ein YouTube Kanal und mehrere Themen
YouTube Mindset und Kanal Strategie zu Audience Targeting, Titel, Beschreibung und Tags
Who is considered a child and what is content "specially made for kids"?
​Accordingly, every person between 0 and 12 years of age is a child and thus affected by COPPA. So this is quite clear. And these regulations do not come from YouTube, but from the FTC (Federal Trade Commission). That's the US Trade Commission, which controls and punishes companies that do business in the US. YouTube has just been fined about $170 million for collecting data on children. And YouTube's employees have been given extremely accurate rules that they're just trying to implement as quickly as possible so they don't have to pay any more fines. So not typically YouTube, but rather typically government supervision and regulatory authority.
​And Minecraft, Fortnite and similar areas are supposed to be absolutely classified as children's content. Also content that advertises specifically with comic figures that appeal to children or famous children's heroes such as from Star Wars, Marvel, DC or Disney movies, etc. is on the shooting list. All children's songs channels, content with Lego bricks or other toys, board games, role-playing games, many Let's Plays, color videos, etc, etc, will be affected. Everything that might be interesting for people under 13 is affected.
But it will probably only be known when the FTC really starts issuing penalties and there are first court cases about it. Also learning contents, which could be interesting for under 13 years old, are concerned.
In short: All content that could be interesting for children has to be switched to "especially for children", as it looks at the moment. It's not about whether YOU want it to be for adults only.
Important: Let's repeat. It's not about whether you as a creator think you're making content for adults. It's not about whether you want to have children as viewers or not. It's about whether your content might be interesting for children under 13. And if there are doubts, the content should be marked as "especially for children". At least as far as I personally understood the previous statements. These formulations are however all extremely spongy and strongly interpretable so far. And the biggest problem with this will be that many 12 years old could be interested in nearly everything.
YouTube COPPA changes 2020 – impact for viewers:
Everyone will notice major changes on YouTube from 01 January 2020. What these changes will look like exactly is not yet clear. But some things are foreseeable.
A not-insignificant portion of the content on YouTube will be classified in the future as content "specially made for kids". As a result, viewers, even if they are older than 13 years themselves, will have severe restrictions on these videos in terms of comments, likes, subscriptions, notifications, and many other YouTube features.
Many channels you like to watch will face massive problems in the future when it comes to the distribution of their videos. As a viewer, you won't get any more notifications or suggestions regarding this "content specifically made for kids". And this will change the corresponding channels massively and also the content that many channels create will change very much.
My opinion on the whole issue:
YouTube is officially a platform where you have to confirm that you are 13 years of age or older when you register. For children, there is a special app, YouTube Kids. There, children's rights are handled carefully. Parents now ignore these Terms of Service and hand over the tablet to their children as a replacement nanny with their logged-in adult account. Some are even more carefree and register YouTube accounts for their toddlers. This way, data about the children is collected, which should not happen.
One might think that parents should be better informed, that they should solve this more responsibly and that their toddlers should only watch YouTube Kids. But instead, COPPA is now asking YouTube to make the whole platform "child-safe". This is probably similar to the warning "Beware, this cup contains a hot drink" on a coffee cup. These are the first effects of this.
The future will show how much these changes will transform YouTube channels and how much this will change YouTube or will this be the end of YouTube?
These changes will massively change YouTube in the foreseeable future. Maybe the FTC will also show some movement here and weaken some parts again. Maybe the rules won't have as massive an effect as it seems right now. But YouTube, as we have learned to know and love it over the last 15 years, will change a lot.
What's your opinion on the subject? Please write what you think about it in the comments below. I would also appreciate additional information and links to other interesting sources. No registration is required for the comment box below.
More information and content to get more detailed information:
And here are some opinions and assessments of US lawyers who are familiar with media law. The first 2 are still quite easy to understand, the third article is violently legally accurate, and takes the regulations, decrees, and laws behind the whole YouTube vs FTC thing completely apart.
Sources and links:
► Reading recommendation:
YouTube tips by me about:
Zuschauerbindung und Audience Retention
Ein YouTube Kanal und mehrere Themen
YouTube Mindset und Kanal Strategie zu Audience Targeting, Titel, Beschreibung und Tags
​