The successor to the popular Acronis True Image now comes with a security software included and is now called Acronis Cyber Protect Home Office – A Test/Review
Acronis has been very well known for their excellent backup solutions for many years. With Acronis True Image, you always had a reliable partner for backups, system images, and recovery media on CD/DVD/USB stick. Now the successor of True Image was released with the name "Acronis Cyber Protect Home Office".
---
Disclaimer: I received this product for free as part of the Alternate/Techrush "Test, Evaluate, Keep" promotion. However, this has no bearing on my test results, as I always test with that thought in mind, "How would I feel, if I had paid the full price?".
The software is a combination of Acronis' well-known backup solutions and a security and anti-virus/anti-malware product. I will discuss both parts separately.
About the actual product, the backup solution:
Acronis Backup, formerly known as "True Image", in the Test
I have been using Acronis for many years as a backup solution and for recovery of damaged Windows systems, be it privately, at work, or with the typical "can you help me out" friends. This is where I've come to appreciate Acronis' reliable and easy-to-use backup solutions because once set up correctly, they usually don't require much interaction from the user, so if you're the managing administrator and you return to the computer later, you're very likely to find usable backups.
This expertise in backup and data security can be found here in the most up-to-date form. Good ease of use, extensive setting options, and reliable backups, as you would expect from Acronis. Everything in a modern, tidy interface, rounded off with all kinds of additional functions. The backup solutions from Acronis actually offer everything you need in this area.
In addition, there's access to Acronis cloud storage, where you can store backups off-site. Acronis also provides 1 terabyte (1TB) of online storage as part of the 1-year license for that time. This has advantages and disadvantages, so you do not know exactly on which servers the data is stored or in which countries and should you really need to keep company secrets or confidential customer information safe, then you have to look very carefully here whether you should use this.
For private individuals, however, this is a good option to store a backup far from the household infrastructure, which is then possibly even kept safe in case of computer loss, lightning strike, or fire. Included in the purchase price is the use of this cloud for 1 year, additional terms must be purchased thereafter.
Additional Antivirus/Antimalware Component
Preface Windows Security:
I have used numerous "security packages" over the last 2-3 decades, and some were helpful at the time, but often there were problems. And since Windows Defender offers basic protection built right into Windows, I've moved away from that. Because external security solutions may have additional features at some points compared to the integrated Defender, but often there are problems that you would not have without the security software.
This starts with Windows updates, which some vendors are just generally too slow to respond to, but even if they do respond quickly, a change to Windows that the software isn't prepared for can rip open a security problem that may be bigger than if you hadn't installed any software for that purpose at all. And crashes, inexplicably slow response times, general performance degradation due to background checks at inopportune times, and all sorts of other problems are commonplace with many packages.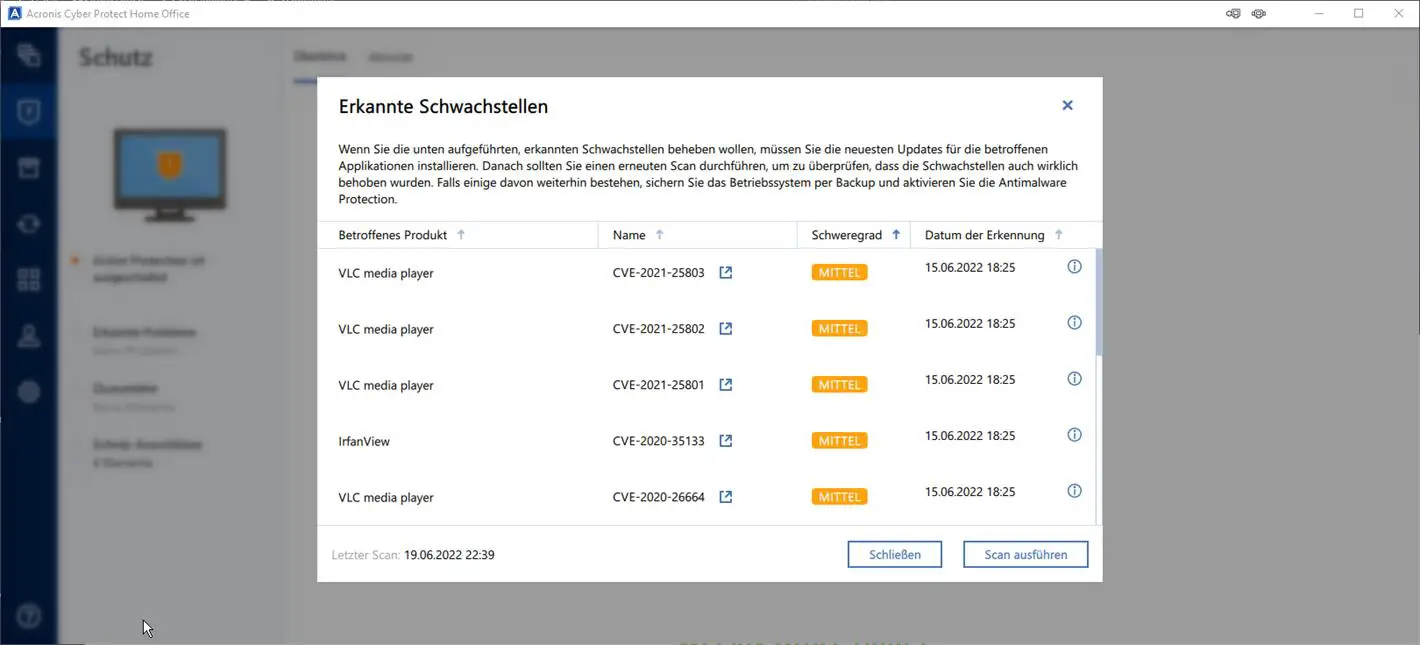 Acronis Active Protection – Antivirus / Antimalware Review
And unfortunately, much of this is true for the security software that has been integrated into the new Acronis Cyber Protect Home Office Security. There are almost daily signature updates, so "new releases" in the virus market should probably be covered quickly. However, this is where a problem comes into play that many of these "security" solutions have, they are often far too sensitive and block programs or updates that the user actually wants to run.
Acronis' security solution immediately caught my eye negatively here. First of all, the game platform "Steam" was detected as unwanted software and "locked" in a quarantine, preventing further execution. However, there was only a 2-second pop-up in the lower right corner of the main screen. If you do not pay attention to this immediately, this may simply go unnoticed, and you wonder why the software suddenly no longer works.
After some research, you can then catch the programs out of quarantine again and unlock them manually. But unfortunately, this does not always work reliably, some programs I had to unlock there several times, especially if these programs have then also received updates.
Integrated software check with exaggerated warning messages
To that end, Acronis has a module that scans the installed software on the machine for outdated program versions and warns against them if any security vulnerabilities might arise in the process. This in principle useful approach had its pitfalls, because I had, for example, as a browser in addition to Chrome and Firefox Nightly, which I actually use, also an ancient version of Firefox. Acronis then dramatically showed me that I had 96 security holes on the PC.
To do this, the software simply scans the CVE vulnerabilities database, compares the installed version with the current one, and points to all the vulnerability reports in the database for individual problematic items.
Well, it was just 2-3 years old and various patches for Firefox have been released since then, but calling this "96 security holes" boldly reminded me of shock ads a la "smoking kills", it's true in a simplified way, probably also helps some people to finally take care of the outdated versions, but it wouldn't have to be expressed in such an overly bold way.
But also in programs like GIMP, Irfanview, or the VLC Media Player vulnerabilities of the severity level "Medium" or "Severe" were displayed. In addition, one gets a link to the vulnerability database, which, however, should confuse most "John Average"-users rather than give them assistance in updating their software. So this module, is, if at all, only useful for experts, a real help for normal users is this is not, besides the fact that issues are referred to, which are often none, but without offering a solution.
After a few days, however, I had to deactivate the security solution, because it kept quarantining programs that I use and that I could not exclude from scanning, although there is an exception list for this, unfortunately, it did not work reliably. And the security solution could not be partially disabled either, either all or nothing, there are no more settings, unfortunately.
All in all, the user interface of "Active Protection" is not very user-friendly, lacks all kinds of comfort but also important operating features and from a security point of view, I would further recommend everyone to simply use Windows Defender, and not make the computer with external security programs, in the end, more insecure and slow it down.
Rating and Conclusion or tl;dr:
The Acronis Cyber Protect Home Office solution offers great and comprehensive backup solutions, as you would expect from Acronis. The security software is not very helpful, has all sorts of problems in operation, and is annoying with false alarms.
With a price of about 50 to 85 €/$, the software is definitely too expensive for me. The backup solution was already available as a 1-seat license cheaper and the very mediocre security solution is unfortunately only very limited use in my eyes. If it were a free extra, it would be a nice thing, but it doesn't justify the hefty price increase.
As a final rating, I arrive at a middling 74 % score for the overall package. This especially takes into account the high quality of the backup solution and, to some extent, the price of comparable online storage for 1 year. However, the security package is not recommendable.
Links and Sources
Acronis Cyber Protect Home Office at Alternate (Ad – Affiliate Link)