The Caravan Building Strategy Game As Far As The Eye in Gameplay Test
As Far As the Eye is a build-up strategy game in a turn-based mode, where you have to save a tribe of cute little pupils from the flood. What looks so cute at first turns out to be a complex and not so easy strategy game with many small details.
German Version:
This article is available here as text, but also as a YouTube video (German voice-over, many subtitles). This way you can choose how you would like to enjoy it most.
Video:
German Voice-Over, many subtitles
As Far As The Eye Review – Intro
Hi there, this is the Zap. In this As Far as the Eye review I introduce you to this turn-based indie strategy game. I show you how it is played, how extensive it is if I liked it and in the end, there is a rating. But most of all I want to give you all the information you need to decide for yourself if you would enjoy playing the game.
The game is built by the small indie developer Unexpected Studio from France, which previously released the games dWarf and looK INside. I got a free test key, my thanks for that. But this won't have any influence on my rating, because I always test all games with the thought in mind, how would I feel if I paid the full price.
As far as the Eye – Game Type
The game is a single player strategy game in which you try to reach a safe place with a small nomadic tribe before the flood comes. To do this, you usually have to complete several stages of travel with the caravan.
For the stages of the journey, the tribe always needs a given amount of goods, and to get them, a camp must be set up on a hex tile map before each part of the journey. From this camp, you have to collect the necessary materials, train the members of the tribe, keep them alive, and maybe even discover some secrets.
As far as the Eye, or A FATE as the developers call it, offers a five-part tutorial campaign. After that, there is an extensive sandbox mode with randomly generated maps, but we can have them created according to our wishes. There are numerous controls and switches, as well as a seed number system to share good worlds with friends.
The developers call their game City-Builder, but I don't think that's quite true. Because here only small camps of three to maybe a maximum of eight buildings are built before the tribe has to flee from the flood and moves on. It's absolutely building-strategy and the strategic demand is not that low, but I imagine a City-Builder to be something bigger and more durable than just a few tents for a few days.
But now we come to the actual gameplay. Our tribe travels with a kind of mammoth caravan through the landscape, which is shown on the map as several places connected by lines. Each of these lines is a journey and each journey has certain requirements. We can also often choose between different travel routes and thus choose which requirements we have to meet.
Our tribe consists of two, three, or even more so-called pupils. They move around in turn-based mode or mine resources like wood, pumpkins, stones, ore, wool, and more. The resources dry up relatively quickly, sometimes they are protected from mining by magic shrines and for many resources, we need a specialist tent first.
Buildings can be built in the standard variant, which is left behind after the trunk has left, or in a mobile variant, which we can load onto our mammoth on departure. Provided we have enough space. Depending on the variant the buildings also cost different amounts of material.
During a rest, there are sometimes mysterious ruins and shrines to explore, which can bring advantages and disadvantages. Sometimes we need a druid to neutralize magic protection spells so that certain resources can be mined. And every now and then we meet other caravans with whom we can trade. Sometimes they also have additional pupils, which expand our tribe.
When we have the requirements together for the next stage of the trip, we can leave at any time. Sometimes it might be worthwhile to stay a little longer and stock up on supplies. So the next rest could be a little easier. But you have to keep an eye on the coming tide, which is displayed at the bottom of the screen.
Gameplay Characters
Our pupils get experience in every mining action, ruin investigation, and processing in one of the 7 starting professions, and 13 specialist trainings. Through this, you will unlock passive properties in a skill tree, but later you will also get higher-value recipes or skills.
In principle, any pupil can work in any starting profession. But of course, it is often advisable to specialize pupils in a specific field so that they can advance to the higher levels of their guild and thus work more effectively.
Because in the skill tree there are many possibilities to produce more material, to work faster, but also to advance in a certain profession faster. And when it comes to specializations, we are often faced with the choice between two skills.
This leveling and training part of the game is much more complex than it first seems. And here is a big part of the long term strategy and somehow also the fun of the game included.
Because on longer trips with numerous stages, our training decisions have a very strong long term impact. And just how well we manage, especially at the beginning, not to use the individual pupils indiscriminately, but to specialize in one or two professions if possible, can decide on our survival later on in the journey.
Gameplay World & Story
The world of the pupils is afflicted by a flood from which they constantly flee. The floating guys and girls look a little bit like bears in the beginning, but in the course of time, their appearance is changed by their professions.
So the chef gets a pig nose, while the baker turns more into a rabbit shape. The druid gets the antlers of a deer while the architect becomes a bird. So every profession has its own animal shape and with the time you learn as a player to recognize the professions by the animal species.
In addition, the game teaches us that we should live in balance with our environment. Plagues can come over our people, making our pupils sick or destroying certain resources. And if we mine much more resources than are really needed, the country may turn against us, and the chance of plagues increases.
Tech, Graphics, Sound
As far as the Eye was built with the Unity Engine, so there is a stable foundation. Crashes didn't happen to me at all during the testing period and after some patches around the release day, the game is now running very smoothly.
The 3D graphics can be freely rotated and zoomed. The textures and animations are not a miracle, but everything is clearly visible and especially the pupils look quite cute. Everything is moving a little bit, butterflies are flying around and from the trees every now and then a leaf is falling down. So you can already see that the developers have been working with a lot of love for detail.
The game sound is okay, nothing surprisingly great, but you don't have the feeling that something is missing. AFATE doesn't offer voice output, but you can't necessarily expect that for a small indie title. The music is always very relaxed and comfortable, which fits very well, I think.
The screen texts are available in eight languages and at least the German and English translations are accurate. There's nothing to complain about here, good work was done. I would also like to mention as a special positive that the game has very extensive option menus, with which you can customize graphics, sound, handling, and gameplay to your own wishes.
As Far As The Eye Gameplay Screenshots
Click or tap on the image for a larger view.
In the enlarged view, you can scroll right and left on the edges
As Far As The Eye – Opinion and Conclusion
As far as the Eye is a very unique game. It offers game mechanics from the build-up genre but combines them with many original ideas. The visual design, the little stories, the whole flow of the game offers a lot of creativity, and that makes the game a unique experience.
With the professions system, the eternally scarce resources, and a penalty system for overexploitation of nature, the strategy in this game is really demanding and challenging. And it does this without trying to throw the player off track with too mean random events.
Technically AFATE works well, the scope of the campaign is a bit tight, I would have wished for more here. But the very well done sandbox mode makes for very high replay value. And maybe the developers will deliver a little more campaign, I have high hopes for that.
As Far As The Eye Test – Rating
As far as the Eye now costs just under 21 €/$ for the release. This is not the cheapest offer for an indie title. But until September 17th there is a 10 % discount on Steam, GOG, and Epicgames. At my partner site Gamesplanet, the discount is even a bit higher with 15 %, you can find a link below.
AFATE offers only a small campaign, but extensive sandbox colony building fun. It has cuddly characters, a lot of original ideas, and offers a lot of strategic depth with scarce resources and an extensive profession system.
I would like to assign 85% as a base score here. But for the very short campaign, I would like to deduct 5 % again. I wish that the developers would add a little more here, then they could recapture these percentages. But until then I give a final score of 80 % for this very innovative nomadic-building game.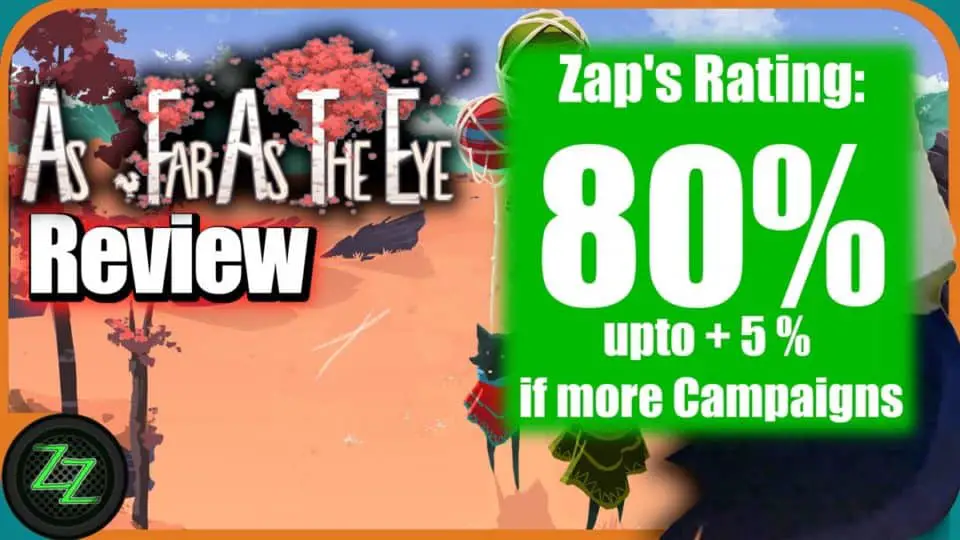 Outro
How do you like the cuddly animal pupils and the unusual caravan construction gameplay? Write to me with your opinion if you like.
More gaming news and game reviews can be found on the YouTube channel or on https://zapzockt.de – If you leave me a subscription or a thumb, I would be very happy. Otherwise, I wish you a great day, have a good time, ciao ciao, your Zap
Links and Sources
Buy As Far As The Eye cheaper at Gamesplanet (Affiliate Link / Ad)
As Far As The Eye at Epic Games (Affiliate Link / Ad)
As Far As The Eye Dev Homepage