The salvation of mankind is up in the clouds, and we are creating it in the new build-up strategy game Sphere Flying Cities
In this Sphere Flying Cities strategy game review, I'll show you the new survival city builder game from the German developers Hexagon Sphere. In Sphere: Flying Cities, we build a city on a flying clod of earth in the sky after a meteorite shattered the moon and made the earth uninhabitable. Under the most difficult conditions, our inhabitants work to give humanity a last chance. A building simulation with a very special approach. The new indie building strategy game was released in Early Access in October 2021 for PC on Steam.
---
This article is available here as text, but also as a YouTube video (German voice-over, many subtitles). This way you can choose how you would like to enjoy it most.
Sphere Flying Cities (p)Review Video
German Voice-Over, many subtitles
Sphere – Flying Cities pReview – Intro
Hi there, this is the Zap. In this Sphere Flying Cities pReview, you get a little insight into the new survival cities building game. I'll tell you how it plays, what's inside, and how far the Early Access state is already. But most of all, I want to give you all the info, so you can decide for yourself if the game could be fun for you.
Sphere is developed by Hexagon Sphere and published by Assemble Entertainment. I received a free trial key, my thanks for that. However, this should have no bearing on my review, as I always test all games with the thought in the back of my mind, how would I feel if I had paid full price.
Foreword – Early Access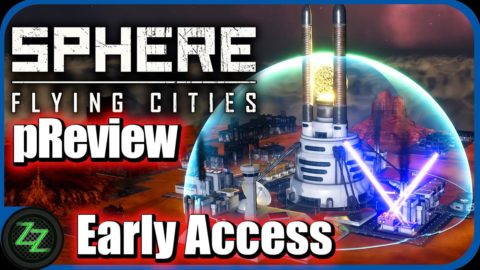 Sphere – Flying Cities appeared on October 14, 2021, in Early Access and is built by a small team from Hanover. With Assemble Entertainment as a publisher, however, there is a more experienced team behind the scenes here, which has already gained extensive experience in the survival city-builder genre with Endzone – A World Apart.
Early Access is known to be a special kind of game release, where you as a player can experience a development process that has not yet been completed and often also participate in it with feedback. However, this has wide limits.
Some early access games are more or less almost feature complete and just need some balancing and fine-tuning. Other games only convey a rough direction and are actually only 20% complete. And then there are the black sheep because some games never leave that Early Access status, and you end up paying for an eternal construction site.
And let me say right up front that Sphere probably belongs to the middle group. It has a long way to go before it becomes a complete game that is also really fun. It's still lacking in many places at the moment, but more on that later.
Sphere Flying Cities – Story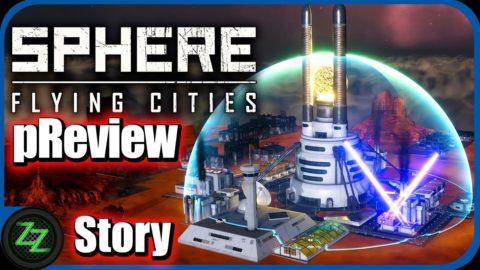 In a distant future, a meteor hits the moon and it bursts into millions of pieces. This also causes massive destruction on Earth and the debris darkens the sky. This leads to a complete collapse of basic services and mass extinction.
Mankind begins to build anti-grav units as a last resort, with the plan to raise cities above the dust in the atmosphere. However, this goes badly wrong. Because the start of our city fails almost completely. Everything around the city is destroyed and only a very small core around the flight unit really reaches the sky.
So begins our mission to build a city on a flying stone floe in the sky. We will travel around with it to find new resources. At the same time, we will be looking for escape pods with settlers, partly to rescue them, but also, of course, so that our city can grow.
---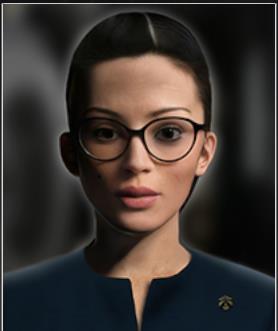 Spieltyp – Survival Build-up-Strategy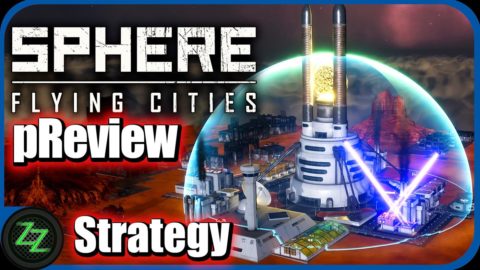 Sphere is a classic build-up strategy game with survival elements. That is, a city-builder in which the probability of survival is drastically worsened by all sorts of disasters and unsightly living conditions. In Sphere Flying Cities, this happens mainly due to acute resource shortages, as well as particle storms and meteor hails that damage and destroy our buildings.
We can protect ourselves against this with an energy shield. At least that is the theory. Because not only do we get storms hitting us all the time, but our energy supply is extremely vulnerable. The power plants consume the resource "material", which we can only extract from the ruins of the outskirts to a very limited extent. Otherwise, we have to fly around to find very small amounts of it on a map of hexes.
And because that's not hard enough, there are storms all the time anyway that are too strong for our shield to help against. So we need a lot of our scarce materials not only to build new houses but especially to constantly repair all the ones we've built so far.
There is a research tree, with which we can unlock new buildings, new levels for the shield, and all sorts of other advantages. There are already extensive expansion options here. In addition, there is an interesting idea that you do not only have to advance these researches with a research center and workers but also first have to get certain chemical elements for it, in order to start the respective research.
However, you get these ingredients so randomly that this makes research more or less impossible since you usually lack the elements even for the absolute initial researches. There is also a conversion system, but unfortunately, this is also only of limited help.
Overall, the gameplay as a concept is actually absolutely interesting. But so far all kinds of technical problems stand in the way of real gameplay fun and unfortunately the balancing is also still far away from making the game really fun.
Sphere Flying Cities Gameplay Screenshots
Click or tap on the image for a larger view.
In the enlarged view, you can scroll right and left on the edges
Technology, Graphics, Sound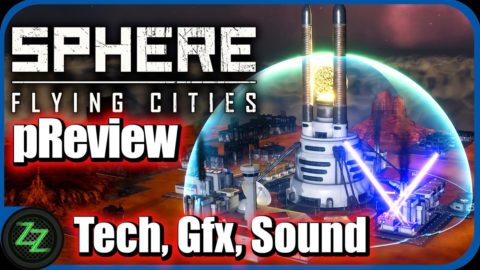 Sphere is developed using the Unity engine. Normally, this means that a certain basic quality of graphics and performance is guaranteed as a result. Unfortunately, this is not the case with Sphere at the moment, more on that in a moment.
The graphics aren't bad, however, the game's almost exclusive use of grays and browns doesn't make it look particularly appealing to me visually. The 3D models are detailed, but nothing mind-blowing either.
The soundtrack is so far in the poor to an adequate range. There are a few sounds as the city flies around, some ambiance, and a click or beep here and there. But neither do you get enough audible warnings when the city is once again almost or completely destroyed by a storm in a few seconds nor is there much else to hear from our inhabitants.
The options menus are not particularly extensive at the moment and are also only available from the main menu. Neither can you set difficulty levels, nor are there any hotkeys to set, simply because the game so far doesn't accept any keyboard commands except WASD.
Sphere Flying Cities (p)Review – Opinion and Conclusion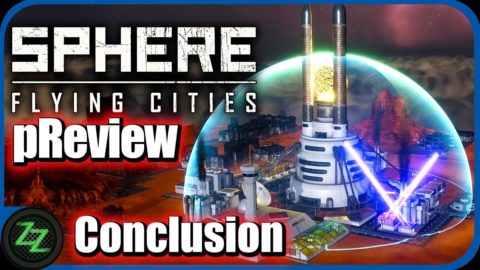 Let's start with the technical underpinnings problems. Because even though the city flies around on a barren, desert-like land clod, and even the buildings and inhabitants aren't super-detailed, the game's performance is creepy.
My Radeon RX580 with 8 GB of video memory stutters around at 15-20 FPS on average, and it runs so warmly that the fans rev up a lot. So, unfortunately, the technical basics are not yet fully sophisticated here.
Other than that, the game also already has a few pretty moments. Among other things, the storms and meteor showers are really nifty animations. But it's probably these particle effects that bring the GPU to its knees so much.
If you ignore the fact that the color choices for the buildings and landscapes are mostly drab browns and grays, the 3D models are actually quite spiffy. And when you zoom down to the street and see the inhabitants walking around there, it doesn't look bad either, but it's hard to control because a single press of a directional button makes the city bounce around several houses at once.
Unfortunately, the short tutorial only explains half of what you need. The game interface controls have almost no tooltips. So overall, you're left somewhat alone when it comes to figuring out how the game actually works, and the learning phase, in particular, is tough and less entertaining than much more frustrating.
There is written help for reference, but not everything is there either. So you can expect some false starts into the game-over screen at the beginning, simply because you have to try many things first with trial and error. In addition, there are then some serious bugs, which sometimes ensure that you have to reload an old game state.
Overall, Sphere is unfortunately still a massive construction site. So Early Access here doesn't just mean some features and some polish are missing, but that you should also fundamentally expect severe limitations and problems.
There is a really promising concept lying dormant among all these problems. If they are solved and if the developers can realize the plans of their already existing roadmap in the coming months, I'm sure Sphere will still become a quite usable or even good game. I have high hopes that this could actually be realized. And I'd also really be up for playing the game when it gets further along at some point.
But so far I can only recommend absolute hardcore fans of difficult city-building sims to take a look at Sphere if they are resistant to bugs, bad balancing and poor performance. All average or casual game players should rather wait a few more months and then have another look.
If Sphere develops well, I will probably then in 6 to 12 months again report on the game and then maybe bring a proper review with all the details and a rating. Oh well, Sphere is currently available on Steam for €15.29 or just under $20.
Outro
Do you like difficult survival sims and the basic concept of a flying city? Or are jerky graphics and bad balancing not your kind of thing? Feel free to write me your opinion in the comments or in the community Discord.
More gaming news, game reviews, and guides can be found on the YouTube channel or at https://zapzockt.de – thumbs click, subscribe and share with friends certainly can't hurt, and then I wish you a great day, ciao ciao, your Zap
Links and Sources
Buy Sphere Flying Cities cheaper at Gamesplanet
For every purchase through one of these links you get a discount and I get a small commission from Gamesplanet, so you also support the channel and the website at the same time, and save money.
Sphere Flying Cities Steampage
---
Reading – recommendations:
A lot of detailed game news and information about games and gaming can always be found here at ZapZockt.de – As a Steam user, you can also follow the ZapZockt Steam curator to always be informed about my reviews directly on the platform.
There are also many game reviews that might interest you, and if you don't want to miss anything, subscribe to the newsletter. As a Google News reader you can also go there and read the latest articles.
Shopping – Tip:
Ad / Affiliate Link
Games can often be bought cheaper. Legal, reliable, and safe is the way to do it at my partner site Gamesplanet. This game, all DLCs, many more tactics, strategy, and many more titles are available there and almost always much cheaper than at Steam, Uplay, Epic, or other shops.
For every purchase, via this link, I receive a small commission. So you get games cheaper and at the same time support my work, my thanks in advance for that.