In the Through the darkest of Times Test and Review I show the important details of the historic turn-based strategy Pearl
The Zap Zockt Through the darkest of Times Review / Test – Through the Darkest of Times is a 3rd Reich strategy game in which you lead a resistance group against the Nazi regime. In turn-based strategy and with a lot of historical background, you are introduced very emotionally into the events and the thinking of different groups of the time. In the analysis, I show you how the game is played, how it feels, and give you all the information you need to decide whether the game could be interesting for you or not.
German Version:
This article exists as text and as a video (German voiceover, many subtitles), so you can choose how you want to enjoy it.
Video:
German voiceover, many subtitles
Through the darkest of Times Test / Review – Intro
Hello, this is the Zap. In this episode, I introduce you to the political strategy game Through the darkest of Times. I explain how it plays, what features it has and in the end, there is a rating from me. But most of all, I want to give you all the necessary information to decide for yourself if you like the game or not.
Germany 1933, the Nazis take power. They subjugate the country and start persecuting minorities and political opponents. We are more or less also on this list. So we try to organize ourselves and find comrades-in-arms to somehow survive and maybe change something for the better. We go underground. We are preparing to fight against the fascist regime.
Life is certainly already dangerous in 1930s Germany and our way as a member of the resistance is a dance on a knife-edge, between what we can achieve and how we manage to remain unrecognized. Because a dead resistance fighter no longer resists.
This is the story of Through the darkest of Times, a game by the small indie developer Paintbucket Games, who found a big publisher with Handy Games and THQ Nordic. This is a strategy game in which we have to lead a resistance group in the Berlin of the Nazi era and try to achieve as much as possible against the oppressor system without falling victim to it ourselves.
But this is also a possibility to learn a lot about the history of Germany, the emergence of fascism and dictatorships, and the life and survival in such regimes. Welcome to the Zap Zockt Review of Through the darkest of Times.
Gameplay – Turn-based Strategy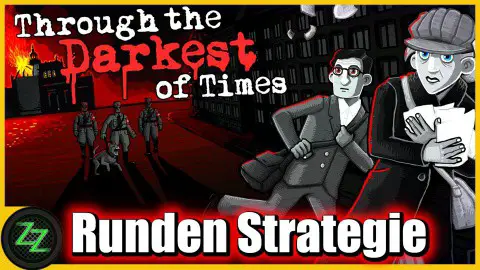 Through the Darkest of Times is a strategy game with a deadly serious background. Our selection will always decide over the lives of the members of our small group. But even beyond that, we constantly have to go through situations where our actions have an impact on the lives and survival of other people. And by far not everyone can be saved.
The game is organized in turns. Each game round corresponds to one week and each member can participate in one action. Through these actions, we can recruit new supporters, collect money, buy materials like paper for flyers, get paint for slogans on walls, or participate in bigger and mostly more dangerous actions. Every action we take has a chance of success, which depends on how dangerous it is and how well the participating resistance fighters are suited for this subversive enterprise.
It is shown which character traits are helpful for the action and which are rather obstructive. We have to assign our members skillfully in order to achieve as much as possible with the available people while keeping the risk of being caught by the SA small. Otherwise, we ourselves could end up in a concentration camp or be shot directly. And if the resistance dies, even more people will suffer or die because of a lack of resistance.
Gameplay – characters and attributes
Our little resistance group may consist of up to five members. Since the actions we take have very different requirements, we should pay close attention to the characteristics of our people. Firstly, each character has a faction, such as Social Democrat, monarchist, conservative, communist, or anarchist.
In addition, there are special character traits such as puppet masters, unstable, cynical, thoughtless, and many more. Most of these traits have a negative effect, only rarely you can find a character who has a positive trait. These traits often decrease the chances of success of actions, if you don't pay attention to them or sometimes you have no other choice than to carry out an action in spite of not fitting traits.
Then there are 5 basic attributes like secrecy, empathy, strength, propaganda, and common knowledge. By doing successful actions our members get to experience so that they can also increase their level. By leveling up, we can increase one of the five basic traits.
Depending on the action, these characteristics give advantages, and belonging to certain factions can help or hinder. Thus, it may be helpful to put together a group that is very diversified. On the other hand, this can lead to friction and other problems in the group, which can affect morale or even cause members to leave the group.
Gameplay – morale, supporters, money and heat
The game has four absolutely important values that have a strong influence on our group as a whole. There are the morale, the number of our supporters, the money available, and the degree of persecution named heat.
The morale of our group is a very important factor. Due to the awkward general situation, they lose morale every week anyway. Through successful actions, we can rebuild morale, but through failed actions, we can also lose morale. Random events or events are given by the story also have an influence on the group's morale.
Over time, we can discover relevant pubs or other places in the city, which our entire troop can then visit to improve morale. But such a visit will then occupy a complete round for all members.
The second basic group value is money. We receive a certain amount of money every week from our supporters, but we can also do fundraising activities. Sometimes there are other events that can bring money into the cash box, but these are rare.
However, most actions cost money. If we want better equipment, materials such as paper and paint, or if we want to bribe someone, our capital goes down quickly. And also our group has from time to time emergency situations which can be alleviated with the use of money.
Through the Darkest of Times Gameplay Screenshots
Click or tap on the image for a larger view.
In the enlarged view, you can scroll right and left on the edges
More pictures can be found below.
Supporters are actually the basis for almost all progress in the game. The available actions in the city are actually tied to the number of supporters. And only with a certain amount of supporters more districts and different actions will be unlocked bit by bit. But we're constantly losing supporters, and so so soliciting new supporters will determine a major part of our actions.
Depending on the type of actions we take and how successful we are in doing so, the level of persecution (heat) of our members increases. This is shown by small red dots on the respective figure. Members with a high degree of persecution increase the chance that actions will fail, which in turn increases the degree of persecution of all involved. Here we have to keep an eye on it constantly and sometimes it is simply wiser to keep the proverbial feet still than to run blindly into disaster with actionism.
Read recommendation:
You can get more reviews and news about games and gaming right here at zapzockt.de
Shopping tip:
Buy Through the darkest of Time,
you can get the game cheaper at my partner site Gamesplanet
(Werbung / Affiliate)
For every purchase, via this link, I get a small commission, without it getting more expensive for you.
Gameplay – Story
The story of Through the darkest of Times is of course, due to the nature of the events of that time, a particularly dark one. But that's to be expected with this topic. The game has here a very strong focus on the historical, but also interpersonal events of this really dark time. And it permanently confronts us with decisions, which often aren't easy to make and which make you think about what it was like to live at that time.
Every week newspaper articles tell the story of Germany's history. Here a lot of real events are described. And even if one has been told a lot about this time at school or by grandparents or others, probably everyone can discover things here that were not yet known.
Every few rounds there are random events and fixed events that happen to our group and especially often and intensively to our main character. Here we are shown small cutscenes of still images and a lot of text and mostly we are confronted with many small decisions. Often there are no really good ways out, but only the choice between bad and really bad.
Again and again, we have to weigh up during these sequences. Sometimes we can openly oppose the gruesome events, but this may put us in dangerous situations and increase the pressure to persecute. But maybe we can also help someone out of a predicament. Sometimes we can try to find a middle way, or we may have to put a good face on the matter, even if it is difficult. And in many circumstances, we are simply helpless in the face of what is happening
Also in the cohabitation of the group, there are constant occurrences where we as leaders of the group have to make decisions. These sometimes have a strong impact on morale. This can lead to members leaving us, but it can also include situations that can decide the life or death of our members at any time.
The game creates a very depressing atmosphere and conveys well the depressive and sometimes hopeless situation in which the resistance was in the dictatorship at that time. And no matter how well you master the strategic part of the game, you cannot win against the oppressive dictatorship. You can only try to reduce the suffering and dying of the people around the group.
Engine, Graphics, Sound
Since Through the darkest of Times was developed with the Unity Engine, there is a stable base here. Accordingly, I was able to play the whole test time without any crashes or real bugs.
The graphics of the game is characterized by an expressionistic drawing style and are based largely on still images and individual small animations. No stunning action is offered here. But that wouldn't be appropriate for the explosive topic either. The many drawings mostly express the feeling of the scene well, at the same time convey by the mostly black-white-red coloring a feeling which is appropriate for the time and also the situation.
As a setting, there are mainly some contemporary orchestral pieces. There are a few sounds every now and then, but here, too, minimalism is rather the order of the day. Nonetheless, the game manages to create a fitting mood with this economical use. The musical score in combination with the graphic design oftentimes creates very special moments and intensifies the narrative depth of the story enormously.
Voice output is rare, here the game could have probably appealed to more people with a little more work. I like the text-based narrative style, but I'm sure that the target audience will be smaller due to the many texts without voiceover.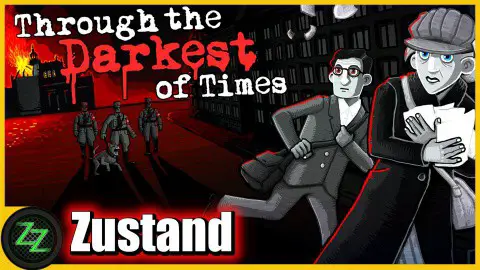 State of the game
Technically, Through the darkest of Times is actually almost perfect. I haven't noticed a single bug, textual errors, or other flaws. Probably there is a minimal amount of stuff to find somewhere if you look ultra-precisely, but nothing that would really stand out.
TtdoT, as the developers also abbreviate it, is a complete game and does not offer many starting points for criticism here. Therefore we can quickly close this section and call the team behind the game and the quality testers just a "well done".
Through the darkest of Times – Opinion and conclusion
Convinced National Socialists or other supporters of fascist ideologies will probably see the proverbial red cloth in this game. Here, the atrocities not only of the great Nazis but also of the many little followers and joyfully participating little Nazis are shown and accused. Also, the mechanics are shown, how such dictatorships are built, and how propaganda and manipulation are used to turn people into monsters. For people who belong to this group, this history game will probably not be able to have any healing effects.
To all others, this game offers a depressing and oppressive insight into time. Through the game, you dive deeper into time and events than you could only do through history lessons or reading books.
The story of the game sends shivers down my spine, but at the same time, it captivates and encourages me to continue playing. In a way, Through the darkest of Times is also a horror game. But there is a desire to save a few more people, to put up a little more resistance, without falling under the wheels of the regime's terrible mills.
Through the darkest of Times conveys in a stirring way what it must have been like to have been an average citizen back then. What courage it takes to go into resistance when the mass movement is moving at full speed into barbarism. It shows how many Germans took part out of conviction.
The game accuses and conveys a deep feeling for the hopelessness of the victims. It shows how many people became followers because it was so nice and comfortable, but also why many pretended to be followers out of fear. It shows how horrible life was for the persecuted, and how cruel the actions of many who were not persecuted. Through the Darkest of Times is an enormously emotional game.
As for the scope, the game has 4 chapters that represent different parts of the story. There is a narrative mode, which includes some simpler gameplay and a mode called "Resistance", which at least offers some more realistic conditions concerning the probability of failure and the danger of being pursued.
All in all, I even think that the game is still very forgiving to the player in both modes. Considering how many members of the resistance died in the Third Reich, the game should be almost unmanageably difficult, but then any motivation to play the game would be lost. This balancing act has probably been discussed at length by the developers. And here a middle way was found, which lies between perceived hopelessness and a not completely demotivating level of difficulty.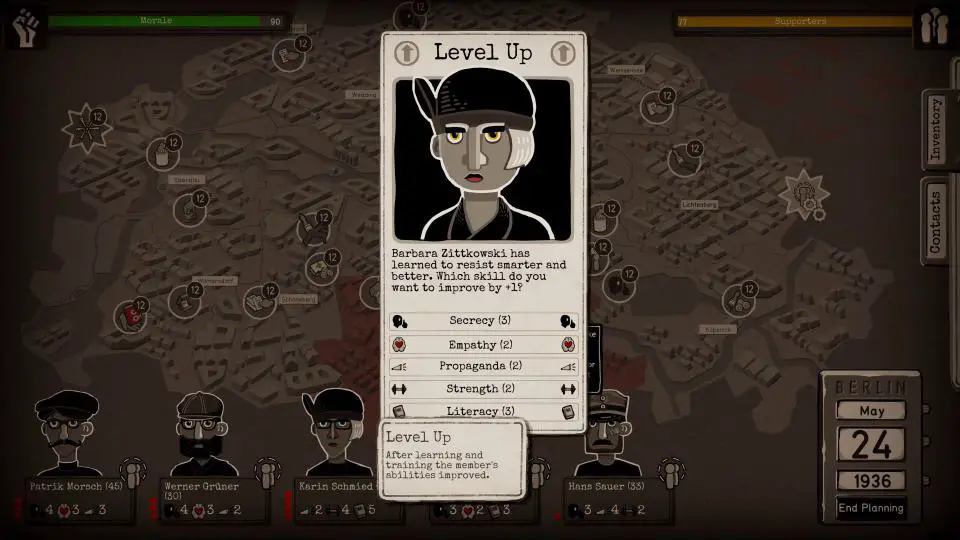 Through the darkest of Times – Rating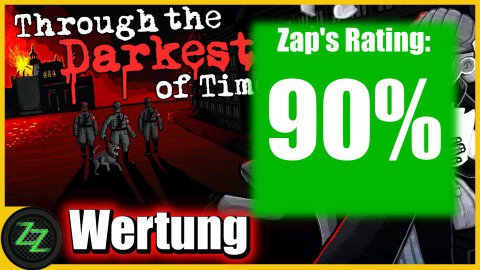 Through the Darkest of Times is a special game in many ways. It's not technically extremely elaborate, but you have to consider that Paintbucket Games is a small indie team. With 14,99 € the price is also more in the lower range.
Within the framework of the stylistic devices used, the game is artistically high-quality and technically flawless. It is a courageous project and provides completely new insights into the history and stories of the darkest times of our country.
It has touched me emotionally, it has given me new insights. And despite the hopeless starting position and the deeply gloomy mood of the game, as a strategy game, it was also fun, challenging, and entertaining. It deals with the topic respectfully, offers new perspectives, and stimulates many thoughts. And with the special graphics and harmonious music, it is close to being a work of art.
I'd be happy to have more different game content, but what is offered is absolutely fine for the price. The price-performance ratio is very good here in this area. That's why I would like to give Through the darkest of Times a 90% rating. If you want to save some money you can still get a discount on the game when you buy at my partner site Gamesplanet.
Through the darkest of Times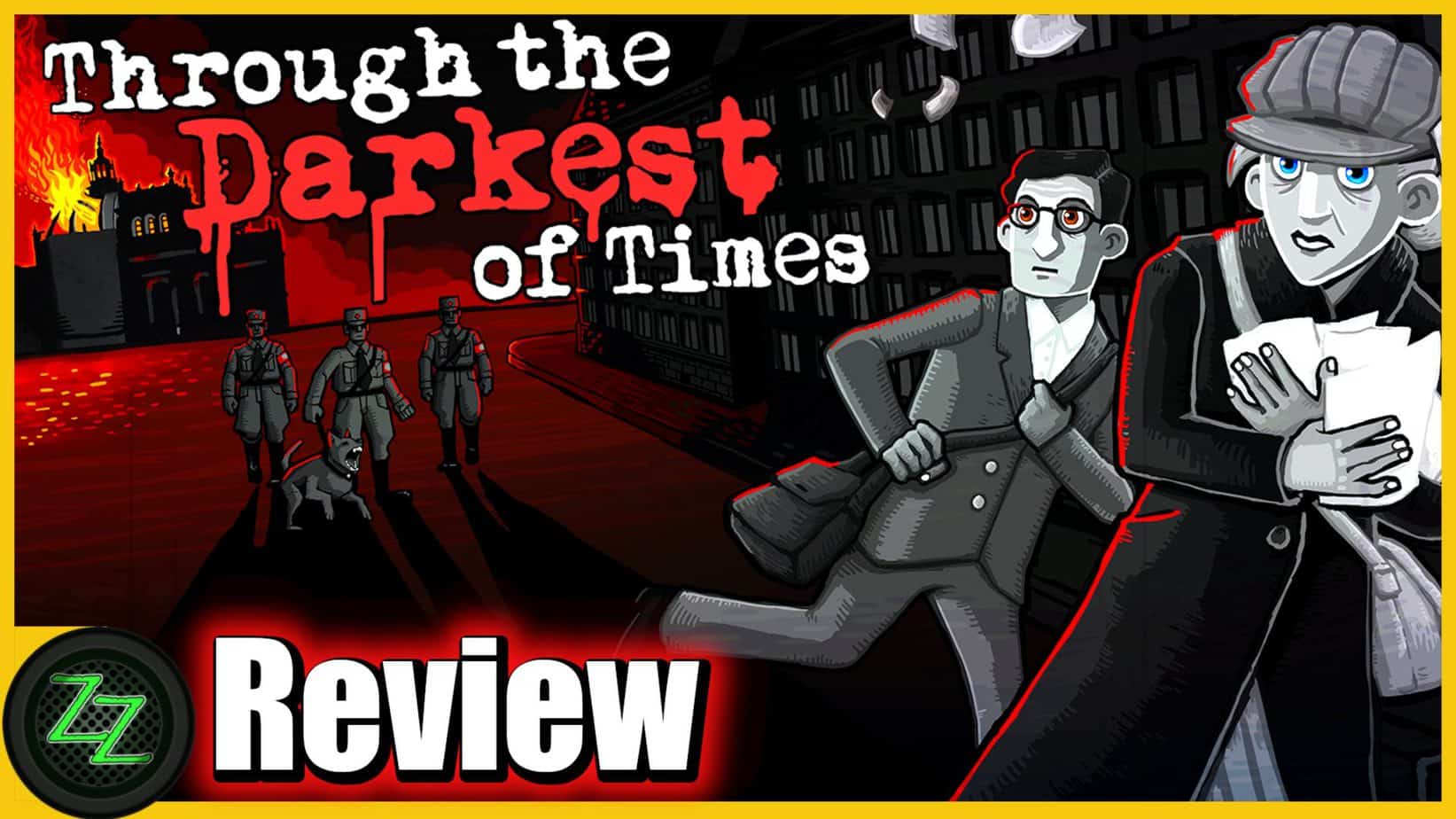 Through the darkest of Times is a 3rd Reich strategy game in which you lead a resistance group against the Nazi regime. I show in the analysis how it plays, how it feels and give you all the information you need to decide if the game could be interesting for you or not.
handling of the sensible topic
Summary
It has touched me emotionally, it has given me new insights. And despite the hopeless starting position and the deeply gloomy mood of the game, as a strategy game, it was also fun, challenging, and entertaining. It deals with the topic respectfully, offers new perspectives, and stimulates many thoughts. And with the special graphics and harmonious music, it is close to being a work of art.
I'd love to see more different game content, but what's offered is absolutely fine for the price. The price-performance ratio is very good here in this area. That's why I would like to give Through the darkest of Times a 90% rating.
Outro
Do you think that with a game you can better show how such historical events, the processes in society, and also in each of us can happen deep inside? Does the game appeal to you or have you already noticed while watching it that the subject matter discourages you? Let us discuss in the comments below.
For more gaming reviews and news you are exactly right here at Zapzockt.de – The thumbs and subscription buttons are released for use, please consider sharing the page, and then I wish you a great day, ciao ciao, your Zap
Links and Sources:
Steam-Page:
https://store.steampowered.com/app/1003090/Through_the_Darkest_of_Times/
Dev-Page:
https://paintbucket.de/de
Game-Twitter:
https://twitter.com/TtDotGame
Dev Twitter:
https://twitter.com/paintbucket_de
---
Reading – recommendations:
A lot of detailed game news and information about games and gaming can always be found here at ZapZockt.de – As a Steam user, you can also follow the ZapZockt Steam curator to always be informed about my reviews directly on the platform.
There are also many game reviews that might interest you, and if you don't want to miss anything, subscribe to the newsletter. As a Google News reader you can also go there and read the latest articles.
Shopping – Tip:
Ad / Affiliate Link
Games can often be bought cheaper. Legal, reliable, and safe is the way to do it at my partner site Gamesplanet. This game, all DLCs, many more tactics, strategy, and many more titles are available there and almost always much cheaper than at Steam, Uplay, Epic, or other shops.
For every purchase, via this link, I receive a small commission. So you get games cheaper and at the same time support my work, my thanks in advance for that.