Kingdoms Reborn Review with Gameplay Test and Complete Analysis, Video, screenshots, Presentation of all Features, my Opinion and Rating
In Kingdoms Reborn, we build a settlement after an ice age and build our own kingdom. Food, housing, clothing, warmth, health, trade, diplomacy, all these things shape the lives of our little villagers. Kingdoms Reborn is a complex City Builder simulation. Kingdoms Reborn extends the well-known system of Banished to the Ages Systems of Civilization and adds some card game ideas. And the special highlight is that it offers a very well-working multiplayer part.
---
This article is available here as text, but also as a YouTube video (German voice-over, many subtitles). This way you can choose how you would like to enjoy it most.
Kingdoms Reborn Review Video:
German Voice-Over, many subtitles
Kingdoms Reborn Review – Intro
Hi there, this is the Zap. In this Kingdoms Reborn Review, I present to you this nice and complex city builder strategy indie game. I show you how it plays, what's in it, and if I enjoyed it. The game is a little bit more extensive, so the review will be a few words longer than normal, but it should be worth staying on until the end.
I have received a free trial version from the developer, but I try hard to evaluate all games always with the thought in mind, how would I feel if I had paid the full price.
Kingdoms Reborn – Background
Kingdoms Reborn is built by a solo developer in complete self-responsibility. So here we have the absolutely classic Indie-Dev Game in front of us. But after having already spent more than 100 hours in the game during internal tests and having had numerous chats with the developer, I can confirm that there is a real talent at work here.
Kingdoms Reborn will start in Early Access in November 2020 and will continue to be developed for a long time after that. This review can only deal with the status at Early Access Start, I ask you to take this into account. The longer after the Early Access release you look at the game, the more might already have changed.
So we are dealing with an unfinished product, it is not yet bug-free, and it has not yet implemented all planned features. But the developer is very active in his discord, where you can submit problems, error messages, and possible crash reports. And almost always problems are solved within a few days.
Kingdoms Reborn Review – Game Type
Kingdoms Reborn is a classic build-up strategy game with city builder elements. As a comparison, Banished or Foundation are probably the best matches, and the Anno series and Settlers are also very similar in some respects.
The concept is however extended by some special features that either did not exist yet or at least only rarely. And as a complete package, Kingdom's Reborn becomes a very special, unique mixture.
The game offers a progress panel and a research tree. Both enable a large number of upgrades and improvements, which, similar to the ages in Civilization, constantly expand our game options.
Another great feature that sets Kingdoms Reborn apart from Banished, for example, is the huge world in which we do not exist alone. There is a freely selectable set of other colonies, and these can not only be computer-controlled enemies. The world map consists, depending on the map size chosen, of hundreds of individual plots that have to be purchased first and for which you can later compete with each other.
In addition, Kingdoms Reborn extends the building system with a card game component. This means that we can only build the most basic things like roads, warehouses, houses, and fields in unlimited quantities. For all special buildings, we need a construction plan, which the game offers in the form of playing cards, but I will explain this in detail later on.
And the very big advantage of Kingdoms Reborn is that the game has an extremely well-working multiplayer mode, where you can play together with up to 6 human players in co-op or semi-competitive.
Kingdoms Reborn Gameplay – City Builder Strategy
Let's start with the more known features of the game. We start a settlement with an outpost, which is immediately built with a small camp full of start resources, and we have some first settlers right from the beginning.
But they immediately start to become unhappy, because every inhabitant needs a place in a dwelling house, through which he is supplied with food, warmth, fun, recreation, and later on with more complex goods. So we first have to build some residential houses very quickly. Because inhabitants who are homeless for a longer time will leave our country and try their luck in one of the other kingdoms. Just as, people could move from there to us if our country offers better conditions.
Then we need buildings to produce food, wood, and stones because our initial supplies are quickly used up. This is where the card system comes into play. We can't just build a lumberjack at will, we first need a blueprint card for it. And if we don't get it by chance, the only thing that helps, for the time being, is to use the tree-cutting function to provide wood.
Every construction site can be planned by us, but must first be cleared of trees, stones, and waste by workers. Afterward, our inhabitants have to carry the building material from the storage to the construction site. And when the construction site is prepared and supplied, a construction worker has to come by and actually carpenter the whole thing together.
We can, however, establish some fields, which will work with varying degrees of effectiveness depending on the location and fertility of the soil. A wide variety of fruits can grow in these fields, as long as we have unlocked the appropriate type of seeds. And many of the fruit varieties only grow on very few plots of land that have particular fertility, especially for this type of plant.
Every piece of wood, every bag of grain, every inhabitant, and all needs of people and buildings are completely simulated. And when we have our lumberjacks in the east of our country and set up a new construction site in the west, the wood must be carried across the whole country first.
To be able to control this a little better and to make it easier for the carriers, we can build camps. And if necessary, we can also adjust which goods are allowed to be stored in which warehouses and which are not, later there will also be marketplaces and logistics buildings.
Almost everything in Kingdoms Reborn costs money, whether it's the maintenance of the buildings or the new construction plans, whether it's the purchase of urgently needed resources or the acquisition of new land. That's why we are dependent on a lot of trade. Here there is a simulated world market that reacts with rising and falling prices, depending on supply and demand.
The whole system already offers some very complex correlations here. But much of it is totally logical. Therefore, you do not need special instruction for most things, but you can simply derive it from the sense. Also, by observing the actions of the inhabitants, you can quickly see how everything should work.
But for it to work perfectly, we as the king or the administrator first have to plan and build everything as effectively as possible. Little by little our state is becoming a huge clockwork of hundreds of small cogwheels, consisting of more and more buildings, inhabitants, materials, and goods. As the saying goes, it is easy to learn, but very difficult to master.
Gameplay – World and Worldmap
The world of Kingdoms Reborn is newly generated at every game start, so it's a typical sandbox mode. There are no handmade maps yet. However, the maps are generated from numbers or letters and some settings, so that you can easily share a generated map that you like with other players or use it again later if you want to.
The settings during creation allow changes in size, fertility, sea level, amount of mountains, temperature, and how many computer-controlled empires should be in the world. There are also three different levels of difficulty. But with the complexity of the game, I at least so far have enough to do on Normal to keep everything running.
And in the world, there are numerous continents, islands, and different zones like jungle, desert, iceland, tundra, forest, and steppe in the game. And all zones have their own characteristics and different growing conditions. Because the warmer and more humid a landscape is, the less our people freeze in winter, but the higher the probability of diseases.
Gameplay – Build with Cards
As already mentioned, you can only choose a few absolutely basic things directly from a building menu. For all other buildings, construction plans are required, and these are extremely limited by the playing card system, especially at the beginning.
Every 2 1/2 minutes we are offered a selection of 5 cards, from which we can buy cards with our national treasure. And we have a limited "hand" on which a maximum of 7 different cards can be stored. If you have several identical cards, they can be stacked in one place.
So we have to earn money first to be able to afford build-plan cards. But even if we should have a lot of money, we can't buy an infinite number of construction plans in reserve, because the capacity of the cards is very limited.
In addition to the blueprint cards, there are also various cards that have special effects. There are some like "Sell 50% of your food for 3 gold each" or "Buy wood for 50% of your money", "Delete a card from the deck" and also all kinds of cards that can improve our houses or the whole country.
Apart from that, it remains to be said that the planning of building sites, their arrangement, and the order in which we build what and where have an enormous influence on how our empire grows and prospers. Because every construction site generates a large number of work requests to our inhabitants to clear the building site, bring in material and then construct the building. And to add a little spice to these complex processes and to improve the process, individual buildings can be prioritized.
Gameplay – Upgrade Systems
And speaking of upgrades, Kingdoms Reborn has a huge number of different upgrade systems. These upgrade systems take the game to a completely crazy level of complexity in a very intelligent way. It starts with the fact that almost every house, when you click on it, offers upgrades in its info window that you can buy for resources and that are only valid for that one house.
Then our homes will be improved gradually in the ranking, depending on how well the inhabitants are supplied with basic goods and luxury items. More people can live in houses with a higher level, and they are also a little happier there. But be careful, if there is a shortage, later on, the house rank will also go down quickly.
Also, many crafting buildings have card slots where you can insert special upgrade cards. The main benefits here are increased productivity, lower operating costs, and reduced material requirements.
In our main palace, we can not only use special Global Upgrade cards, which we get from surrounding tribes, or for quests as a reward and which then improve the whole empire. We can also upgrade the main house in five levels for gold, and each level unlocks a whole range of new features and boosts.
And because all this is obviously still too few possibilities for improvement, there are two more extensive upgrade systems. There's the research page, which is divided into eight ages and unlocks a total of 41 buildings, upgrades, and technologies. And then there are the House Unlocks, which, depending on the number of houses and their levels, activate 38 more buildings and upgrades.
This amount of upgrades sounds insane? Yes, maybe it is a little bit. But in the game, it provides a vast number of possibilities to expand your state in different ways. And because this huge amount doesn't rush in on you all at once, but is introduced into the game very gently, one after the other, it's not nearly as overwhelming as it might seem at first glance.
Kingdoms Reborn – Simulation
Each inhabitant in our kingdom has needs like hunger, rest, warmth, fun, and happiness. All of these desires want to be fulfilled and influence his work efficiency. And, of course, these things also constantly prevent him from working non-stop.
The game simulates every single inhabitant consistently. Every woman and every guy have a home and a workplace. However, if there is nothing to do at work, they can also help out on their own accord, carry things around or switch to another job for a short time.
Every inhabitant has a limited age and when they get old, they die. Of course, they also breed, there are children who eventually become adults. And if they are unhappy or hungry, they emigrate to another country or die. Almost every inhabitant has something to do at all times, and so they are always running from A to B to C and via D back to A.
Here not only a tidy and nice hustle and bustle is created in our state, but all this follows a certain plan, which we as rulers permanently influence indirectly with every one of our actions. Because we cannot control anyone directly. They only react to our construction plans and settings on the buildings.
In addition, the game runs in seasons. So our bustling friends have a lot to do in the spring to sow the seeds in the fields, in the summer fruits are gathered and in autumn the harvest is brought in. And in all this time we should additionally build up a stock of wood and coal so that not so many inhabitants die of frost and cold in winter.
The game simulates every single piece of wood, bread, and coal. From its creation in a workshop to its transport across the country to the warehouse and its consumption or sale at the market at the end.
Everything must be carried around by hand by our inhabitants. We have to take care to organize this flow of goods without the inhabitants neglecting their many other tasks and their needs. Sounds complicated, but it's a lot of fun, and it's just a nice experience when everything at least halfway works at some point.
Kingdoms Reborn Review – Multiplayer
There are many complex economic simulations and strategy games. Some are good, and some are not so great. But most of the time you lose the desire after a while because you are just tinkering around on your own. A great country will get boring at some point if there is no one around who enjoys or despairs what you are building up and envies you for it.
And then there are some attempts to add multiplayer to such games. But no matter if The Settlers, Anno, or The Guild, somehow they all have their problems in multiplayer. With some of them, you have so little interaction in multiplayer that you actually have the feeling to play solo anyway. And with others, the system crashes all the time or it gets desynchronized and everything sinks into a sea of technical problems.
And here Kingdoms Reborn really shines brightly. The game offers a multiplayer mode for up to six players. And in addition, you can mix up to 8 AI parties into the game.
Next to extensive trade possibilities and cooperative mutual help by donating goods and buffing, there is also a system of military influence with which you can conquer lands and make other empires your vassals. So team play, as well as mutual annoyance and destruction, is possible, depending on what you prefer.
And the best thing about this multiplayer is that it works like cream in coffee. Everything runs smoothly, is stable, and simply round. I remember horrible multiplayer weekends with The Settlers or The Guild. And the multiplayer mode of Kingdoms Reborn is such a pleasure, hours of smooth and trouble-free sessions are common in this game.
And should something go wrong against all expectations, there are Autosaves and Manual Saves. The list of planned features even says that you should be able to join in the middle of a running game soon. So if a buddy joins a little later, no problem, he can join without having to start over.
Kingdoms Reborn Gameplay Screenshots
Click or tap on an image for a larger version
In the popup, you can navigate right and left at the border of the screen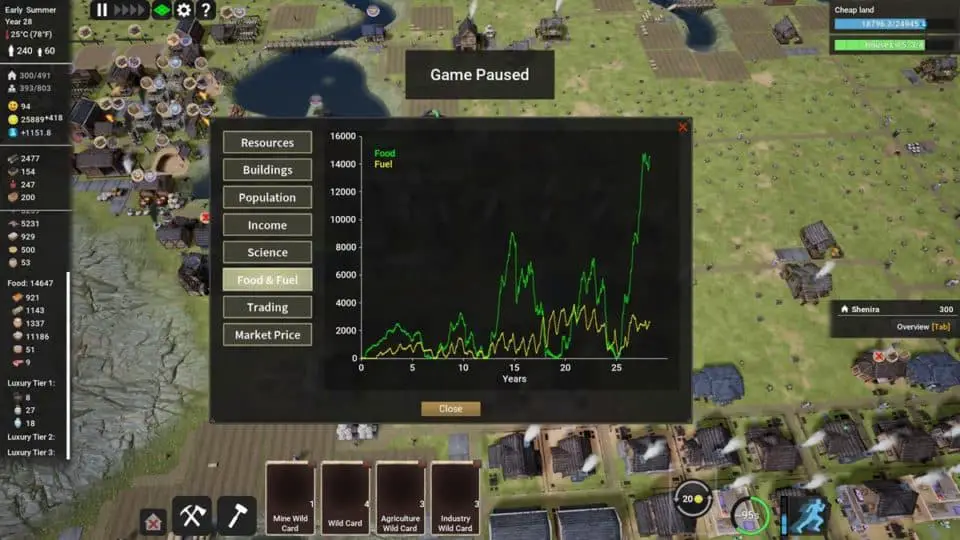 Tech, Graphics, Sound, Engine, GFX, SFX
Kingdoms Reborn is developed with the latest version of the Unreal Engine. This ensures smooth and for a build-up game quite acceptable graphics and a minimum of stability.
The 3D models used in Kingdoms Reborn are mostly somewhere between mediocre and really fancy. After all, it is a one-man project and the creator is a gifted programmer. You can't expect ultra-high-end graphics from him. I suppose most of the models are purchased for this purpose, but none of them is really ugly. Except maybe the inhabitants, their graphics and animations could use more details and nicer animations, but maybe that's yet to come.
On the technical side, the complexity of the whole work, the stability, and especially the accurately running multiplayer are impressive. All these things are already working at the start of the early access phase at a level that I consider absolutely amazing.
For my taste, the music for the game is in the upper-middle class. There are a few different pieces of music that gently blend into the background without sounding too much like elevator music. And next to it there is a selection of sounds for the settlements and workers, which do not reinvent the wheel but at least provide a pleasant ambiance.
The game is currently only available in English. But since the texts consist anyway almost only of single words and possibly sometimes short sentences as card descriptions, it is not too complicated to understand. Translations into other languages are planned, but not yet started. So it should take another two to three months until the game will be available in German, Italian, Spanish, Russian, or other languages.
Opinion and Conclusion
First of all: Kingdoms Reborn is already very well playable and offers a complete gaming experience. And what a great one! An "I'll have a quick look at the game" thought turned into a close relationship with the game that has lasted for several weeks and that I have rarely experienced in the last few years.
There are sometimes minor problems with the residents' AI, which results in the fact that sometimes a few construction sites are supplied later. Or, in very rare cases, residents stand around somewhere and do nothing at all until they starve to death. Or it happens that some subordinates suddenly get the Jesus effect and walk over water or through mountains. But I don't think that's really disturbing at this point, and I think the developer will soon have solved that.
The AI of the opposing colonies is not yet well-developed either. They behave very passive at the moment and are more decoration and placeholders than real competition. But this part is definitely at the top of the developer's to-do list.
He also has very extensive plans for further development. A roadmap is in work and should be available soon on the Steam page. I will then add it to the written version of this review on my website.
The plan is to develop the game continuously for the next 2 years and to expand it with new ideas and content. He still has many plans and with the talent of this exceptional software artist, I see many great hours of play with new features coming up.
Besides, modding and steam workshop support are planned for the long term. This way, modders will probably be able to add their own functions, buildings, resources, and more to the game later on.
All in all, I can say that I haven't had so much fun in a game for a long time. Especially in multiplayer, my fellow players have rarely had so much fun over such a long period of time, to repeatedly create a new match without even thinking about another game.
Kingdoms Reborn Review – Rating and Scoring
Kingdoms Reborn enters Early Access with a customer-friendly price of 19 € or 20 $. The game offers a complex set of features that is unprecedented in the genre of city-builder strategy games. The game succeeds in realizing very complex gameplay, which is enormously motivating and entertaining without getting overly complicated.
In combination with the great multiplayer mode, this game turns into a real smash hit. If I would give a Gold-Star-award, I would have to add a platinum version for Kingdoms Reborn. I'm very sure that the game has a great potential for the future to become a long-running game that one likes to launch again from time to time, be it alone or with friends.
For this great offer, at this very moderate price, I would like to give Kingdoms Reborn a base score of 92%. Smaller screw-ups in the AI, the somewhat blurred and disappointing graphics of the so important inhabitants, and smaller bugs in other places let me deduct 4% of it. This gives me a final score of 88 % for Kingdoms Reborn for the Early Access Release.
However, it is foreseeable that the mentioned defects will be eliminated. And I think that the game will get even better with patches over time. So I'm pretty sure that Kingdoms Reborn will move closer to 95% percent. Every city builder and strategy player should definitely have a look here.
Outro
Would you like to start immediately and build up big empires with your best buddies? Or are the many features already too much for you or are scurrying settlers in general not your cup of tea? Write to me with your opinion, I'm looking forward to discussing this with you.
Thumbs up and subscription buttons may be used, sharing the post with your friends would be very nice. For more reviews and gaming news check out my website https:/zapzockt.de And then I wish you a great day, be well and stay healthy, ciao ciao, your Zap
Links and Sources