The Indie Game Dungeons of Edera was Released on August 28th on Steam in Early Access, in This Review, You Get all the Info
In the Indie Game Dungeons of Edera, we travel through randomly generated dungeons and save our homeland from an invasion. In this Dungeons of Edera Test Review, I introduce the game in detail. Dungeons of Edera is a roguelike Dungeon Crawler RPG with 3D graphics. All information about role-playing, quality, state of the early access game, procedurally generated maps, loot, loot, and again loot can be found in the Dungeons of Edera Review.
---
This article is available here as text, but also as a YouTube video (German voice-over, many subtitles). This way you can choose how you would like to enjoy it most.
Video:
German Voice-Over, many subtitles
Dungeons of Edera Review – Intro
Hi there, this is the Zap. In this Dungeons of Edera review, I'd like to introduce you to this interesting Indie Game, which was released in Early Access on August 28th. I'll show you how it is played, what's in it, and tell you if I liked it. But most of all I want to give you all the information so you can judge for yourself if it could bring you fun.
The game is built by the small indie developer team Monster Tooth Studios, which already released a passable first game in 2019 with the name "Hold the Fort". I got a free test key, my thanks for that. But this won't have any influence on my rating, because I always test all games with the thought in the back of my mind, how would I feel if I paid the full price.
So let's have a look into the game:
Dungeons of Edera Test – Game Type
Dungeons of Edera is an indie dungeon-crawler role-playing game with action-fighting and extensive character development. It has amazingly nice graphics for an indie game. Most of the time such rogue-like dungeon crawler games and monster-fighting games are built-in 2D, but this one is done in decent 3D graphics throughout.
The game is a so-called rogue-lite game, so a somewhat defused roguelike. This means that when you die you lose your current equipment or even your whole character, depending on the difficulty level you choose. If you set the game to easy, you can play without any losses.
The game has a quite interesting story, in which you as a young hero or young heroine have to save your home from an invasion. You follow a longer quest series, which is about intrigues and betrayal. You may be able to expand the settlement later. And the progress in this campaign and the state of the settlement will always remain the same, even if you die.
Dungeons of Edera has a complex random map system, so-called procedurally generated dungeons provide an endless supply of missions. From a larger set of different components, forests, caves, dungeons, ruins, and other types of levels are built. But in between, there are also handmade maps from time to time.
Gameplay – Characters and Roleplay
Our character gets experience with every fight and every quest he completes, so he rises in levels as he should. And for each level, there is also a skill point, which you can distribute in the skill tree. However, this skill tree is very limited in the beginning. For more complex stuff like archery, spellcasting, two-handed weapons, or lock picking, you need a teacher to unlock these areas. And these instructors are only activated in the course of the story, some of them only after playing through the game several times.
The selection in the skill tree includes active skills that can be used in combat, but also passive ones, such as those that permanently increase life or stamina, or those that make attacks stronger or reflect damage back to enemies when we are hit.
There are currently 44 different skills to choose from that can be improved, some of them in several grades. And the developer has already announced that there will be more choices soon. However, some of them are probably only placeholders for now, because the teachers are not all available yet for example, the blood magic only consists of the category so far, but you can't activate it, nor are there any spells in this area yet. But the game is still in an early access version, there will be a lot more to do in the near future.
Our hero figure is determined by numerous role-play values. This starts with health, and stamina, and goes over to armor and damage. But also different types of elemental damage and more complex values such as life stealing, damage reflection, damage reduction, or chance of critical hits are part of it.
We have a total of 11 slots for equipment, and each piece of equipment offers numerous stat enhancements. New equipment is available either from the vendor or from slain monsters, boxes, barrels, and completed quests. And that's where loot collecting really gets started. After each mission, we have an inventory full of loot with which we can upgrade our hero. And since we might lose equipment due to death, it's also worth hoarding a second or third set of equipment in the storage crate.
Because our equipment can be found, as usual in such games, at different quality levels. From common to rare to epic and legendary, all known loot variations are included. There is probably an infinite number of combinations of values to be found, always adapted to our level plus-minus a little bit and the random generator throws out a lot of different value combinations. So nothing stands in the way of a never-ending loot spiral and constant optimizations of our character.
Dungeons of Edera pulls all the usual triggers of role-playing games, and with endless loot, randomly generated dungeons, and constantly changing difficulty levels, you can have a lot of fun here, again and again. The game offers here some parallels to loot collecting games like Diablo or similar titles.
Gameplay – Dungeons and Combat
We play from the third-person or ego-perspective, so we are in the middle of the action. We can not only beat up our opponents but also block, parry, stun, or avoid them. If we do it skilfully, we can hit several opponents at the same time with one attack.
In the later course, we get more and more active skills, like shield bash or a massive blow on the ground that makes a fissure through the dungeon. Once we have the appropriate trainers unlocked, we'll later have a bow and elemental spells that we can shoot at our opponents. Here it ranges from a simple ice splinter over electric lightning to fireball and firewall.
In between missions we clean up our inventory in our warehouse, talk to NPCs and then accept a new order. At each mission start, we can choose a difficulty level for this specific mission. This does not only influence the strength of the opponents but also if and what we will lose in case of possible death. So here you can define your own thrill and you can also change your mind at any time.
The actual game takes place then mainly in randomly generated dungeons. So even if you play through the game several times, you don't have to be afraid that at some point you know all the paths by heart and it gets boring.
We encounter many different types of monsters and human opponents, which differ in color, equipment, and also in combat behavior. So almost all opponents are available as melee and ranged fighters and the melee fighters also have different weapons and skills available. There are forest maps with small settlements or old ruins and fortresses where we are in the open air. But of course, there are also caves, castles, dungeons, and dungeons, which invite you to beat up monsters.
In the dungeons, there are numerous traps to avoid and treasures to find. And almost always there is a highly dangerous dungeon boss who can not only drop excellent equipment but also guards a shrine where you can grab various passive and permanent advantages. Provided you are not knocked out of your shoes by these bosses. Because these bosses are even on a simple level of difficulty not so powerless.
Gameplay – Story
Dungeons of Edera offers not only random content but also a little frame story. Our heroic character loses his or her parents, house, and farm, and threatening neighboring nations begin a warlike invasion against our homeland.
With the help of an aging war hero, we not only try to rebuild our home village but also form a resistance against the invaders. The story leads us through a long series of quests, some of them on random maps, and some in handmade scenarios. From the classic "Search 10 Items" or "Kill 15 Enemies" tasks to boss kills, wave defenses, and time-limited missions, there's a lot on offer.
Later we also move from a tent camp to a larger settlement. There we will get different additional tasks from NPCs or from a bulletin board, where we can get endless random generator quests. This village expansion part is still in its very early stages, there is not much of it in the game yet. Actually, that's one of the reasons why the game is in early access. How good this feature will be then we have to wait and see.
The main story is also not finished yet. But the developers are working very hard on the game. The team is constantly adding new content, parallel to bug fixing and tuning the balancing.
Besides the story, there is also an endless mode called Dungeonrunner. Here you die permanently, but 15% of the collected gold goes into the story character's stash chest and you can choose almost all skills and spells while leveling, even without a trainer.
Tech, Graphics, Sound
Dungeons of Edera uses Epic's Unreal Engine and also utilizes mostly very decent models, textures, and animations. Since this is the project of a small team of three people, you can't expect miracles of variety and high-quality graphics. But especially when you take this into consideration, the choice of monsters, weapons, different areas, and dungeons is certainly not that bad at all.
The game is not yet bug-free, there are still a lot of construction sites. It's not without reason that the label "Early Access" is stuck on the front. But there is already a lot of roleplaying and item collecting fun in it. Development is happening at a pace that other developers working with larger teams could take a leaf out of their book.
The graphic is not in a top-class status, but it is alright and acceptable throughout. The game offers a wide range of option menus, with which you can adapt the graphics, the sound, and also the controls to your own needs and wishes. This is a very positive surprise for games in this price range.
The Sound is very often reduced to the bare essentials in indie games, but here too Monster Tooth Studios not only surprises with pleasant background music and reasonable fighting and background noise but even offers the main story with English voice-overs.
The screen texts are then also translated into French, Spanish, German, Portuguese, and Italian. Even if this translation is far from perfect, this is a big step forward for non-English speakers. The German texts were a bit strange at the beginning, but I went ahead and provided Monster Tooth with some improvements. So this should get better soon.
For the future of the game, there is already a roadmap, which first of all includes more weapons and armor variety. In addition, the expansion of further weapon types is planned, such as the rogue-like two-weapon combat, two-handed hammer, spears, and blood magic. Other features are also planned, such as crafting, additional mission types like escort missions, or larger sieges. And of course, the expansion of the story is also an important point on this list.
Dungeons of Edera Gameplay Screenshots
Click or tap on the image for a larger view.
In the enlarged view, you can scroll right and left on the edges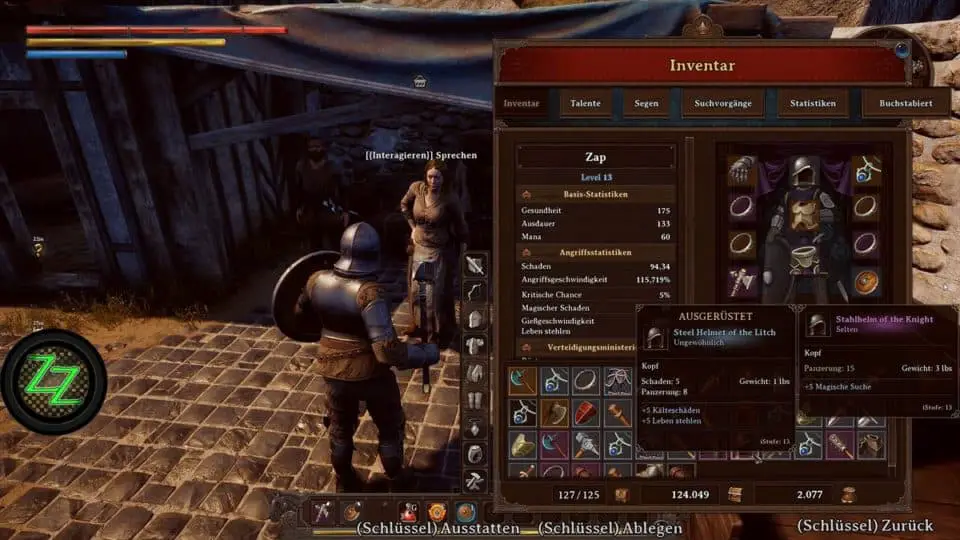 Dungeons of Edera Test – Opinion and Conclusion
Dungeons of Edera is once again one of those Indie Game surprises I didn't expect when I first saw it. Not only is there a lot of entertaining roleplaying fun, exciting monster smashing, and plenty of food for your collecting pleasure, but the whole experience is pleasantly packaged as well.
For a small studio and for the low price of just 12,50 €/$ there is already plenty of entertainment in the game at the start of the Early Access. It took me about 10 hours to play through the story so far. Probably it will go faster if you hurry up. But I think that this story is just at the beginning, and there will be more and more content added here over time.
The game offers a high replay value. It includes an additional dungeon runner mode without a story, where you can simply shred monsters and level. With the NewGame+ mode, which allows you to play through the main story over and over again without losing your levels and equipment, the game also offers a lot of extra game time. This way you can get Dungeons of Edera out from time to time even in a few months.
I felt very well entertained and had a lot of fun. Of course, at this stage of development, you have to be able to overlook minor balancing problems, graphic glitches, and other bugs. But on the whole, there was nothing that made it impossible to play and have fun properly.
Rating
Here an action role-playing game is growing up out of a small indie developer's studio, which offers real fun and long-term motivation. Considering the low price of the game, the size of the game so far and the fact that the game was built by a mini-team and they are still working hard on it, I would like to give Dungeons of Edera a base score of 88%. It's cheap, it's fun, there's already a good scope and the prospect of more is very big.
With a few graphic glitches, balancing problems, an unfinished story, and flaws in the translation, it also becomes clear that there is still some work ahead of Monster Tooth Studios. And until this work is finished, I deduct 8% from this base score. But I'm confident that the Monster Teeth will reclaim some or all of these deducted percentages in the future.
This brings me to a final rating of 80% already at the Early Access Start, with great confidence in further improvement of this rating.
Outro
Do you like your monsters chopped or grilled, or both? Do you like endless dungeon-crawler fun or are you more into scripted AAA roleplaying games at a high price? Feel free to write to me with your opinion about it.
More gaming news and game reviews can be found at the ZapZockt YouTube channel or here at https://zapzockt.de/en/ – If you leave me a subscription or a thumb, I would be very enthusiastic. Then I wish you a great day, have a good time, ciao ciao, your Zap
Links and Sources