New WD_Black Gaming SN750 SE Series offers fast NVME SSDs designed specifically for gamers
With SSDs, or Solid State Drives in full, PCs have been getting alternatives to conventional hard disks or HDDs for a few years now. Write and read times are getting shorter and users have to wait and stare at load bars less. While most SSDs were previously built for the so-called SATA port, more and more devices with the newer NVME technology are coming onto the market. All the details about these drives and the SN750 SE, in particular, can be found in this WD_Black SN750 SE review from me.
Switch Dark / Light Mode:
These even faster SSDs theoretically offer a much higher speed, but they also need a special M.2 port and are usually more expensive. The last point is slowly put into perspective. Because NVME SSDs have dropped massively in price in the last few years and have not quite reached SATA SSD level yet, but almost. And the required M.2 slot is now available in almost all newer PCs and also in consoles. Thus, Turbo SSDs are becoming interesting for more and more users and gamers. Western Digital has a compelling offer with its SN750 SE series.
---
WD_Black SN750 SE Review – Intro
Hi there, here's the Zap. In this WD_Black Gaming SN 750 SE review, you'll get a little overview of what fast NVME SSDs and especially Western Digital's new gaming series are all about. I have tested the device, especially in gaming mode, and can show you numerous real-life measurements, not just lab readings and synthetic benchmarks.
I was provided a free review sample for the review period, but it ended up going back to the manufacturer. Therefore, I think this is an independent review, as I have no financial ties to the manufacturer or any other benefits. In the end, there is a rating from me. But most of all, I want to give you all the information, so you can decide for yourself if the device might make sense for you.
Productphotos – WD_Black SN750 SE 500GB Battlefield 2042 Edition
Click or tap on the image for a larger view.
In the enlarged view, you can scroll right and left on the edges
WD_Black Gaming SN 750 SE – About The Device
As a basis for this test, I used exactly a WD_Black SN750 SE Gaming 500 GB Drive in the Battlefield 2042 Edition. However, it should be widely transferable to most SN750 series devices.
The new M.2 NVME SSD from Western Digital with the product name WD_Black Gaming SN 750 SE is a high-speed SSD that should speed up the normal operation of your PC. Here, it doesn't really matter whether Windows, Linux, or macOS is used, but Western Digital has particularly targeted gamers with Windows PCs as customers with this device.
Thus, the device that was in front of me for testing, an SN750 500 GB, not only comes with a game code for Battlefield 2042 and already carries the gaming in its name, but the control software offers a special toggle that can switch the device into a so-called "Gaming Mode". This then adjusts the driver software and the caching of the device somewhat to be particularly effective for the kind of file accesses that often occur when running games and gaming. In theory, at least, that's the plan; more on how well that works in the review below.
Technical Data about the WD_Black Gaming SN 750 SE
Basically, there are three different models, with 250 GB, 500 GB, and 1 TB capacity. These three variants also differ in several other features. Above all, the write speed of SSDs depends on the size. It should be noted that these are the speeds when the devices are in a PCIe 4.0 M.2 NVME slot.
Experts always differentiate SSDs primarily based on the controller chip used, here Western Digital uses a Phison PS5019-E19T in the SN750 SE.
Comparison of the Three Models of the WD_Black Gaming N 750 SE
(*manufacturer's specification, theoretical maximum value, **affiliate link, ***last updated 11/15/21)
More Information about PCIe 4.0
Older motherboards and CPUs often only offer PCIe 3.0 and there the maximum speed is reached at about 3 GB/s i.e. 3000 MB/s, and mostly this is also specified for the entire bus if several devices are operated at one PCIe 3.0 slot. So you should make sure that your motherboard and CPU support PCIe 4.0.
For CPUs, this should be the case for all AMD Ryzen from ZEN2 (3000 series or newer) and all Intel CPUs from the 11k series. For motherboards, however, there is a very wide range of offerings, and not all motherboards that support the above CPUs also offer PCIe 4.0 at the same time.
General advantages NVME vs. SATA SSDs
Just for the sake of explanation, a brief outline of where the differences are between NVME and traditional SATA SSDs. First, of course, is the speed, but that's not the only difference.
While SATA SSDs are not only slower and larger, they also need to be powered with 2 cables in the case of a desktop PC and you either need to mount the drive in a 3.5″ drive bay with a so-called tray. Or, as "experts" do, they are taped somewhere in the case with double-sided adhesive tape. So here is first the effort for the cabling from the power supply to the drive and from the drive to the motherboard, and then you have to place not only the drive itself but also these cables inside the case in a way that they don't interfere with any fans or other devices. I'm not even talking about appearance concerns in cases with glass panels right now.
NVME SSDs are by far smaller, they are only about 10-20% the size of a SATA SSD. They are inserted into a designated slot directly on the motherboard, where they are fixed with a single screw. So here you avoid the complete cabling and also the mounting of the device is done directly with the installation. No trays, no gluing, or other adventurous fixings are necessary here. In some PCs I've had the pleasure of repairing, I've also found SATA SSDs dangling loosely from the cable. This is, of course, a wonderful source of problems with fans or even loose connectors.
Datasheet for the WD_Black SN750 SE Series
There is also an official Datasheet available as a download at Western Digital.
SSD Warranty and TBW Value
The devices have a 5-year warranty, theoretically. Because besides that, they are also marked with a TBW value and the manufacturer informs in the fine print that exceeding the TBW value will also lead to the end of the warranty, whichever comes first.
The TBW value is used to specify how much data you are guaranteed to be able to write to the device. TBW stands for "Terabyte Written", so a TBW of 200 means that according to the warranty, an SN750 SW 250 GB can be written to with a total of about 200,000 GB before voiding the warranty. Roughly speaking, you should be able to write the drive 800x completely full without any problems.
The WD_Black series has the following values for TBW in the datasheet for this:
250 GB model: TBW of 200 TB
500 GB model: TBW of 300 TB
1000 GB model: TBW of 600 TB
So if you plan to do particularly write-intensive work with the device (like farming cryptocurrencies á la Chia) or copy a lot of data back and forth, store and edit large amounts of video, you should be aware that these devices will void their warranties once the TBW values are exceeded. This is the case with most SSD manufacturers, but it is rarely mentioned openly. In normal PC use and as a gamer, it is rather unlikely that one will exceed the TBW value before the warranty period has expired.
Gaming SSD – does it do anything? My measurements – A comparison test NVME vs. SATA vs. HDD
To compare the performance of hard drives and SSDs, you usually only see theoretical measurements, which are often tested with the tool Crystaldisk Benchmark. Here is a measurement result of this tool measured with the SN750 SE 500GB: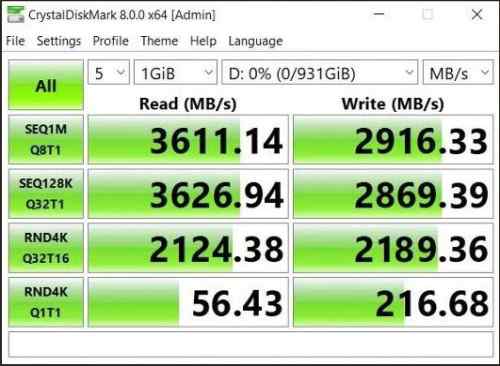 Now, however, these are all very theoretical values that only have very limited relevance to practice. Because in order for such a turbo drive to really take full advantage of its speed, it needs correspondingly favorable conditions, which, except in benchmark situations, are at most present when copying large files.
In gaming applications, for which this drive is now supposed to be specifically suited, there are usually many other factors that play into the actual speed felt by the user. This starts with the processing power of the CPU, as most game data is heavily compressed and a game must not only load this data from the disc, but then unpack it, move it to the right places, and often process it further before it actually arrives at the game's screen.
So the speed gains are already in Windows mode only a part of the stated more than 3 GB/s load speed. But with games, it looks even more different.
That's why I performed somewhat realistic tests, with which we already get a much more accurate picture. The test system is my normal gaming PC, so no unusual hardware in the grand scheme of things.
The SSD Comparison Test System:
In the test were not only the WD_Black SN750 SE, respectively once in normal as well as in the extra to be activated gaming mode, but also some other drives, for a better comparison.
Ryzen R9 3900x 12-core processor
32 GB DDR4 G.Skill @3600 MHz
Gigabyte Aorus Elite X570
Sapphire Radeon RX580 Nitro+ 8 GB
The SSD comparison test opponents:
WD_Black SN750 SE 500GB normal mode, PCIE4
WD_Black SN750 SE 500GB gaming mode, PCIE4
a WD_Black gaming hard drive SATA
a Viper VPR100 NVME SSD, PCIE4
a Samsung EVO 840 250GB SATA
a Samsung EVO 850 1TB SATA
and a 10 year old Seagate 3GB SATA hard drive.
I also reviewed the Viper VPR100 NVME SSD extensively here.
In between all tests, I cleared the Windows file caches, otherwise, they would falsify the measurements. This is very often forgotten in tests. For this, I used the RamMap64 software, which is a part of the SysInternals suite and is available directly from Microsoft. RamMap64 can be downloaded here. The process to empty the file cache will be triggered under "Empty" and then "Empty Standby List", that's just as an additional tip.
So let's see what these quite different combatants bring to the table in a direct comparison. All measurements were taken at least 3 times and an average was taken. If there were outliers in this 3-pack, the test sample number was increased to 5 and the outlier removed. However, this occurred only 1 time in the entire test.
NVME SSD in practice test 1: Copy 5 video files, 35 GB total size
Here I just picked out the last 5 files from my videos, which I create and also store all the time for my YouTube channel anyway, and then copied them to the various drives.
This test is still the closest to the synthetic benchmarks above. As expected, the 10-year-old hard drive is extremely slow, and already the more current WD_Black hard drive is a lot faster. This is followed by the SATA SSDs and with a bit more speed the NVME SSD from Patriot. But the WD_Black SN750 SE can put itself on the highest podium as the clear winner. A difference between Gaming Mode and Normal Mode in the SN750 cannot be determined.
NVME SSD in practice test 2: Copy operation 25.5GB, 10,500 mixed files
A somewhat more typical copy operation follows. A folder, 25.5 GB in size, filled with files of all different sizes, from 1 kB text files to complex projects of graphics and video editing software, and packed archives, to larger video files, are all jumbled up here. When copying a game from one drive to another, this should usually contain a somewhat similar mix.
This roughly results in a similar order, but the actual differences are somewhat put into perspective. The two HDDs with their mechanical read arms must have plenty of spinning of their disks to move this folder, taking nearly 6 minutes and 3 1/2 minutes. The SATA SSDs manage the process in about 2 minutes, and the NVME SSDs roughly in 1 1/2 minutes. So the difference between SATA and NVME shrinks here to about 30 seconds and 30%, respectively.
The WD_Black drives are also on the winner's podium here, and here the SN750 in normal mode can even put itself minimally ahead of the variant operated in gaming mode.
NVME SSD Reality Test 3: Mafia Definitive Edition, Starting Up to Main Menu
Let's move on to the first real gaming test. Mafia Definitive Edition is launched, from the opened 2K Launcher to the main menu of the game. And by the way, if you're interested in the game, you can read my Mafia Definitive Edition review here.
Once again, the hard drives are quite a bit slower than the SSDs. But the difference between SATA and NVME shrinks here already to less than one second, with roughly 40 seconds load time we are talking here already only about 2-5% time-saving in comparison of SATA and NVME SSD.
The WD_Black is minimally faster than the Viper in this, but that's a purely theoretical value and presumably, the result could be considered more of a draw.
It's interesting to note that the SN750 in Gaming Mode in particular not only doesn't perform better in this first gaming test but rather slightly worse. Just a reminder, the shown values are averages of 3 or more measurements each, so this is not an outlier, these values were in exactly this order in each test series.
NVME SSD Practice Test 4: Cyberpunk 2077, heavily modded, loading to first interaction
Let's move on to the next practical test for gamers. We're now going to test the loading times in Cyberpunk 2077, which is actually technically extremely complex, and in my personal opinion also much better than its reputation, but that's just on the side. In doing so, we start with measuring the loading time of the game itself. There are about 40 mods installed, and since a video sequence starts at one point in the loading process, I measured the time until the "Resume" overlay became visible, indicating that loading was complete and that you could press a key to cancel the sequence.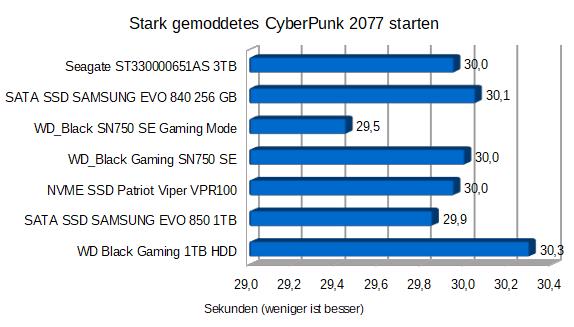 With this bar graph, it's important to pay attention to the actual numbers. That's because the entire scale only shows the range between 29 and 30.4 seconds, in order for you to see any differences at all.
Cyberpunk 2077 is extremely compressed on the disc to optimize load times on all types of drives. This is a technique that very, very many games use. Here, it's not so much the speed of the drive that decides, but rather the computing power of the CPU when extracting the compressed data into RAM. And since the same CPU is always used in this test, the results are almost identical as well.
There are really no real winners in this test. Even the ancient Seagate HDD stands up very well, and the SSDs are hardly any difference at all. The WD_Black SN750 in Gaming Mode can minimally outperform the competition and Normal Mode, but here we're talking about 0.4 to 0.5 seconds, which is absolutely imperceptible in practice.
NVME SSD real-life Test 5: New World, logging in a character from the main menu
Another practice test with Amazon's new MMORPG, New World. I start my character from the main menu and measure the time until I stand in the game world and could move. To keep the test result as consistent as possible, I chose a secluded corner for the test so that the results were not skewed by varying amounts of players present. If you want to know more about the game, here you can read my New World Review.
Here then an example that probably corresponds to the practice very, very often. The hard drives are just slooooow and snug, and with the SSDs it makes at most theoretical differences, but you don't really notice them as a user.
The WD_Black SN750 SE in Gaming Mode is indeed the fastest solution here as well, but we're talking about a time savings of 0.6 to 1.1 seconds compared to the other SSDs, and that puts us back in the <5% range. Just to reiterate, all tests were run at least 3 times and averaged. But the numbers were always very, very close to the mean across all tests and therefore reproducible and consistent.
NVME SSD Practice Test 6: Hammerting, Loading to Main Menu
Hammerting is a totally relaxed build-up strategy game in which you establish a dwarf state inside a mountain. If you're interested, you can find my Hammerting review here. In this test, I simply launch the game from Steam and measure the time until the main menu becomes visible.
This is once again a clear result that generally speaks for SSDs, the hard drives are very far behind. Here, all SSDs see their load time cut from more than a minute to less than 20 seconds.
But if we take a closer look at the SSDs, the NVME drives can't really save much time compared to the SATA devices here either. Again, it's more the CPU and the decompression rate of the files as well as the processing of the data that really takes time, not the actual loading process. Therefore, they are all very close to each other.
The SN750 SE in normal mode and in the game mode even has to admit defeat to the Samsung Evo 850 1TB here, which is not a very good result. And the winner of this test series is called Viper VPR100. But as I said, that's only a theoretical measurement victory, if you actually sit in front of the game, you won't notice any difference.
WD Dashboard – The Software
With WD Dashboard, Western Digital offers Windows software that allows you to manage your drives. This starts with simple tasks like formatting or deleting, moves to switching between Normal and Gaming Mode or checking the temperature, and for experts also offers specialist solutions like updating the firmware or reading S.M.A.R.T. data.
You can download the WD Dashboard directly from Western Digital.
The software is easy to use and does all the necessary tasks for operation without any problems. Of course, you use something like this only once in a while, and continuous operation is absolutely not recommended because it would only unnecessarily burden the system. However, starting it every few months and taking a look inside can't hurt, so that you can get firmware updates (which are only needed rarely and in special cases) and take a look at the readings.
Here a couple of pictures of the dashboard software
Click or tap on the image for a larger view.
In the enlarged view, you can scroll right and left on the edges
General considerations about NVME SSDs
SSDs are by far superior to HDDs. But they usually cost quite a bit more and are often smaller. That is probably generally known wisdom. In any case, I can also report, from my experience, that SSDs are regularly much less vulnerable than conventional mechanical hard drives. Moving parts with 7200 rotations per minute require just very sensitive mechanics and the smallest vibrations can mean the end for the device. In contrast, SSDs are much less sensitive, smaller, and less problematic in operation.
After all, the tests above have shown that in practice all SSDs outperform HDDs. But the difference between SATA and NVME SSDs is usually barely noticeable in real-world use. If you often move large files around, it can really bring huge advantages. I also like my Windows on the NVME SSD because it really does respond noticeably faster than from an HDD. But purely in the speed of games and load times, there are rarely advantages for NVME drives over SATA SSDs.
There will be another advantage of fast SSDs in the near future. Graphics card manufacturers and Microsoft are currently working on implementing DirectStorage. This will create a possibility for graphics chips to load data directly from the SSD, similar to what is already happening in the current Playstation PS5 and Microsoft XBox Series X consoles. Here, the detour via RAM and CPU is then eliminated and game manufacturers can then deliver the data directly to the disk in the format that the graphics card needs. This already massively reduces loading times on consoles today and also enables interesting options such as saving and resuming games directly.
On the other hand, I see the easier installation and the no longer needed cables as a very clear advantage of the new technology. With NVME SSDs in the M.2 slot, systems are simply cleaner and easier to set up, and if you value the look of the inside of your PC, such as using a case with a glass panel, it's a very clear advantage. NVME drives are also no obstacle to airflow inside the case.
However, it must also be noted here that NVME drives can also produce waste heat. It's not for nothing that there are also numerous models with heat sinks and very many motherboards, for their part, already offer cooling solutions for the M.2 slots, which are then placed under metal facings that are either passively cooled or sometimes even placed in the airflow of fans. NVME SSDs will probably rarely die from heat, but clearly, if they get too warm, they will throttle down their speed and then no longer offer full performance.
Before buying, you should also always definitely pay close attention to the existing ports in the PC and look more closely at the existing motherboard. While most modern motherboards today offer M.2 slots for NVME SSDs, not every M.2 slot is the same. Here there are first differences in the connection to the system, NVME drives can only use the full speed if they are connected with full 4 PCIE4 lanes.
And here some motherboard manufacturers are a bit more frugal and sometimes install M.2 slots with only 2 lanes or even only 1 lane. In addition, there are not only M.2 NVME slots, but the M.2 connector is also sometimes used for SATA or for Bluetooth and WLAN antennas, which then look like an M.2 slot, but cannot be used for NVME SSDs.
And then only a few motherboards have more than 2 slots for M.2 drives. So here it is also essential to pay attention to the fact that the amount of NVME SSDs that you can install directly on the motherboard is severely limited. After that, you'll either have to switch back to SATA SSDs or buy a PCI Express NVME controller card, which is then plugged into a PCIe slot and usually has room for 4 or 8 more NVME SSDs. Here, however, we are probably entering the pro hardware realm, which should only be suitable for very few gamers.
You should also definitely look at the TBW (Terabytes Written) values when comparing NVME SSDs, especially if you plan to do a lot of writing with the drives. Here there are ranges from under 100 TBW to several thousand TBW, which can have a massive impact on the life expectancy in the end, at least if the drive is to write a lot.
Opinion and Conclusion
The Western Digital WD_Black SN750 SE 500 GB variant performed very well for me in testing. Installation went smoothly, at least for me as a more experienced PC technician and former system administrator who has assembled more than 100 computers over the years and serviced and repaired dozens. But even for beginners and more inexperienced PC hobbyists, installation should not present any major obstacles.
The unit came in a sturdy and well-secured package, and the likelihood of damage in shipping should be extremely low. This particular model came with a game code for Battlefield 2042 on top, and the combination means that if you're looking to purchase both anyway, you can save a few bucks here. And for real Battlefield fans, an SSD with Battlefield logo on it might even be a small bonus point.
In operation, the drive consistently convinced with good read speeds, and there was also nothing to complain about in the write values. The advertised gaming mode only made minimal improvements in gaming operation in my tests, but at least there were indeed small advantages. So it is not a complete marketing gimmick, even if the effect is not immense, it is halfway real.
Price-wise, the WD_Black series is not the cheapest offering on the market, but there are plenty of more expensive models. However, many cheaper models also do not reach the speeds as the models from Western Digital. So, you have to decide whether you will use the high speeds in practice and whether it is worth the extra charge. Western Digital has been a well-known player in the hard drive and data storage market for decades. And with a 5-year warranty and TBW values rather in the upper range of the market, WD_Black is definitely also more for fans of reliable devices.
But I personally would rather entrust my data to a better-known brand, especially when it comes to drives than to install a no-name cheap device in my PC to save 10 bucks, and in the end not only run the risk of suffering annoying and time-consuming data loss but possibly even endangering my other, far more expensive hardware.
Rating
The WD_Black SN750 SE series offers top performance for a mid-range price. Contrary to expectations, the advertised gaming mode has even been measurable in some use cases, even if it doesn't make a big difference. The scope of delivery is okay, the software for controlling the device is among the best on the market, and all other technical data put the drives in the top league of NVME SSDs.
For this quality offered, the customer also has to pay a bit more, but I feel the prices are reasonable for the performance and reliability of a well-known brand.
WD_Black SN750 SE Gaming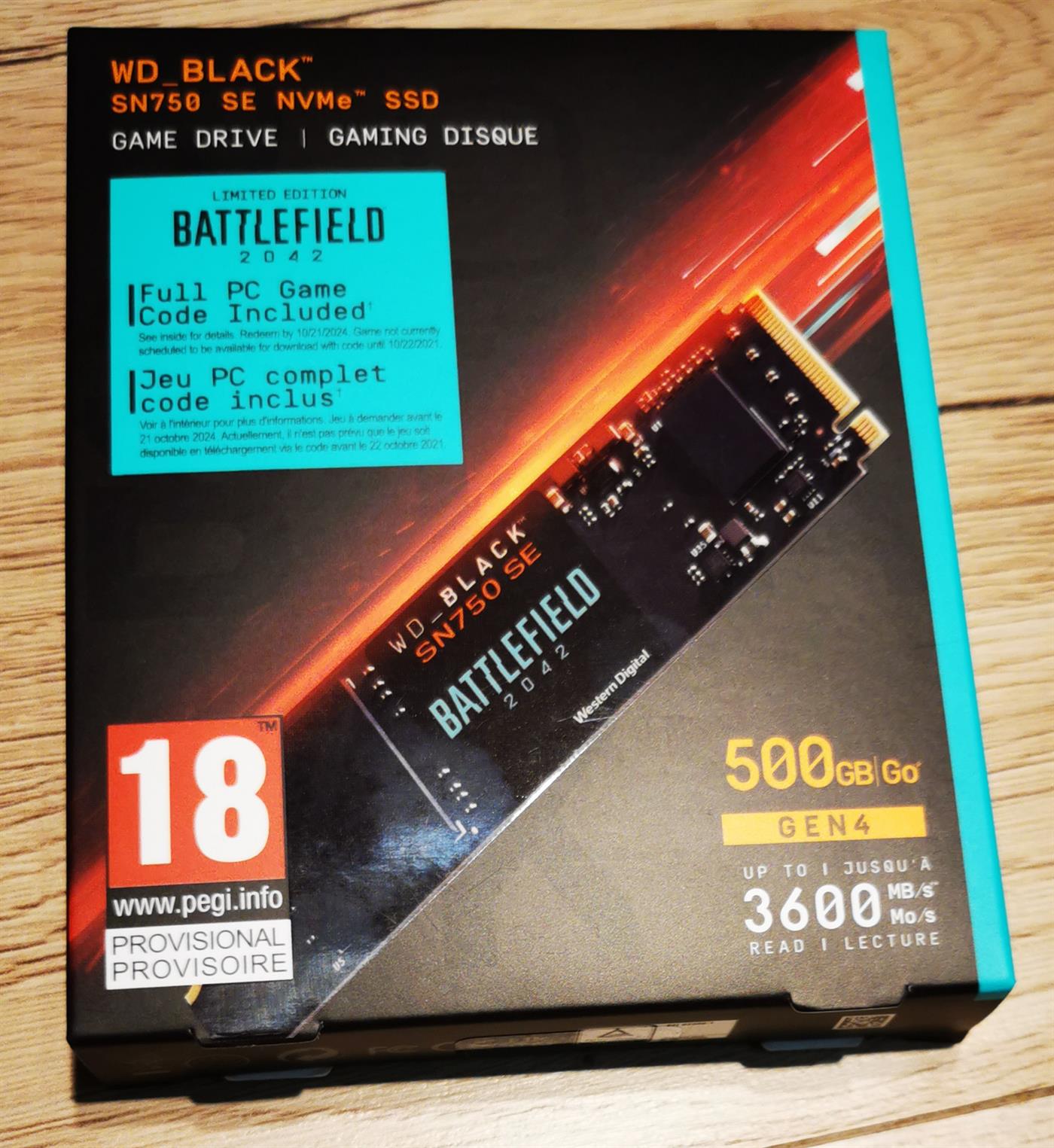 The new M.2 NVME SSD from Western Digital with the product name WD_Black Gaming SN 750 SE is a high-speed SSD that is supposed to speed up the normal operation of your PC. It doesn't really matter whether Windows, Linux, or MacOS is used, but Western Digital has especially targeted gamers with Windows PCs as customers for this device. All details about these drives and the SN750 SE, in particular, can be found in this WD_Black SN750 SE review.
Wertung
The WD_Black SN750 SE series offers top performance for a mid-range price. Contrary to expectations, the advertised gaming mode has even been measurable in some use cases, even if it doesn't make a big difference. The scope of delivery is okay, the software for controlling the device is among the best on the market, and all other technical data put the drives in the top league of NVME SSDs.

For this quality offered, the customer also has to pay a bit more, but I feel the prices are reasonable for the performance and reliability of a well-known brand.
Outro
Do you like a fast SSD that brings your games from the disk to the screen at high speed, or are load times not an issue for you because you always go out for a coffee or a smoke anyway? Feel free to write me your opinion in the comments or in the Community Discord. More gaming news, game reviews, and guides can be found on the YouTube channel or always here at https://zapzockt.de – thumbs up, subscribe and share with friends certainly can't hurt, and then I wish you a great day, ciao ciao, your Zap
Links and Sources
Buy the WD_Black SN750 SE at Amazon (affiliate link/advertising)