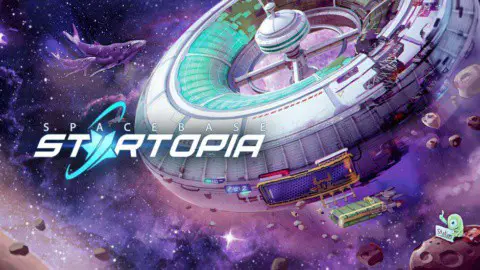 Remake of the Startopia classic "Spacebase Startopia" enters closed beta
Kalypso Media and Realmforge Studios (Dungeons 3) are currently working on Spacebase Startopia, a modern version of the classic Startopia by Muckyfoot, which was released in 2001. On Friday, May 29th, 2020 the pre-ordering of Spacebase Startopia will start. And every buyer of the pre-ordered version will get access to the Spacebase Startopia Closed Beta Version.
German Version:
So you can start playing right away and check out parts of the game already now and contribute with feedback and bug reports to make Spacebase Startopia a really great game when it will be released in Q3 2020 for PC, Playstation 4 (PS4) and XBox One. A Nintendo Switch version is also planned for a release in 2021.
Read-recommendation: Spacebase Startopia Beta Preview
Maybe also interesting for you, I have written a detailed beta preview, which you can read here, also available as YT video with early Spacebase Startopia Gameplay:
Spacebase Startopia Beta Preview
A lot more information about Spacebase Startopia and also about the original Startopia from 2001, can be found in my Startopia info article.
Table of Contents – Spacebase Startopia Pre-Order and Closed Beta Start
Spacebase Startopia Trailer:
Spacebase Startopia Closed Beta and Pre-Order Start Press Release
Press release about the Spacebase Startopia closed beta launch:

Worms, May 27th, 2020 – Publisher Kalypso Media and in-house developer Realmforge Studios (Dungeons 3, 94% on Steam) announce the launch of the Spacebase Startopia Closed PC Beta exclusively for pre-orderers at the Kalypso Store on May 29th. Fans can already look forward to a developer livestream with Realmforge Studios level designer Florian Delank on the official Kalypso Media Twitch channel this evening at 7 pm. An exclusive stream will unveil the beta content to get into the right mood for the start of the beta on Friday, May 29.

Spacebase Startopia is a new approach for a fan favorite of the strategy genre and invites you to manage a space station in the form of a donut, populated by a diverse and hilarious group of extraterrestrial visitors. On three different "decks" aliens meet their needs and generate energy which is needed to expand the Spacebase Startopia.

For the first time, the popular game principle is brought into the modern age of video games with detail-loving graphics, completely redesigned user interface and brand-new combat system, and terraforming. Accompanied by the computer voice of VALs, the AI of the Spacebase Startopia, players can play a varied and exciting journey into space.

Spacebase Startopia impresses with its original mix of business simulation and construction strategy, coupled with classic RTS skirmishes and a good dose of humor. The challenging single-player campaign and the varied battle mode are joined by a competitive and cooperative multiplayer mode for up to four players. And as if maintaining the three space station decks, entertaining the eight extraterrestrial alien races, and defending against enemy invaders wasn't challenge enough, the dynamic narrator AI "VAL" doesn't mince his words and sharp-tongued comments on the events.

Features:
► In the 10-mission, fully voice-activated single-player campaign, your skills as commander of the Spacebase Startopia are in demand to create one of the most attractive trade and tourism magnets far and wide.
► Each of the three decks will challenge your leadership skills, with the sub-deck containing all the vital spaces, while the fun deck will focus on entertaining your visitors and the flora and fauna of the bio-deck will provide enough vital resources and a home for the graceful dryads.
► You are not alone! Defend yourself against your fellow competitors – small acts of economic sabotage or attacks with Mech units will maintain the enmity if you can't get ahead with peaceful trade. And beware of disinheriting space pirates.
► The dynamic narrator AI "VAL" reacts to your decisions and is always there to help you with advice and action or sometimes with unqualified comments.
► In addition to the extensive single-player campaign, a customizable sandbox mode and a competitive and cooperative multiplayer mode for up to 4 players awaits you.

https://blog.kalypsomedia.com/de/kategorie/spiele/spacebase-startopia/
Spacebase Startopia Gameplay Screenshots
Reading – recommendations:
A lot of detailed games news and information about games and gaming can always be found here at ZapZockt.de
There are also many game reviews that might interest you, and if you don't want to miss anything, subscribe to the newsletter. As a Google News reader, you can also go there and read the latest articles.
Shopping – Tip:
Advertising / Affiliate Link
Games can often be bought cheaper. You can do this legally, reliably, and safely at my partner site Gamesplanet. This game, all DLCs, many more RPG, tactic, and strategy games, or a lot of titles from other genres are available there and almost always much cheaper than at Steam, Uplay, Epic, or other shops.
For every purchase, via this link, I receive a small commission. So you get games cheaper and at the same time support my work, my thanks in advance for that.
Follow ZapZockt on Social Media:
ZapZockt Socials + Links:
---