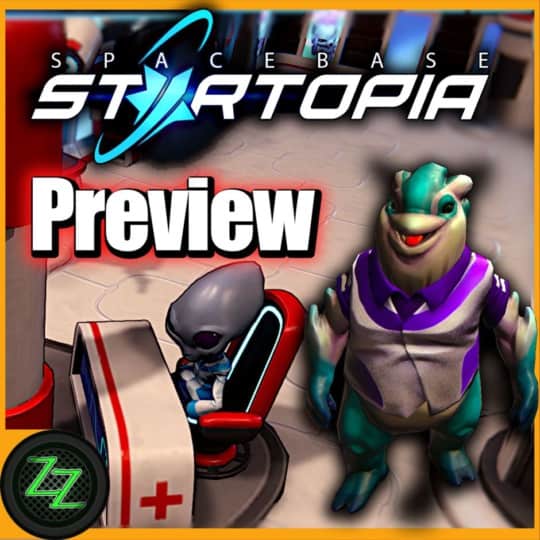 All information about the Spacebase Startopia closed beta, release date, gameplay, state of the game, first impression and more
My Spacebase Startopia Beta Preview of the Spacebase Startopia Closed Beta version. Spacebase Startopia is a remake of the classic Startopia from 2001. The game was released in early closed beta and will be available for PC, PS4, and XBox, later also for Nintendo Switch. You manage a space station, provide aliens with all the necessary things, and enough entertainment, and in competition, with other administrators, you earn your money and expand your station.
German Version
This article is available here as text, but also as a YouTube video (German voice-over, many subtitles). This way you can choose how you would like to enjoy it most.
Video:
German voice-over, many subtitles
Spacebase Startopia Beta Preview – Intro
Hi there, it's the Zap. In this post, I give you all the latest information about the just-released beta version of the game Spacebase Startopia. Some background information about the original, how it plays, how much is already in the beta, how to get the beta, and where this game will probably be heading.
I have received a free test sample from Kalypso, but I always try to write as if I had bought the sample myself and therefore this should not influence my opinion. But since this is an unfinished beta version, I won't give a final review anyway.
Startopia – The Original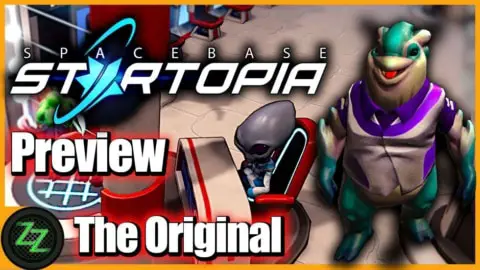 Spacebase Startopia is a remake of a game from 2001, the original Startopia was developed by the British studio Mucky Foot. A team founded by some developers who had previously worked for very famous software companies like Bullfrog and Lionhead. They were involved in titles like Dungeon Keeper, Theme Hospital, and Black and White before starting their own company in 1997. Unfortunately, some of their projects were not that successful financially and so the studio was closed down in 2003 due to lack of funds.
Startopia was a mixture of build-up, economic simulation, and real-time strategy. In this game, you managed a ring-shaped space station, which consisted of three floors and many sectors. There were many different alien races, which all had different needs. And in addition to that, there was a huge amount of different buildings through which you could satisfy the aliens and make money serving them. And from these many aliens, you could also recruit your staff.
Often one competed with other inhabitants of the space station. In the final missions, there was also the possibility to start a real war in the station and fight for the different sectors. The game also offered a multiplayer mode, where you could explore the space station together or compete against each other.
Startopia was especially known for its feature diversity, but also for its humorous design and the rather sarcastic consultant AI called VAL. It wasn't a huge success financially, but it got a Metacritic rating of 86% and was extremely popular among those players who knew the game.
Spacebase Startopia Remake – Background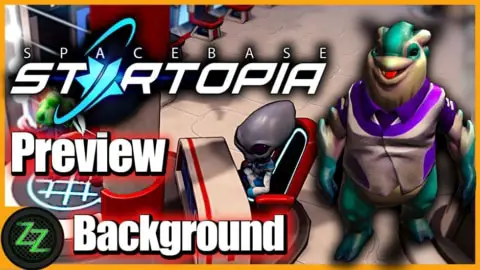 2019 Realm Forge announced at Gamescom a remake of this building strategy veteran, which they are developing together with the publisher Kalypso Media. Realm Forge has previously been quite successful with Dungeons 1-3, which in itself is very similar to the Bullfrog hit Dungeon Keeper, but unfortunately never achieved the same popularity.
At the Gamescom, a render trailer showed first humorous approaches for a new interpretation of the AI VAL and also some gameplay. In April 2020 an interview series of the developers followed, in which it became more obvious that the remake will really be very close to the original game.
On May 29th, 2020 a pre-order version of Spacebase Startopia was released which can be purchased directly in the Kalypso shop. And whoever pre-orders will get direct access to the closed beta version of the game presented here.
This raises the question:
Spacebase Startopia Closed Beta – What's inside?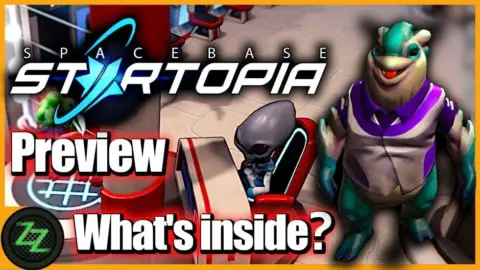 The now released version has the version number 0.14 beta. This should show everybody that the game is still in a very early phase of its development. So everything said and shown here in this article is still "Work in Progress". Until the release, there will be a lot more development. And also some of the graphics and some of the sound won't stay the way they are at the moment.
As content, there are currently 3 tutorial missions and the first two episodes of the campaign. Planned are probably 10 campaign missions so far. But you have to keep in mind that even in the original, the first missions could be solved in 15-20 minutes, while the last ones took 3-4 hours or more. So it can be assumed that this will be very similar in the remake, especially since the missions of the beta were also included in the original in a similar form.
In addition, there is a skirmish or sandbox map, in a very early version. There are no settings for specific targets, no enemies, no trade and only a very limited selection of different buildings and alien races. So this skirmish option offers only limited replay value so far.
Spacebase Startopia – Release Date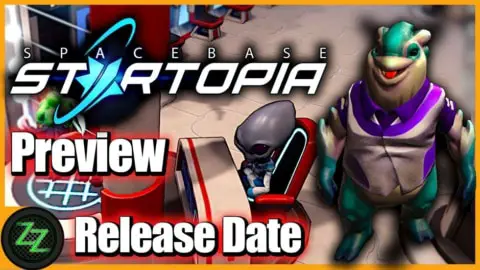 Publisher Kalypso is planning to release Spacebase Startopia on October 23rd, 2020 for Playstation (PS4), XBox One, and PC on Steam and at GOG.com. A version for Nintendo Switch is also in preparation, which will be released in 2021.
PC players can already now start playing with the limited Closed Beta, but this requires the purchase of the pre-ordered version, which is available in the Kalypso Store at full price.
Spacebase Startopia Gameplay Screenshots
State of the game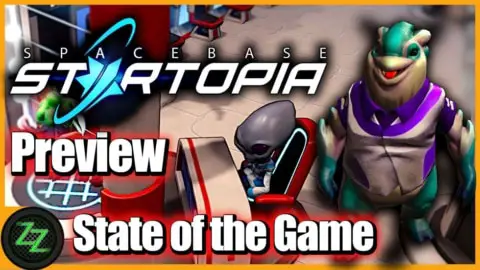 The beta version of Spacebase Startopia runs crash-free on my computer at the moment. Also the gameplay was so stable that you could already play reasonably. But the scope is still very small, I really have to say that. Only a few hours and everything is done and dusted for now. I hope that soon one or two more extensive missions will follow, or at least the free-play mode will be expanded considerably. I don't dare to dream of multiplayer for the time being.
The game of course has some problem areas, it's not a beta version for nothing. There is strange balancing here and there, sometimes the freight rooms and the factories got stuck, texts are still missing, settings are almost not available yet, and so on. But that shouldn't surprise you in a beta version, and if you're bothered by something like that, you'd better wait until October.
I have already sent numerous bug reports and feedback reports to the developers and I'm sure many other beta testers have done so as well. So Realm Forge will surely get a lot of input to bring Spacebase Startopia to a much better state until the release.
Spacebase Startopia Beta Preview – Opinion and Conclusion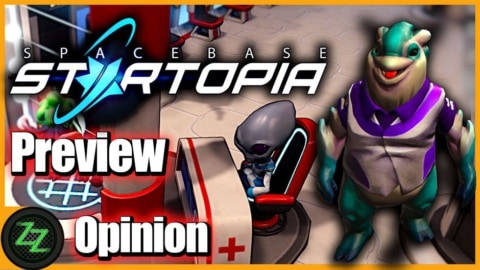 All in all it took me almost 5 hours in this very early beta version to play through all the content that is in the game so far. That is of course still very little, if you consider the purchase price of almost $50. Spacebase Startopia is not yet an extensive game. Multiplayer is planned, both as a co-op and against each other, the campaign will certainly be expanded and there are also many plans for the Skirmish Maps. But at the moment not much of it is playable.
The KI VAL is still a bit tinny and impersonal for my taste. Whether this will be upgraded in the coming months with more original lines and a better voice-over, remains to be hoped. Some graphics could be a bit more detailed, the menus are still in need of improvement. The music is already quite nice, but the ingame sounds still seem like placeholders, at least I hope so.
What the Closed Beta offers so far, I already had a lot of fun with. It's really pretty close to the original in terms of the game feeling. And it succeeds without staying exactly at the 19 years old role model. Some of the tedious mouse clicks have been modernized and cleaned up a bit. Also otherwise already some own ideas of Realm Forge slumber in the beta. This raises my hopes that they won't neglect the original, but at the same time they' ll make a better game at the end.
The two small missions and the very limited sandbox variant, which are playable so far, really whet my appetite for more. I was a little disappointed that they were over so quickly. The gameplay is already very fluid and it felt as good and entertaining as the original. But unfortunately it will take some time before you can really sink into the game, the scope of the beta is really very small so far.
Whether the participation in the beta is now a satisfying pleasure for everyone, I dare to doubt. And under no circumstances should one compare the previous content with the price of the pre-ordered version. The beta version is probably only for the true fans who would like to support the project already now.
Whether pre-ordering is worthwhile for you, you should consider accordingly. But for fans of the original, I think this is a good opportunity to show support and give Realm Forge feedback so that the final product can be made really great.
Of course you have to consider that as a pre-orderer you will have a complete game in a few months. And that in a version that will hopefully offer much more of everything then. But now you can take a look inside and help with feedback to make sure that the game will actually become something special. And with every update, of which the game will surely get many, you will have something new to test.
For me this beta concept worked very well for example with Tropico 6, it also served the game well, I think. But with other titles that were released in such a bite by bite way, it turned out a little less successful. But either way, in the end there will be a complete and good game, I'm pretty sure of that.
At least I hope so, because I would be extremely sad if the Startopia remake project would fail because of the high standard of the original. But since Realm Forge have already shown real love for their other role model Dungeon Keeper with Dungeons, I'm very confident that they will be able to do the same or better with Startopia.
So Realm Forge, please don't screw it up. Many fans of Startopia are very excited, and fever with your work. And I at least am looking forward to every single update of the title and will enjoy every bit of Startopia content.
Outro
Do you like donuts and space stations, do you get along with nasty AI helpers, or is all this alien stuff not for you? Write me your opinion in the comments below and I'll be happy to talk to you about it. More reviews, game news, guides and tutorials can be found on ZapZockt.de. Thumbs up and subscribing is great. Then I wish you a great day, ciao ciao, your Zap.
Links and Sources:
Spacebase Startopia Website (also for pre-order):
https://www.kalypsomedia.com/games/spacebase-startopia/
Kalypso Twitter:
DE – https://twitter.com/kalypsomedia
Int – https://twitter.com/kalypsomediaINT
Kalypso Instagram:
https://www.instagram.com/kalypso_media/
Reading – recommendations:
A lot of detailed games news and information about games and gaming can always be found here at ZapZockt.de
There are also many game reviews that might interest you, and if you don't want to miss anything, subscribe to the newsletter. As a Google News reader, you can also go there and read the latest articles.
Shopping – Tip:
Advertising / Affiliate Link
Games can often be bought cheaper. You can do this legally, reliably, and safely at my partner site Gamesplanet. This game, all DLCs, many more RPG, tactic, and strategy games, or a lot of titles from other genres are available there and almost always much cheaper than at Steam, Uplay, Epic, or other shops.
For every purchase, via this link, I receive a small commission. So you get games cheaper and at the same time support my work, my thanks in advance for that.
Follow ZapZockt on Social Media:
ZapZockt Socials + Links:
---