Test Report of the Patriot Viper Gaming SSD VPR100 RGB 512 GB SSD – Fast SSD with RGB and heat sink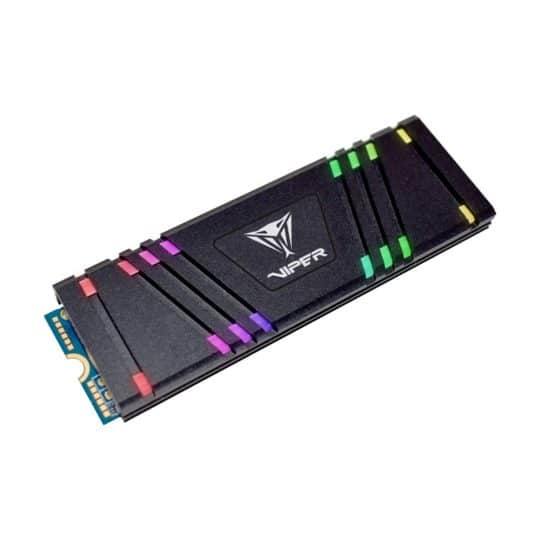 Hi there, this is the Zap. In this Patriot Viper Gaming SSD Review, I would like to introduce this new high-speed SSD drive with RGB lighting. The product was kindly given to me free of charge by Alternate.de through a contest. Therefore, this review is not directly sponsored and the product was not given to me as a review sample, but I just won it, and therefore I didn't pay the full price. But as always, I try to write all reviews in a way that I keep in mind how I would feel if I paid the full price.
In this test, I had a Patriot Viper Gaming VPR100 RGB 512 GB NVME M.2 at hand. This device is available in eight different versions. So the drive is available with RGB as well as without RGB (the latter is generally a bit cheaper) and is available in the sizes 256 GB, 512 GB, 1024 GB, and 2048 GB. Most of the information in this review is suitable for all variants. Only the amount of blinking, the storage capacity, and the writing speed differ between the different versions.
Switch Dark / Light Mode:
Viper Gaming VPR100 RGB 512 GB SSD – Scope of delivery
The device comes in a small cardboard box, approx. 8x10x3 cm in size. It is made of very stable cardboard, so that damages during transport can be almost prevented completely. Inside the box is a plastic cover that protects the actual memory module against shocks, humidity, and other influences as well.
High-quality packaging
Here I was rather surprised how well the packaging was done, considering that many HDDs or earlier SSDs were often shipped in anti-static bags without any cardboard or other protective measures.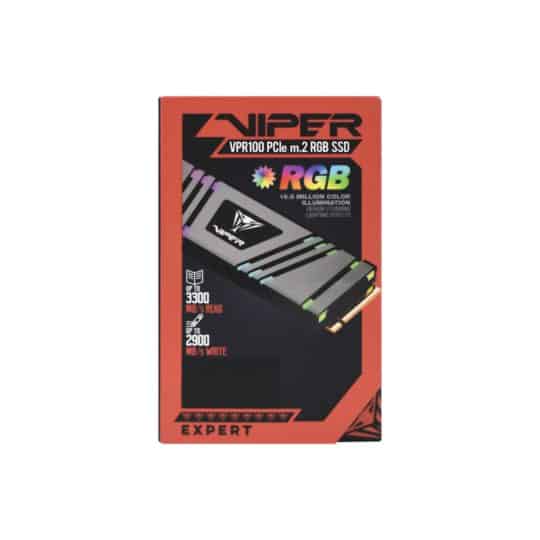 After unpacking, the small piece of technology feels good in the hand and the heat sink probably makes up about 70% of the weight.
But apart from the actual module the package is otherwise completely empty. No user manual, no warranty cards, nothing else. Maybe this might be due to the version that was won in a contest, but that surprised me a little bit.
Big fail: No screw was included in delivery
And what is really annoying is that no screws were included. To fix the SSD in an M.2 slot on the motherboard, you urgently need a suitable screw, and these are actually standardized, but usually not directly on the motherboard. So I had to search for some time in my fortunately existing stock of old screws to be able to install the device at all.
So if you don't have a stock of screws like me, you have to look here for a solution. And it's probably extremely annoying if you unpack the new drive and then find out that you can't install it at all because a tiny screw is missing and you have to drive to a computer store to buy a single screw eventually.
Patriot Viper Gaming VPR100 512 GB – Productsheet
Patriot identification
VPR199-512GM28H
Description
VPR100 RGB M.2 2280 PCIE SSD
Certifications
CE/FCC/RoHS
Product Warranty
5 Jahre
Unit UPC
0814914026298
Weight
0,05lbs / 25 Gramm
Dimensions
8cm (L) x 2,5cm (W) x 0,7cm (H)
Controller
Phison E12 Series Controller
Features:
2280 M.2 PCIe Gen3 x 4, NVME 1.3
DRAM Cache 512 MB
RGB App Sync up
External Thermal Sensor
Betriebstemperatur 0 – 70° C
Heatshield Design
TBW: 800 TB
(= Total Bytes Written)
4k aligned Random Read: up to 700k IOPS*
4k aligned Random Write: up to 400k IOPS*
Sequential Read (ATTO): up to 3,300 MB/s*
Sequential Write (ATTO): up to 2,100 MB/s*
Sequential Read (CDM): up to 3,300 MB/s*
Sequential Write (CDM): up to 2,100 MB/s*
*RGB Sync may decrease up to 20-30% read/write speed
Patriot Viper Gaming VPR 100 M2 SSD 512 GB
Product Properties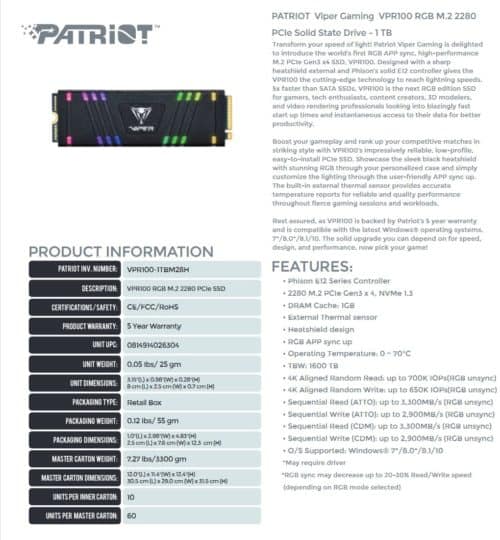 Patriot Viper Gaming SSD VPR100 m.2 RGB – Thoughts before purchasing
First, a few things to think about before buying a Patriot Viper m2 SSD RGB:
Of course, you should make sure that you have a free M.2 SSD slot on your motherboard. Ideally, this should be a PCI-E 3.0 or 4.0 M.2 slot to take advantage of the full performance of the device. Most motherboards often have several M.2 slots, but often only one or on good motherboards two of them are directly connected to the PCI-E bus. Any additional slots are then usually connected to the SATA bus.
These slots look the same at first sight but are equipped with different notches so that you can't mix up the different techniques by mistake. A free SATA M.2 slot, or mSATA slot as it is also called, is therefore not compatible with this NVME device.
Then many motherboards, especially the more expensive ones today, have covers over certain component groups, partly for decoration purposes, but also to provide passive or even active cooling of some components. The Viper VPR100 drive has its own original heatsink and this heatsink is also equipped with RGB and can therefore not be removed, or only with extremely expert knowledge and care.
If your motherboard hides the M.2 slots under a cover, or if the board is cooling these slots itself, you may not be able to mount the cover, and in rare cases, the cooling of some components will be reduced. So be careful and check if your motherboard can get M.2 SSDs with an original heat sink installed.
And since the drive comes with RGB lighting, and you have to pay extra for this lighting, it would only make little sense to hide this lighting under a cover.
Patriot Viper Gaming VPR100 Review – Installation
If the above topics are checked off and positively done, the actual installation is extremely easy. Remove any existing cover from the M.2 slot on the motherboard, insert the Viper Gaming VPR100 SSD into the M.2 slot, fix it with the hopefully existing screw and that's it.
No extra power supply is necessary, no data cables have to be laid. Everything is controlled and powered directly from the motherboard. A very convenient alternative to conventional SATA drives, whether HDD or SSD.
In the BIOS / UEFI the device should actually be detected automatically, here at least when used as a data drive or as a game partition no special setting is required.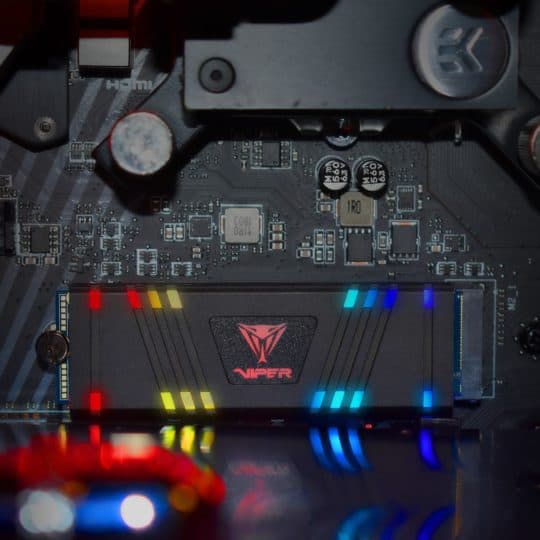 Perform Windows 10 migration to the new SSD
Such a fast drive invites you to install your Windows installation on it. Of course, you can do this with a new installation of Windows 10. But this is not necessary in most cases.
If you want to move your existing Windows 10 installation, as in my case, to the new ultrafast drive (technical term: migrate), it is relatively easy. There are many different software solutions for this Windows migration to an SSD. For Windows 10 I like to use Macrium Reflect. I recommend the Free Version of Macrium Reflect 7, which you can download directly from Macrium as Macrium Reflect Free.
Warnings when downloading Free Windows Migration Tools
If you search for it on Google, you will, unfortunately, be redirected to numerous other sites, which either offer advertising and redirections or have worse things in mind. So you should avoid these sites, especially since they want to earn money with other people's work or even try to foist some downloader, malware, or bloatware on you. So download the above Windows Migration Toll Macrium Reflect 7 Free from the manufacturer's website with a clear conscience, no extra costs, and no unwanted software, and even with the limited version you have a simple backup solution at hand.
After installing the software and starting it, you will see a list of all drives available on the PC:
Search for the drive in the list, where a partition marked with the small Windows window logo is located. Mark this drive and you will see the entry "Clone this drive" below the line. In the window that then appears, the previous Windows drive is displayed at the top and you should select the new Viper VPR100 SSD in the lower part.
WARNING: At this step you better make sure three times that you choose the right drives, otherwise you can easily lose data !
The actual migration takes a few minutes or even hours depending on the source drive, the partitions on the drive, etc. In my case, where I migrated my Windows from an SSD to the new Viper Gaming M2 SSD, the process took less than 10 minutes.
If the process was completed successfully, all that remains is to reboot the computer and change the boot order in the BIOS. Most of the time you get into the BIOS with DEL or F12 and there is usually an extra submenu for booting with modern UEFI BIOS variants, where you then select the VIPER VPR100 M2 as the boot drive and save the settings, and reboot.
Then you can enjoy the very good performance of the Patriot VIPER VPR100 m2 SSD and maybe watch it glowing nicely through the glass panel of the housing.
If the partition size should not sufficient or if you want to use the possibly still free space for an additional partition, this can be done afterward via the disk management of Windows. To do this, simply press the Start button with the right mouse button and select "Disk Management". How exactly this Windows feature works, I will not explain here. If you have any questions, feel free to write a comment below or contact me via social media channels or the ZapZockt-Discord.
Patriot Viper Gaming SSD VPR 100 NVME – Performance, power, and temperatures
According to official data, the average read speeds of the Patriot Viper VPR100 drives (no matter which variant) are about 3300 megabytes per second (MB/s). In the test with CrystalDiskMark, a very common free software to test the speed of drives, it was sometimes a bit higher. 3400 to 3450 MB/s I was able to measure in some cases.
The write speed varies greatly according to the maximum capacity of the SSD. The Viper Gaming VPR100 512GB variant that I use is rated at around 2100 Megabytes per second (MB/s). Here I could even measure up to 2450 MB/s, depending on the temperature. So the promised speed can even exceed the specifications in some cases. This is of course also due to the PCIE3 bus used, but also always due to the temperature of the drive, the day-to-day form, so to speak.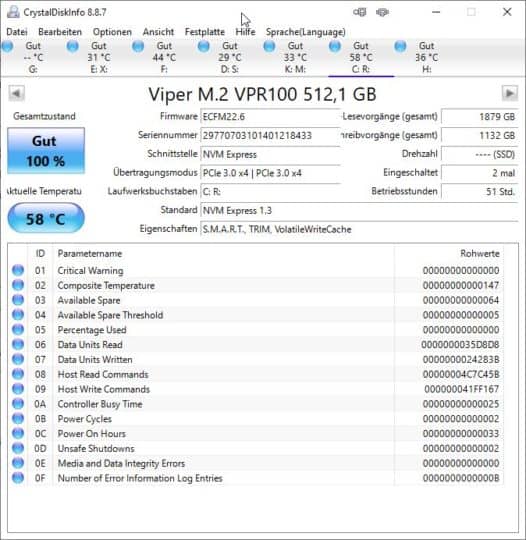 The Viper 100, just like most commercially available PCIE3 and PCIE4 M2 SSD drives, generate a certain amount of waste heat during operation. And when such NVME SSDs get too hot, they slow down to avoid overheating. That's why it makes sense for the Viper VPR100 to come with its original heat sink.
The Viper VPR100 has an external temperature sensor placed between the board and the heat sink. This makes it easy to read out the temperature. I use for this the free software CrystalDiskInfo. In normal operation, this temperature settles down at about 40-45°Celsius and rises at maximum load to about 60 degrees Celsius. Even with longer benchmarking by CrystalDiskMark the temperature did not rise above 61 °C for me.
Patriot Viper VPR100 – Software Download – Firmware and RGB Control
For the VPR100 models Patriot offers 2 different software packages on their homepage. One is used to read data from the drive, similar to CrystalDiskInfo, especially the S.M.A.R.T. values. But on top of that, this software can also download and install firmware updates for the SSDs, if available.
Patriot PCI-E Toolbox – Firmware Updater and SMART Reader
The Patriot PCI-E Toolbox is available in version 1.7 at the time of testing. The Download for the Patriot PCI-E Toolbox is available on the manufacturer page, just scroll down and the last link above the page footer is Patriot VIPER VPR100 SSD TOOLBOX – Download (direct link). I give the direct link here, but it's very possible that it won't work anymore, then use the link above and scroll down by yourself.
The software is not very extensive, but it's enough to see the condition of the drive, if there are any errors, you can do a Secure Erase and it can update the firmware. What more do you want? My device was shipped with the current version ECFM 22.6, so no update was possible or necessary. So I can't say anything about the actual update process yet. I will try to update this here in the future when the opportunity arises.
Viper VPR100 RGB Sync APP – Control software for the RGB lighting of the VPR100 M2 SSD
If you have RGB lighting, you want to control or adjust it. The VIPER VPR100 RGB Sync APP offers this option. The download is also offered on the Patriot VPR100 homepage, but also for this here is a direct link to the Download the Patriot Viper VPR100 RGB Sync APP.
The app allows you to adjust brightness and blinking speed and has 8 different presets and 5 color slots, which can be freely assigned with RGB colors according to your original wishes. If you have Patriot RAM modules, this software can also control them and synchronize them with the SSD.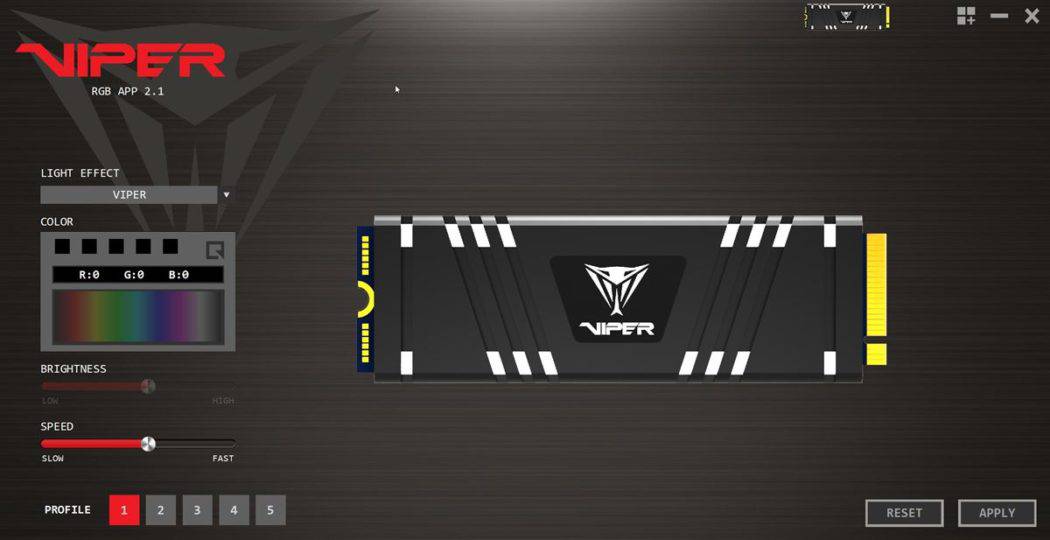 Note: NVME SSD Tempo in real operation – Gaming, Windows, and applications
At the moment I personally have to say, and many other sources agree with me here, that the differences between SATA SSDs and NVME SSDs are barely noticeable in normal Windows operation or gaming. The boot times are minimally lower, maybe sometimes even single actions are minimally "snappier" because small micro-jerkers are eliminated both on the desktop and in the games. But the moments where you really think "Oh, that was much faster" are really rare.
At least this is still the case at the moment because neither Windows 10 nor most of the current games are prepared for drive speeds of 3 GB/s or with PCIE4 drives even partly up to 7 GB/s. The software is simply not able to bring this speed advantage "on the road".
But this could change soon. With the new generation of consoles, the fast PCIE3 and PCIE4 SSDs will also be introduced there, and thus, at least in the foreseeable future, games that can use and manage such data rates will probably come onto the market.
And with the new NVidia RTX 3080, 3090, and 3070 series, NVidia has already announced a new feature called RTX IO, which is supposed to use chips on the graphics card that are specially optimized for such drives, so that the GPU can load textures and 3D models directly from NVME SSD with full data rate into the GPU RAM. So there you will soon get very clear advantages of these new drive models when the first games are released that can use RTX IO.
Also in the area of video editing or similar data-intensive applications, NVME can already bring massive benefits today and I expect that the support for fast NVME M2 SSDs will soon be even more available, and more and more programs will take advantage of these benefits.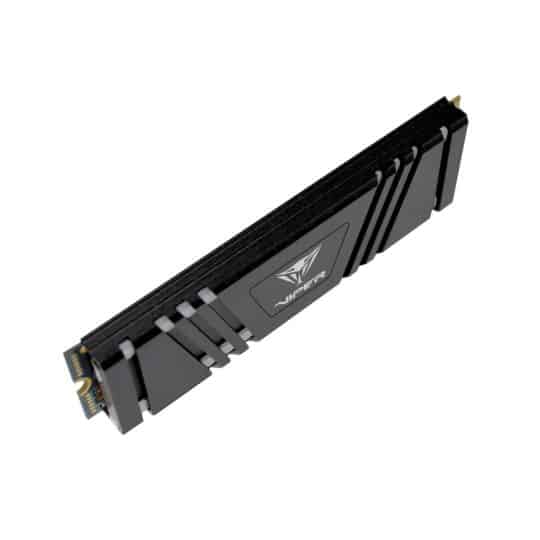 Patriot Viper VPR100 Review – Evaluation
Up front, the RGB lighting costs $15 or $ extra, and in my eyes, this extra charge is probably not worth it for most users. But if you want a little more lighting in the case, you can get it here and adjust it with the Patriot Viper Gaming RGB Sync App. But all in all, I would recommend the model without RGB, because it offers a much better price-performance ratio.
At speed, the VIPER Gaming VPR100 M2 SSD is a little slower than comparable Samsung drives, but is often cheaper to get. But with about 3.3 GB/s read and write speeds of 1 GB/s (256 GB variant), 2.1 GB/S (512 GB variant), and 2.9 GB/S (1 TB and 2 TB variant), you get a very fast product here in any case.
And Samsung definitely doesn't offer an RGB function, this is a unique selling point compared to the "top dog", which is currently dominating the SSD market. The VPR100 variant with RGB is about the same price as the competition without RGB and the variant without RGB is a bit cheaper.
Patriot Viper Gaming SSD VPR100 M2 NVME 512 GB RGB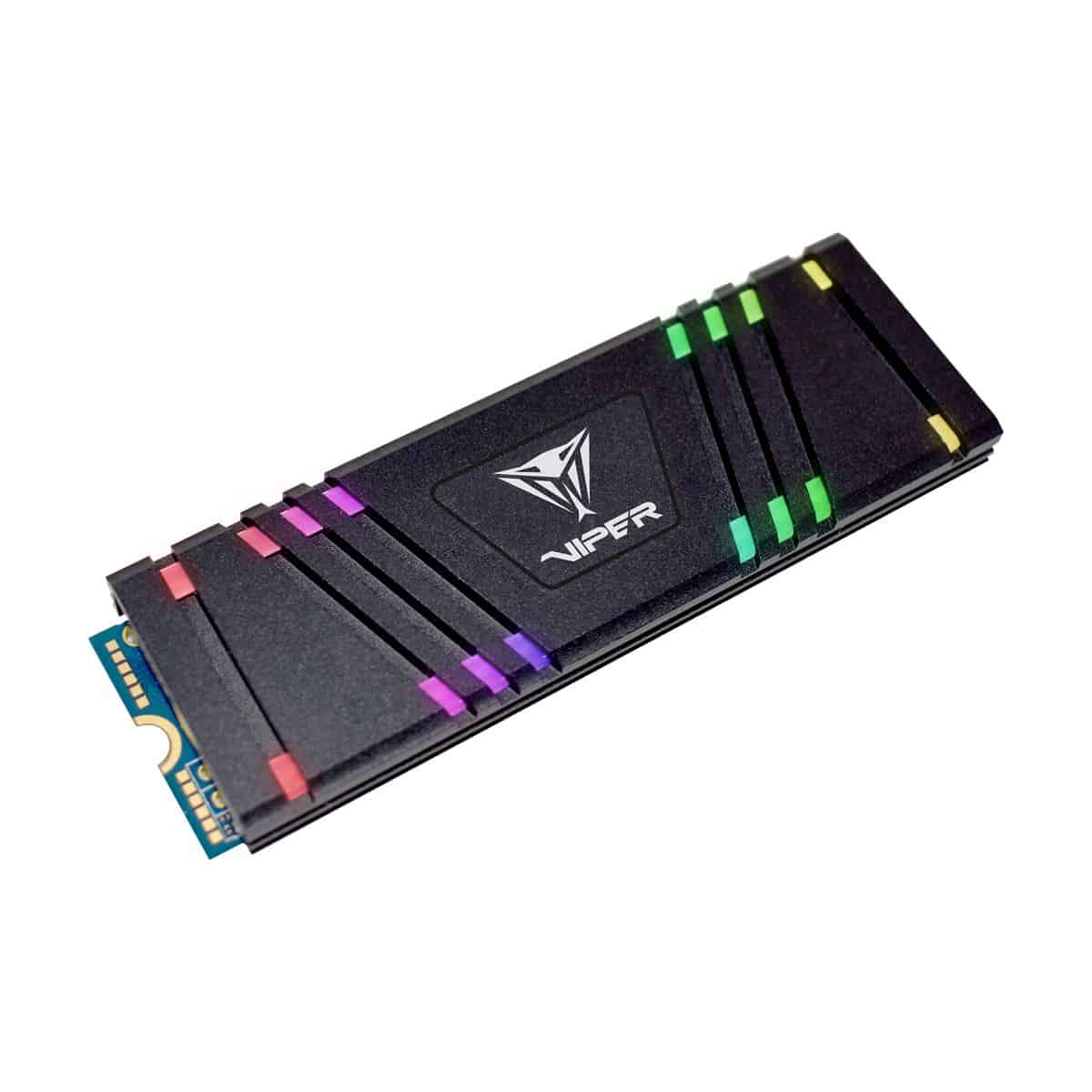 Test report of the Patriot Viper Gaming SSD VPR100 RGB 512 GB SSD – Fast SSD with RGB and heat sink
Conclusion
Overall, the Patriot Viper Gaming SSD VPR100 series is a good product. It's not number 1 in terms of speed, but can keep up very well. And if you are looking for an M2 SSD with configurable RGB, Patriot has a special position in the market. Overall not the very best, but a very good M2 SSD with high speed and 5 years warranty. Overall rating: 86 %
Links and Sources:
Buy Patriot M2 SSD at Amazon (Ad / Affiliate Link)
---
Reading – recommendations:
A lot of detailed game news and information about games and gaming can always be found here at ZapZockt.de – As a Steam user, you can also follow the ZapZockt Steam curator to always be informed about my reviews directly on the platform.
There are also many game reviews that might interest you, and if you don't want to miss anything, subscribe to the newsletter. As a Google News reader you can also go there and read the latest articles.
Shopping – Tip:
Ad / Affiliate Link
Games can often be bought cheaper. Legal, reliable and safe is the way to do it at my partner site Gamesplanet. This game, all DLCs, many more tactics, strategy, and many more titles are available there and almost always much cheaper than at Steam, Uplay, Epic, or other shops.
For every purchase, via this link, I receive a small commission. So you get games cheaper and at the same time support my work, my thanks in advance for that.