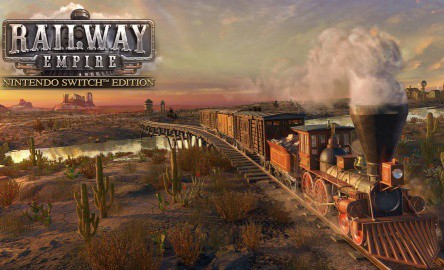 The Railway Empire Switch release date was announced
Publisher Kalypso Media announced that the Railway Empire Nintendo Switch Edition has been postponed to 27 March 2020. The game ported to the Switch by Independent Arts Software will then be available in the Kalypso Shop as well as the Nintendo Shop.
German Version:
Already very popular on PC, PS4 and XBox One, the railway build-up game will be released in a special Railway Empire Nintendo Switch Edition including the DLCs Mexico DLC, Crossing the Andes DLC and The Great Lakes DLC. The other DLCs Germany DLC, France DLC and Great Britain & Ireland DLC will be available in the Nintendo Shop.
---
Railway Empire – The popular railway simulation
Railway Empire is a very popular railway construction game with 91% positive ratings on Steam and has ranked at the top of the quality scale in the 2019 and 2020 economic simulations. Now Nintendo Switch players will soon be able to enjoy the railway building strategy.
The campaign plays through the history of the railroad in North America starting in 1830. In later DLCs, important episodes of railway development in Europe, South America, and other areas are presented in-game for replay. Most of the time in the campaign missions we have to prevail against one or more computer-controlled AI opponents, set up special routes and meet time constraints for certain delivery quantities. In addition to routes and train lines, we can also acquire and expand other businesses to expand our economic empire into other areas.
Railway Empire Nintendo Switch Edition Features:
In an extensive campaign, you will gradually open up the United States of the 1830s – from the West Coast to the East Coast, numerous American cities are waiting for the achievements of the railroad.
Master challenging tasks in a variety of scenarios or tinker with your railroad network without any financial pressure in the model building mode.
Lead your railroad empire to success by building an extensive rail network and optimizing passenger and freight traffic.
Use the strengths and weaknesses of over 40 historically reconstructed locomotives and over 30 different wagons to your advantage.
Explore more than 300 new technologies across five different eras.
Stand your ground against up to 3 competing tycoons and sabotage your opponents by paying bandits or hiring spies.
Explore your rail network from a first-person perspective on board your own trains.
Includes the DLCs Mexico, The Great Lakes and Crossing the Andes
Railway Empire Nintendo Switch Trailer:
Recommendation:
More Game News, Gaming Guides and Game Reviews can always be found here at ZapZockt.de
Official description of Railway Empire:
About Railway Empire: North America, 1830: The United States is not yet out of its infancy, and a merciless struggle for railroad supremacy is already erupting.

In Railway Empire, you and your railroad empire take on the cunning competition and lead your business successfully into the 20th century.

Build an elaborate network of railroads with your own stations, maintenance buildings, factories and attractions. The choice of locomotives – over 40 historically reconstructed models are available – influences the efficiency of your company just as much as the choice of personnel, the clever organisation of the route and a high degree of utilisation.

The achievements of five different eras offer numerous research opportunities, with more than 300 inventions and improvements such as seat upholstery, refrigerator cars or on-board toilets at your disposal.
But don't lose sight of your competition – up to three rival tycoons fight with fire, steam and steel for control of the tracks, rails and railways. It's high time to ruin their day by robbing them or using industrial espionage!

Railway Empire – Nintendo SwitchTM Edition lets you build and manage your train empire on the move. You'll also get the DLCs Mexico, The Great Lakes and Crossing the Andes with additional scenarios, music, locomotives and a night and snow mode for all game content.

https://www.kalypsomedia.com/eu/631/Railway-Empire/Download-Version/Nintendo-Switch