Lumencraft is a new game from 2Dynamic Games with a release date of February the 28th, 2023 on Steam, GOG, Epic Game Store, and macOS AppStore. The game combines elements of a top-down shooter with base building and tower defense. Players must dig and drill their way through a completely destructible environment to find Lumen – a mysterious resource that is the only hope for humanity's survival. In the process, they'll have to fend off dangerous creatures that lurk in the shadows.
Campaign, Generated Maps, and Map Editor
Lumencraft offers several game modes: a 27-mission campaign, custom maps from the developers or the community, or procedurally generated levels. The game can also be played in co-op mode with a friend – either via Steam Remote Play or locally on a split screen.
Lumencraft impresses with a gloomy atmosphere and a dynamic lighting system that reacts to all player activities. Sounds echo through the corridors and caves, adding to the sense of tension and struggle for survival.
Players can directly defend their underground settlement or build various turrets. The digging and drilling mechanics are very efficient and satisfying (just listen to the sweet sound of crushed rocks and lumens). There are also explosive weapons like dynamite. The environment reacts pixel-perfectly to every player's action (watch out for the flowing lava).
Lumencraft Launch Trailer
Lumencraft Gameplay Screenshots – InGame Pictures
Click or tap on the image for a larger view.
In the enlarged view, you can scroll right and left on the edges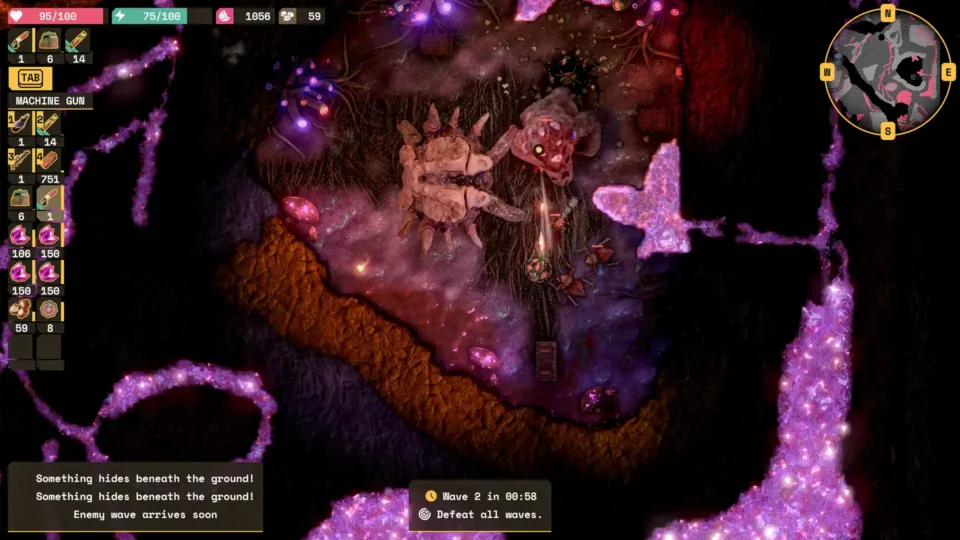 If you're in the mood for an action-packed shooter with strategic elements, you shouldn't miss Lumencraft. The game is available for Windows PC and Apple computers and has full Steam deck support. The price is 19.99 USD / 19.99 Euro / 16.99 Pounds / ¥59.00 / 89.99 PLN and currently there is a 30% discount.
Links and Sources:
Buy Lumencraft in the Epic Store (Ad / Affiliate Link)
---
Reading – recommendations:
A lot of detailed game news and information about games and gaming can always be found here at ZapZockt.de – As a Steam user, you can also follow the ZapZockt Steam curator to always be informed about my reviews directly on the platform.
There are also many game reviews that might interest you, and if you don't want to miss anything, subscribe to the newsletter. As a Google News reader you can also go there and read the latest articles.
Shopping – Tip:
Ad / Affiliate Link
Games can often be bought cheaper. Legal, reliable, and safe is the way to do it at my partner site Gamesplanet. This game, all DLCs, many more tactics, strategy, and many more titles are available there and almost always much cheaper than at Steam, Uplay, Epic, or other shops.
For every purchase, via this link, I receive a small commission. So you get games cheaper and at the same time support my work, my thanks in advance for that.