The City Builder Strategy Game Aquatico Lets Us Build a City in the Sea – A Special City Builder with Relaxation Factor due to Aquarium Feeling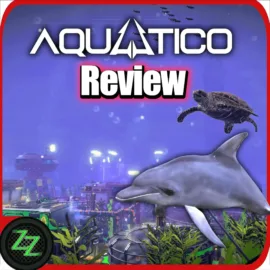 The underwater build-up game Aquatico in the gameplay test with review video – The earth is sinking in the chaos of the climate catastrophe, and we are building a new home for mankind deep in the sea. Complex city builder strategy with aquarium charm. The new construction strategy game Aquatico was published with a release date of January 12, 2023, for PC on Steam and in the Epic Games Store.
This post is available here as text and as a YouTube Video (German Voice-Over, English Subtitles). So you can choose how you like to enjoy it most.
Aquatico Review Video
German Voice-Over, many subtitles
Aquatico Review – Intro
Welcome, this is the Zap. In this Aquatico review, you get a little insight into the new building strategy game with lots of goods chains and life on the seabed. I'll tell you how it is played, what's in it and at the end, I'll give you a rating. But most of all, I want to give you all the info, so you can decide for yourself if you might enjoy the game.
Aquatico is developed by Digital Reef Games and published by Overseer Games. This is the debut work of this small indie game dev studio from Croatia. I received a free trial key, my thanks for that. However, this should not affect my review, as I always test all games with the thought in the back of my mind, how would I feel if I had paid full price?
Aquatico Game Type City Builder Strategy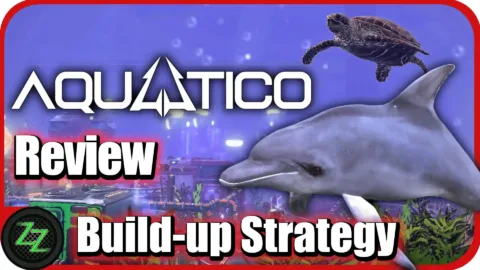 An asteroid hits the earth and causes an even worse variant of the already dramatic climate change. The earth's surface becomes almost uninhabitable due to heat and drought, and sea levels rise dramatically. So mankind starts to build colonies in the cool waters of the ocean.
This is the brief backstory of Aquatico, but it puts the game in a very special setting. Aquatico is a city-building strategy game in the ocean aquarium, so to speak. We have to build a new home for humanity, supply it with enough goods and protect it from the dangers of the underwater world.
We accomplish this by starting at the bottom of the sea to collect resources such as sponges, shells, fish, crude oil, and such things and building flow generators to power everything. Soon we'll add the first factories, where our robots will make plastic, fuel, batteries, oxygen, and most importantly, more drones because there's plenty to do, so we'll need a lot of workers.
There are different types of resources that require different transports. Electricity, crude oil, fuel, and oxygen are piped and so many buildings need pipeline connections. However, many other materials and goods need to be transported directly, and for this, the buildings need free entrances. We also have to make sure that we always have enough transport drones available, otherwise, production will quickly come to a standstill.
Besides the production level at the bottom of the sea, where we build factories, pipelines, collectors, farms, or mines, there is also an upper level. Here we build special domes on long columns, where we have to place homes, and embellishments, but also special production facilities for clothes or luxury goods, and build hospitals and restaurants.
Because our people are not only drones, of which we can slowly but steadily produce more in factories. They can do most of the work, just not all of it. But we go through all this effort primarily for the humans, who live and work in the domes far above the seabed and can also help out on the ground in special protective suits.
And the needs of our people are also constantly increasing. Where at the beginning a small empty hut is enough for them to be satisfied, soon we need embellishments like benches, statues, bushes, and trees. For this, we should expand the dwellings, and provide clothing, furniture, and luxury goods, but there is also quite quickly a need for hospitals, restaurants, or even watchtowers that can ward off attacks from dangerous creatures such as sharks.
To keep the requirements for the construction of our settlement high, there are seven different types of terrain. Some buildings can only be built in certain terrain types, or their productivity increases depending on their placement in the right type. But in the domes it is tight, and so we always have to keep an eye not only on materials and energy supply but also to use the scarce space wisely.
And since a lot of raw materials and goods have to be transported directly, we should also keep an eye on the length of the walking paths or much more swimming paths, otherwise, all transport will take forever, and our little underwater state will become very ineffective. Path optimization is an important point in the game.
Besides mountains that cannot be built on, fertile ground for agriculture, and areas that are necessary for oil production or ore mining, there are also abysses. There we can explore with expedition submarines and complete small mini-quests or build special facilities, like the tuna cage.
Aquatico Gameplay – Maps and Replayability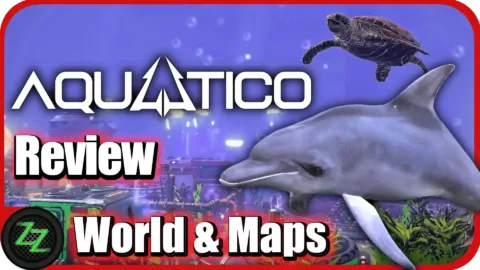 When we start the game, we can adjust some settings. The underwater world of Aquatico comes with thirteen different pre-made maps, which already offer different difficulty requirements. We can then also set some parameters for the difficulty level, such as the number of resources, the number of events and disasters, or the amount of starting inhabitants.
With this, we already have a lot of possibilities to play several game runs, with the most different variations. A random map generator or map editor would certainly be even better, but I think that with the already existing maps, you can certainly get a lot of game fun and adapted requirements for different play styles, from beginner to hardcore build-up pro. And I think it will be easy for the developers to provide additional content here after the release.
Overall, Aquatico offers a very comprehensive mix of different game mechanics. And with about 150 researches, 90 buildings, which are all upgradeable in several levels, 4 energy resources, 7 building materials, and on top of that 68 raw materials and goods, there is a lot of complexity in the game. This is then enhanced with small random events and exploration missions in the abyss. Variety seems to be provided, but more about that is in the conclusion.
Aquatico Screenshots – InGame Gameplay Pictures (Part I)
Click or tap on the image for a larger view.
In the enlarged view, you can scroll right and left on the edges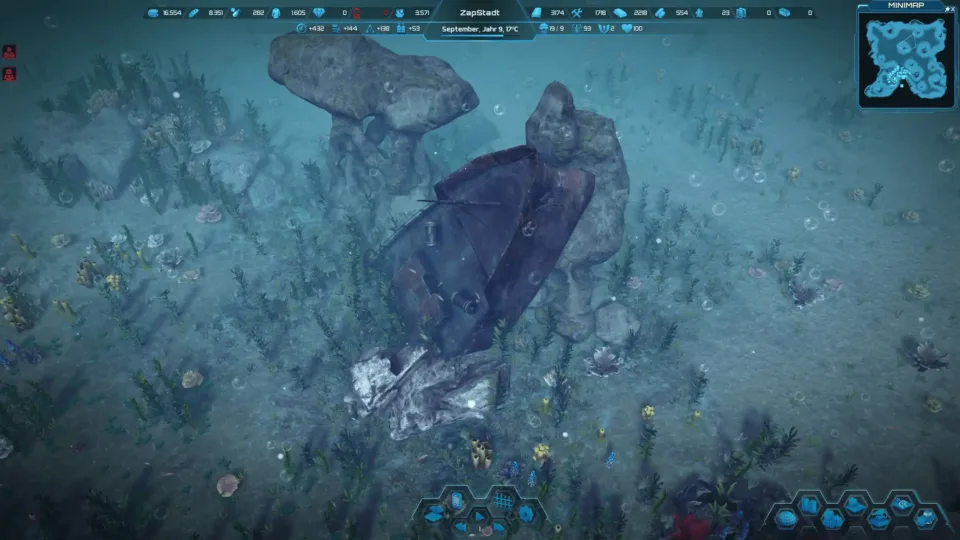 State of the Game
Although Aquatico is not sold as an Early Access title, it still seems a bit unfinished to me. This leads to some gaps and weaknesses in the gameplay, more on that in a moment.
The developers have published a longer roadmap at release, which expansions they want to add to the game later. So they don't see it as a finished game themselves yet, either. So I would kind of say it's Early Access without the label, which leaves a little bit, of a pale taste.
Planned are bug-fixing, balancing, and UI improvements as well as content additions. Here are the following things on the list:
Road construction and tunnels
A submarine with which you can freely swim around the settlement and view everything from the first-person perspective
More disasters, like earthquakes, reptile attacks, and meteor impacts
Expansion of the expedition system, including artifacts, which are then supposed to trigger special effects in the settlement
Voice-over for the settlers
A new biome, the Arctic, with special challenges
Full support for Steam deck and controller players
Tech, Graphics, Sound, Engine, Translation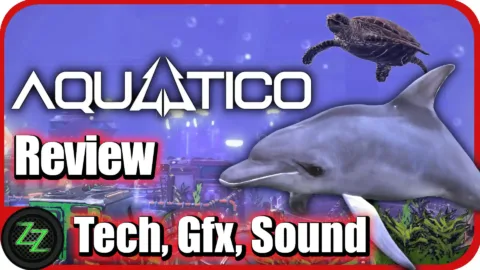 It seems that Aquatico is being developed with a custom engine. At least, I couldn't detect any of the usual signs of ready-to-use engines like Unreal or Unity. Nevertheless, it is worth mentioning that the game runs completely stable. In my more than 10 hours of testing, it didn't crash once.
The graphic models are detailed, especially the fish and other sea creatures, which can excite me. The buildings are good middle class, with high-resolution textures, a few small animations, and otherwise factory design. But the option to change the colors of the buildings is commendable and allows individual city design.
The sound is somewhere between middle-class and annoyingly repetitive. The music plays quite nicely but is not something that would have particularly carried me away. The in-game sounds, on the other hand, sound rich, but the many hums and buzzes and factory noises often disturbed me rather than being a pleasant accompaniment. I quickly turned it down very low. At least the menu noises were defused by the first patch, they are now just boring, at first they reminded me of the beeping of my tinnitus.
The game currently has no voice acting, except for a short intro at the start of the game, where an English voice tells the backstory in three sentences. There's probably more in the works, but currently, it's otherwise very silent.
The on-screen texts, tooltips, and menus are available in a total of 10 languages. English and German, the languages I understand, were on a good level already with no major errors. In addition, there are translations in French, Spanish, Japanese, Portuguese, Chinese, Polish, Russian, and Turkish, but I can't say anything about their quality.
How well does Aquatico run on the Steamdeck?
Basically, Aquatico can be played very well on the Steam deck, even though it hasn't been optimized specifically for it yet. The texts are still legible, with the game even offering to scale of the UI. The controls are all comfortable to click on even on its small screen, and aside from the rotatable camera, all functions were directly usable with the standard Steamdeck control layout.
However, the basic graphics setting ensures that the battery would be drained within 90 minutes. Here I would recommend turning down the details and animations a bit, and after draining some power from the GPU and CPU, I came up with over three hours of possible playtime. So I don't see any problems here with playing Aquatico on Valve's little wonder machine. If the developers want to make extra optimizations, as mentioned in the roadmap, it can only get better.
Aquatico Test – Opinion and Conclusion
What struck me immediately after starting the game, and never quite went away, was that the sounds are somewhere between hard to get used to and exhausting. The soundscape sounds kind of, like a mix between a kitchen machine and a tank engine, in different versions. I had to quickly turn it down very low to make it more pleasant. Unfortunately, it never became nice.
The publisher's marketing department talks about "survival" build-up, but that's actually quite wrong. Neither are there seasons, nor really massive dangers that could wipe out the whole people. Sure, you have to provide the inhabitants with food, and sometimes there are shark attacks or broken pipes, but apart from that, there is almost nothing in the game that would justify the label "survival" in any way. It's just "in" to link survival with strategy, and they probably wanted to squeeze this keyword in somehow.
Commendable options menus
Aquatico is very exemplary when it comes to the settings options. It offers extensive options, both for customization to graphics and sound, as well as for controls.
The "thousands of miles under the sea" setting is something special, which is still unused in the city-building and sim genres. The fish, turtles, and general underwater design is also very chic. There is a certain aquarium feeling, but of course, the water ensures that the game is very "blue" overall, which probably can't be avoided.
The buildings are detailed, but now not necessarily outstandingly innovative, just as you would expect futuristic-designed factory buildings. But also the residential buildings and ornamental elements are more functional than really a feast for the eyes. So while Aquatico is graphically solid, it's not as pretty or imaginative as one might expect in such a new setting. I have already mentioned the well-done coloring tool for the buildings.
Many goods and each building can be expanded
There are numerous short commodity circuits and many goods, but only a few interlocks. More complex commodity chains would have been more exciting here. Almost every building has multiple expansion possibilities, at first glance, this is well done. So it allows for some micromanagement.
However, even with this there are no real decisions, you can simply expand everything, make it cheaper, or put several production lines in one building. The expansions almost don't differ at all, for the various buildings. This could certainly have been done in a more innovative way.
Aquatico brings a very extensive research tree, about 150 researches want to be unlocked. But here, as well, the problem is that it is very linear and only allows for very limited decisions. In the end, you simply click on a new research every 2-3 minutes until everything is unlocked, this could be done in a more interesting way.
The game offers 37 Steam Achievements, but most of them are already done on the fly in the first playthrough. Only special achievements, like "Build a city with 200 inhabitants", could really be a bit of a challenge. Even with dozens of buildings and massive expansions, it's not that easy to even reach 50 inhabitants. Because people are very, very hesitant to come to the underwater realm, no matter how beautifully you build them your new home, only the robots can be produced in large numbers.
Relaxing, but thereby also not quite as exciting
As for the actual gameplay experience, I'm afraid I have to express some disappointment. The tension rises sharply at the beginning, when you see the many buildings and the skill tree, but drops off again relatively quickly and then soon becomes quite flat. The game lacks challenge and variety, in fact, it's almost impossible to fail or get into any real trouble.
You do have the small events, but they only cause minimal damage, if any at all, and little to nothing else unexpected or surprising happens. So you click through the research tree, build dozens of buildings, and even at 4x speed you feel like you're spending most of your time waiting.
I mean, there's nothing wrong with a relaxing and chilling building game. Aquatico also offers that relaxing aquarium feel and visuals to match. But if anyone is looking for challenge, survival, or excitement, Aquatico can only partially provide that. Many areas look enormously extensive at first glance but are often just more of the same. Unfortunately, this is partly "more quantity than quality".
The price goes reasonably okay, just under $25 or € for thirteen maps and additional starting options is a correct offer. But whether one really likes to play through it several times is then still the question.
Even if I repeat myself, Aquatico looks nice. And it has a lot to click for players who want to chill out in the evenings and are looking for a relaxed, linear building game without a lot of stress, then everything is top-notch. But if you're looking for some excitement and challenge, Aquatico just lacks more details, story, surprises, and twists.
It's worth mentioning that there is at least a free demo for Aquatico on Steam at the moment, so you can take a look for yourself.
Aquatico Review – Rating
Aquatico offers city building fun with an unused setting in nice graphics, extensive building options and many goods. I would like to start with a basic rating of 85 %.
Unfortunately, I have to deduct 7 % for the lack of innovative research and expansions and the linear gameplay without any real suspense or challenges. This brings me to a final rating for Aquatico of 78 % – it teeters on the edge between relaxing and boring.
The developers have posted a longer roadmap for the release, where they have planned improvements for the next months. If that should all come so, I see the potential for up to 85 %. But whether everything will really fit in the end remains to be seen.
Outro
Do you like relaxed city-building in the undersea aquarium? Or is linear gameplay and lack of challenge a no-go for you? Feel free to write me your opinion in the comments or in the Community Discord.
More gaming news, game reviews, and guides can be found on the Zapzockt YouTube channel or here at https://zapzockt.de – thumbs up, subscribe, and share with friends won't hurt. Then I wish you a great day, ciao ciao, your Zap
Links and Sources
Buy Aquatico cheaper at Gamesplanet (Ad / Affiliate Link)
Buy Aquatico at Epic Games Store (Ad / Affiliate Link)
Aquatico Screenshots (Part II)
Click or tap on the image for a larger view.
In the enlarged view, you can scroll right and left on the edges
Klicke oder Tippe auf eines der Bilder für eine größere Ansicht.
In der vergrößerten Ansicht kannst Du links und rechts am Rand umblättern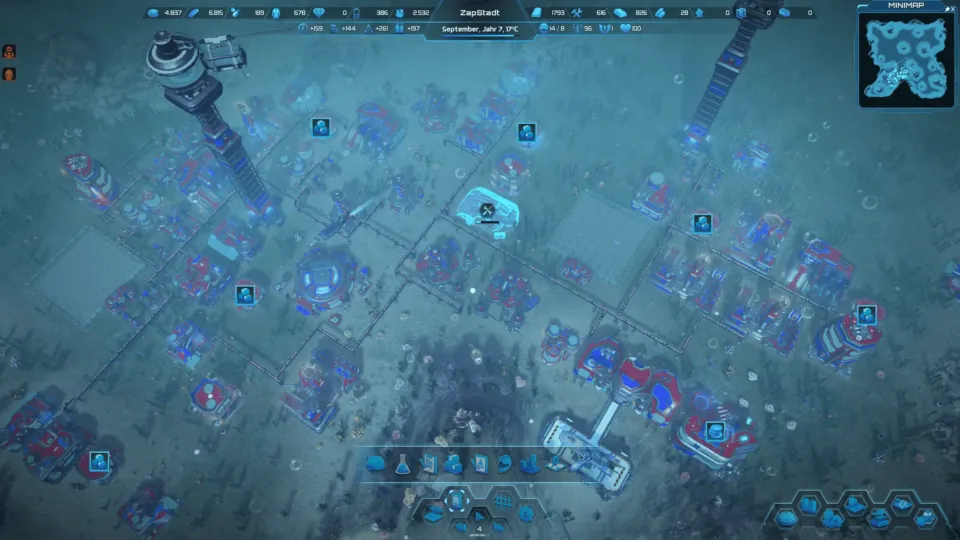 ---
Sehr viele detaillierte Spiele News und Informationen rund um Games und Gaming findest Du immer hier bei ZapZockt.de – Als Steam-User kannst Du auch dem ZapZockt Steam Kurator Eintrag folgen, um direkt auf der Plattform immer über meine Reviews informiert zu werden.
Es gibt auch viele Game-Reviews, die Dich interessieren könnten, und wenn Du nichts verpassen möchtest, abonniere den Newsletter. Als Google News Leser kannst Du auch direkt dort, immer die neusten Artikel lesen.
Shopping – Tipp:
Werbung / Affiliate Link
Spiele kann man oft günstiger kaufen. Legal, zuverlässig und sicher geht das bei meiner Partnerseite Gamesplanet. Dieses Spiel, alle DLCs, viele weitere Taktik, Strategie und andere Titel gibt es dort im Angebot und fast immer sehr viel billiger als bei Steam, Uplay, Epic oder anderen Shops.
---
PC Hardware aber auch sehr viele andere technische und allgemeine Sachen kann man auch
Falls Du meine Arbeit unterstützen magst, würde ich mich freuen, wenn Du vorher einen dieser Links hier anklickst. Du bezahlst den gleichen Preis. Für jeden Kauf über diese Links erhalte ich eine kleine Provision. Du bezahlst den gleichen Preis oder bekommst eventuell sogar Spiele günstiger und unterstützt gleichzeitig meine Arbeit, mein Dank im Voraus dafür.
---