Tortuga Delivers Turn-Based Pirate Strategy and 3D Ship Cruising Across the Caribbean Sea
In Tortuga (Gameplay Test – Let's Play Game Review) we play a pirate in the Caribbean, similar to Pirates. We fight in turn-based ship battles against merchants, pirate hunters, and other pirates and try to build an empire that will eventually be strong enough to plunder the legendary Spanish treasure fleet. Tortuga hit the Epic Games Store with a release date of Jan. 19, 2023, for PlayStation PS4 & PS5, Xbox One & Series X/S, and PC, with a Steam version likely to follow later.
This post is available here as text and as a YouTube Video (German Voice-Over, English Subtitles). So you can choose how you like to enjoy it most.
Tortuga A Pirate's Tale Review Video
German Voice-Over, many subtitles
Tortuga Review – Intro
Hi there, this is the Zap. In this Tortuga review, you get a little insight into the new pirate strategy game with turn-based ship battles. I'll tell you how it is played, what's in it and at the end, you'll get a rating from me. But most of all, I want to give you all the info, so you can decide for yourself if you might enjoy the game.
Tortuga is developed by Gaming Minds and published by Kalypso Media. So far, there are already successful titles from the team with Railway Empire, among others. I received a free test key, my thanks for that. However, this should have no influence on my rating, as I always test all games with the thought in the back of my mind, how would I feel if I had paid full price?
Tortuga was released with a release date of Jan. 19, 2023, for PlayStation 4, Xbox Series X/S, and PC by Epic Games. A Steam version will most likely follow in a few months as well. The price is around $25 or €.
Background – Sid Meier's Pirates and the Curse of all pirate games
It's 1987, and the company Microprose releases the game "Sid Meier's Pirates" and lands a huge hit, for those times. You can sail the entire Caribbean and be a pirate in all aspects, capture and plunder ships, hoard goods, improve relations with all sorts of factions, fight fencing duels, collect treasure maps, and plunder many hidden treasures. The world is filled with enemy warships, fat merchants, and other pirates who steal your loot.
Pirates was just extremely good back then, had an enormously extensive feature list, very varied and diverse gameplay, and also always a wink, as befits a good pirate story. In 2005 there was another remake, built at that time by Firaxis, the makers of Civilization and XCom, which was even relatively decent. But somehow, since then, there has never been a game released in this genre that could even come close to rivaling Pirates.
And Today Tortuga comes and between the lines, you can indirectly read the hope that 35 years later, maybe a new edition or at least a halfway worthy successor could come. Is Tortuga the new Pirates? Let's take a closer look.
Game Type – Pirate Strategy
In Tortuga, we sail our ship through the Caribbean and start our career as an insignificant pirate with a small and old vessel. We can't realize our plan to raid the Spanish treasure fleet for a long time yet. We have to learn, get better ships, and find allies.
Tortuga is a pirate strategy game in which we can freely sail around with our ship (or convoy) in a 3D world. There is shallow trading, we do errands for people from the tavern or the governors, have to manage crew, cargo, and ships, can upgrade the ships and level up our pirate captains and teach them new skills.
The main element of the game, however, is turn-based ship combat, and not only that is very similar to Port Royale 4, where we move our ships in a grid on the sea, have to shoot broadsides at the opponents, and preferably not get hit so often ourselves. And when we have riddled the competitors with our cannons to some extent, we can either sink them or try to board them.
If we choose to sink them, we only get some of the goods they had on board. Boarding, on the other hand, is a small text mini-game in which we choose from two or three options on how much risk we want to take. Then the dice are rolled to see if we can succeed and move the boarding progress toward victory, or if the enemy will fight us off and possibly move the scales in their favor.
We can then completely loot a boarded ship and also take possession of it. We can then use it in our own fleet, or exchange it for sounding gold coins in the next port.
There are 18 different ship classes, which you may already know from Port Royale or similar games. We start with sloops and brigs and then work our way up through barges to frigates and galleons. Each ship class has different cargo holds, slightly different stats, and a few slots where we can install offensive, defensive, or support items on some of the harbor masters.
There are opportunities to hire more captains, at least when we eventually have enough reputation to be taken seriously. Our pirate leaders get experience for missions or battles won, we level up and can choose a few skills from an extensive list, and then improve them.
Gameplay – World and Story
The Caribbean in the year 1580, the colonial powers Holland, France, Spain, and Great Britain seized the entire territory. They are constantly fighting over the distribution of these lucrative lands. They build plantations and establish mines, penal colonies are supplied with prisoners from Europe and slaves from Africa. The conquistadors establish slave labor as well as misery and oppression. In addition, they plunder the treasures of the natives.
Trade flourishes between the settlements of the four occupying powers. Numerous ships, fully loaded with goods and gold, sail between the islands and the mainland. The wealth is bubbling, at least for the governors of the cities, and every few months they send fully loaded fleets to Europe to send their kings a share of the spoils.
Escaped prisoners and discharged sailors often sign on to pirate ships, and this is where we come in. We get a ship, load it up with some provisions and cannons, and set out to grab our share of the wealth by capturing, boarding, and selling stolen goods. Anyone who gets in our way will be met with broadsides and may end up walking the plank. And maybe one day we will manage to realize our dream and plunder the treasure fleet of the Spanish Armada.
Tech, Graphics, Sound, Engine, Translation
Tortuga was developed in the Unreal Engine. It runs stable, and for a strategy game, it looks quite good. But the engine could probably do a lot more.
The ship models are detailed, sea and background are also quite nice. The decoration on the landmass looks a bit unrealistic and uninspired. A little more effort could have been invested here. And I ask myself, how many active volcanoes are there in the Caribbean?
The soundscape is good middle class. There is wind and water noise as well as seagulls at sea, rattling around in the cities, and viable cannon sounds in the battles.
The music tracks could be a bit more numerous and also more Caribbean and pirate-like, here I am a bit disappointed. The pirate setting offers so many possibilities to come up with Caribbean sounds or sailor shanties to create a good ambiance. But this chance has been missed.
A real plus is the voice acting, which is well-dubbed. The spoken texts could be a bit more varied and less tritely now, but overall it's already well done and definitely enriches the game. A bit more Yohoho and Aaaaar wouldn't have hurt, though.
The on-screen texts in English and German are decent. Sometimes there is a lack of explanations, but you want to try out and research, so that's not so bad. However, the fact that some tooltips show completely wrong values and some things have no tooltips at all could have been done better.
Tortuga Screenshots – InGame Gameplay Pictures
Click or tap on the image for a larger view.
In the enlarged view, you can scroll right and left on the edges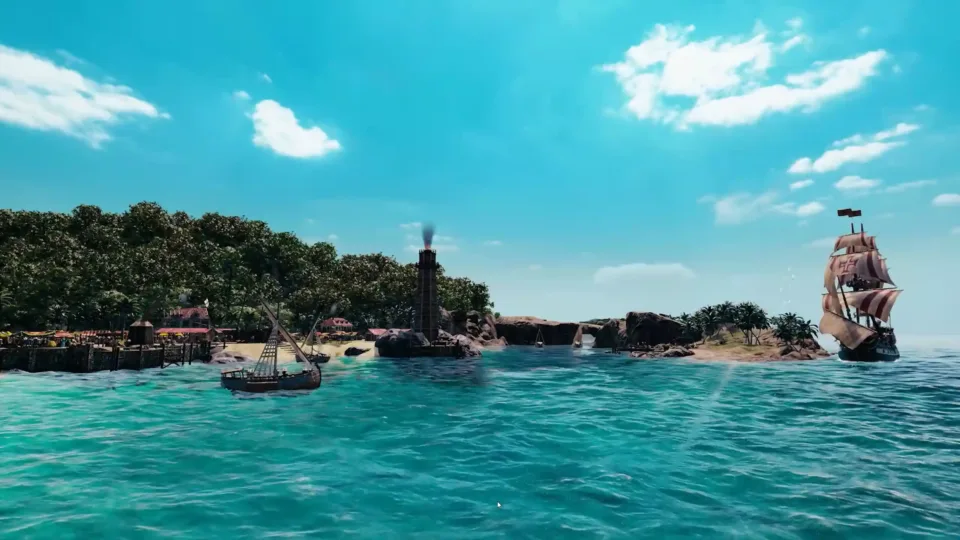 Tortuga Test – Opinion and Conclusion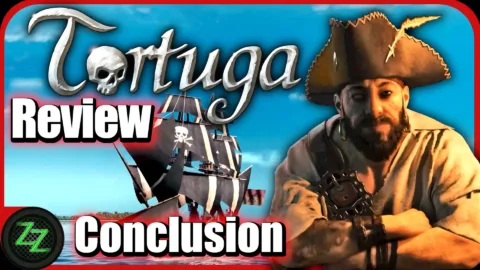 Game Design
Let's get to the general game design. Here, unfortunately, some things are not really as you would want them to be.
In combat, ships can only make one move, almost no matter how long it is. It is not possible to split the movement points, e.g. to make a smarter movement first to the right and then to the left, or to turn the ship.
Fleeing is no longer possible at all, and the automatic calculation of battles is also non-existent. Funnily enough, there are captains who have as a characteristic that they don't like when you flee from battles. They removed the feature, but not the disadvantage related to it.
Those were features that existed in Port Royale. And Tortuga is based on Port Royale 4, the same team worked on it and many 3D models, UI elements, etc. are the same. Nevertheless, they take features out of the game that were already working. Here, Tortuga gives away a lot of tactical fine-tuning.
Turn-based Strategy Battles with Pirate Ships and Lots of Randomness
Overall, there is too much randomness in many places, especially in the combat area. Unfortunately, this often turns the strategy game into a game of chance. Varying values and random factors are nice, but when the ranges go from "6-78% chance of success" or the damage is specified as "7 to 48" and then sometimes only 4 damage comes out, or 3 of 5 shots go into the void, while the opponent almost always hits, it becomes very difficult to plan. And the strategy and the game fun suffer strongly from it.
Then the displayed combat values of the ships are sometimes simply wrong, or not all combat influencing factors are included there. Sometimes you attack a ship that is several hundred points weaker according to the displayed combat power, but you still get smacked in the face because it keeps hitting hard, and you only land mini-hits yourself because the enemy has super-thick armor.
Here it seems that some AI ships also have some hidden bonus values that you can't see as a player. And when there are 95 crew members on an NPC ship, which is only allowed to have 55 crew on our side, it gets quite strange. That often just feels unfair and costs me a lot of fun.
There is a Lack of Balancing and Fairness
Next, there's the balancing issue. At one point I had two captains with a few levels and nice skills, two ships that were actually quite well upgraded, and a combat power of 740. My fleet is a bit scratched and on its way to the harbor to be repaired.
Then suddenly the game spawns a pirate hunter patrol on me, consisting of three fat ships with 950 combat power, and sinks my first ship in the first two turns, and they only need 2 turns for the second one as well. I am not allowed to use the other 5 ships that belong to my convoy as alternate ships. And such frustrating moments, unfortunately, happen again and again.
If you try to run away from the pirate hunters, they will chase you forever, if you are fast enough that they don't catch up with you right away. The only thing that helps is saving and repeating the fight over and over again until you get lucky with the dice. A very frequently used function during testing was the reload button.
Or we simply let ourselves get sunk and start with a part of our money and a new ship in the next harbor, experience, skills, and recruited captains are kept though. Both options are not really fun, the inevitability is quite frustrating. As a cunning pirate, you should somehow have escape options as well.
Trading and Upgrades – Better get a Pen and Paper
Let's move on to trading and upgrading. There are different prices and not all goods in all cities, so far so good, that makes sense. But why doesn't the game offer convenient options, at least for the cities you've already been to, to collect rough info on what goods, upgrades, etc. are available in a city and then display them in the game?
Do I really need to put a piece of paper and a pen next to the game and start taking notes, so I don't have to spend ages sailing around the area looking for something specific? It's 2023, not 1983, dear Gaming Minds folks. After all, when you're almost there, the ports indicate that there's a sailmaker in town, for example.
But at the latest, if you've already been there, why not show this on the map in a tooltip, including short info, like top goods that are traded there? There should have been pirate captains who could write and keep a captain's log, I've heard, just rumors.
However, this is a general problem that these kinds of games have never really gotten solved for decades, whether it's Port Royale, Fugger, Hanse, Rise of Venice, or whatever they're all called. Everywhere the same problem and it seems to be terribly difficult to find a user-friendly solution.
Okay, enough complaining, let's get to the things that I liked better, even if unfortunately most of the time there has to be a but again.
The Graphics – Light and Shadow
The graphics of Tortuga are quite nice. There is some flickering and the landscape could be more varied, but overall you get a little Caribbean and pirate feeling. Unfortunately, the visuals are taken almost 1:1 from Port Royale 4. Here, many assets have been recycled.
The 3D ship handling is basically fun, though. The controls feel good, and a freely navigable Caribbean is a big plus, almost two. I particularly liked the fact that you can not only pause but also regulate the game speed in three stages.
As for the design of the sea, it's all easy to see and some of the ambiance lightings shows fancy light changes, I've seen worse. But the world is completely empty except for other ships and cities. It seems somehow sterile and uninhabited. True, every now and then you'll encounter a dolphin, whale, or a shark, which oddly enough floats above the water. But this fundamentally chic approach to a pirate open world could have been turned into so much more, and that's a pity.
The Pirate Setting Offers Many Possibilities and Opportunities – and Most Go Unused
Why are there no sword fights during boarding or on land? Why don't pub brawls, treasure hunts, wreck recoveries, or imprisonment with jailbreaks exist? Surely it would be quite easy to add disease, storms, the rescue of castaways, or other elements that add a bit more variety and fun to the game?
As it is now, I find the gameplay a bit too repetitive and one-sided, not to mention monotonous relatively quickly. Unfortunately, Tortuga doesn't even offer 50% of the features that were already there in good old Pirates. If you have such a great role model in front of you, why don't you use that? That seems incomprehensible to me.
The Ships Float in a Tide – Out of Quests
The number of missions is sometimes a bit extreme, and the list in the logbook is constantly getting longer and longer. It would be nice if these could be more easily tracked, for example by simultaneously tracking several at once. There is a red marker at the active quest, why not just different colors for more quests? But overall, the quest area is at least an extensive source of things to do next. Better there is a little too much to do than too little, even if most of them are random quests.
At the same time, many quests are marked with several skulls, but they aren't designed in a particularly eye-catching way. So it's easy to accidentally accept quests that are far too difficult for your current level of play. Perhaps this is also the cause of the problem with the sometimes appearing pirate hunters, which are much too difficult. But once you have accepted a quest, you can't cancel it. Mind you, this already happens on the difficulty level "normal", where there are also "hard" and "very hard", but no "easy".
Everything Revolves Around Turn-Based Ship Combat – Few Features, But They're At Least Somewhat Okay
The main feature of the game is the ship combat and all in all, the turn-based battle mode with the boats is quite entertaining. There are some subtleties and tricks that you have to pay attention to. Later on, when you have experienced captains in your team, this also becomes much more extensive and the tactical possibilities become more. And once everything here works really reliably, it's also moderately or maybe even downright fun. But some inconsistencies and too much randomness with too wide spans scratch the tactical pleasure here.
I really liked the feature that you can conquer and expand your own pirate base. Although I would find it useful if you could also carry out expansions from the warehouse, which you build there, otherwise this is a nice little additional feature. Here, too, much more could have been made of it, I think.
Tortuga – Port Royale Re-Cycled – For True Pirate Fans
Overall, it seems to me that Tortuga is more of a small byproduct of the same team that built Port Royale. They simply put together the already existing game assets in a slightly different way and instead of being a merchant, you are now a pirate.
In this state, I can really only recommend Tortuga to absolute pirate fans who have a very thick skin against bugs and not so polished game design.
At least Tortuga is available for an almost correct price of $25 or €, currently even with a 10% release discount. Here you might consider putting on your pirate eyes nonetheless and overlooking one or the other problem.
But Pirates remains the King of Pirate Games
Otherwise, perhaps the old Pirates should be brought out again, which continues to sit unrivaled on the pirate throne and makes all successors look like staggering sailors.
Tortuga Review – Rating
For the few game features and the repetitive gameplay, I can unfortunately only give Tortuga a basic rating of 77%. However, this is followed by a 5% deduction for the bugs and inconsistencies in balancing, as well as another 5% for the too-strong random factor for a game that should be about strategy and tactics. Thus, we disappointingly end up with a final rating of a meager 67%.
We can only hope that Gaming Minds will take another look at this and at least fix the worst bugs and the balancing in the coming weeks. Even then, Tortuga will unfortunately not be a particularly thrilling game, but maybe it will at least have a chance to reach the 75%.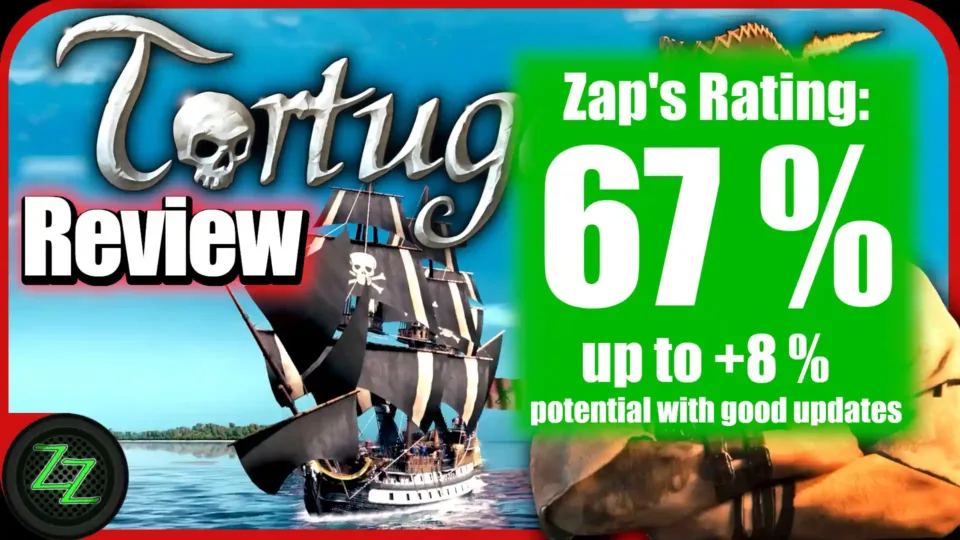 Outro
Do you like Yohoho, a bottle of rum, and turn-based tactics ships? Or are too much randomness and bugs not your thing? Feel free to write me your opinion in the comments or in the Community Discord.
You can find more gaming news, game reviews, and guides on the ZapZockt YouTube channel or here at https://zapzockt.de – click your thumbs, subscribe, and share with your friends and have a great day, ciao ciao, your Zap
Links and Sources
Buy Tortuga A Pirate's Tale at the Epic Games Store (Ad / Affiliate Link)
Tortuga Publisher Twitter (Kalypso Media)