New Indie Games in April 2023 Presented in the Zap Zockt Indie Game News
In this episode of Zap Indie Game News, I show you indie games that have just been released in April 2023 [PC Gameplay], all fresh and new. There's base-building strategy and aliens in Exogate Initiative, murder mystery and detective gameplay in Shadows of Doubt, and RPG monster fighting and dungeon crawler feeling in Raidborn. All three games are fresh in Early Access, so they are not fully developed yet. They were released from late March to late April 2023 and are available for PC on Steam. Briefly presented as a mini review/preview, each game was more than 5 hours in a test.
This post is available as text and a YouTube Video (German Voice-Over, English Subtitles). So you can choose how you like to enjoy it most.
Indie Game News April 2023 Video – Exogate Initiative – Shadows of Doubt – Raidborn
German Voice-Over, many subtitles
---
Indie Game News April 2023 – Intro
Hello out there, Zap here. In this video, I introduce you to three new indie games that came out in the last few weeks that might be worth a look from you. A new gaming news format, especially for fans of lesser-known indie games. I hope you'll like it.
So what's on this episode of Zap's Indie Game News? In Exogate Initiative, we build and manage an underground base to explore alien planets with a Stargate. In Shadows of Doubt, we're a detective looking for a serial killer in a dystopian science fiction world. And in Raidborn, we slash our way through endless amounts of RPG monsters in search of the Kingslayer.
The keys were provided to me for free by the developers. But that has no influence on my opinion. Don't worry, if there is anything that is truly bad, I'll say so, or it will never end up in a review of mine anyway.
Exogate Initiative – Early Access Preview
Let's start with Exogate Initiative. Do you remember the Stargate series and movies from the early 2000s? The story roughly summarized, people discover an ancient Stargate, with which they can undertake dimensional travel to alien worlds and discover alien cultures. And almost everything goes wrong that can go wrong.
That's about how we start in Exogate Initiative. In this game, we are appointed as the station administrator of a secret research project that is supposed to explore other worlds using Stargate technology but on a very limited budget.
To do this, we build an underground base from scratch. This happens in a similar way to Evil Genius or Dungeon Keeper. So there is an isometric top-down view, and we dig rooms and corridors, set them up, hire personnel and start our first space explorations.
We ourselves do not travel through the Stargate, we are just the administrator of the base. However, we are in radio contact with the explorers and can make decisions that influence the outcome of the expeditions, just like in small text adventures. Depending on how we guide our teams, they will find valuable things, mysterious artifacts, or death by dangerous aliens and plants.
Injuries and psychological problems will hopefully be healed quickly in the infirmary. The employees get experience for everything they do, rise in levels and thus also become better at what they do there, which, however, also drives their salaries up. And then we can soon build new rooms and hire doctors, soldiers, engineers, and sociologists in addition to researchers.
Little by little we explore more and more technology and space. We find unknown artifacts and materials, which we urgently need to turn into money, by selling patents. This is the only way we can finance our base permanently because the initial funding doesn't really last long. If the finances are right, and we don't go broke, we gradually learn to master more alien technology.
Sometimes we can make first contacts, but that doesn't always end well, and then the soldiers have to get at it. And hopefully, we might manage to find a balance between research, dangers, and finances and keep our employees alive.
Exogate Initiative launched in Early Access with a release date of April 18th, and it costs $22.99 or €. So it's not completely finished yet. My impression so far has been that while it's already running very stable, and it's also fun, bringing some very entertaining twists and storylines, it's always ended for me after 5–10 hours so far because the balancing of the finances was somewhere between extremely hard and impossible and I went broke every time.
But the developers are still working on it, there was already a first patch for balancing. I hope they get it under control soon. And then maybe it can become a wonderful mix of base building, staff management, and research, as well as space exploration and alien stories.
Exogate Screenshots – Ingame Pictures
Click or tap on the image for a larger view.
In the enlarged view, you can scroll right and left on the edges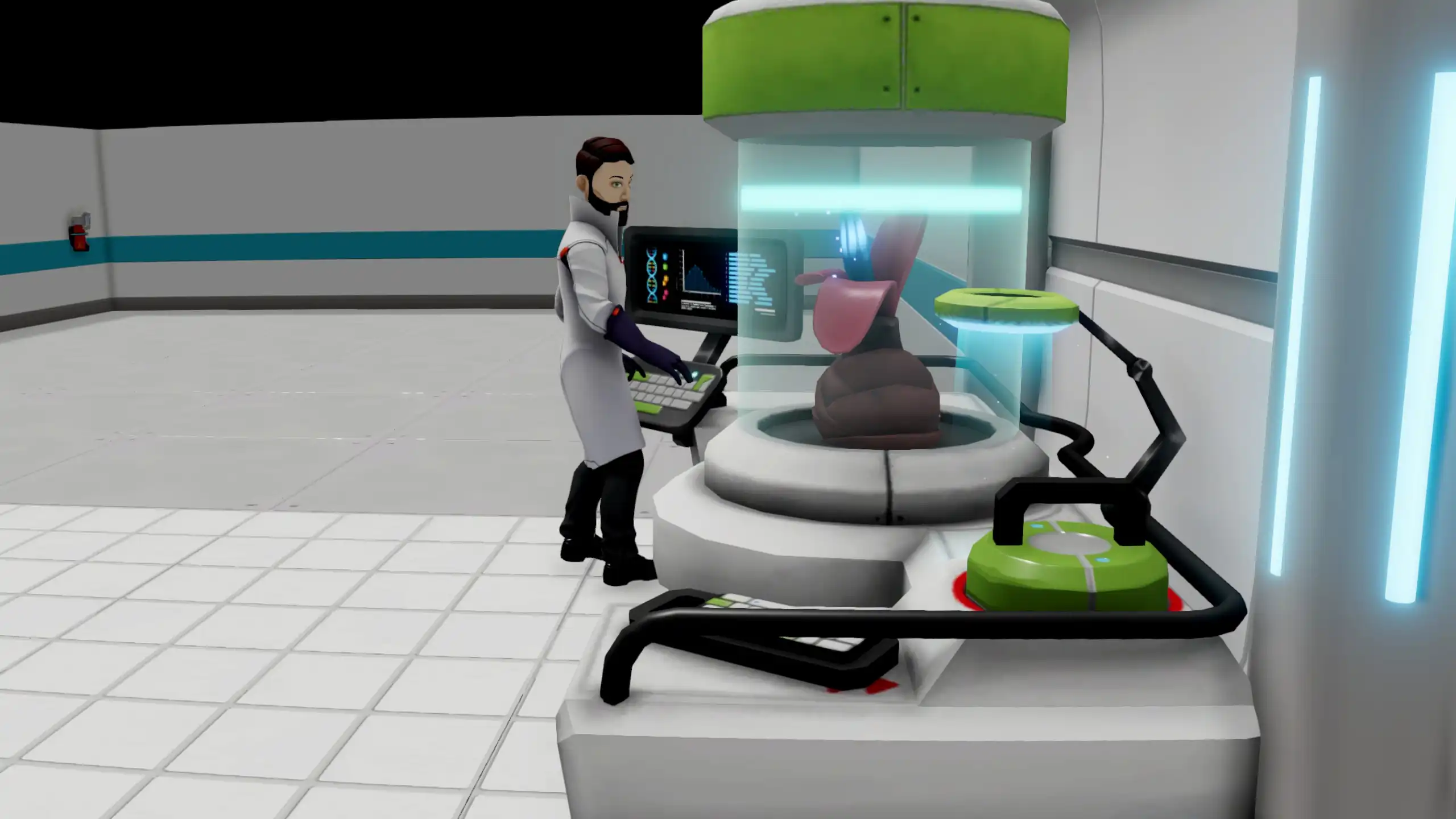 Shadows of Doubt – Early Access Preview
We continue with a very special game. Shadows of Doubt is a detective game in which we, as a private eye, take on murder investigations in a dystopian world in which mega-corporations have taken control of our city.
The standout feature of Shadows of Doubt is its distinctive visuals. The world is completely built from small blocks, similar to Minecraft. However, it offers a complete simulation of a city as an open world.
So we can move freely through the brick world, all inhabitants have a daily routine and very extensive possibilities to react to us. And we can explore everything, look into every corner and every cupboard, read every little note, look for fingerprints everywhere, interrogate every inhabitant of the city, and create files about everything and everyone.
This is urgently needed because a serial killer is wreaking havoc in our little town. And if we don't stop him, probably no one will. Because the security department of our corporate government is corrupt and ineffective, unless we get in their way, then they can be quite a pain.
So we collect dozens or even hundreds of little bits of intel and arrange them on our investigation board, linking circumstantial evidence, suspects, and crime scene analysis with the typical red detective threads in an attempt to gradually shed light on the grim investigation. And when we think we have the culprit, we file a report and get the reward for the case.
The unique point about Shadows of Doubt is that it currently comes with a hand-crafted case. However, it also offers a procedural generation of endless new murder cases to go with it. So, if we want, we can restart as many times as we want and have victims, murderers, crime sequences, and crime scenes randomly recreated. In this way, Shadows of Doubt can theoretically be played over and over again.
My first impression so far is, on the one hand, that the city, with its special graphics and its amazingly complex simulation, brings a very interesting playground. The graphics are unusual but are able to offer a very special ambiance. The possibilities as an investigator are enormous, from picking open doors, scanning fingerprints, conducting interrogations, hacking computers, and sneaking passages through ventilation shafts, it has a lot of Deus Ex or even LA Noire in it.
However, I personally have to say that the game overwhelms you with clues, suspicions, circumstantial evidence, and small details that are often not relevant to the investigation. And so, at least after some time, I got lost in a plethora of threads on my investigation board and the initial detective fun turned into confusion and slight overload for me. Anyway, I haven't been able to catch the serial killer yet. But I will keep trying because actually being a detective is fun and the game offers a very unique and original environment for it.
Shadows of Doubt just came out in Early Access with a release date of April 24. It costs $19.99 or € and the developer is already diligently delivering more updates. So there will probably be more murder motives, perpetrators, victims, and crime scenes as time goes on. The basic framework is already a very exciting concept. It's also fun to interrogate people, investigate houses and crime scenes, sneak past cameras through strangers' apartments, or even get into a fight or shootout from time to time because the gritty city of Shadows of Doubt is anything but a friendly place.
Shadows of Doubt Screenshots – Ingame Pictures
Click or tap on the image for a larger view.
In the enlarged view, you can scroll right and left on the edges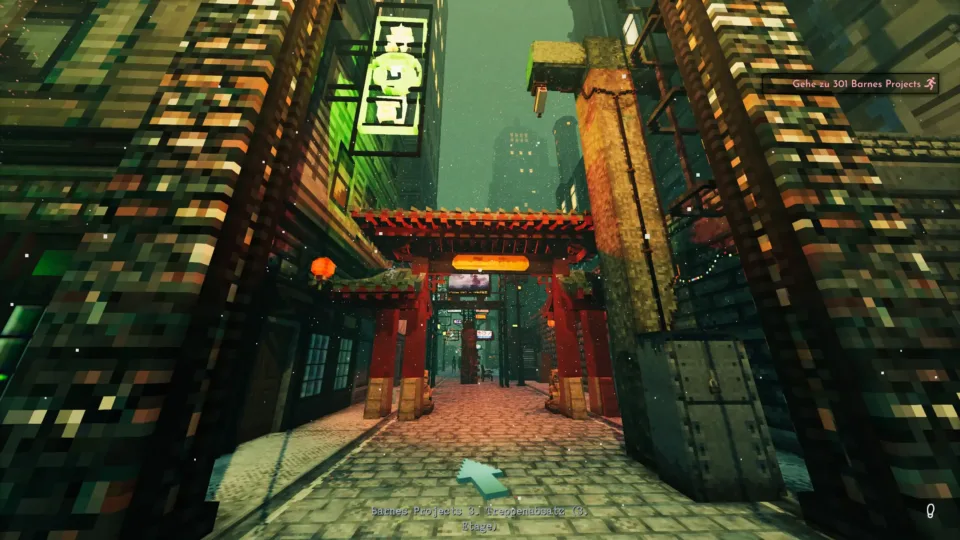 Raidborn – Early Access Preview
Raidborn is a cute dungeon crawler, simple in design, but quite nicely done. We play a recruit of the city guard who undeservedly comes under suspicion of having murdered the king. On the run from the kingdom's henchmen, we also go in search of the real villains. In the process, we fight our way through small dungeons, slaughter goblins, skeletons, and all sorts of other creatures, and collect a lot of loot and experience.
We can learn skills in the four classes Knight, Rogue, Barbarian, and Defender, and stuff our pockets with potions and more helpful things. The locations are mostly procedurally generated, and for that, they actually look very pretty and detailed. The graphics are so-called low-poly, simply done, but still quite pretty to look at.
With sneak attacks, light and heavy attacks, as well as kicking, blocking, and countering, a bit of combat skill is also required. The enemies are varied, at least for a while. So far, there is already a story, which takes about 5-10 hours to complete, but due to random generation can be played several times without getting completely boring.
Raidborn is the project of a German solo developer and appeared with a release date of March 29th recently in Early Access. There have already been first updates with bug fixes and new features. So the nice monster shredding experience will probably become more extensive over time. However, the price of $24.99 or € is not particularly cheap for such a small game. But if you like to beat up monsters in fantasy worlds, you might find new enemies and interesting little adventures here.
Raidborn Screenshots – Ingame Pictures
Click or tap on the image for a larger view.
In the enlarged view, you can scroll right and left on the edges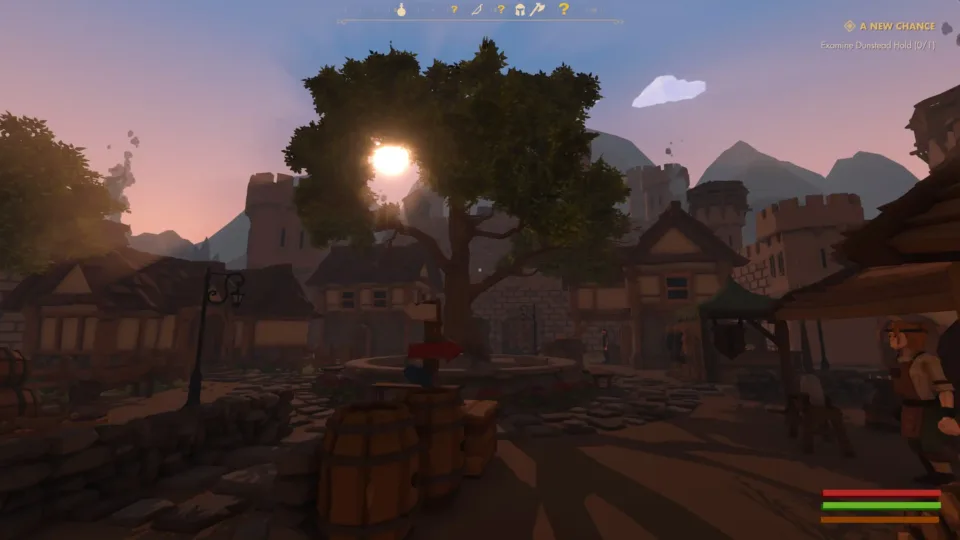 Outro
I would like to bring this new gaming news format more often now. You can find links to the games in the video description. I hope you liked it, but feel free to write me your opinion or suggestions for improvement. And also, if one of the games interests you so much that you want to see a complete review. And if you are an indie game dev yourself and want to see your game here, feel free to write me.
Otherwise, I'm happy about all comments, likes, subscriptions, and bells on the YT Video, or if you come back to my website, where you can find plenty of game reviews, news, and more. Have a great day, enjoy yourself, ciao ciao, your Zap
Links and Sources
Exogate Initiative:
Shadows of Doubt:
Raidborn: