New Features in YouTube Analytics – RPM – Revenue per Mille
Hi there, dear YouTuber and YouTube viewers,
here at zapzockt.de you will find the latest YouTube news, today again some news from the analytics area. Very often you can hear or read the question "How much money per click do you earn on YouTube ?", which wasn't that easy to answer since now.
German Version:
As of today, YouTube's Analytics now also shows the RPM value in addition to the previous CPM value (cost per mille, i.e. what the advertising service providers have to pay per thousand advertisements). RPM means revenue per mille, i.e. income per thousand. Not only the actual views with advertisements are evaluated, but all views and all sources of income, and thus besides the pure advertising-income also the income from membership, super chats, possible merchandising sales (not yet available in DE, only in the USA). Also, views with ad blockers are counted here. So you get a value that shows actual income per 1000 views, all-inclusive.
RPM in Analytics – Creator Insider explains:
Here is an official YouTube video from the Creator Insider channel:
This is what the new feature looks like – RPM in YouTube Analytics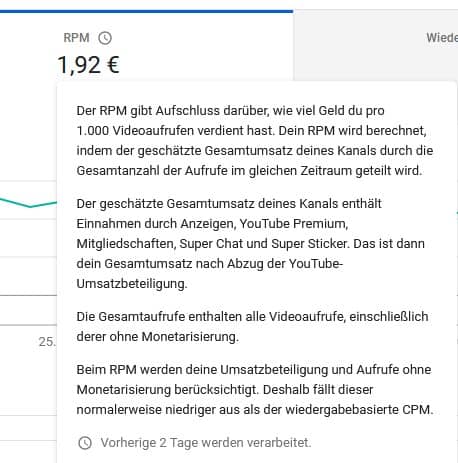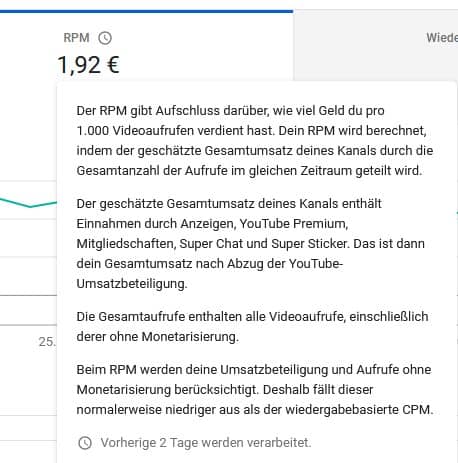 The whole thing has been posted on Twitter, but there is already a help text about it, even if it is only available in English so far:
Introducing RPM
new monetization metric in YouTube Analytics

To help creators better track their revenue on YouTube, we're introducing a new monetization metric in YouTube Analytics called Revenue per mille (RPM), that shows how much a creator earned per 1,000 views. 

How is RPM calculated?

RPM is a simple metric that compares your total revenue against your views. It's calculated by multiplying all your revenue reported in YouTube Analytics (including ads, YouTube Premium, Channel Memberships and Super Chat and Super Stickers) by 1,000, and then dividing it by total views in the same time period.

Why is RPM an important metric for creators?

Because it takes into account all your revenue and all your views reported on YouTube Analytics, RPM provides the most holistic measurement of the overall rate at which you earn money on YouTube. By regularly reviewing and evaluating your RPM, you will be able to identify ways you can improve it and optimize your monetization strategy. Learn more about how to get insights with YouTube Analytics in this Creator Academy course.

What's the difference between RPM and CPM?

CPM (cost per mille) is the average amount of money that advertisers pay to show ads in your videos. It only takes into account the revenue from ads and the views from the videos that were monetizing. Lastly, it shows you what advertisers are paying, not what you're actually earning. 

RPM is a better metric for creators because it shows how much you earn on YouTube and and it takes into account:

► Total revenue reported in Youtube Analytics including ads, YouTube Premium, Channel Memberships, Super Chat and Super Stickers.

► Total number of views from your videos, including the ones that are not monetizing. 

► The actual revenue earned after revenue share. 

Please note! Because RPM is a ratio that includes revenue that is calculated after YouTube's revenue share and the total number of views, it will typically be lower than your CPM. You shouldn't see a difference in the actual amount of revenue you make. 

RPM is now available to all monetizing creators so they can take advantage of it to better measure their revenue performance over time and make more informed decisions on how to improve and optimize their monetization strategy. To learn more about RPM, take a look at this Help Center article. 

We hope you enjoy the update, let us know your thoughts in the comments!​
Camilla (TeamYouTube)
What do you think? Do you find the information helpful, don't you care, or are you not monetized anyway and therefore you don't care? Feel free to write us your opinion.
Reading – recommendations:
A lot of detailed games news and information about games and gaming can always be found here at ZapZockt.de
There are also many game reviews that might interest you, and if you don't want to miss anything, subscribe to the newsletter. As a Google News reader, you can also go there and read the latest articles.
Shopping – Tip:
Advertising / Affiliate Link
Games can often be bought cheaper. You can do this legally, reliably, and safely at my partner site Gamesplanet. This game, all DLCs, many more RPG, tactic, and strategy games, or a lot of titles from other genres are available there and almost always much cheaper than at Steam, Uplay, Epic, or other shops.
For every purchase, via this link, I receive a small commission. So you get games cheaper and at the same time support my work, my thanks in advance for that.
Follow ZapZockt on Social Media:
---