Tech Corp Review
This post is also available in:

Deutsch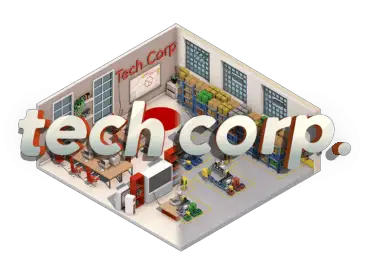 Tech Corp Review – We build us a company like Apple, Microsoft, Sony – Management business and economics sim in test
In this Tech Corp review I would like to introduce you to the Game from Mardonpol and show you if this business simulation could be something for you.
Note:
This Tech Corp Review article is available here as text or as a video (German voiceover, with subtitles in many languages). So you can choose how you want to consume it.
► Video:
(German voiceover, with subtitles in many languages)
► tech corp Review – intro
Moin Moin, here's the Zap. In this review I would like to introduce you to Game TechCorp by Mardonpol and show you if this business and economic simulation could be something for you.
The game was released on 25.07. as Early Access by Steam for 19,90 €. Early Access of course means that the game is not 100% ready yet, and will be further developed after release. But it is already well playable and the team behind the game is very busy working on it.
The Publisher 2tainment Software from Magdeburg has kindly provided me with a test sample, but this has no effect on my rating. I don't introduce really bad things at all. And if there should be problems, so I say.
► Reading Recommendation:
Want to read more reviews by me? Or how I craft my reviews?
► Gametype – What kind of Game is Tech Corp?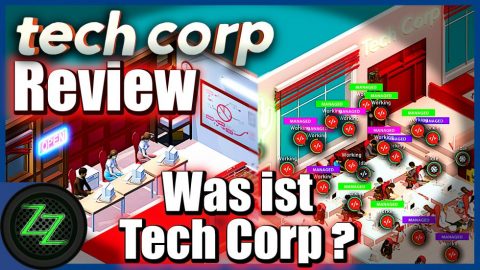 TechCorp is an economic and business simulation in which the technical development of a hardware and software company is simulated. Roughly speaking, it's built in a similar way to the quite popular Game Dev Tycoon.
As a player you look from above into an office room or later into a factory building. Furniture and equipment are set up there, we hire staff and provide them with tasks. TechCorp has an enormous scope here. Because it can go in many different directions here, which products we want to manufacture later.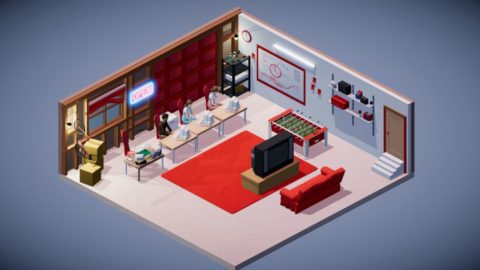 Usually you start with televisions or cameras, develop software and hardware for them and then take care of the assembly before marketing the release of the product.
Here we hire sales managers, programmers, researchers, engineers, marketing experts and managers, who then sometimes perform very different partial tasks. This usually creates software components such as "UI design" or "optimization" or hardware components such as "RAM" or "memory".
In the end, these components are used to assemble a product, or we sell these components directly for simpler orders.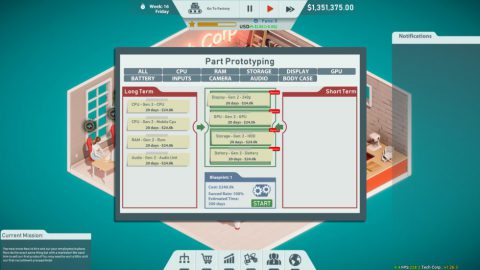 In the beginning, more complex products are still manufactured on commission, but later the company also manages its own factory. There you also have to produce raw materials.
Throughout the game, you will unlock tons of different technologies and inventions that will allow you to create more complex products. There is a wide range of different devices like phones, consoles, tablets, laptops and PCs. There are both software and hardware products. Starting with custom programming projects and single parts production, it continues sometime with own products like televisions and is extended also to console construction and game design.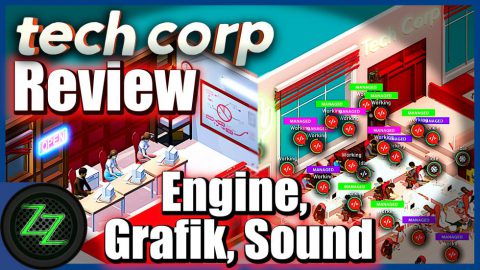 ► Tech Corp Review – Engine, Graphics, Sound
TechCorp was built one of the Unity Engine. This leads to a stable gameplay. The look of TechCorp is not ugly. The models of the offices, employees and machines in the factory are detailed and chic animated. Also for the products you make, there is always a 3D model that is easily recognizable and serves its purpose.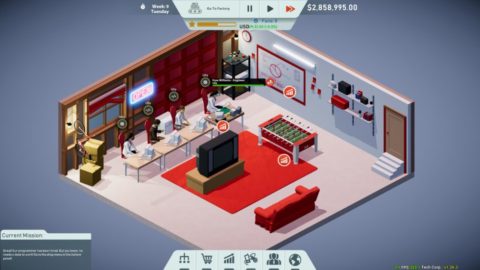 Nevertheless, you can immediately see that the graphics in this game were only a minor matter. Since TechCorp is a genuine economic simulation, the actual gameplay takes place mainly in the menus. Accordingly, the degree of alternation in the graphics is not very high, but quite sufficient. The developers have tried hard to build appealing, practical graphics for the many hardware products and also later for the computer games.
The sound in TechCorp is almost non-existent except for a lift-music like sound background and a few menu clicks.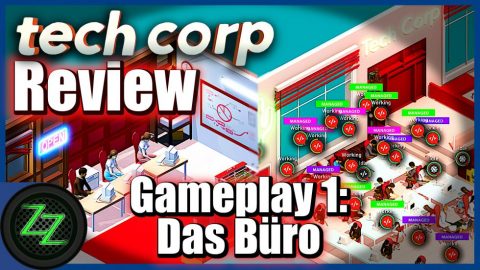 ► Tech Corp Gameplay 1 – The Office
The game basically consists of 3 parts, which can be unlocked bit by bit. First there is the office. Here sit our managers, programmers, researchers and other employees.
Everyone wants a desk, meaningful and profitable employment and every now and then they need breaks. Here you click on the corresponding orders in the menus of the employees, who are expanding with further research more and more.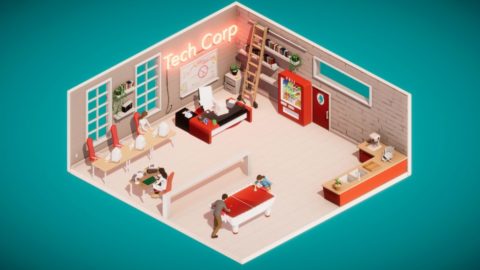 After some time, you can also automate with the managers. A manager has a certain number of employees assigned to him, so you can give the whole group orders at the same time by assigning them to the manager. He also takes care of the breaks.
Marketing and the acquisition of orders also take place in the office. These are again moderately extensive sub-areas of the office which have to be taken care of.
► Gameplay 2 – The factory hall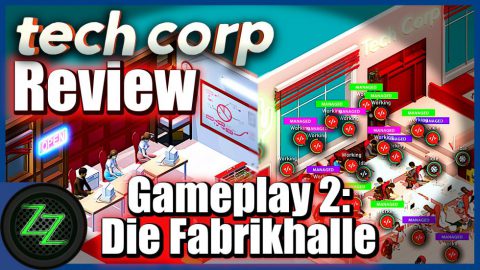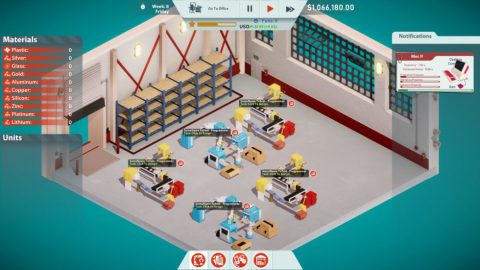 After some time the company can be extended with a factory hall, where machines can be set up, materials can be purchased and production orders for certain components can be placed.
So you are able to process the production orders coming from the office and earn money very effectively.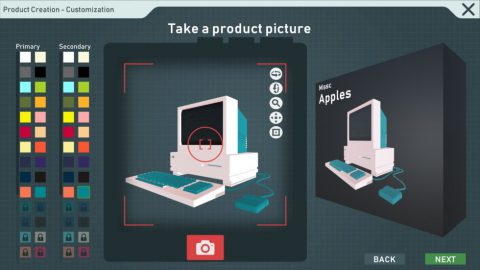 In the fabrication, the production of complex products is also planned, which can be equipped according to the level of research. Planning a product is a very complex process, from planning the components, naming and branding, design and packaging appearance to advertising and the actual production of the product.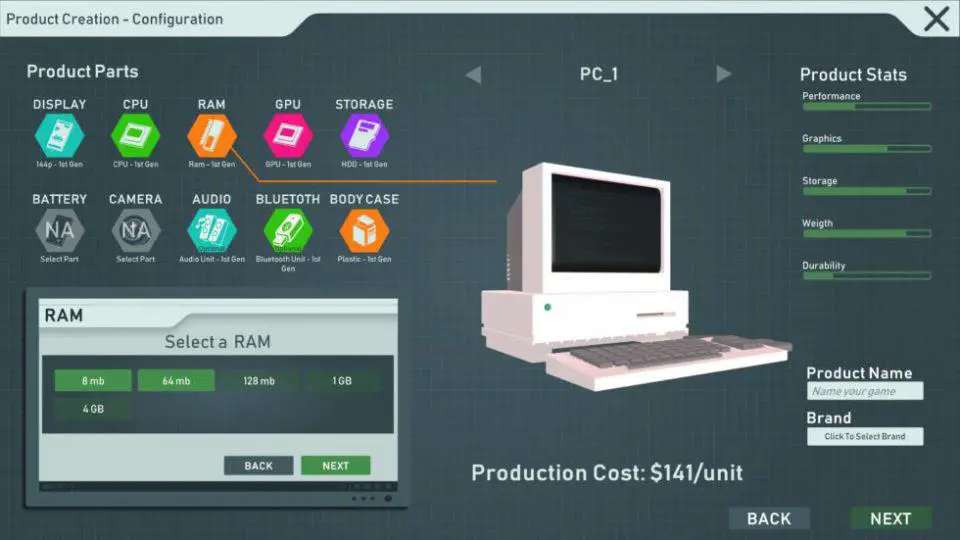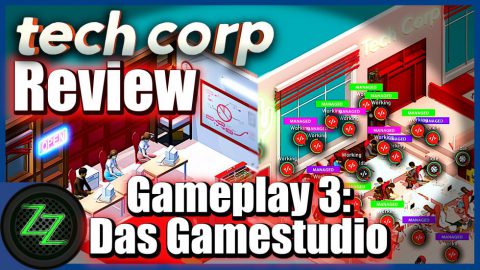 At the beginning the products are manufactured externally. In the later course of the game, it is not only possible to build components such as RAM, CPU or GPU in the factory, but also to assemble entire products from them, such as a tablet or a PC.
► Gameplay 3 – The Gamestudio
If we exceed a certain point in the game, the third main feature is unlocked. Now you can purchase a game studio and use it to develop games.
This third part of the game is now even more similar to the original Game Dev Tycoon. We choose a genre, set budgets, themes and detailed fine-tuning for the game. Then we design a game cover, plan a marketing campaign and many other small details have to be defined.
In the creation of game projects, Tech Corp is even 2-3 steps more extensive than its role model. Unfortunately, there are no nice details like visits to fairs or test reports. But since the game is still in Early Access, there might be more to come.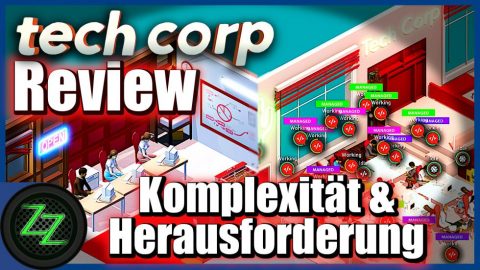 ► Complexity and challenge
Tech Corp is one of the more complex business simulations I know, and I know a lot of them already. It comes without buzzing workers and a lot of bells and whistles, but with a good simulation depth.
Menus, sub-menus, and sub-menus determine the gameplay, and Tech Corp may not be for everyone. There's a loose tutorial, but many of the details aren't explained, you have to figure them out for yourself. But exploring this complexity is a first fun if you like it. And after you have understood it at some point, a simulation unfolds with high complexity and manifold possibilities.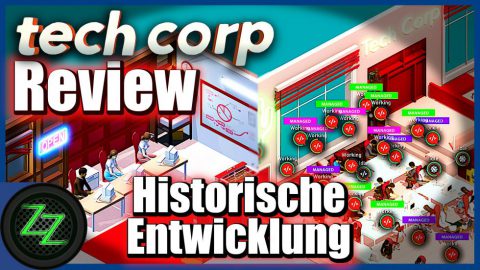 ► Historical development of technology
Tech Corp advertises a little with the fact that one should be able to play the development of the technology from the 8bit age up to the modern age. Partly this is true. In research you start with small TV tube displays and many things are also roughly right.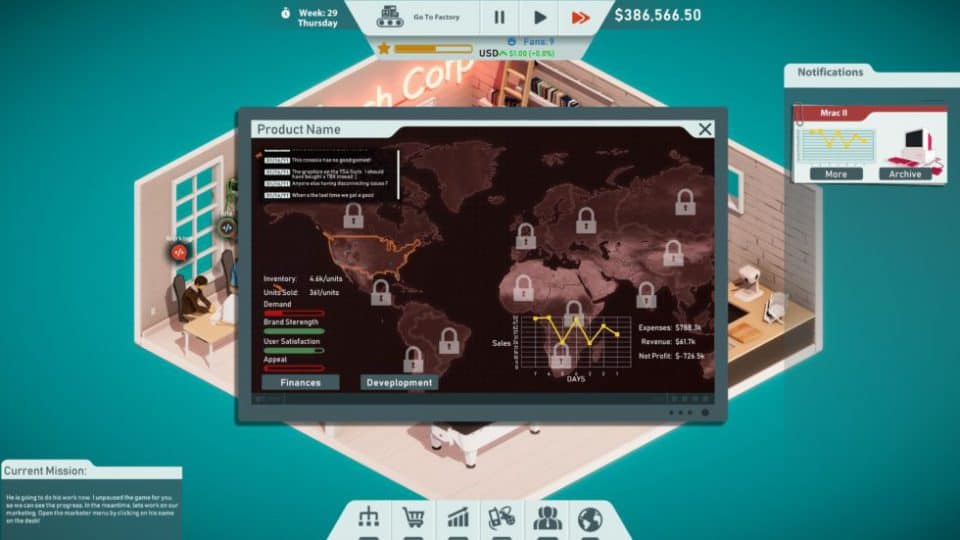 But in some places there are also some less accurate parts. Even a small tube TV, which is probably more from the 80s, already has 64 megabytes of RAM, a whole server room didn't have that much at that time. If a TV at that time had any RAM at all, then it was more likely 8Kilobytes. But only marginally.
So if you expect an exact historical journey through the technology of the last 30 years, you will be a little disappointed here. Tech Corp does not offer this historical accuracy. The specifications of the research and the components are not planned correctly enough. And the game doesn't have any display for a years, the playing time is simply measured in weeks.
But aside from the historical one can get at least a rough feeling for the development through the years.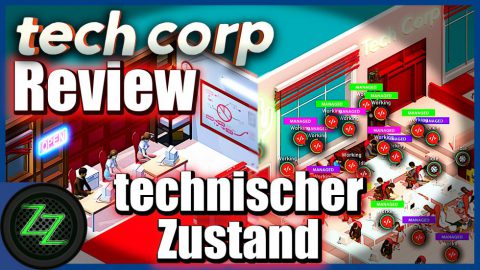 ► Technical condition
(as of end of July 19)
Tech Corp's early access launch has been postponed several times. And Tech Corp is still not a finished game today. If you have no tolerance for minor bugs and problems, you should give the game some time to mature and maybe take a look again in a few months.
But if you can overlook minor flaws here and there, then Tech Corp is already fun. There are only extremely rare, really gross mistakes that would prevent you from playing on. Most bugs are a minor matter.
There is only one English version so far. Translations are planned, but the small team is currently focusing completely on fixing the bugs and adding the planned new features.
Some menus are still very rough. Here the team is still working on improving the UI design and refining some of the gameplay. In some places you have to click 5-6 times where 2-3 times would be enough.
And in other places, you often have to scroll through longer lists, which would do without scrolling if the layout of the lists were slightly better.
Some texts are still placeholders, so far all office equipment costs exactly the same and also other prices do not seem to be finally balanced yet. There is still a lot to do for Mardonpol and 2tainment before this game is finished.
But it is playable now in any case already. The developers are happy to accept feedback, best on their Discord server, which I will link below.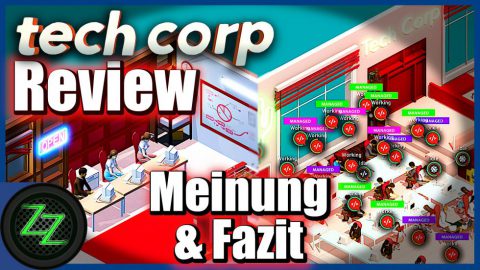 ► Opinion and Conclusion
Tech Corp is certainly not suitable for every player. On the one hand, you should be a fan of business simulations, of course. You should also be satisfied with simpler graphics if the gameplay is complex and interesting .
Whoever prefers graphics or expects scurrying figures, like in a Planet Coaster or City Skylines, is also wrong here. But these games also play in a completely different league than Tech Corp and cost a lot more.
Tech Corp, however, offers an enormous degree of depth for simulating a production company for hardware and software. Research, development, programming, planning, marketing, manufacturing, all this tech corp is attempting to simulate quite extensively and it works fairly well. Here you get a little insight how companies like Apple, Sony, Microsoft or similar giants came into being and how they work.
I don't want to say directly that Tech Corp is a hardcore business simulation, but in any case not a so called "casual game", where you do more or less just irrelevant things and can't lose at all. Tech Corp. goes into some things in depth, some not quite so, but the amount of possibilities to influence the company is quite impressive for a small studio game.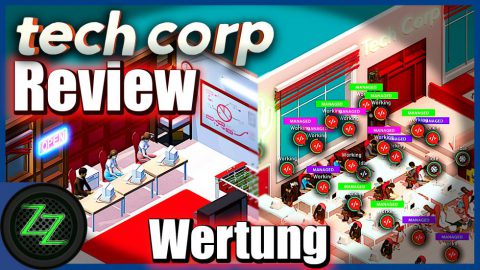 ► Rating
To begin with: The following rating is to be considered under the point that the game is on the one hand an Early Access title and on the other hand not a full price game. It now costs 19,99€ when released and on top of that there is also a 15% release discount.
Tech Corp is a complex business game, with complex simulation elements. For fans of Tycoon Games and similar genres it can be a real fun game to play. And if you belong to this group, the game is good and, with a bit more polish and developer investment, may even become a kind of insider tip for Tycoon game fans in the near future.
The simulation part, in its presently somewhat shaky state, deserves a rating of 85% due to its complexity. With a tendency up to 90% if some UI elements are still improved and some cumbersome click sequences are still cleaned up.
For the UI design, however, I would deduct 5% in the current state. Too often you have to scroll through long lists, which are so long only because the individual list items are displayed much too large. Too often you click your way through a long production process and make 50+ clicks to create a product, so that at the very end a message comes "not enough money" and then all clicking is lost. Too often you have to make 6-8 clicks for one thing so far, where you would get along with 2 or 3 clicks with a more clever UI design.
For the sound, even if this is not very important for this genre, I would subtract another 5%. Because a bit more as this simplicity of the music, a few more samples here and there could have been granted to the game.
Chart is not an important part of an economic simulation either, and Tech Corp fills it in mediocrely. So there are neither plus nor minus points here.
The game is still missing a lot of stuff. So far the game is only available with English texts, a translation into the common languages is planned, but not implemented yet. Steam achievements are very popular in this genre, but are not yet available. A campaign, or maybe different settings with changing challenges are often common, but they don't exist here either. There would be a lot of replay value to be gained here. Let's hope that the developers continue to use the potential of this game, but until then I'll deduct another 5% for these flaws.
The overall score for Tech Corp is then a 70% (85-5-5-5) score by me, with a generous look at price and early access condition. There is still room for improvement, but Mardonpol would have to deliver some more.
If you would like to purchase the game some time after release ( July 25th, 19), I would check in advance what patches the game has received and if any of the listed flaws have been fixed.
► Links:
► Reading Recommendation:
Want to read more reviews by me? Or how I craft my reviews?
This post is also available in:

Deutsch