Rescue HQ Review / Test Police, fire department & rescue simulator in test – Tycoon Game
Zap Zockt Rescue HQ -The Tycoon – My Rescue HQ Test / Review – Rescue HQ is an economic simulation of a rescue station, in which police, fire department, and rescue service are accommodated at the same time. I'll show you the game and tell you my opinion.
This post is available here as text, but there is also a YouTube video (German voiceover, subtitles in many different languages). So you can choose how you want to enjoy it.
Rescue HQ Review Video:
(German voiceover, subtitles in many different languages)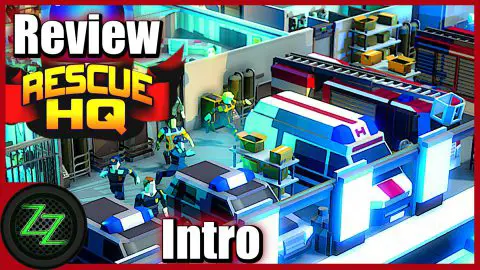 Rescue HQ The Emergency Tycoon Review – Intro
Moin Moin, here's the zap. In this episode I introduce you to the game Rescue HQ – The Tycoon. The game is developed by StillAlive Studios from Austria, who had their best-known project so far with the bus simulator. The publisher is the German company Aerosoft.
I was kind enough to test the game for free before the release, but of course, this has no influence on my rating. I don't introduce really bad games, even if you give them to me. And I also point out other bugs, defects, and problems, no matter if bought or test samples.
This test is based on a beta version, so any bugs in the video can still be fixed until the release. The game was released in May 2019 on Steam, the price is about 25 €.
Buy Rescue HQ
(Affiliate Link / Advertising)
At Gamesplanet you can buy Rescue HQ – The Emergency Tycoon cheap as a Steam Key:
buy Rescue HQ at Gamesplanet for less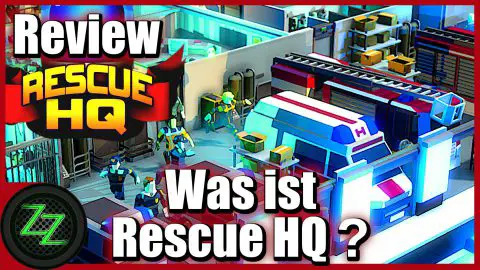 Gametype – What is Rescue HQ ?
When I grow up, I want to be a firefighter….

Grisu
Rescue HQ builds and manages a privately run, combined rescue station in which police, fire brigade, and rescue service work together. In return, the mayor allocates you a certain amount of money, and then emergencies come in, which you have to deal with under time pressure.
Firefighters, policemen, and paramedics are hired, appropriate vehicles purchased, training facilities, offices built, and, of course, restrooms, equipment, showers, and toilets. The complete management of all finances, employees, vehicles, construction measures, mission planning, and much more is in our hands.
The construction part is quite complex and resembles very well-known economic simulations, such as Two Point Hospital, Planet Coaster, or similar titles.
If we successfully complete an emergency, the guard gets money and prestige. And with this income the costs and wages are paid, extensions are financed and for the reputation points, we can unlock new research. This will gradually lead to the construction of an even larger guard, the purchase of more equipment, the hiring of more personnel, and we will be able to cope with ever more complex emergencies.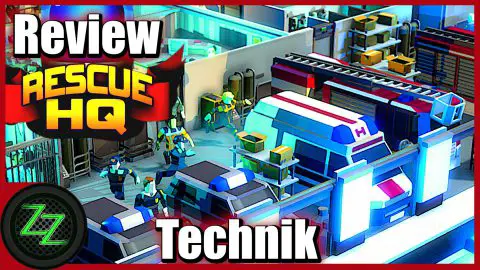 Rescue HQ – Tech and Hardware Requirements
The game uses the well-known Unity engine and comes with basically quite respectable, but simplified 3D graphics. A so-called low-poly technique is used. This means that all devices and characters in the game are not displayed in super detail, but only with models that have a small number of edges.
This simplification may seem irritating at first glance, because the figures, for example, have no faces. But that also has its own charm. The people seem a bit like Lego figures. And after a short time, what the employees do is much more important than the appearance.
Otherwise, the game will be available in different languages, both in terms of text and voice output. The hardware requirements are medium. At the start of the game, almost every reasonably modern computer will probably be able to cope with the game, but when later more than 1-200 rescue teams get mixed up in the station at some point, weak computers will probably get a little jerky.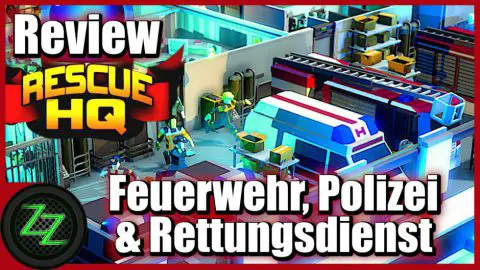 Fire brigade, police and rescue service
The concept of the game is that we are not just dealing with a kind of emergency. In our building, over time we need both the fire brigade and the police and ambulance. We then get emergencies from all three categories to which we have to respond with the right people, vehicles, and tools.
And after some time there are also combined emergencies that we can only solve by sending combined troops from two or even all three areas at the same time.
---
Scenarios and game scope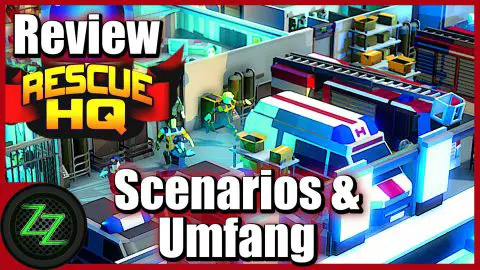 The game currently offers 2 Scenarios, Berlin and San Francisco, and these in 2 different difficulty levels each, but which also differ in a slightly different scenario. In addition, there is an endless mode. I think it could have been more here. The scenarios take about 8-10 hours, but a little bit more content would have improved the game a bit. Whether there will be more missions after the release is not known to me at the moment. But maybe more about that in the later section on modding.
In the first scenario, we start in Berlin and are supposed to set up a small fire station. We buy a first fire engine, which also bears the original vehicle name. Because TLF is a German abbreviation for the tank fire truck. The vehicle gets then a place in the garage assigned so that it can move out from there if necessary.
Our firefighters will then need even more rooms, and I will go into that in more detail in a moment.
If an emergency then appears at the top right, we can click on it, assign vehicles, firefighters, and firewomen, possibly give them some equipment and then send them off.
We don't see anything of the actual operation. The troop moves out and then, depending on how well we have equipped them for the mission, takes care of the emergency. It shows how long the mission will take and after some time the team returns. Possibly with bad news and image loss, but ideally all rescue workers are unharmed, the emergency resolved and we get some money and reputation credited. We can then use these two "currencies" to expand our small rescue station into a large one.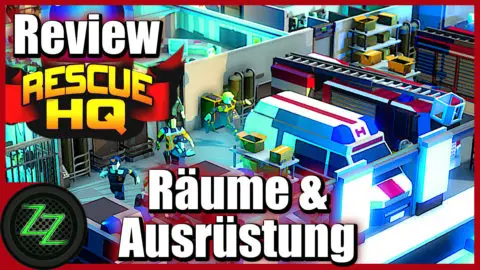 Rooms and equipment
The card is divided into small boxes and each room can be built box by box, or by simply drawing a frame. Then one or more doors are set and the room can be used.
The game currently offers 10 different room types plus a corridor and outdoor area. For each room location, there are then numerous furnishings.
In the garage, we can prepare many different vehicles for departure. They differ not only in shape, size, and seats but also partly in the special tools they have already installed. We will need these tools later on in our missions. If the vehicles don't already have them, we have to keep them ready at the station and include them in the mission plan at the start so that they can be invited.
When choosing a room, there is a kitchen and bathroom where our people can meet their important needs. Then there is a training room in which our recruits are trained to become real emergency personnel. In the office, each profession has its own recruiting desk. However, the police have many additional facilities in the office to earn more money by interrogating, filing cases, and solving cases.
In the supply area, there are not only the lockers where our people change their clothes. The number of lockers also determines how many employees from the 3 areas police, fire brigade, and paramedics we can employ at all. Here also the many tools for fire brigade and police are stored, refilled, maintained, and repaired. As a result, this area will gradually become the most extensive of all.
The choice of tools is enormous, ranging from simple breathing masks and SWAT equipment, sniper equipment, and fire extinguishers to drones, bomb disposal, diver equipment, and many more.
The doctors will then be given a treatment area. There are many different medical devices in this area. Here, the offer ranges from simple medical cabinets and orthopedics to emergency rooms, bio-contamination departments, X-ray machines, and trauma treatment, to intensive care units and resuscitation departments, and that was by no means all.
In total, 32 different equipment stations are currently available for all three professions. In addition, there are 10 training devices, 6 for indoors, 4 for outdoors. In the office, there are a further 6 different desks for personnel management and 7 furnishings that enable the smooth running of police operations.
And it's not enough to just build everything once. Some devices are used in large numbers, some not so often, to find out this and to balance correctly is a very important part of the game. And of course, the positioning and optimization of the walking paths are also part of the game. Exactly as it should be for a good business simulation game.
Thus Rescue HQ already offers a wide range of construction possibilities for release and complexity is definitely provided in this area.
Of course, you can't build all these stations at the beginning, but you have to unlock them step by step. This will allow you to complete more and more complex missions, which in turn will bring more prestige and more money into the cash register.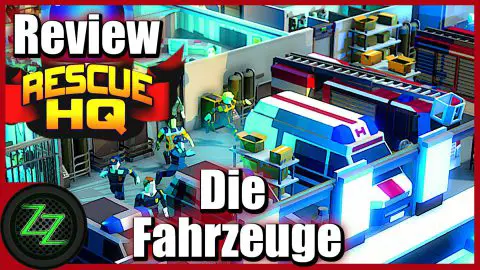 The vehicles
Similar to the equipment in the rooms, there is also a large selection of vehicles. A total of 22 different police cars, fire trucks, and ambulances are on offer.
And these very often not only have different transport volumes for people and equipment but also bring special tools with them or offer special features that are needed in some more complex applications.
So there are not only tank extinguishing vehicles and ladder cars, but e.g. also a fire brigade vehicle with a crane truck. The police offer not only normal patrol cars but also transporters or vehicles for special forces and high-speed police cars. And there are also small emergency ambulances, large ambulances, and even special trucks for large medical operations.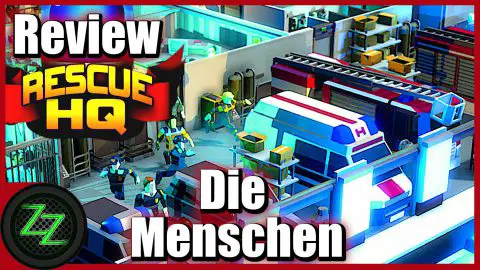 The people
The employees of our small emergency guard are funnily animated and run and rush constantly busy through the station. Because there is always a lot to do, even apart from the emergency operations.
Besides such profane things as showering, washing hands, going to the toilet, resting, sleeping, or eating, there is plenty of activity in the life of a policeman, firefighter, or rescue paramedic.
First of all, there are numerous training possibilities where the angels in uniform can improve their abilities. Because nobody comes as a top-trained firefighter to the recruitment.
So when we hire our people, we have to take into account whether they have any previous training and especially what their salary expectations are. Because there are big variances and if you don't pay attention, you will immediately hire a gang of inexperienced but enormously expensive personnel, which then carries a big risk of going bankrupt.
Over time, the skills improve and some employees even get special abilities, so that these people may be as good as 2 or 3 not-so-well-trained individuals on missions afterward. This saves personnel costs, space in the vehicles and also increases the chances of successful missions.
Employees can also be injured or exhausted, so it is important to take care when planning a shift to give these people the appropriate rest breaks.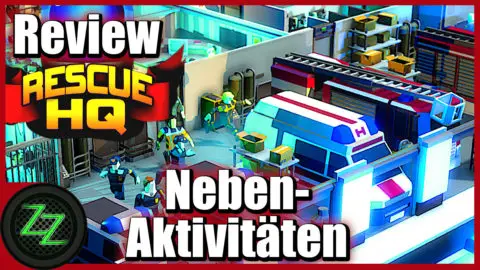 side activities
Some tasks are performed automatically by the employees, during the breaks between assignments. For example, fire extinguishers are refilled or respirators are serviced. This happens fully automatically if you have the appropriate equipment and employees do not have any other work to do.
But there are also numerous situations where you still have to manually assign work to your employees so that everything works. If you miss these prompts, you may lack vehicles or tools for the next assignment or lose opportunities for additional earnings.
This begins with the repairs of the vehicles. These are subject to wear and tear during use and then indicate with a small hint that their durability has decreased. Sometimes there are also bigger damages and the vehicle even becomes temporarily unusable. Then you can use the grey button above the vehicle to request an employee to carry out a repair.
In the cell of the police station, it is necessary to start interrogations, in the supply department it is necessary to get the employees to repair their equipment, and in the medical department, it is necessary to examine and take care of the patients who are admitted.
So we have to be constantly on the lookout for these side activities. If you don't care enough about these things, you will miss out on important revenues and it will be much harder to keep a positive balance. Or in the case of defective equipment, there may be difficulties with the next operation, because urgently needed tools are missing, or the cart that is needed, is not ready to drive.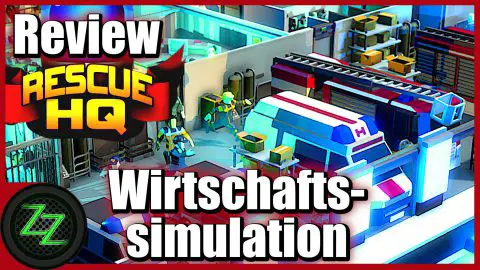 Finances / Economic simulation
Rescue HQ works on a weekly basis. At the end of the week, the expenses such as salaries, building costs, etc. are debited and when the cash box slides into minus, you are fired. So you have to make a careful financial plan, save costs and make as many unnecessary purchases as possible.
On the other hand, the requirements of emergencies are becoming more and more complex and more equipment, more personnel, and more vehicles are needed. Here the game offers some pitfalls so that the way to the top of emergency management does not become too easy.
Besides money, prestige is an important resource. This enables us to unlock new equipment and vehicles that we urgently need. If an emergency comes in that we can't treat in time or due to a lack of equipment, we have the possibility to hand it over to another emergency watch, which also drives our reputation account down. And if the cash balance becomes too tight, we also have the option to turn reputation into money, which one really has to do frequently.
Rescue HQ already offers a challenging economic simulation, which I like very much. It is not ultra-complicated but offers a good degree of complexity to avoid getting bored. I think the developers have achieved a good balance here.
And if it's not complex enough or too complex for you, you can download mods in the Steam Workshop soon after the release, which can customize the game.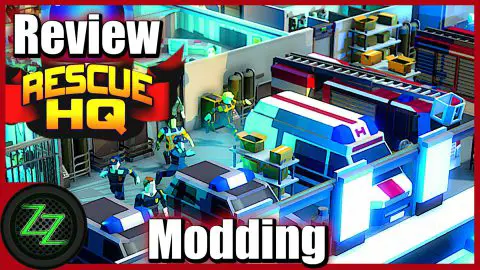 Rescue HQ Modding
Rescue HQ has been developed in the Unity Engine and will come after the release with extensive mod possibilities and a Steam Workshop connection. This allows enthusiastic players, hobbyists, and programmers to extend the game almost indefinitely. New maps, new vehicles, new devices, new scenarios, new missions, all this should be no problem.
After the release, the developers will also provide information material and instructions on how to add new content to the game. I think nothing should stand in the way of an extensive adaptation and expansion of the game's scope.
And most games that offer such possibilities get much longer playability. Just think how many mods there are for example Skyrim, Cities Skylines, or Planet Coaster. Fashionable games offer many incentives to get them out later and play with other mods again.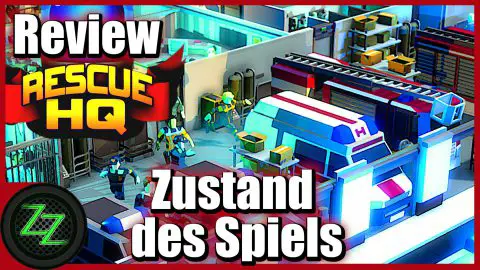 State of the game
Let's get to how good the programming is and how stable the game is.
The last beta version in the week before the release was running permanently for several hours. Of course, this can vary depending on the hardware, but basically, it is solidly programmed.
Some animations in the game are not quite as perfect yet. The most unfortunate thing I find is the position of the figures in bed when they are resting. But also the walking animations are still a bit awkward, here Rescue HQ has some minor imperfections.
The tasks in the game are set by the mayor and he is also with voice output in different languages. The voice output sounds quite good so far, but the texts in 2-3 places are somewhat strangely chosen. Here the choice of words is mostly good, but sometimes you think, "oops, that sounds strange, though". Some sentences would probably not be said in this form in reality. But that's complaining about a high level.
Otherwise, there were some minor inconsistencies in the beta version, which hopefully will be fixed before the release. For example, there was a K9 dog unit, which is really expensive to buy, but once you sent the dog squadron on a mission, there were no more dogs and you had to sell and buy the station again. The problem is known to the programmers and will hopefully be solved before the release.
Then I saw some oddities in some emergencies, but that wasn't serious. Overall, Rescue HQ is in pretty good condition. It's already been very well playable in beta and when the few minor blemishes are ironed out for release or shortly afterward, there's nothing wrong with a lot of simulation fun.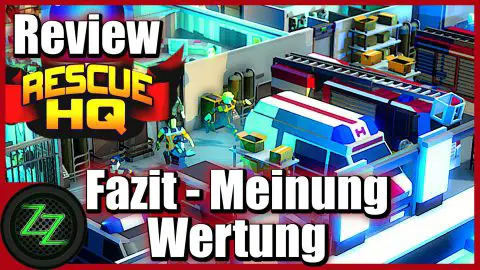 Conclusion / Opinion / Rating
When I saw the first screenshots of the game, I was very skeptical at first. And Aerosoft has already released games here and there that at least don't suit my taste. That's why I hesitated to make a review of this game. But then I decided to do it.
And then followed a phase of "Aha", "oh, that's nice" and "well done" thoughts. I was really surprised by how much fun Rescue HQ was for me. People are getting more and more buzzing through the corridors as the playing time increases and the station is filling with life. And all the equipment, vehicles, different usage requirements, that already include a lot of fun for fans of business simulations.
I am certainly not a beginner in this genre, but when I was broke for the first time, I even enjoyed it, because it was a challenge for me to take a closer look at the next attempt. Just building ahead can quickly go wrong in terms of money. But this is how an economic simulation should be, not too difficult, but also not too easy.
Unfortunately, the game offers only 4 Scenarios with the release, whereby then also actually only 2 maps are offered, which bring a somewhat different expiration with different degrees of difficulty. I don't find this enough for my taste. A scenario offers about 8-10 hours of playing time. So for all 4 scenarios, you can expect about 30-35 hours. In addition, there is then an endless mode with an operating generator.
If one sets the price of 25 € in relation to the offered playing time, I consider this rather mediocre in an economic simulation. A few more scenarios or a campaign with some levels would have done the title well.
But you have to consider the mod interface as well. If the developers manage well to give the players useful instructions so that they can bring new maps, scenarios, vehicles, etc. into the game, then this ratio probably changes suddenly in favor of Rescue HQ.
Technically, the game's options could offer a bit more customization options. So I'm just not a big fan of the depth of field that was widely used here and as a user of multiple monitors, I'd like to have a fullscreen borderless window mode as an option.
If we then want to come to an evaluation, it's mainly the mission size, which is a bit too small for my taste, that causes points to be deducted and a few hacky animations and minor blunders here and there that cloud my impression. But on the whole, it's now a solid game with an interesting simulation approach. The building part works reliably and the business part is in the middle of the range in terms of balancing, motivation, and level of difficulty.
Seen without mods and in expectation of even smaller bug fixes until the release, I give the game a rating of 72% at the moment.
If the game gets a little more love after the release, if the modding community really takes care of this title and hopefully there will be usable mods soon, the game has the potential to reach 80% or even 85%. But that's a dream of the future, if you want to buy the game for a long time after release, you should check it out first.
Outro
Then I hope you enjoyed this review. Please write me your opinion about the game in the comments and if you have suggestions for my tests or criticism, I am happy to be allowed to read from you. More reviews but also tips and tricks and other content can be found on the review main page or in the community discord. I am especially happy if you like to share this post with your friends. Then have a look again next time. I wish you a great day, let it go well with you, ciao ciao your Zap
Buy Rescue HQ
(Affiliate Link / Advertising)
At Gamesplanet you can buy Rescue HQ – The Emergency Tycoon cheap as a Steam Key:
buy Rescue HQ at Gamesplanet for less
Sources and links:

https://rescue-hq.aerosoft.com/
https://store.steampowered.com/app/809720