Continuation of the collection list of all games of E3 2021 and Summer Game Fest 2021 – Devolver MaxPass+ ShowCase and Xbox & Bethesda Games Showcase- all news, announcements, trailers, releases, info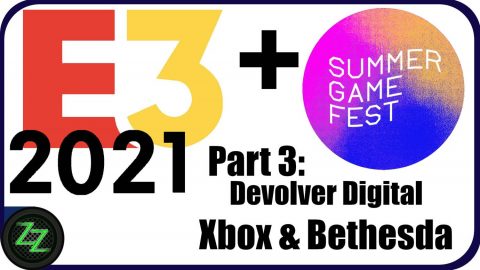 This page continues the Long Trailer List, continuing with Devolver and with XBox and Bethesda. Here you can get a look at all the games, with some short descriptions, release dates, and more info, if available. Due to loading times I, unfortunately, had to split the list into several parts, but there is an overview through which you can easily switch between the different conferences and presentations.
Switch Dark / Light Mode:
E3 Games List 2021 – Overview of all parts:
Part 3: Devolver Digital MaxPass+ Presentation and Xbox & Bethesda Games Showcase (this page)
Last Update: June 15th, 2021
And now to something completely different….
Devolver Digital – MaxPass+ Showcase – E3 2021
Devolver has been known for several years for packaging their E3 presentations in satirical to extremely sarcastic promotional presentation films. Here, mostly certain clichés and grievances in the gaming industry are taken up and used in a strongly ironic view. The topic this time was probably the Games as a Service, Monetization, Premium Pass, etc. corner. Corner, which got all sorts of side blows and ridicule.
I'll get to the individual games in a moment. But it's absolutely worth taking a look at the entire show. There's quite a bit to smile about and also quite well-acted gags to see.
Devolver Digital MaxPass+ Showcase – complete Show
Okay, and then to the individual games:
Shadow Warrior 3
The Shadow Warrior series is very well known and popular. The third part is a technically very upgraded Doom-like splatter shooter with ninjas and rather funny gameplay in an Asian setting. Devolver had already shown a first trailer some time ago, but for E3 there was now completely new gameplay to see.
Release: 2021 Xbox One, Playstation 4 and PC on Steam: https://store.steampowered.com/app/1036890
Shadow Warrior 3 Gameplay Trailer 2 – E3 2021
Trak to Yomi
Actually not that dissimilar to the previous game, Trak to Yomi brings a samurai / ninja side-scroller with a very special art style. Black and white passages, cinematic sequences, and a lot of sword-fighting action with gritty ambiance and lots of blood.
Release: 2022 for NextGen Xbox Series X/S, PlayStation 5 and PC on Steam: https://store.steampowered.com/app/1370050
Trak to Yomi – Reveal Trailer – E3 2021
Phantom Abyss
Phantom Abyss had already been briefly shown before E3. This is a first-person action game in which we run through Indiana Jones-like dungeons, dodge nasty traps, and jump over chasms. While running through a dungeon, you see the ghosts of those who have died before. The dungeons are supposed to be randomly generated from components, so it won't be so easy to memorize the routes. Roughly, with the shadows, it reminds of a kind of Fall Guys with asynchronous multiplayer
Release: Early Access on Steam starting June 22, 2021, on Steam: https://store.steampowered.com/app/989440
More info: phantomabyss.com
Phantom Abyss – Gameplay Trailer – E3 2021
Wizard with a Gun
A comic book style mage and western hero crossover game. In terms of gameplay, Wizard with a Gun is an isometric action RPG with co-op survival similar to Don't Starve.
Release: 2022 for Nintendo Switch and PC on Steam: https://store.steampowered.com/app/1150530
Wizard with a Gun – Reveal Trailer – E3 2021
Death's Door
This game takes us to a world of crows. We play isometric action combat combined with puzzles, platforming, and dungeon bosses.
Release: July 22, 2021, for Xbox, Gamepass and PC on Steam: https://store.steampowered.com/app/894020
Death's Door – Gameplay Trailer – E3 2021
Inscryption
This game looks very artistic and features a creepy card-based strategy game in pixelart style, deck-building, roguelike shimmers through between the lines here. The developers also talk about "Escape Room"-style puzzles, sounds like an interesting mix.
Release: 2021 for PC on Steam: https://store.steampowered.com/app/1092790
Inscyption – Reveal Trailer – E3 2021
Devolver Tumble Time
I suspect this is probably intended more as a gag and a meme. But it will probably still be an actual game, but that in itself is a spoof of other mobile games
Release: Android and IOS 2021 – Preregister: https://devolvertumbletime.com/
Devolver Tumble Time – Reveal Trailer – Mobile Game – E3 2021
Demon Throttle
An 8bit shooter with 80s vibes that will only be available as a physical version in retail stores.
Release date: 2022 for Nintendo Switch
Demon Throttle – Reveal Trailer – E3 2021
Microsoft Xbox & Bethesda Games Showcase – Summer Game Fest 2021
After the purchase of Bethesda by Microsoft, here are two big names in the gaming business presenting their new games, which have now become even bigger together. Meanwhile, almost everything that says XBox on it is also simultaneously available for PC in the XBox app. And with XBox Gamepass and XCloud Gaming, many of the titles are also available by subscription and on an enormous number of other devices via streaming, so you don't even necessarily need an XBox console or gaming PC to play them (but of course, that would be better).
Here's also a video of the full show in 4k, so the picture quality will certainly be better for many scenes than in the streams for the screening.
Xbox & Bethesda Games Showcase – Full Show – 4k
If you do not like to look it complete, but just looking for a particular game, here then also all the games again individually. Well, then on to the presentations of the individual Games, as with all by Corona conditionally, previously recorded.

Starfield
It gets started with something that has been long-awaited. Todd Howard of Bethesda Game Studios immediately takes the stage to finally show off a new BGS role-playing game almost 10 years after Skyrim and 6 years after Fallout 4. Well, at least something of it. The trailer for Starfield was leaked beforehand and shown at the Washington Post, but even though there's, unfortunately, no real gameplay to be seen, the graphics style is at least a major indicator of where Starfield might be headed. And there's a release date at the end.
Release: will be released for Xbox Series X/S and PC on 11/11/2022
Starfield : Official Teaser Trailer – Summer Game Fest 2021 – E3
Into the Starfield: The Journey Begins
Update: On their YouTube Channel Bethesda Games Studios published a few days later another Video with some concept arts, a very little sneak peak of the new engine, and some more tidbits:
Stalker 2 – Heart of Chernobyl
If there is nothing really new (apart from F76) from the Fallout universe, then at least there is news about its Russian counterpart. Stalker 2, a sequel to the successful end-time role-playing shooter, is currently in the works and is once again set in the contaminated zone around the exploded nuclear power plant in Chernobyl.
Stalker 2 Heart of Chernobyl Gameplay Trailer – Summer Game Fest 2021
Back 4 Blood (Back4Blood)
The new four-player co-op zombie shooter from the makers of Left4Dead. Zombies vs humans, from the makers of the first games that had zombies when they weren't hype. In addition to co-op multiplayer, there are also some new PvP modes that may have the potential to harken back to old Left4Dead days.
Release: Xbox and PC on October 12, 2021
Back 4 Blood – Official PvP Announce Trailer – Summer Game Fest 2021
Contraband
From the makers of Just Cause and MadMax comes a completely new brand. Contraband offers four-player co-op action gameplay in an open world. The trailer shows 70s style and it seems to be about heists in the smuggling business.
Contraband – Announce Trailer – Xbox & Bethesda Games Showcase 2021
Sea of Thieves – A Pirate's Life – Pirates of the Caribbean Crossover
It's not Johnny Depp himself, but his and many other characters from the Pirates of the Caribbean universe will conquer Sea of Thieves in the new Free DLC Sea of Thieves: A Pirate's Life.
Release: June 22, 2021 for free
Yakuza Series – Like a Dragon
Xbox brings the complete Yakuza series to the XBox Game Pass, as of now all are directly playable with it in the subscription.
Battlefield 2042
Battlefield has been teased a bit elsewhere before the event, but here now is the first real gameplay. 128 player mass PvP, lots of different vehicles to use. Only somehow there seem to be no destructible buildings?
Release date: October 22, 2021
Battlefield 2042 Gameplay Trailer
Twelve Minutes
Twelve Minutes, a very special game, was announced last year. A man is stuck in a time loop, his wife is accused of murder by the police and then he gets knocked out. After that, he has to relive the same 12 minutes over and over again. Like a Groundhog Day story, he can explore things, try things out, uncover secrets, and try to break the time loop at some point in the end. You look vertically into the world from above.
Twelve Minutes Release Date Announce Trailer
Psychonauts 2
With Psychonatus 2 the successor of a 16-year-old, rather weird game will come, which does a lot of things differently. A platform game with a high story component and often unusual designs.
Release date: August 25, 2021
Psychonauts 2 Gameplay Trailer – E3 Summer Game Fest 2021 – Xbox Games Showcase
Next came a passage of announcements for updates, DLCs, and content for titles already known
Various updates for Doom Eternal, Fallout 76, ESO, Hades
Doom Eternal NextGen Free Update
60 FPS 4k ray tracing on XBox and 120 FPS in Performance Mode.
Fallout 76 – Steel Reign expansion on 07/07/21
Fallout 76 The Pitt Expeditions expansion in 2022
Elder Scrolls Online – ESO Blackwood NextGen optimization
Hades in XBox Game Pass on August 13, 2021
There are also a couple of videos about these:
Fallout 76 – Steel Reign
Fallout 76 – Expeditions – The Pitt Teaser Trailer
The Elder Scrolls Online (ESO) Console Enhanced Edition Launch Trailer
Party Animals
A funny looking multiplayer brawler with many different types of animals is scheduled for release in 2022.
Somerville
Somerville looked like a very relaxed and artistic sci-fi apocalyptic adventure game.
Somerville Announce Trailer E3 2021 – Xbox Games Showcase
Halo Infinite
Halo is celebrating its 25th Anniversary soon and for that there are some new info tidbits and a rough release date. It was also announced that Halo Infinite will feature crossplay between Xbox and PC and the multiplayer part will be Free2Play. The epic campaign, however, will be a purchase title.
Release date: Holiday 2021
Halo Infinite Official Multiplayer Reveal – E3 Xbox Games ShowCase 2021
Diablo 2 – Resurrected
A date has been announced for the remaster of Diablo 2 and 8 player multiplayer has also been confirmed. It will be released on numerous platforms and will allow both cross-play and cross-progression.
Release Date: September 23rd, 2021
Diablo II Resurrected – Street Date Trailer – E3 Summer Game Fest – Xbox Games ShowCase
A Plague Tale: Requiem
A Plague Tale was a surprise success for Asobo Studio and Focus. The story about the two siblings in times of plague and rat infestations swept many away. Now a new title with the addition "Requiem" appears, whether it is part 2, a prequel or sequel or spinoff, was not directly said.
A Plague Tale: Requiem – World Premiere Reveal Trailer – E3 Xbox & Bethesda Games ShowCase 2021
Far Cry 6
Far Cry 6 has already been shown in other parts, mostly only cinematic story trailers. Here we finally got to see some gameplay of the new Ubisoft open-world shooter Far Cry.
Far Cry 6 – Gameplay Overview Trailer
Slime Rancher 2
Yes, slimes urgently need to be cared for well, that's why there are specially trained slime ranchers, and that now in the 2nd part. Harvesting and feeding slimes, growing vegetables, and exploring a new world is what Slime Rancher 2 is all about.
Slime Rancher 2 Announcement Trailer
Shredders
Snowboards, snowboards and a lot of snow. In Shredders you'll be doing tricks and racing, much like in the Tony Hawks titles, only with a snowboard, of course.
Release date: December 2021
Shredders Trailer – Xbox & Bethesda Games ShowCase – E3 2021
Atomic Heart
In an alternate universe, in the year 1955, in a world where almost everything is powered by the atom. And robots, holograms, and a kind of internet already exist. As a government agent, you investigate a production plant that seems to have failed…
Atomic Heart Announce Trailer – E3 Summer Game Fest 2021
Replaced
A post-apocalyptic side-scrolling platformer in 2.5D pixelart style. You play R.E.A.C.H. an artificial intelligence that is stupidly trapped in the body of a human.
Replace Announce Trailer – E3 Xbox & Bethesda Games ShowCase
Then followed another block of addons, extensions, among others with
New content, DLC, and expansions for Grounded and Among Us
Grounded now gets Tier Companions with "The Shroom and Doom Update", a new boss, the giant spider Broodmother and this all comes out on 06/30/21 quite soon
Among Us also gets new content, including a 15 player lobby. in case anyone was short on players in the game…
Grounded – The Shroom and Doom Update
Among Us – 15 Player Lobbies
Eyuden Chronicle – Hundred Heroes – Rising
Two spin-offs of the Eyuden Chronicle saga have been announced for 2022 and 2023. Strategic turn-based combat and JRPG stories combined with fancy 2D pixelart characters in a 3D environments. A rather unusual mix, but looks interesting.
Release date: 2022 and 2023
Eyuden Chronicle – Hundred Heroes Announcement Trailer
The Ascent
A multiplayer hack'n'slay RPG with shooter elements in a cyberpunk world. A corporation owns almost everything in the world, even you are its property. And when this corporation suddenly collapses, the world plunges into chaos, will you survive?
Release date: August 29, 2021
The Ascent – Day One Xbox Game Pass Announcement Trailer – E3 Xbox Showcase 2021
Age of Empires IV
For more than a decade we've been waiting for a new Age of Empires. After the (unfortunately) failed online spin-off and remastered versions of all predecessors, it will now be time this year. Age of Empires 4 brings us to the Middle Ages and in the middle of the wars between England, France and many other European states.
Release date: October 28, 2021
Age of Empires 4 Gameplay Trailer – XBox & Bethesda Games Showcase 2021
The Outer Worlds 2
With The Outer Worlds (not Wilds!), Obsidian Entertainment managed to pull off an ironic sci-fi RPG in the style of Fallout New Vegas without being allowed to make a Fallout. Unexpectedly, the studio now already announced Outer Worlds 2, even though the trailer hinted at non-existent content with a wink.
The Outer Worlds 2 Announce Trailer – Xbox & Bethesda Games ShowCase 2021
Microsoft Flugsimulator
The MS Flight Simulator is currently experiencing a lot of hype and probably rightly so. At the E3 conference, the XBox implementation has now been announced, and also a Top Gun DLC that has the 80s and 90s fighter jet movies with Tom Cruise as a theme.
XBox Release: 07/27/21
Microsoft Flugsimulator Xbox Series X/S Gameplay Trailer
Forza Horizon 5
With Forza Horizon 5, the series travels to beautiful Mexico. Deserts, jungles, cities, villages, vast meadows, here's a wide selection of different environments for the open world racing game.
Release: November 09, 2021
Forza Horizon 5 Announce Trailer – E3 Xbox Games ShowCase 2021
Forza Horizon 5 Gameplay Demo – E3 Summer Game Fest 2021
And last but not least, a new brand was announced, from former Bethesda studio Arkan Austin, who delivered strong successes with Prey or Dishonored.
Redfall
In Redfall, we play a group of vampire hunters who work together to eliminate all sorts of bloodsuckers in four-player co-op action-shooter gameplay.
Release: summer 2022
Redfall Announce Trailer – Xbox & Bethesda Games ShowCase 2021