A long compilation list of all new games from E3 and Summer Game Fest 2021 with news, information, trailer videos, game announcements, demos, releases, and much more.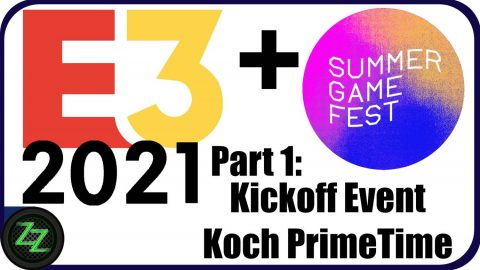 Here you will find an extensive collection of new games, a list of all games that were presented or announced at E3 2021 or the parallel happening Summer Game Fest 2021. Here you will find many trailers, news, and details about the new games for the second half of 2021 and the beginning of 2022. All collected for you by Zap, I hope you like it. This list is constantly being expanded.
Important note:
Attention, this list will be constantly expanded until the end of E3 and Summer Game Fest. So it may be worth checking back from time to time or saving it as a favorite.
This post starts with the content from Geoff Keighley's Kickoff presentation, the opening show of the E3 Summer of Games Festival and it's followed by all the other shows like IGN, Ubisoft, Devolver, XBox, Square Enix, PC Gaming Show, etc…. I hope to summarize as much as I can in one go here, but I'll probably miss quite a bit. If you have more links that are missing here, feel free to get in touch at the ZapZockt Discord and send me the links there.
Due to loading times, I, unfortunately, had to split the list into several parts, but there is an overview through which you can conveniently switch between the different conferences and presentations.
E3 Games List 2021 – Overview of all parts:
Last Update: June 14th, 2021
E3 2021 / Summer of Games Fest – Eröffnungsshow Kickoff mit Geoff Keighley – Komplett
E3 2021 News – if possible an (almost) complete Games list – opening show of Geoff Keighley of the Summer Game Fest 2021
Tiny Tina's Wonderland
Release probably early 2022, Borderlands Fantasy SpinOff
Infowebsite: playwonderlands.com
Entwickler: Gearbox
Publisher: 2K
Tiny Tina's Wonderland Trailer:
Metal Slug Tactics
former Action Brawler goes into turn-based strategy
Metal Slug Tactics Trailer:
Death Stranding Directors Cut
In an interview during the Summer Games Fest opening presentation, Hideo Kojima talked about Covid and his dark visions of the future, which he now wants to adapt to reality for a new dark adventure. In the end, there was a spoiler about a Death Stranding Directors Cut for the PlayStation 5.
Death Stranding Directors Cut Trailer
Jurassic World Evolution 2
Frontier, developer of Planet Coaster, Planet Zoo, Elite Dangerous, and also Jurassic World Evolution part 1, showed the first trailer for the upcoming 2nd part of the Dinosaur Park Simulator.
Developer: Frontier Development
Release: 2021
Jurassic World Evolution 2 E3 Announcement Trailer
Sable
Sable was also shown in the presentation. The game was already presented once at E3 2018. This time, however, the presentation was done in a very unusual way, because the singer Glider performed her song Japanese Breakfast on stage and most of the time the trailer was running behind the accurately singing and good-looking lady. But from the game, you could not see so much in some passages. Artistically it was nice in any case. But there is also beside the trailer the 2nd video with 13min gameplay material.
Developer: Shedworks
Release: probably 2021
Sable E3 Show – Glider – Japanese Breakfast Performance with Glider Gameplay
Sable E3 13min Gameplay Announcement Trailer:
Lostark
Lostark is one of the few games announced by Amazon Games Studios that has not yet been canceled. Besides the MMORPG New World (preview here), this is another MMORPG, but here more Diablo style with an isometric perspective.
Speaking of which, There's a closed alpha test coming soon for Lostark, which you can sign up for on the game's website (Amazon account required).

Developer: Smilegate RPG
Release: in fall 2021 (maybe)
Publisher: Amazon Games
Lostark E3 2021 Gameplay Trailer
Call of Duty – Black Ops and Warzone – Season 4
Season Four for COD Blackops and Warzone will be released on June 22/23, 2021 and some content was revealed in the presentation, including new operators, new maps, and more zombies.

Call of Duty COD Black Ops und Warzone Season 4 Gameplay Trailer
In between, a movie was then promoted, but it's also indirectly related to computer games
Free Guy
This is a movie about an NPC in a game who is usually always wandering around between his few waypoints. At some point, he is shown by others that he is just part of a computer game, and he outgrows himself and becomes a hero, breaking free from his world. The film was supposed to come out several times already, but was also postponed several times because of Covid, as theaters were not allowed.

Release: fall 2021 (presumably)
Free Guy E3 Trailer
Sony Playstation Indies
The head of Sony's PlayStation Indies division then went on to introduce 3 upcoming games from that division:
Chicoree
An adventure with colors in which the player paints his way through the levels. Unfortunately, I can't find a video for it at the moment.
Salt and Sacrifice
This is a 2.5D roguelike adventure game with a co-op gameplay
Release: 2022
Solar Ash
A very colorful 3D action jump'n'run, in which we'll probably climb onto dragons in flight and then climb around there
Chivalry 2
This was followed by Chivalry 2, a game that is already available. This is a bloody, muddy 64-player sword fighting medieval battlefield. However, only the official launch trailer was shown, which was already published a week before at the release.
Chivalry 2 E3 2021 Launch Trailer
Escape from Tarkov – Battle for Concordia
Escape from Tarkov has been in development for a few years now and is also already playable. A trailer was shown, which puts the street fight in the new shooter in the foreground.
Escape from Tarkov E3 2021 Gameplay Trailer
Two Point Campus
With Two Points Campus, a new management simulation of a university will be released in 2022 by the makers of Two Point Hospital.
Developer: Two Point Studios (partly former employees of Bullfrog / Lionhead)
Release: 2022
Two Pont Campus E3 2021 Trailer
Smite und Stranger Things Crossover
A small player shows the introduction of Stranger Things content into the 9 year old game Smite:
Prime Matter
A new publisher association has been unveiled in the form of Prime Matter. This new brand unites studios that were previously mostly published through the Koch Media label. Here titles like Kingdom Comes Deliverance, Payday, Iron Harvest, Kings Bounty 2, and many more belong to it.
Note: Prime Matter had its own presentation, see more below
Prime Matter E3 2021 introduction trailer
The Anacrusis
Anacrusis was then introduced, a 4-player co-op sci-fi shooter set on a stranded spaceship.
Anacrusis E3 2021 Announcement Trailer
New World
Since the kickoff event was sponsored by Amazon Games, New World was also present. The release date of August the 31st, 2021 was confirmed, and a beta was announced for July the 22nd. After that, it should really be the case, New World will be released. Hopefully not as controversial as another game that came out a few months ago, and just like New World, was postponed several times… Oh well, if you want to know more about the game, feel free to check out my New World Beta (p)Review.
New World Trailer
Fast and the Furious Bundle in Rocket League
Another game <-> movie crossover has been introduced with the Rocket League Fast and the Furious update. Starting June 17, Rocket League will feature a lot of familiar cars from the movie, which you can then use to kick balls.
Rocket League Fast and the Furious Bundle – E3 2021 Trailer
The Bloodhunt
Here comes a multiplayer game that is very clearly gameplay like a Battle Royale and is set in the Vampire the Masquerade universe. Players get numerous vampire abilities and hunt each other. May the best bloodsucker win.
Developer: Sharkmob
Bloodhunt Steampage

There is a closed alpha registration on the game website at bloodhunt.com
Bloodhunt E3 2021 Announcement Trailer
The Dark Pictures Anthology: House of Ashes
A horror game set in the Iraq War of 2003, where an elite squad is sent to find hidden weapons in a military base. But they come across something completely different and soon find themselves in a dark crypt from which there is no escape.
Release: October 22, 2021
The Dark Pictures Anthology: House of Ashes e3 2021 Trailer
Tales of Arise
The "Tales" series from Bandai Namco is an old favorite, and it's getting a new spinoff with "Tales of Arise."
Release date: September 10, 2021
Tales of Arise E3 Announcement Trailer
Sky: Children of the Light – Le Petit Prince – The Little Prince
Here comes a short introduction for a cute adventure for the Playstation, Le Petit Prince. I don't know directly if it has something to do with the movie of the same name, or just the characters appear in this game.
Developer: ThatGameCompany
Release: June 29, 2021 for Nintendo Switch – Le Petit Prince launch July 06.
Le Petit Prince E3 Trailer – Nintendo Switch
Planet of Lana
Planet of Lana is a hand-painted 2.5 D oil painting style adventure game coming out for XBox and PC
Developer: Wishfully
Release: 2022
Planet of Lana Website
Planet of Lana E3 2021 Reveal Trailer 4k
Overwatch 2
A developer of Overwatch 2 explained a few changes they will make in the gameplay of Overwatch 2. Among other things, it was about the change to a 5vs5 format. After that, there was a presentation of new skins for Baptiste and Sombra.
Baptiste und Sombra Re-Desgin Trailer E3 2021
Dungeons and Dragons Dark Alliance
Dungeons and Dragons Dark Alliance will be a co-op action adventure game in the DnD universe. In a trailer, the lead developer played with two of the voice-over and motion capture artists, including a WWE wrestler. This segment can be found in the Kickoff Event main video above. Below is another detailed explainer trailer instead.
Release date: 06/22/21
Dungeons and Dragons Dark Alliance E3 2021 Explainer Trailer
Monster Hunter stories 2: Wings of Ruin
Monster Hunter Stories 2: Wings of Ruin is a new installment of the popular series for Nintendo Switch.
Wave Break
It's more or less a skate game in terms of mechanics, but with motorboats in 80s Miami style. The game has been on the market for 1-2 years and will be released on June 11, 2021, for Nintendo Switch.
Endless Dungeons
Co-op action RPG wave-defend with tower defense
Developer: Amplitude / Sega
Endless Dungeon Gameplay Trailer E3 2021 Summer Games Fest
Back 4 Blood
Back4Blood is a team zombie shooter from the creators of Left4Dead
Release: October 12, 2021
Tunic
The small indie game Tunic showed a demo, which should also be available for free on XBox soon. It is an isometric action-adventure game.
Tunic Demo Trailer – Summer Games Festival 2021
Tribes of Midgard
This is a comic-book-style Viking survival with a more isometric perspective. In co-op, you play with your friends against cold, hunters and defend your self-built settlement against monsters and huge boss giants.
Tribes of Midgard Gamplay Trailer – Summer Games Festival 2021
Evil Dead – The Game
An asymetric multiplayer game. 4 player team zombie shooter and slasher against one player playing the evil boss.
Developer: Sabre and Boss Team Games
Evil Dead – The Game Gameplay Trailer – Summer Games Fest 2021 4k
As often is the case with shows like this, the biggest smash hit came at the end:
Elden Ring
From Software's portfolio includes titles like Dark Souls, Demon Souls, Bloodborne, Sekiro: Shadows Die Twice, all truly great, fantastic games across the board. That's why your latest work, Elden Ring, had been eagerly awaited for a very long time. Now, finally, there was new footage with Elden Ring gameplay footage, which also looks really excellent. In addition, a release date for Elden Ring was given.
Release: 21 January 2022
Elden Ring Gameplay Trailer – Summer Game Fest 2021 – E3 2021 – 4k Ultra
Koch Media / Prime Matter PrimeTime 2021 Presentation
At first a note about the Koch-media-event:
This show was pretty difficult. Koch Media released a new label at E3 that is supposed to bring some new premium content. Prime Matter sounds good, will probably be a strong brand at some point. However, this event was over two hours long and filled with interviews all the way too much, and extremely few gameplay scenes of new games were shown. Away from E3 and all the shows, it probably would have been an interesting event. But in this context, you actually expect more show, more action, more gameplay, and so the expectation of many gamers was greatly undercut.
There was talk about some new brands that could certainly be good and exciting, but where there is nothing to look at so far. And if you don't have much to show right now, why schedule a show with more than two hours of running time? Unfortunately, this "show" didn't do the games justice, the snippets of real game footage, some of which were certainly exciting, but only 30-60 seconds, were almost completely devalued by 20min of talk. Here there are only the real gameplay passages listed as videos. This two hours should have been a fast-paced 15 minutes show, but unfortunately, it wasn't. Okay, rant end.
But at least there were a few trailers or game excerpts:
Kings Bounty II
A role-playing game with turn-based tactical battles that will also be finished soon.
Kings Bounty II Gameplay Trailer E3 2021
Scars Above
Its a SciFi adventure that reminded me, at least, visually strongly of Lara Croft. Very scientific texts, puzzles, exploration, and of course alien monsters and shooting.
Scars Above Gameplay Trailer – E3 2021 Primetime
Payday 3
A developer talked a bit about the history of the Payday series and the development of Payday 3, which was announced alongside for 2023.
Final Form
It could be that this is just a working title and therefore the game will end up being called differently. This is an action first-person shooter about a "Valkyrie" that saves humanity in a sci-fi world.
Encased
A SciFi RPG set in an alternate universe of our world.
Dolmen
An action RPG with Cthulhu tentacles that combines Lovecraft's sea monsters with a sci-fi setting, while also offering quite pretty graphics.