Continuation of the collection list of all games of E3 2021 and Summer Game Fest 2021 – IGN Summer of Gaming 2021 and Ubisoft Forward 2021 – all news, Announcements, Trailers, Releases, Infos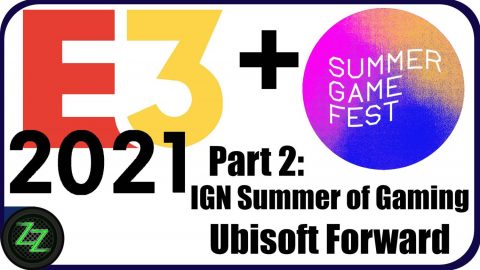 On this page, the Long Trailer List will be continued. Here you can get a look at all the games, with some short descriptions, release dates, and more info, if available. Due to loading times I, unfortunately, had to split the list into several parts, but there is an overview through which you can easily switch between the different conferences and presentations.
Switch Dark / Light Mode:
E3 Games List 2021 – Overview of all parts:
Part 2: IGN Simmer of Gaming Show and Ubisoft Forward (this page)
Last Update: June 14th, 2021
IGN Summer of Gaming 2021
Another presentation Livestream, this time from the American news outlet IGN. Surprisingly, there were a lot of new games in trailers, small games, indie games, and some mid-sized games. The moderation was full of flat jokes, but the game news were okay. So let's get into the list.
Bug Rumble Boxing: Creed Champions
A boxing game based on the Creed movies with Rocky Balboa, which in turn are based on the famous Rocky boxing movies with Silvester Stallone from the 70s and 80s.
Big Rumble Boxing: Creed Champions Reveal Trailer – E3 Summer of Gaming 2021
Sherlock Holmes: Chapter One
From Frogwares, the makers of Sinking City, comes a new game, this time in the Sherlock Holmes universe. This game is probably meant as a prequel to the actual story, so a young Sherlock Holmes, sometime before the actual, well-known stories.
Sherlock Holmes Chapter One – Cinematic Trailer – E3 Summer of Gaming 2021
Survival Machine
A low-poly survival, co-op Action game, with crafting, gathering, fighting.
Survival Machine Reveal Trailer – E3 Summer of Gaming 2021
Doki Doki Literature Club Plus
Japanese schoolgirl games, what can I say. Here even with a plus, whatever that may mean.
Doki Doki Literature Club Plus Announcement Trailer – E3 Summer of Gaming 2021
SIFU
Sifu was announced a few months ago, now here is some new gameplay for the pretty beat-em-up brawler.
SIFA Gameplay Trailer – E3 Summer of Gaming 2021
This was followed by a Wild West Dynasty trailer, in which maps were designed with Lego, 3D printers, and plasticine and then rebuilt in the game, only 10 seconds from the game were shown at the end. Unfortunately, this all seemed rather nonsensical to me, so I'll dispense with this "trailer" here, which wasn't one.
OlliOlli World
The skate game OlliOlli gets a "World" re-release or a sequel, hard to tell. But for fans of this particular skate platformer game, there is definitely new fun.
OlliOlli World Gameplay Trailer – E3 Summer of Gaming 2021
World War Z Aftermath
World War Z Aftermath is the NextGen version of the popular zombie shooter World War Z (review here). 4k 60FPS for the NextGen consoles is promised, and certainly some new content, maps, levels, weapons, and enemies.
World War Z Aftermath – Official Reveal Trailer – E3 Summer of Gaming 2021
Bramble – The Mountain King
A cute game, actually. If you disregard the little girl who chops a knife into the back of someone lying on the ground with force. A mix of childish charm, side-scrolling jump'n'run, and horror is rather unusual, but this is the mix of Bramble.
Bramble: The Mountain King – Cinematic Trailer – E3 Summer of Gaming 2021
Skatebird
The name says it all, skating birds that can jump higher with flutter. But the physics in the game looks somehow very strange.
Release: 08/12/2021
Skatebird – Official Trailer – E3 Summer of Gaming 2021
Unpacking
An original idea to unpack decoration for a level from a box as game content. So to speak, an unboxing for apartments. Has some parts of something like The Sims, and probably it is somehow relaxing.
Unpacking Gameplay Trailer – E3 Summer of Gaming 2021
The Forgotten City
The Forgotten City was created at first as a Skyrim mod that has been downloaded more than 3 million times and has received special prizes and awards for its story. In an ancient Roman-inspired city there are harsh laws and whoever does not abide by them will be turned into a golden statue. The mod was rebuilt in the Unreal Engine and re-released as a standalone game, now comes "The Forgotten City", better stick to the golden rules.
Disciples Liberation
Kalypso brings back the old role-playing game series Disciples and with Disciples Liberation the tactical RPG in turn mode is coming out soon for PC. You can also find some more info in this ZZ News article about Disciples Liberation.
Disciples Liberation Gameplay Trailer – E3 Summer of Gaming 2021
Splitgate
Splitgate is announced as an online multiplayer shooter with borrowings from Halo and Portal. But see for yourself:
Splitgate Gameplay Trailer – E3 Summer of Gaming 2021
Street of Rage 4 – Mr. X Nightmare DLC
A DLC for the game Street of Rage 4 was then also included, for fans probably a joy, for me, it left question marks.
Core Keeper
A 2D top-down survival, building, farming game in a dungeon. Unusual mixture, but that doesn't have to be a bad thing.
Inkulinati
Hand-drawn characters, somewhat reminiscent of a medieval illustration in a book, animated for story and battle. Extremely unusual game, but definitely not something you've seen many times before.
Audio Clash – Battle of the Bands
This game is probably at least partly supported by the band The Living Tombstones. It's a auto battle tactics game with lots of music, where you can bash beats and riffs into your opponent's ears.
Release: Q3 2021
Blacktail
The presentation of Blacktail showed a drawn story with children's voices, but the very short actual gameplay then looked more like an open world exploration and combat game, shooting creatures with a bow.
Death's Gambit Afterlife
Death's Gambit Afterlife brings new content for the Pixelart sidescroller Death's Gambit to the Nintendo Switch.
Black Skylands
With Black Skylands comes a top-down pixelart adventure with flying ships and large monsters. Crafting and many more complex mechanics make the game extensive.
Steelrising
1789, France will not win freedom from the emperor, because Paris is conquered by robots. In this Victorian steampunk adventure, we must try to defeat the shiny steel monsters and save Paris and the world.
Unbound: Worlds Apart
In Unbound, we play a small hooded mage who conjures through levels, summons and fights monsters, and solves puzzles in a sidescroller and platforming manner.
Release: Q2 2021
Steampage
Broken Pieces
The trailer for Broken Pieces is surprisingly reminiscent of Life is Strange, but with a bit, less production value, i.e. the textures, models, and level design seemed a bit less polished. So here we have an adventure game, in a more or less extinct world, which we wander through with a young woman, solving puzzles, mastering strange events, and, if possible, finding out where everyone else has gone and getting them back.
Release: Q2 2022
Martha is Dead
Scary stories with animatronic characters, tarot cards, and first-person exploration. The trailer is quite mysterious, so it's hard to tell what Martha is Dead will really be about exactly and how it might play out. But make up your own mind:
Haunted Space
3D space battles combined with light horror elements, that's what Haunted Space seems to offer us. In space, no one will hear you scream…
And last came the already available
Chernobilyte
Chernobilyte is set in the contaminated ruins of Chernobyl, a mix of science fiction and survival, with shooter and role-playing elements
Ubisoft Forward Show 2021
Let's move on to Ubisoft then. The Ubisoft Forward Show was a prepared format. They are known for usually showing big live stage shows with music and dance, which doesn't go so well in Corona times. So it was more of an unusual format for Ubisoft.
Ubisoft Forward E3 2021 komplette Show
And if you don't want to watch the whole thing, here are the individual games in single chunks:
Rainbow 6 Extraction
A spinoff of Rainbow 6, this time in co-op multiplayer zombie/alien shooter style, with Ubisoft flavoring this genre with familiar Rainbow Six tactics elements like destructible walls, drones and all sorts of other specials. Roughly, it looks like a kind of Division-Rainbow Six crossover..
Rainbow Six Extraction – Cinematic Reveal Trailer – E3 2021
Rainbow 6 Extraction – Gameplay Trailer – E3 2021
Rocksmith+
Mit Rocksmith+ bietet Ubisoft ein Gitarren-Lern-Spiel. Sozusagen die Gamifizierung des Gitarre-Lernens. Im Endeffekt kann man seine eigene Gitarre über eine Art Dongle an PC, Konsole oder sogar Mobile anschließen und mit der Software bekommt man dann die entsprechenden Riffs, Griffe, verschiedene Arten von Anschlägen, etc. in einer Art Guitar Hero Anzeige präsentiert. Ich habe leider nicht genug Ahnung vom Gitarre-spielen um das richtig bewerten zu können. Aber wer Gitarre lernen möchte, bekommt hier vielleicht eine ungewöhnliche Art, die für manchen bestimmt besser funktioniert, als ein teurer Gitarren-Lehrer oder das allein zu Hause trocken-üben.
Rocksmith+ Announce Trailer – E3 2021
Riders Republic
Nun folgt ein bereits im letzten Jahr angeteasertes Game. Mit Riders Republic möchte Ubisoft verschiedene Sportarten in ein gemeinsames Gaming Format bringen. Fahrrad fahren, Fluggleiter fliegen, Snowboard und Ski fahren als eine Art MMO-style Multiplayer Erfahrung. Es wirkt teilweise etwas wie Fall Guys, es hat auch ein wenig ein Sport-Fortnite Feeling. Alles steht und fällt hier vermutlich mit der Qualität der Steuerung.
Riders Republic Cinematic Reveal Trailer
Riders Republic Deep Dive Gameplay Trailer – E3 2021
All sorts of announcements for addons, DLCs and crossovers in already existing games followed, like
Rainbow Six Siege – New Season Northstar, both as well as a June 30 release for Stadia and Luna that features crossplay and crossprogression with PC, with additional announcements for both of these features for all platforms in Spring 2022.
Teenage Mutant Ninja Turtles are coming to Brawlhalla
For Honor is getting its Year 5 Season 2 with Mirage
Trackmania is getting a Fall Guys mode of sorts
Watchdogs Legion Bloodline, an expansion for Legions, that brings characters from Watchdogs 1 and 2 into the new installment
New cars and tracks for The Crew 2 in the Year 4 pack
More content for Ghost Recon Breakpoint, especially geared towards the Ghost Recon 20th Anniversary Event
Smaller trailer tidbits to the above:
Tom Clancy's Rainbow Six Siege – North Star – I met a Pilot Trailer – E3 2021
Ghost Recon Breakpoint 20th Anniversary Trailer – E3 2021
Watch Dogs Legion Bloodline Announce Trailer
For Honor Mirage – Year 5 Season 2 Launch Trailer
The Crew 2: Year 4 Reveal Trailer
Brawhalla X Teenage Mutant Ninja Turtles Reveal Trailer
Trackmania Royal Trailer
Just Dance 2022
A game series that is a real sales hit on the one hand, but on the other raises question marks for many. Either you love it, or you shake your head. Just Dance is also getting a new spinoff for 2022, the featured star this time will be Todrick Hall.
Release: November 4, 2021, on Nintendo Switch, Xbox (all) and PlayStation (4+5) anyway Stadia
Just Dance 2022 – Todrick Hall Announce Trailer – E3 2021
Assassin's Creed Valhalla – New Content, DLC, Discovery Tour Viking Age
The next top franchise is Assassin's Creed with AC Valhalla. Ubisoft surprisingly announces that they will support the game with new content for more than one year. There will be new free content and two expansions called Wrath of the Druids and Siege of Paris. In addition, there is the Discovery Tour Viking Age, a purely historical journey through the land of the Vikings and the British, in which you can probably re-enact the life of Vikings in addition to learning about history.
Assassin's Creed Valhalla – New Content Trailer – E3 2021
Ubisoft TV/Stream Series – Mythic Quest – Werewolves Within
This was followed by a passage about the two currently available series that indirectly relate to computer games. Mythic Quest, where the second season is already starting, and now also Werewolves within.
Mythic Quest – Season 2 – Ubisoft TV/Stream Series – Season 2
Werewolves Within – Ubisoft TV/Stream Series
Far Cry 6
With Far Cry 6, another very political open-world shooter is coming our way. This time, it goes to an island realm that is ruled, or rather oppressed, by an El Presidente-like dictator played by Giancarlo Esposito with a more than strict hand. There were already some sneak peeks at the story, which showed a setting very similar to Cuba. At E3, Ubisoft now showed a new story snippet that gives us more insight into the soul of the game and the dictator Anton as well as his son Diego.
Far Cry 6 – Story Trailer – E3 2021
The Far Cry 6 Season Pass was also announced at the same time, which will probably include a special game mode in which you will travel to a kind of parallel world where you will encounter all the villains from the previous Far Cry parts, and play them yourself.
Far Cry 6 – Season Pass – Reveal Trailer – E3 2021
Mario + Rabbids – Sparks of Hope
The tactics crossover between Rabbids and Mario was very popular and successful. With Mario + Rabbids – Sparks of Hope, Ubisoft brings a new, probably bigger spin-off of this game. Here you should be able to travel with Mario, Luigi, Peach, and the Rabbids in a spaceship from planet to planet through the galaxy. The gameplay shown had open world-like parts and of course the XCom-like turn-tactics passages again.
Release: 2022, Nintendo Switch only
Mario + Rabbids – Sparks of Hope – Cinematic World Premier Trailer – E3 2021
Mario + Rabbids Sparks of Hope Gameplay Trailer – E3 2021
Avatar: Frontiers of Pandora
The last thing that followed was a little surprise. It was announced that there will be games for Avatar and also the Avatar 2 movie in the works, but no one expected an announcement directly, since the new movie still seems far away (roughly the end of 2022). Ubisoft boss Yves Guillemont spoke personally about this project and said that this will probably be one of the first games to be built in the latest and NextGen version of their SnowDrop engine. That's why it really looks quite outstanding, even though it's probably "in-engine" scenes in the trailer, unfortunately, you haven't really gotten an impression of the actual gameplay yet.
Avatar: Frontiers of Pandora – First Look Trailer – NextGen SnowDrop InEngine Footage – E3 2021