Will this be an interesting mix? – Post-apocalyptic city builder with steampunk vibes, roguelite, RTS elements, and a dash of Factorio.
In this Dream Engines Nomad Cities review, I'll show you how the new post-apocalyptic city-builder game plays with elements of real-time strategy, Factorio automation, and Roguelite elements, whether it's fun and how well it already works in Early Access. Dream Engines Nomad Cities is available in Early Access on the Epic Game Store and on Steam since July 14, 2021.
This article is available here as text, but also as a YouTube video (German voice-over, many subtitles). This way you can choose how you would like to enjoy it most.
Dream Engines Nomad Cities Review Video
German Voice-Over, many subtitles
Dream Engines: Nomad Cities Review – Intro
Hi there, this is the Zap. In this Dream Engines Nomad Cities review, you'll get a sneak peek at the new build-up strategy game with survival and real-time strategy elements. I'll tell you how this indie game is played, what's in it, and at the end, you'll get a rating from me. But most of all, I want to give you all the info so you can decide for yourself if the game could be fun for you.
Dream Engines is developed by Suncrash and published by Gamera Games. So far, there is already another build-up sim by Suncrash, Judgment, but that game is set in the post-apocalyptic scenario. I received a free trial key, my thanks for that. However, this should not affect my rating, as I always test all games with the thought in the back of my mind, how would I feel if I had paid full price.
Note: Early Access
First things first, Dream Engines came out on 07/14/2021 and is still in Early Access status at the time of this review. So it should be clear to everyone that the game is still being worked on and almost everything can theoretically still change.
But this is rather unrealistic. In most cases, EA titles still get additional content, maybe a few more levels, smaller features, and also the operation and interface can still change. But the fundamental gameplay and structure, or the basic mood of the game, rarely change.
---
Dream Engines: Nomad Cities – Game Type
In Dream Engines, we play the robot Tiny, who ends up being the protector of a small human tribe. In an inhospitable and dangerous world, we build a settlement on a concrete slab.
Our little hooded inhabitants only work in the buildings we build. But exploring, fighting, and planning we have to do ourselves directly with our robot avatar.
With Tiny we can walk around and we always see only what is happening around the robot. So if we are out exploring far away and meanwhile our village is attacked at another place, we have to run to the place of the attack first. But if we put the houses too close, we block our own walking path. This is a game mechanic that makes Dream Engines very different from other building titles.
Our robot Tiny has thereby two different modes. In the first mode, we can walk around, fight, loot, and in the other, which we toggle with Space, many robot abilities are removed, but we can instead construct buildings, look at info windows, and make adjustments.
So we build homes, farms, food factories, power generators in the core city and also resource harvesters further out in the wild lands. The goods are then transported by carts, for which we need to build a system of well-planned tracks. Because if we don't plan wisely here, we quickly run into congestion, shortages, or as an even worse example, our lumber never gets to where it needs to be processed.
The surrounding area is occupied by several types of nightmare creatures called Trep, all of which are hostile to us. So we must first gradually cleanse the area around the city of monsters before we can build there.
And the more we expand our city, the more we disturb these creatures as well. This results in a threat level that gradually increases. And then there are regular attacks on the city, which also become more and more violent with increasing threat levels.
We can build walls and turret towers to defend ourselves, but we can also fight as robot ourselves to defend the settlement. Here, the game also gets some tower defense elements for a spice.
Then there is research and extensive upgrade systems, both for the buildings and for the robot. So we can mine new resources, strengthen buildings, but also discover completely new production possibilities. And our robot has armor parts, upgrades, and two different weapons that can be gradually improved to deal with the increasing danger.
The special highlight, however, is when the threat eventually becomes too strong or when the environment is depleted, that we can simply fly away with our city and start over somewhere else. Here is where the concrete slab mentioned at the beginning takes on a special meaning because only what is on the slab flies away with us. Everything we have built outside, we leave behind.
This then brings Roguelite elements into play. Because we end up starting over again and again, but we can take part of our city and the knowledge we've gained so far to the next level.
Gameplay – Worlddesign
The name Dream Engines probably stems from the fact that we are in a post-apocalyptic nightmare world. This is also evident in the design of the procedurally generated maps. Besides the rather gloomy ambiance, there are many pointy, sharp, and rather dangerous-looking design elements. Pretty and cheerful is not going to happen here.
Procedurally generated, in case that doesn't mean anything to you, I'll explain it briefly. This means that the maps are always reassembled by a random generator according to previously set values. Thereby given elements are always arranged differently. Thus there are endlessly new maps, which are also never 100% similar, but by the restrictions of the presets, the maps are then nevertheless also relatively similar.
The city has a steampunk design, copper piping, Victorian-looking houses and a lot of steam and smoke define the view of our little city. And also our main character, the robot Tiny, is of course some kind of shambling copper pot and his weapons are steampunky attachments to his arms.
Each map consists of a larger area in the center, on which our settlement plate stands, and numerous corridors and squares around it. Most of these squares must be gradually uncovered and fought free of monster hordes before we can mine resources or construct buildings there.
The arrangement of these corridors and places is completely random and absolutely different for each map. So, nonetheless, the maps resemble each other therefore strongly. Thus, the random generation has its limits.
Crafting and Gathering
Dream Engines offers a variety of different raw materials. These can then be smelted, processed, and combined with each other in a variety of ways to create a larger number of intermediate materials.
As an example, raw wood first becomes processed wood, and later it can be made into several kinds of higher quality wood through other processing recipes. Similarly, with food, energy production, and research points, there are always multiple ways to get these important resources.
These many materials are used both for building houses, as consumables for energy supplies and feeding the population and also for building armor and weapons for our robot Tiny.
In the beginning, however, you can use very little of it, because most of the materials and processing buildings have to be researched bit by bit. That takes quite a while at first. This is further complicated somewhat by the fact that not all basic resources exist on every map.
This is where you sometimes have to heavily customize your city to make it work with other resource types. And, both when traveling between maps and when planning recipes in processing plants, plays an important role.
It's a good thing that buildings can be easily moved in the process, and most plants can use different recipes. So you can just switch unneeded processes to other goods most of the time. And this is also often necessary, because the optimization of the previous map may become completely ineffective on the new map.
Dream Engines Nomad Cities Gameplay Screenshots (Part I)
Click or tap on the image for a larger view.
In the enlarged view, you can scroll right and left on the edges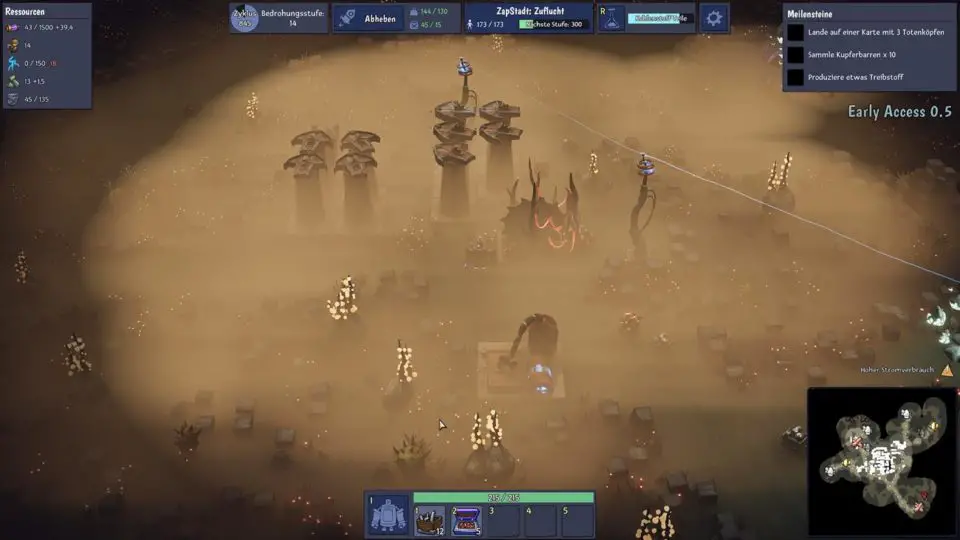 Automation
A not unimportant and also very interesting point of the game is then the automation of our production. We can spend resources with constructions from the inventory of the main building, but otherwise, goods always have a fixed place where they are located.
So a raw timber that is in the main warehouse is of no use to us at all if we don't first transport it by rail and cart to a plant where it can be processed further. And there it often needs another material and both must be delivered as evenly and permanently as possible so that the operation works properly.
So we lay tracks from the raw material sources to the farms and from the farms to the warehouse and from the warehouse to the consumption points. If our research is not permanently supplied with appropriate material, it will stall. And all dwellings must be supplied with food and electricity every minute, otherwise, no one can live there, which will cause the homeless settlers to die.
Planning the route of the tracks and preventing traffic jams is already a nice thinking puzzle game. Then, when it sometimes comes to adapting this existing planning to suddenly changing conditions, it often gets even trickier. And at the latest, after a journey with our concrete slab and the resulting completely different setup around the concrete slab, the track routes demand a lot of gumption from us to get the system working properly again.
Tech, Graphics, Sound, Engine, Translation
Dream Engines, itself, is based on a well-known and well-tested engine, namely the graphics engine Unity. It is already running smoothly, fluidly, and stably even as an Early Access version.
The graphics are in the good middle-class range. There are fancy 3D models, sometimes quite nice little animations, and no muddy textures, but there also aren't any special visual surprises.
Most of the controls are positioned logically and fine. But sometimes you need 3-4 clicks for certain things, where I think this could have been realized by a more reasonable arrangement with 1-2 clicks. Here I could still imagine improvements in the handling.
I found the dubbing to be rather lower middle class. Some things create sounds, but there was nothing that particularly stimulated my ears. Overall, the game still has a bit too few sound effects, for my taste. The music is pleasantly in the background, but qualitatively above the elevator music range.
There is no voice-over at all, and the on-screen texts are available in English, German, French, Russian, Japanese, and 2 variants of Chinese. The German version is for the most part acceptable, a few texts seemed a bit choppy.
Dream Engines Test – Opinion and Conclusion
Dream Engines is still an early access version. So there are definitely still some construction sites here and there.
But I also had a few problems that should be easy to fix and that I told the team about more than a week ago, but unfortunately still haven't been fixed until today. For example, there are problems with some buttons being present but completely invisible in the German version's user interface, which then makes them quite difficult to use.
Graphics are kept rather gloomy by the style of the world. For my taste, it could like to be a little more colorful in well-run cities. Presumably, the dark atmosphere is supposed to seem more threatening, but unfortunately, the game also loses some of its visual radiance as a result.
The predominant colors are grays and browns, and the world, unfortunately, looks like a desolate desert most of the time. This may fit the targeted setting, but I suspect if the game had a few more pretty aspects or even green meadows at times, it might appeal to more people.
Dream Engines has a great concept that I thoroughly enjoy. The mix of real-time and build-up strategy with some automation gameplay and survival is diverse and stimulates my mind to think while playing. And at the same time, there is always some action through the battles, this mix works well for me.
In Dream Engines, there are enormously varied commodity cycles and the huge research tree provides quite a bit of ongoing motivation. The episodic journey from one world to the next creates good opportunities for game breaks. But since you can take the core city with you and the research will remain, there is still steady progress, which is uncommon and for me at least very motivating.
However, the action part might also be a bit too much in the foreground for players who are looking for a chilled build-up sim and might be a little off-putting. There are quite extensive options to adjust the difficulty level, but even set to extremely easy, combat still makes up a certain portion of the gameplay that can't be completely ignored.
Another very good idea is the manual crafting that Tiny can still do directly. Here you get little by little recipes to make certain resources and items directly in the robot's pocket, so to speak. The interesting here is that all Trep monsters drop special material after their death. These we can transform then into almost all materials, research of the appropriate recipe presupposed.
But let's get to the biggest sticking point I, unfortunately, see with Dream Engines. Currently, the game offers a reasonably comprehensive game generator. This allows you to set all sorts of parameters at the start of a playthrough as to how hard and complex you want the game to be.
Besides that, there are 2 starting races so far, though you have to unlock the second one before you can use it, and the requirements for it are pretty tough. So I have not been able to reach this point after almost 20 hours of play yet. They then offer different recipes and a few other stats, but besides that, the gameplay itself is unlikely to change very much.
There are also more races planned, but these would have to offer some really interesting features, their own visuals, and buildings to be able to really bring variety into the game. Just a few changed statistics are somehow too little for me as a distinguishing feature of the tribes.
That makes me wonder how high the permanent motivation will be to play the game again and again. And at a price of just under €30 or $35, this replay value should certainly be quite high. And there I see at least currently still quite a few problems, and you do not know if this will really improve in the course of the Early Access phase.
Dream Engines Screenshots InGame (Part II)
Click or tap on the image for a larger view.
In the enlarged view, you can scroll right and left on the edges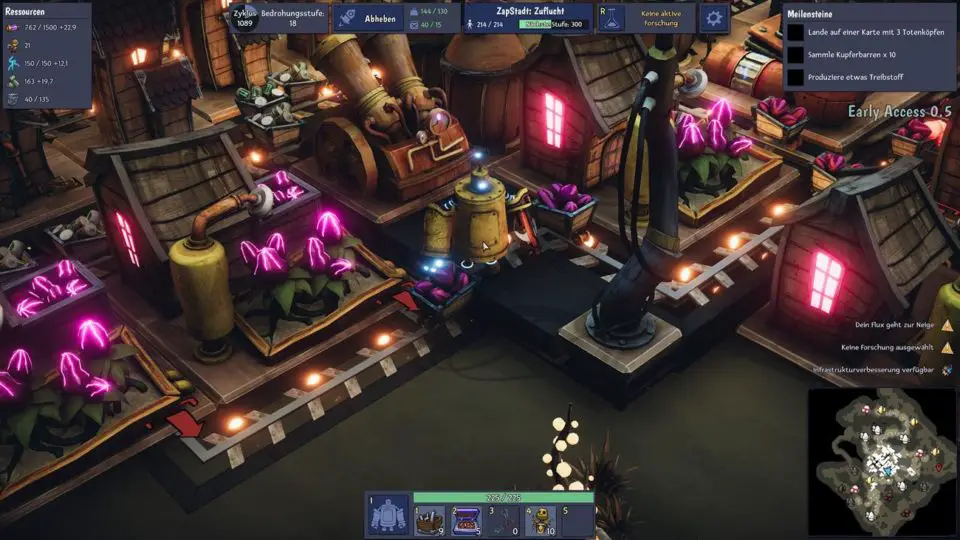 Dream Engines Nomad Cities Review – Rating
The game concept is really original and an interesting mix of different genres. Here, fans of tinkering and strategy will surely be offered 10 hours of challenge and fun, or if you are really enthusiastic about the concept much more. This is also highly dependent on how much one likes to play procedural maps over and over again.
However, the price of 30€ or $35 without a campaign is already quite hefty for an indie game. Especially since some features are still missing, minor bugs are still present and the graphics and the sound are not upper class.
Counting the gameplay and original ideas together, I would like to give Dream Engines an 83 % base rating, with prospects for more if more content follows. However, the high price for an indie game creates an imbalance that I factor in with a 7 % deduction. This brings me to a preliminary final score for the current Early Access version of 76 %.
With more content and perhaps cheaper price in sales, this score may improve in the future. I guess potential up to 85 % is definitely contained in the game if the developers of Suncrash diligently continue to work on Dream Engine.
---
Outro
Do you like this mix of build-up and real-time strategy? Or are gloomy graphics and the steep price nothing for you? Feel free to write me your opinion in the comments or in the community Discord.
More gaming news, game reviews, and guides can be found on the YouTube channel or at https://zapzockt.de – a thumbs up click on YouTube, subscribe and share with friends certainly can't hurt. And then I wish you a great day, ciao ciao, your Zap
Links and Sources
Buy Dream Engines at Epic Games
(Affiliate Link / Ad)
Dream Engines Website
Dream Engines Facebook Page
Entwickler Twitter
Dream Engines Discord Server
Entwickler Website