Real-time Strategy Meets 4X Simulation in the Sands of the Desert Planet Arrakis – The Dune Spice Wars Test
Dune: Spice Wars offers a completely new interpretation of the wars around the desert planet Dune. Here, the real-time strategy is mixed with 4X elements, so Age of Empires meets Civilization. Besides building and fighting, we take care of trade, diplomacy, politics, espionage, and sabotage and keep an eye on more than 10 different resources.
In the Dune Spice Wars review, I show PC gameplay of the new strategy game from Shiro Games (Evolands, Northgard, Wartales) on the desert planet. Dune: Spice Wars mixes strategy games with 4X world simulation and politics, trade, diplomacy, and war. The Early Access release date was 04/26/2022 for Steam.
---
This post is available here as text, but also as a YouTube Video (German Voice-Over, English Subtitles). So you can choose how you like to enjoy it most.
Dune Spice Wars Review Video
German Voice-Over, many subtitles
Dune Spice Wars Review – Test – Contents
Hi there, this is the Zap. In this Dune Spice Wars review, I'll give you an insight into the new real-time strategy game with 4X elements. So it's a mix of RTS à la Age of Empires and world politics like in Civilization.
You'll learn how it is played, what's in it, and there's a rating at the end. But most of all, I want to give you all the info so you can decide for yourself if the game might be fun for you.
Dune Spice Wars is developed by Shiro Games and co-published with Funcom. So far there are some successful games from this studio already with Evoland, Northgard, and Wartales. I received a free test key, my thanks for that. However, this should not affect my rating, as I always test all games with the thought in the back of my mind, how would I feel if I had paid full price.
---
Dune Spice Wars – Background – Frank Herbert's Dune
Dune is a special science fiction series based on the series of novels and books by the American writer Frank Herbert. It is about a spacefaring culture whose pilots make space travel extremely fast by using a rare substance called "Spice". The problem is that this substance is highly addictive, and it can only be obtained on one planet, the hostile desert planet Arrakis.
So the high council of the empire commissions three factions to conquer the planet and exploit its Spice deposits. Whoever harvests more spice shall receive all of Arrakis. The scarcity of water in the desert is already a challenge. But giant sandworms also live there, posing an enormous danger for traveling through the desert, as they can devour entire groups of vehicles at once. And besides that, the conquistadors later discover that there is also a race of natives called Fremen, who are connected to Spice and sandworms.
There have been several film adaptations of the story, including a 1984 version by David Lynch starring musician Sting in one of the leading roles. This film achieved cult status and ensured widespread distribution of almost everything related to Dune.
Meanwhile, the Dune series is being continued by Brian Herbert, the son of the original author. Further television and cinema adaptations followed in 2000 and very recently in 2021. All together, Frank and Brian Herbert now have published more than 20 books in the Dune universe.
From the stories of the books and especially around the first film, then also a total of five games were created so far. Four of them were real-time strategy titles, mostly in a similar style to Command and Conquer, Age of Empires, or the Warcraft series. These were Dune, Dune 2, Dune 2000, and Emperor: Battle for Dune. There was also an action-adventure game called Frank Herbert's Dune, but that was rather moderately well received.
---
Dune – Spice Wars – Early Access
The game was released on Steam on April the 26th, 2022 as an Early Access version. So the developers would like to continue working on the game for some time. They see the current version as unfinished and are collecting feedback from players so that they can continue to develop the state as well as the scope of the game according to the wishes of the players.
However, the present game is not really buggy, nor poorly playable. Dune Spice Wars runs stable and already offers a complete sandbox mode, which is also really challenging, and you can have a lot of fun already.
But, the balancing is still a bit on the heavier side so far. More on this in the later "State of the Game" section.
---
Game Type – Real-time Strategy with 4X Elements
In short, Dune Spice Wars is a real-time strategy, or RTS game, as in Command and Conquer, Age of Empires, or similar games, mixed with so-called 4X gameplay, comparable to Civilization, Humankind, or Crusader Kings, for example. An interactive world conquest board game, you could also say.
So we have to build an empire on a big map, trade with other peoples, do diplomacy, or fight. In the process, we try to expand our cities, keep resources in balance, and maintain the satisfaction of the inhabitants.
But the resource consumption, movements, and battles here run in real-time, not in the usual turn-based mode typical for 4X games. We can change the pace in three tiers and also pause, but in the pause almost all functions are disabled.
Because over time, through research, we get 20 different buildings to choose from. Only the first two building slots per settlement are free, every other one has to be unlocked first and that costs more resources with every building slot. And maintaining the buildings, as well as supplying all the units, gobbles up quite a bit of our resources.
In addition, our units always consume supplies when we want to send them across the desert. These supplies regenerate in their own land, but going out of it they are used up very soon and then our warriors die faster than we can say "sandstorm".
---
Gameplay – Tactics, Strategy, and Resource Management
So quite a bit of tactic is required here, otherwise you'll send your units to a pointless death more often than you're used to in other games. Not to mention the increasing danger of being eaten by the sandworm if you stomp around too much in the desert sand.
In total, we need to collect and skillfully use more than ten different goods and other resources to build troops and expand our land. We should avoid running out of the most important ones at all costs because then our cities will rebel, and our troops will die like a bunch of flies.
Oh yes, of course, it's all about the Spice before anything else. We don't need that just to make money from it. But we also need to deliver an ever-increasing amount of it to the Council every few time cycles, otherwise, we'll get hard constraints, which will then act like debuffs on the entire nation.
Overall, there is already an extensive feature set in Dune Spice Wars that will demand a lot from any strategy fan. But that's what we love when it comes to strategic simulation games, isn't it?
The four available factions so far offer varied special features. There is also an independent fifth native clan whose small settlements we can bring to our side with tributes, or if not, they launch attacks on us frequently.
Politics have a powerful influence on everything and there is espionage as well as sabotage that bring enormous effects. And because that's not enough, we have a research tree that offers a total of 36 improvements in four areas that we can unlock little by little and that also bring powerful effects.
---
Tech, Graphics, Sound, Engine, Translation
If I'm not completely incorrect, Shiro uses an in-house engine for Dune. However, this one works very reliably. During my testing time, the game did not crash once and even otherwise the actual number of bugs in the game is limited to rather subtle ones. Sometimes, in rare cases, a unit gets stuck on a rock or such things. But I didn't notice any really prominent bugs or gross blunders.
The game's graphics are okay, for a small studio and this genre, the visual quality is rather upper mid-range. When zoomed in completely, Dune actually creates some really nifty desert views on the screen. The feeling of the books and movies is at least sufficiently to well conveyed here. Sometimes you can almost feel the coarse sand, so to speak.
The 3D models and their variations are not impressive, but adequate. I would have liked a little more detail and variety here and there. But I think it will be easy for Shiro Games to step it up a notch over the course of Early Access here.
The soundscape is kept to a minimum. There are some combat samples and the typical confirmation voice-overs when sending units to another location. The sandstorm rumbles a bit and the sandworm growls as it devours our Spice harvester when we were once again too slow to haul it to safety via helicopter. There could be more ambiance here, with more sounds, but overall this area is quite well covered.
The music fits the theme, but as always, as a YouTuber, I'm forced to mute it quickly, so I can't say too much about it. The voice acting is only in English. But the on-screen texts are available in German and English, as well as French, Spanish, Polish, Portuguese, Russian, and also Chinese, and Italian.
---
Early Access – State of the Game
Since Dune Spice Wars is an Early Access title but sells for the full price of $29.99 or €, it's very important to look at what you get for your money now when Early Access starts. As previously stated, it is already running very stable and with mostly decent performance.
Dune Spice Wars is very comprehensive due to numerous features, resources, and all sorts of diplomatic niceties. There is a small text tutorial, but it skimps on details here. The complex mechanics sometimes put the gameplay between difficult and unfair.
Especially at the beginning, when you don't really understand all the possibilities you get with the different buildings, research, diplomacy, and trade, this can quickly lead to the end of a game. Also, the peculiarities of the four races are already quite special, in addition, there is a choice of two of four supporters with different abilities. All of this can be quite challenging or overwhelming at the beginning. But if you bite your way through here, Dune Spice Wars becomes more and more fun.
A campaign with individual maps, as one was accustomed to from the many predecessors, is also not there so far, only randomly generated maps without real options in the creation. And learning the game on these can be frustrating at times.
What there isn't really in the game so far as well, is a story or explanations of why the war is happening in the first place, or how the factions stand with and against each other. In the intro, each faction is introduced with one sentence, but that's rather meaningless. So if you don't know the books and/or the movies at all, Dune is probably pretty confusing to get into.
As a goal for further development, Shiro Games plans for nine to twelve months. A multiplayer mode, another faction to the so-far four in the game, and a story campaign should follow through this. If this then really happens, Spice Wars will surely take off.
---
Dune Spice Wars Screenshots – Ingame Pictures
Click or tap on the image for a larger view.
In the enlarged view, you can scroll right and left on the edges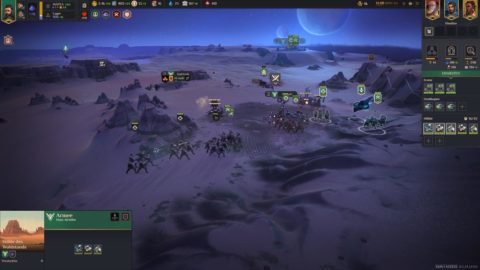 ---
Dune Spice Wars Test – Opinion and Conclusion
It was a rocky path through the desert before I finally found the oasis of fun in Spice Wars. But after about 10 hours of learning, I now feel really comfortable in the war over sand fields and Spice deposits.
Man, what did the AI opponents beat me up at the beginning. How I cursed until I understood what the supplies meant and why my units kept getting lost in the desert. How annoyed I got when the locals once again stole my settlements and I couldn't move troops there in time.
The first few hours of Dune Spice Wars were frustrating. The learning curve is very, very steep and if you're not quite ready to know the many mechanics, the game likes to give you whacks right and left at the same time on normal difficulty. But honestly, I had my fun even in the lost matches.
I didn't find the options screen in match creation until the fifth restart, so I went through a tough school at the beginning. But gradually the connections became clearer to me and I made fewer gross mistakes in planning my settlements and controlling my units.
After 8-9 hours of play and about as many restarts, I even managed to dominate a map on normal difficulty and win via diplomatic victory. Then Dune Spice Wars filled me with a pleasant feeling of "see, now I've proven to you that I won't let it get me down". And a long-lasting smile leaped to my face before I hit the restart button for the next game.
Dune Spice Wars is an enormously complex strategy game, where the real-time aspect means you have to keep track of a lot of things at once. We have to keep our entire desert empire in balance, supply the settlements and cities with enough materials, expand them and defend them.
And the diplomacy options, which are taken from the 4X genre and the intentionally limited building spaces per plot force you to constantly think about it. But once you get over this entry hurdle, a style of gameplay opens up that offers a lot of facets and details. And then Dune is waiting for us with interesting and exciting games even after several matches.
The sandbox mode has some setup choices, different AI difficulty levels, map sizes, victory conditions that can be turned on and off, etc. There is already a base level of replay value included here. But for the price of the game, this is still a bit too little for my liking.
At the moment there is unfortunately still no multiplayer and no campaign, I see this as a very big gap so far. But this should be filled over the coming months, according to Shiro Games planning. I really hope that these two things will be as detailed and extensive as the existing sandbox mode. If so, Spice Wars will become a real blast in the real-time strategy space that many other titles in the genre can take a cue from.
If Shiro Games integrates all the planned features, and if they work well, Dune Spice Wars will be a bargain for the current price. But until then, the price of $29.99 or € still scratches a little too much at the upper limit for the current scope for my feeling.
---
Dune Spice Wars Review – Rating
Dune Spice Wars provides an enormously extensive strategy buffet with ingredients from many different directions. It thus provides tremendously complex and exciting battles for the Spice. It cleverly mixes the best sides of RTS games and 4X strategy. It also gives the genuine Story and Dune feeling an appropriate presentation. For this, I would like to assign a baseline rating of 90%.
Unfortunately, for $29.99 or €, it currently only offers a sandbox mode at the Early Access launch. Multiplayer and campaign are planned, but will likely be a few months away. Until then, I'll deduct 6% again for this content gap.
This brings me to a final Early Access launch score of 84%. If Shiro Games can get an exciting campaign and a working multiplayer up and running in the next few months, I see potential here for a real strategy hit and a rating above the 90% mark.
---
Outro
Do you like sand between your teeth and protecting your units from water shortages? Or are complex strategy and giant worms not your cup of tea? Post your thoughts in the comments of the video or in the ZapZockt Community Discord.
More gaming news, game reviews, and guides can be found on the ZZ YouTube channel or always here at https://zapzockt.de – thumbs up click below the video, subscribing the ZZ YouTube Channel and sharing with friends certainly can't hurt. And then I wish you a great day, ciao ciao, your Zap
Links and Sources:
Buy Dune: Spice Wars cheaper at Gamesplanet
*(Ad / Affiliate Link – If you buy through this link we get a small commission from the vendor. Most of the time you as a buyer also get a discount on the purchase price)