With the new YouTube Channel Guidelines Feature, YouTube Channel Owners can now Control their Comments and Live Chats a Little Better
Right now, YouTube is rolling out a new feature that should soon be available on all YouTube channels. It's called Channel Guidelines, and it allows channel operators to define a set of house rules that will be displayed the first time a viewer wants to write something in the channel's live chat or comments. The person must then agree to these rules before they are allowed to write anything.
---
YouTube Channel Guidelines – Viewers will Know Better About What's Not Allowed
For viewers, this makes it more obvious what kind of comments and chat posts may not be wanted on that channel. And so they might refrain from certain types of posts right away and take the opportunity to avoid going into the undesirable areas of chat and comment posts in the first place.
Probably some users will not comply even after that. But then at least they know why their comments will be removed before they post them. And for some jokers, agitators, or writers of other disrespectful comments, such prior notice may be the chance to switch on their brains before posting.
How to Enable, Use and Set the New YouTube Channel Guidelines on Your Channel?
The new function can be found in the dashboard of the channel on the left side under Settings. Then, in the Details window that appears, go to Community and then to the Channel Guidelines tab.
And there the whole thing looks like below in the backend of the YouTube channel. Here is an example from my channel ZapZockt: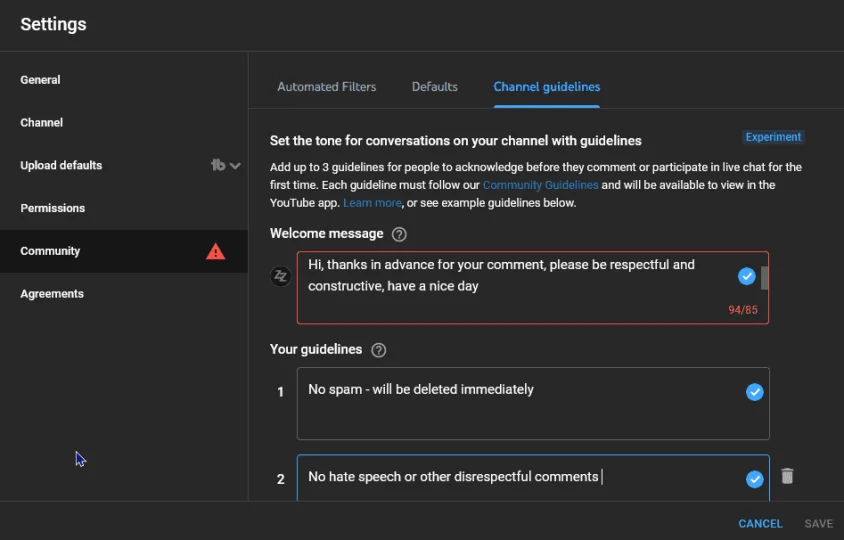 As you can see well in the example, the lengths of the possible texts are very limited. So you can't define any lengthy sets of rules here, but really only very short, concise sentences. And the number of guidelines is limited to up to three for the time being.
Exact Information on How to Use the New Channel Guidelines as a YouTube Channel Owner
Short quote of the dialog box label:
Set the tone for conversations on your channel with guidelines

Add up to 3 guidelines for people to acknowledge before they comment or participate in live chat for the first time. Each guideline must follow our Community Guidelines and will be available to view in the YouTube app. Learn more, or see example guidelines below.

Dialog YouTube Channel Guidelines in Dashboard
The question marks on the dialog boxes provide more information on how to use these channel guidelines:

First-time viewers might not be familiar with your channel when they comment or participate in live chat. Your welcome message should set expectations for your community and encourage people to follow your guidelines.

Channel Guidelines Infobox Welcome Message
Also, here is another quote, the infobox on the actual rules (appears on mouseover of the question mark at the input window):

Your guidelines can help prevent unwanted conflict between people on your channel. Include details that you and others in your community can refer back to when encouraging respectful conversation.

Infobox on the Channel Guidelines Dialog
Only time will tell whether it is effective
What do you think about this? Do you think that people who want to post insults, rants, spam, or other textual garbage in live chat or in the comments will be stopped from writing such by these channel guidelines and the display of the rules? Or do these people not care anyway, and will post their garbage regardless? Feel free to write me your opinion in the ZapZockt Community Discord.
---
Reading – recommendations:
A lot of detailed game news and information about games and gaming can always be found here at ZapZockt.de – As a Steam user, you can also follow the ZapZockt Steam curator to always be informed about my reviews directly on the platform.
There are also many game reviews that might interest you, and if you don't want to miss anything, subscribe to the newsletter. As a Google News reader you can also go there and read the latest articles.
Shopping – Tip:
Ad / Affiliate Link
Games can often be bought cheaper. Legal, reliable, and safe is the way to do it at my partner site Gamesplanet. This game, all DLCs, many more tactics, strategy, and many more titles are available there and almost always much cheaper than at Steam, Uplay, Epic, or other shops.
For every purchase, via this link, I receive a small commission. So you get games cheaper and at the same time support my work, my thanks in advance for that.