The build-up strategy game World Turtles gets a publisher contract and shifts the release to 2023
In the strategy game World Turtles, the dwellers called Meeps live on the back of a turtle flying through space. Sounds like Discworld, it's also meant as an homage to Terry Pratchet's fantasy world, but it's not an official product of the franchise.
And this turtle is now in danger of starving, so the Meeps decide to join forces with other tribes to produce large quantities of food and hurl it into the mouth of their "planet" with a catapult. That's why we build large settlements and hoard plenty of food for the feeding campaign. So much for the backstory of World Turtles.
---
World Turtles gets new publisher deal with Freedom Games
Actually, the Early Access release date for World Turtles was already set for August 2022. After 2 1/2 years of work on the game, the solo developer from South Africa, the brain behind World Turtles, had to go into release, presumably for financial reasons. The game already seems halfway playable, but unfortunately it was not yet really well-rounded and captivating during a brief testing by me.
Therefore, I see the following also as good news. This release was canceled at short notice. The question came up, what maybe happened behind the scenes. Now the developer announced, that World Turtles is now under contract with the publisher Freedom Games and further development time would be financed by this.
The new World Turtles release date has been set around mid 2023
In an article on the game's Steam page, Gideon, the head of Re:Cog, the small IndieGameDev team behind World Turtles, wrote that the publisher will not only fund him additional time in which the game can be improved, but will also help with marketing on Steam or at trade shows and generally help the game reach its full potential.
What I know about World Turtles so far:
Town Builder Strategy – Gameplay – Features – New Release Date
We control a small tribe of Meeps that competes with other tribes for the limited acreage on the back of our turtled homeland. This happens amicably at first, but probably doesn't have to stay that way forever. We are building loggers, stone knockers, farms, and gradually reaching a settlement that can eventually produce the food supplies necessary to "bombard" our tortoise with food.
There are numerous buildings available, but we have to unlock them little by little in the tutorial. We can set work areas, assign people, the buildings get experience and can advance in levels. As the turtle flies through outer space, it passes by different types of space, and this has an effect on our settlers. So, here we always have to adapt because there are certain dangers and also special resources to consider due to the trajectory of the world turtle. So far that's quite okay.
The world is organized into hex–squares, our buildings usually need several of them, so we can't just build anywhere. This is because the ground is often bumpy, and as a result, buildings currently only fit in a few specific places. The tutorial that is playable so far is, I'll put it as kindly as possible, "very, very leisurely" in terms of game speed. You can regulate the speed in 6 levels, but even the highest level provides, in the introduction made so far, that you make maybe 5-6 meaningful clicks in the first 10 minutes and otherwise mainly watch.
The Game Features of World Turtle
Lead a small tribe of Meeps and evolve them into a thriving self-sufficient and efficient community.
Set on, and actually involving, a huge turtle floating through space.
The Turtle's position in space impacts life on the Turtle, including climate and water levels.
Prioritize separate technology trees per building type, coupled with an overall technology tree.
Explore the far reaches of your turtle to find new lands and cooperate with other bands of Meeps.
Balance Meeps experience to progress and improve efficiency.
Conquer land, water, air and space… together… for good.
If you're interested in the gameplay known from the game so far, maybe give World Turtle a spot on your Steam Wishlist. That's always very helpful for small developers to get visibility for their project. Just go to the Steam page and click on "+wishlist".
World Turtles Trailer
World Turtles Screenshots – Ingame Gameplay Pictures
Click or tap into the image for a larger view.
In the enlarged view, you can scroll right and left on the edges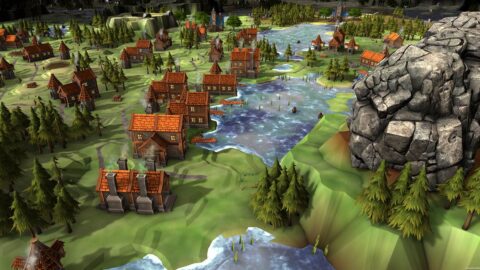 Links and Sources
---
Reading – recommendations:
A lot of detailed game news and information about games and gaming can always be found here at ZapZockt.de – As a Steam user, you can also follow the ZapZockt Steam curator to always be informed about my reviews directly on the platform.
There are also many game reviews that might interest you, and if you don't want to miss anything, subscribe to the newsletter. As a Google News reader you can also go there and read the latest articles.
Shopping – Tip:
Ad / Affiliate Link
Games can often be bought cheaper. Legal, reliable, and safe is the way to do it at my partner site Gamesplanet. This game, all DLCs, many more tactics, strategy, and many more titles are available there and almost always much cheaper than at Steam, Uplay, Epic, or other shops.
For every purchase, via this link, I receive a small commission. So you get games cheaper and at the same time support my work, my thanks in advance for that.