Tropico 6 Tips and Tricks for Beginners and Advanced – A complete Tropico 6 Guide
More than 13 Tropico 6 tips and tricks for beginners and possibly also for advanced users can be found in this article. Information on how to make a stable start, hints about diplomacy, politics, and trade with the superpowers, bus traffic, trade routes, and many important details & features are explained in this guide/tutorial. Tips for Tropico 6 for beginners and advanced.
---
Looking for more Tropico 6 Tips for beginners? – Reading Recommendation:
Meanwhile, there are more parts of this series to Tropico 6 tips and tricks, guides, and help. In episode 2, for example, I'll give you tips on multicultural plantations, how to easily repair road links, how to finish the spy task, a mini tunnel guide, how to control the export of your goods, how the broker works, and how to do it, how he can help you a lot and small building management aids. A collection of Tropico 6 starting tips and Tropico 6 advanced Tips
Overview: All Tropico 6 tips and tricks, guides, and help
As always, this post is available as text or YouTube video, so you can choose how you want to consume it.
Tropico 6 Tips and Tricks Video:
(German voice-over, with many subtitles)
Intro
Hi there, this is the Zap. In this post, you will get Tropico 6 tips and tricks in German that will make your entry into your career as El Presidente easier. Tropico 6 is a complex game and in addition to the 150 or so building types, there are a huge number of features, some of which hide in numerous submenus.
I would like to make your entry a little easier and give you some important things along the way. In order for your Tropico to grow and above all to shed plenty of money that you can then hoard on your account in Switzerland.
---
And then it starts directly with Tip 1, which includes many smaller tips: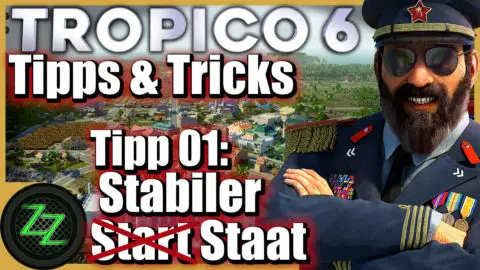 Tip 1: A stable state / start – The Tropico 6 Beginners Guide
First and foremost, you should always build one or two additional construction offices, preferably with a high priority, which will make all future construction plans much faster. This will make the whole game run smoother at the beginning. Because hardly anything is more annoying than having paid for many construction sites, but they just can not be done because there are not enough construction workers.
After that, I recommend you plan one or two ore mines and also one or two plantations. This is already a basic supply of goods laid, which will provide an income. Because most of the money is spent quickly at the beginning, and we want to make new again. It is best to start plantations with food first, e.g. corn, bananas, or pineapples, so that in addition to goods for sale, the population will definitely not be hungry.
More things urgently needed are a small shop, a tavern, and an additional transport office. Since most of the workers are missing at the beginning, I raise the wages for construction workers and haulers one step higher so that these important jobs are always filled first. With this basic structure, everything should get going first. Incidentally, you can make the option or the expansion for all houses of the same kind in most settings by Ctrl + mouse click, which saves a lot of time.
---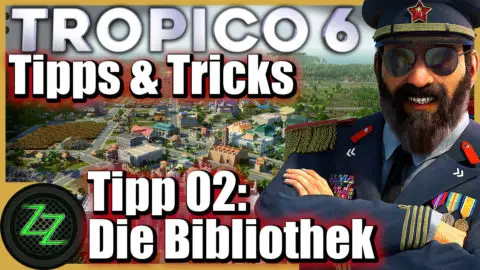 Tip 2: The Library and Research
Something I've done wrong at least a couple of times, which can hurt a lot in long-term missions, is that you easily forget to build a library very early. Libraries generate research points, without which the whole game feature research will lie fallow.
And in the end, otherwise, the very powerful regulations will not come into their own, because they all first have to be researched. Of course, you have to think about starting a research project.
Recommendation:
Watch Beta Gameplay Videos (German)
---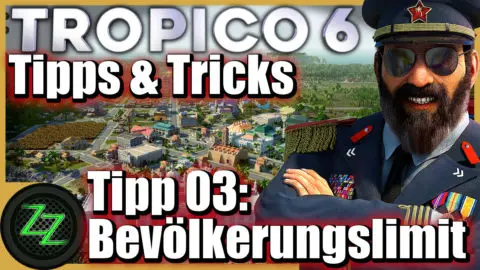 Tip 3: Increase the population limit in the options (PC only?)
One game option that can easily be overlooked is the ability to adjust the population limit. In the menu go to Options and then Gameplay and there is the slider for the population limit. If you have a middle-class PC or something better, you can actually pull this controller upwards without hesitation.
For longer games, it will often happen that you will have more than the standard preset 2,000 inhabitants. However, if you do not manually change this option, the game will not allow it.
---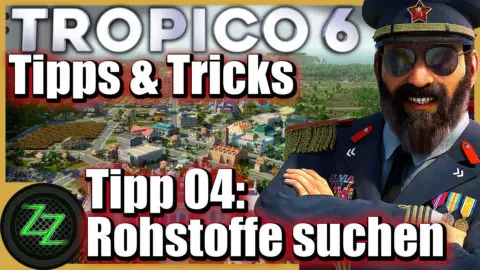 Tip 4: Find resources
There are resources such as ores or oil that can only be mined on certain parts of the island. To recognize these places early, you should first take a mine and, if already available, an oil well before constructing a block of flats or a plantation corner. And then you should see, if the new corn farm will not bury the gold deposit, that could eventually get the much-needed foreign currency into the country.
Nothing is more annoying than when you later have to tear down expensive buildings and rebuild them somewhere else in order to access the valuable resources
---
Tip 5: several ports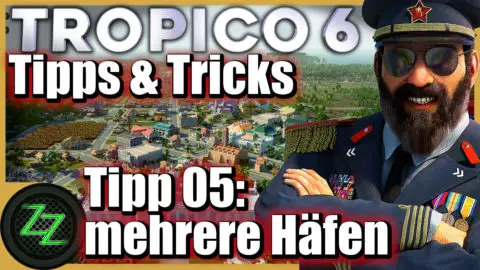 Exports are the source of our main revenue. This happens through the harbor facility. At every game start, we already have one of them. In the course of the game, it may be very useful to build more port facilities.
This has several advantages. On the one hand avoids so later traffic jams around the harbor, while several roads to the port are also helpful. But more importantly, it will create more ships on the island, reducing the gaps between pickups and the arrival of new citizens.
Often, waiting times are reduced by waiting for new money. Small bonus tip at this point: build a customs office quite early, so that the prices for exports are improved.
---
Tip 6: First Age: Mandate Time – Tropico 6 Tutorial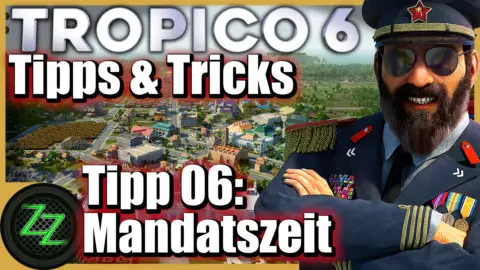 A typical beginner's mistake is to lose sight of the mandate period in the first age. This is displayed at the bottom left of the date.
If the mandate expires, the game is lost. Therefore, always pay attention to the orders of the Crown to extend the remaining term of office. At least until you are ready to proclaim the revolution and independence.
---
Tip 7: Residential houses – Tropico 6 Guide
The inhabitants of Tropico are very busy and frugal. But if they do not get a good apartment and not enough of it, they can quickly become dissatisfied. Especially at the beginning, you need a lot of barracks because the people do not earn so much, and thus in the upscale homes, the rents can not be afforded.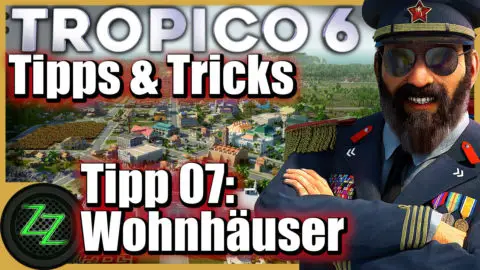 There are 2 approaches for residential buildings. The first variant is to build houses directly at work. The Tropicans also like to build their slum huts directly at the workplace if there is not enough suitable housing available. Here the distances to work are very short, but on the one hand, the people live right next to the factory, which may cause a lot of pollution and on the other hand, they have to drive far to the doctor or church. So in most cases, this is not the best solution.
The other variant includes city centers, where all important buildings are also included, such as hospitals, taverns, police, etc… There you build houses with or around them. This leads to short ways to the services, but mostly to longer ways to work.
I usually use the second method, with larger islands I try to place several town centers in the course of time in such a way that the distances do not become too long. With bus lines, one can then connect the town centers with each other and if the money allows it, I also build bus lines to the individual places of work. More about local transport in the next tip.
---
Tip 8: Local transport – Help against the Tropico 6 Traffic Jam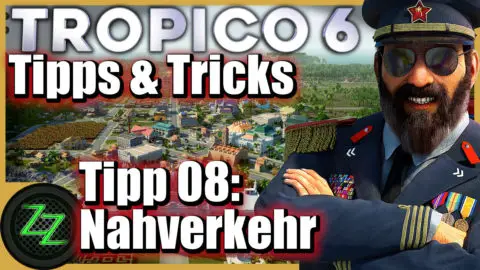 In Tropico 6, cars are only available as company cars or for rich citizens, unless one enacts the very expensive decree "Cars for all". Most of the inhabitants will walk to work or go shopping.
In the case of companies that are far away, however, a large part of their time can be wasted commuting between the workplace, the place of residence, and the buildings of their needs. In the first age, there are no solutions, but if you go back to the time of world wars, there is public transport, in the form of a bus station.
Tropico 6 Bus Guide
Public transport is available more quickly, cheaper and better against traffic jams in the long term. In the 2nd age, you should plan for a sufficient number of bus garages very early on and after their completion thinks about setting up a bus line for them, otherwise the building is useless.
I always try to set up many bus routes and let them go star-shaped from central places to the neighboring companies and settlements. For long distances, it is better to plan a stopover and use 2 routes, because otherwise, people have to wait for ages at the bus stops. It will take some time before the inhabitants plan the bus routes into their daily routine, but over time they will use the buses a lot, and if they are well planned they will save some time which they can then use to work or become happier. And lucky Tropicans are more likely to elect El Presidente, and that's what we really want.
---
Tip 9: Happy inhabitants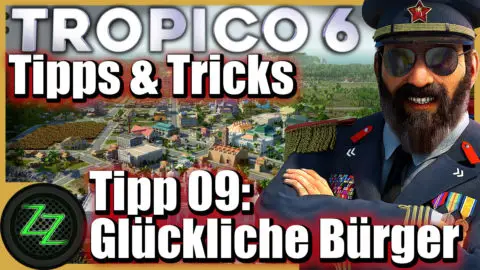 Speaking of happy inhabitants, this is a very important issue. You can build buildings by feeling, you can always follow a plan, or you can just look at what needs are least met. You can do this by looking in the almanac at the bottom of the bar, and there you will see the need that is currently the least being met. And if you hold the mouse over it or click on it, you will also get a list of all needs, and how much they are fulfilled or not.
You should check this info very often and always try to improve the worst-rated one. If people are dissatisfied with the quality of housing, check if you can't build more houses, or if the existing houses fit the population at all.
Too many country houses and apartment blocks do not help if the population is too poor to afford the rent. If people complain about religious satisfaction, the next step is to build more churches. The principle should be clear.
By always making the most unfortunate people in Tropico a little happier, the overall satisfaction will quickly increase and the approval of the factions will often be much easier to balance. This is particularly important from the second age onwards when elections are about to take place. And of course, you want to be re-elected.
---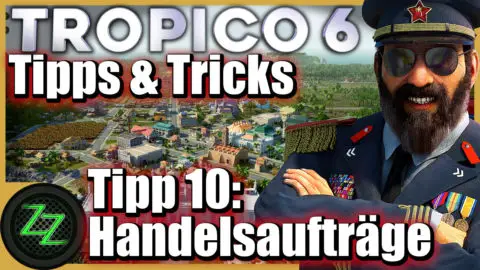 Tip 10: Quests with trading routes
The game often gives you quests where you have to complete a trade route. Be sure to pay attention to the fact that it is very often about import trade routes, which are only mentioned in the detailed text.
It wouldn't help if you were to take so many export routes. So be sure to pay attention to the type of trade route. Sometimes there are also export orders, but most require import trade routes, at least in the first missions. The red arrow upon the route stands for Export, and the green arrow down stands for import.
---
Tip 11: Diplomacy and trade with superpowers
In the first age, diplomacy actually consists almost entirely of not letting the term of office expire, while at the same time trying to establish the conditions for independence.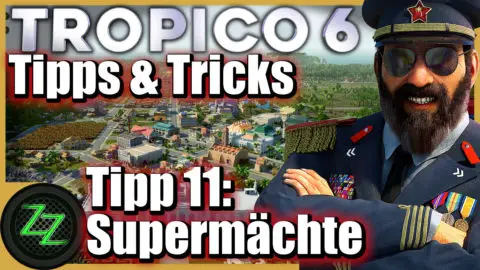 When you have renounced the kingdom as a colony, you get to feel independence at the same time. Now, the superpowers come on the scene, and instead of one king you now serve several kings, so to speak. If a superpower becomes very dissatisfied, then threats are invasion troops.
Superpowers absolutely do not like it when the other side is preferred. So you should try to balance them with the other superpowers, and not focus too much on one. On the one hand, it can happen, as I said, when the superpower gets too bad, that it attacks. Secondly, two mediocre contented superpowers give more development aid than when one is angry and the other loves you. And in the ideal case, you can even manage that all superpowers like your island equally.
Tropico 6 Advanced Tips
Of course, it helps to build your own embassy for every superpower. But you should also try to get little balanced trading contracts and, above all, complete them. If you sell goods alternately here, you can not only earn more money but also get each time point of friendship with the respective confederation.
And since you always get more pluses than minus points, you rise slowly with alternating trade in both. It's also worth buying more trading slots, but that's not a bad idea in general. Because if the superpowers like your island paradise, then you also get better prices and thus pay the trade contracts even more.
---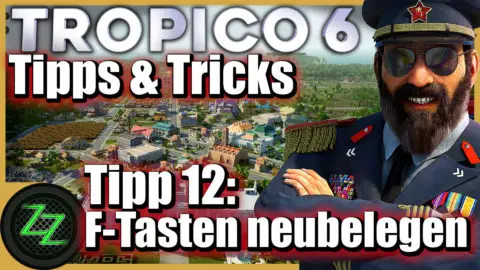 Tip 12: Reschedule the F-keys (PC Only)
In the beta the keys F1 and F2 were used with feedback functions, so the developers didn't use them in the finished version. The speed functions, however, are on the rather unfavorable and out-of-reach Numpad keys.
For normal WASD players, this is quite far away. I recommend putting the 4 Tempo functions on the keys F1 to F4 because they are all 4 unused at the beginning. I have the pause on F4 and the three tempo settings on F1 for single to F3 for quadruple. That's much easier to reach, I think.
---
Tip 13: 2nd Mission Speakeasy – How to find and arrest the Mafia boss in Mission 2
In the second mission, you have to find a mafia boss at the end. For this, you have to conclude a double deal with a crime boss. Here, at least for a while, I pondered how to do this. But if you have the know-how, it's easy. First, go to the third tab of the Almanac population, and there you will find the category Special Citizens at the bottom.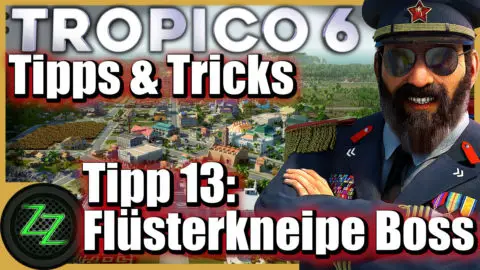 If you select these, there is another subcategory named Criminal Boss on the right. There you can then click on one of the heads and look at one of these crime bosses in detail. In the detail view, there is then the option Shady Deal. Click and this first quest step is done.
Then you should find and arrest the Enchilada boss. Also, this one finds in the category of special citizens in the almanac among the population. He is not listed on crime bosses but has a very special category at the bottom, which is just called boss. Then click this one there and click on capture.
The character is then marked in the game with a handcuff over his head. And she will then go straight to jail without having to go. He does, however, on foot, and depending on how far away the prison is, this can take quite a while, but you can watch him as a function to follow.
Outro
Do you have any great tips for life on the island? How do you bring Penultimo really up to speed and the inhabitants to sweat? Write to me about them and your opinion about the game in the comments of the video. I'm looking forward to discussing it with you. Alternatively, we can also write in the Community Discord about it, there I'll also like to answer questions about the game.
Then I wish you a great day, let it be well with you, ciao ciao, your Zap
Do you want more Tropico Tips? Improve your Tropico 6 Strategy with the following links.
Overview: All Tropico 6 tips and tricks, guides, and help
And if you would like to see Tropico 6 Let's Play gameplay (German) from me, just go this way
Reading – recommendations:
A lot of detailed games news and information about games and gaming can always be found here at ZapZockt.de
There are also many game reviews that might interest you, and if you don't want to miss anything, subscribe to the newsletter. As a Google News reader, you can also go there and read the latest articles.
Shopping – Tip:
Advertising / Affiliate Link
Games can often be bought cheaper. You can do this legally, reliably, and safely at my partner site Gamesplanet. This game, all DLCs, many more RPG, tactic, and strategy games, or a lot of titles from other genres are available there and almost always much cheaper than at Steam, Uplay, Epic, or other shops.
For every purchase, via this link, I receive a small commission. So you get games cheaper and at the same time support my work, my thanks in advance for that.
Follow ZapZockt on Social Media:
ZapZockt Socials + Links:
---