Tropico 6 Tips and Tricks Episode 2 – Brokers, Tourism, Multiculture, Tunnels and much more
More than 9 Tropico 6 tips and tricks (English) for beginners and advanced. This Tropico 6 Tips and Tricks Episode 2 is all about multi-plantation, tunneling, ending espionage, road links, control over the export of goods, the broker, the building lists, and the tourism rating., Many important details & features are explained in this guide / Tutorial. Tropico 6 tips and tricks for beginners and advanced.
---
This article exists as text and as a video, so you can choose the right variant for you.
Tropico 6 Tips and Tricks EP2 Video:
(German, with many subtitles)
---
Tropico 6 Tips and Tricks EP2 – Intro
Hi there, this is the Zap. In this episode, I'll show you 9 or even more Tropico 6 tips and tricks for beginners and advanced. This time it's all about multi-plantation and tunneling, how to accomplish the task of "ending espionage", how to easily repair road links, precise control over the export of goods and lots of details about the broker, the practical building lists and how to make the tourism rating easy can improve.
This is the second episode of the Tropico 6 Tips and Tricks series, so far there are three episodes. If you do not know the other parts, I recommend them to you as well:
Overview: All Tropico 6 tips and tricks, guides, reviews and help
If you are new here, I have tips and tricks, reviews, guides, and gameplay about online games and business sims, strategy, and role-playing games, if you like that, it might be interesting to stop by or visit my YouTube Channel and consider subscribing to the channel.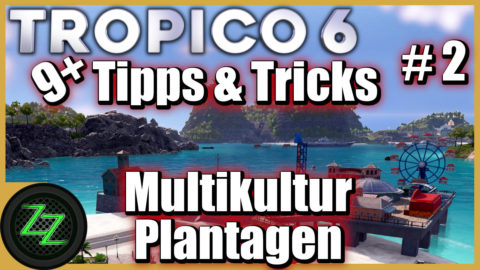 Multiculture Plantations & Cattle Fertilization
Let's start with a Tropico 6 basic tip, but it's very powerful.
Planting plantations can sometimes be tricky. But most of all, it's not so good just to put them down and then let them go, because the standard-setting monoculture means that the efficiency of plantations is steadily decreasing over the years. This is absolutely not recommended.
It is better to use multi-culture and all 9 different plant varieties in combination. Let me show you some examples of how this might look like. You should also make sure that the efficiency of the planting is between 70 and 100%. The better you do this here, the better they will run later.
Once all 9 plant varieties have been arranged as close as possible to each other with the appropriate efficiency, all plantations can be switched to multi-culture. By pressing the control key and clicking on the option with only one plantation, you can immediately activate this for all plantations.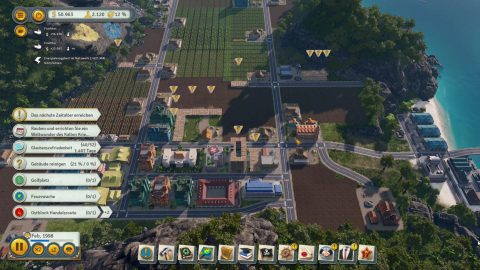 Of course, once you have created these 9 start fields, there is no reason why you shouldn't build more plantations next to them later. Once you have made sure that 9 different multicultural plantations are available, you can then add any number of additional plantations.
For further improvement, one should also put at least one cattle farm in between and activate the extension "animal fertilizer" there. This increases the efficiency of plantations and hydroponics by another 10%. To be on the safe side, also set the farm to the "willow prohibition" working mode, otherwise, it could also cause negative effects on fertility the other way round.
In most cases, efficiency values of more than 100% can be achieved on all plantations, sometimes even more than 150%. And above all, these values will no longer decrease, since multi-culture prevents a reduction in the fertility of the environment.
In any case, there is always something on offer from all plants and the more varied the production is, the better you can react to special offers from the trade.
And the whole thing also works over longer ranges, so don't let the text description influence "nearby" too much, as you can see here, this plantation is very far away from the others and still enjoys the full bonus of multi-culture and also from the cattle farm, which is very far away. This bug was fixed meanwhile.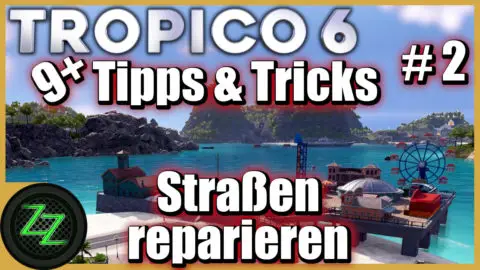 Repair road connection
Let's continue with the next little trick. Due to bus stops and other modifications to the road, like checkpoints or similar, it often happens that you build a house with a road connection, but then it indicates that it still has no access to the road. This is sometimes not directly noticeable, so be sure to look around with the street tool activated from time to time, because only then these missing connections are shown with red arrows.
If you have found such red arrows, you should react so that the business does not go idle. If, for example, you have blocked access to a house by a bus stop, you can simply move to the bus stop. But this does not directly repair the road connection. Now, one possibility would be to tear away the whole street and build a new one. You could also tear down the house and build a new one.
However, a much more effective, time-saving, and cheaper method is to simply click on the road with the road construction tool and pretend to build a new road there. You can stop this process immediately. But this apparently activates a recalculation of the connections of the companies in the area and the company suddenly has access, completely without having to level and rebuild everything.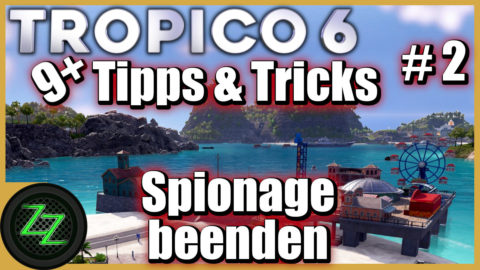 Tropico 6 Tips and Tricks – Stop Espionage
One question that I have already read several times concerns the task "End espionage" that appears in one of the first missions. How do you do this?
Since the task doesn't give a direct guide, you might be a bit confused at first. But the solution is not too complicated and requires an espionage academy, which can be found in military and robberies. Once you have built this building, you will find the possibility to start different espionage attacks in the tab of the espionage academy. These are called "Espionage: Blueprint", "Espionage: Regime Tools" or "Espionage: Knowledge". Each time such a robbery order is completed, the counter of the task should progress. And with that, you will have completed the whole job quite quickly.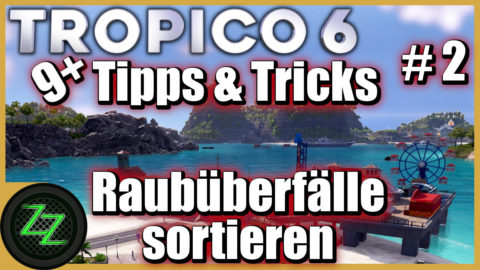 Swap places for robberies
Speaking of the robberies. Sometimes you click on some jobs in the robbery list. If you then suddenly get an order to do something else quickly, it's very handy that these lists offer a sort function. So you can simply click the new target at the back and then bring it forward with the swap function. So you don't have to delete everything from the list first and click in again later.
It is a pity that this does not also work on the list of research tasks. That would be a nice extension.
Tropico 6 Tips for tunneling
Another very basic tip, which has a lot of influence to build a well-functioning island, is tunnel construction. The islands of Tropico 6 are partly very rugged. And sometimes valleys are completely cut off or can only be reached over longer distances. Tunnels can effectively save time and make these remote valleys available.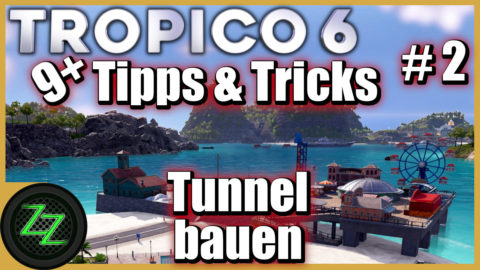 If in front of and behind a mountain the levels are relatively at the same height, one can simply tunnel under this mountain. Select the tunneling tool in the first tab of the construction menu and rotate the component so that the opening is visible from the mountain. Then place it on the first side of the mountain in a suitable position. Now rotate the preview part so that it also points to the other side with the opening away from the mountain and place the second half there.
The tunnel openings do not have to be in a line, the connection in the mountain is calculated automatically by the game, or is not simulated exactly. As long as the two halves do not differ too much in height, they should be quite easy to place. Tunnels work for vehicles as well as for pedestrians, and instead of transporting everything around the mountain or leaving the valley completely fallow, everything is now done comfortably through the tunnel.
Tropico 6 Prohibit export – Control export of goods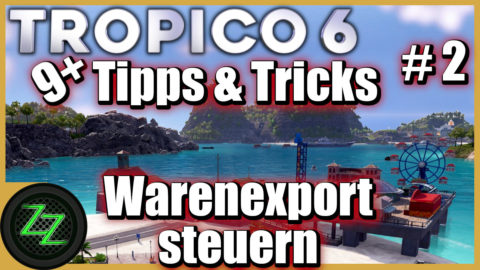 One option that is very well hidden is the possibility to control which goods are automatically exported and which are kept on the island, either because you want to use them for your own needs, only want to sell them in processed form, or only want to sell them at increased prices by trade contract.
That this possibility even exists, has escaped me for a long time. The game doesn't point directly to it anywhere, and it's also hidden in a menu where probably most people don't look too often.
To find these settings, go to the trading options where the trading routes are located. There you will find the third tab called "Goods and Prices". There you can see the current trade prices for all goods. What is not immediately obvious, however, is that you can then also specifically remove individual goods from the automatic export.
So if you no longer want to export tobacco because you want to make sure that all your tobacco is processed into cigars, just remove the hook from tobacco. And if you don't want your scarce coal stock and lean oil production to be sold abroad, and your power plants might be left without supplies at some point, you can make sure that these important resources stay in the country. Surely there are many other uses for this pretty well-hidden setting.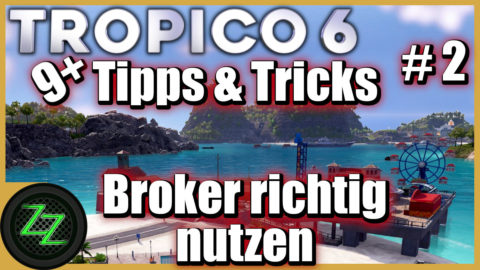 Tropico 6 Broker Guide – Proper Broker usage
A new feature in Tropico 6 is the broker. This is a very powerful expansion of the game, which did not exist in the predecessors yet. I recommend using the Broker very intensively because you can not only get some things cheaper with it, but you can achieve a lot of things, which otherwise would not be possible.
The broker gives you additional tasks that earn you money for your Swiss bank account. With this extra currency, represented by the double dollar signs, you can then activate blueprints, buy a reputation, or other practical advantages. Many of the broker tasks consist of trade requirements, such as meeting certain trade routes or exporting a lot of X from a commodity. But there are also more complex tasks, such as making certain changes to the constitution, diplomatic actions against certain major powers, or even more complex ones.
Sometimes the broker may also demand more unpleasant things for the current situation, but that's not bad at all, because you can discard your orders at any time without resenting them. So if he demands that you throw your favorite great power out of the embassy or other things that you don't want to fulfill or just can't fulfill, then just go to "Discard" this order, after a short time the broker will come back with another task, and it is absolutely not harmful. I recommend you to unlock all Quest Slots from the broker as fast as possible, so you always have several orders to choose from, and can earn currency for the Swiss bank account faster.
One of the most practical things that the broker offers in my eyes is the "convincing conversation", which in the case of receivables missions adds a unique option that you do not have to fulfill the task, but the task is considered completed just by this conversation. With this, you can save a lot of time, money, and effort with some claims. But also the "distraction stage" option and the "image campaign" are enormously helpful.
Besides the direct rewards you can buy for money on your Swiss bank account, there is also the possibility to exchange it for normal currency, for knowledge points, for raid points, and for new residents with university degrees.
There are many useful uses, for example, if you are sufficiently busy beforehand to get money into your Swiss account. Further possibilities for more money in Switzerland are e.g. the building permit ordinance from the World War era. And then there is the possibility in the ministry to use a broker candidate at some ministries, who then transfers every month a fixed sum to the secret account.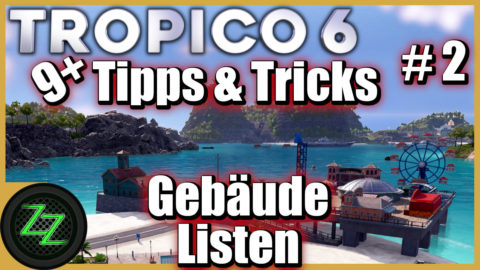 Building Lists – Manage Buildings
Looking for a particular house? Does a mission require you to do something with a specific building, but you can't find it? Do you have to bring a certain satisfaction to a better value and don't know exactly why it just doesn't rise? The building lists may help you here.
Many of the "Where's Building X again?" Problems can easily be solved. In the Almanac there is a building list, where all houses are sorted by categories. And by clicking on the entry the information window of the building can be opened to change everything, to tear it down, or to find the house with the "Focus on building" function. So if you're urgently looking for the steel mill to change settings there, you can do so very quickly via the building list. And even if you're not sure if you own a certain building, and if so, how many of them, this list does it especially well.
The whole thing is also with satisfaction, for example, if you would like to increase freedom, but just can not spend money on new radio stations. In this case, one could be shown which buildings all influence freedom. This was very useful for me, for example, in the example of Mission 3 called Dear red as dead, where one should achieve a freedom satisfaction of 80 at one point. To accomplish this goal, it helped me a lot to find and tear down all the buildings that had a negative impact on freedom. That has already brought some progress for completion.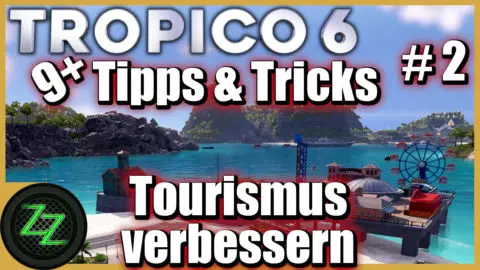 Tropico 6 Improve Tourism Index (TAO Index)
Tourism is sometimes a bit difficult to get right, especially when the pollution and tourism rating is not so optimal due to the abundance of farms and industry. So what to do? With parks and viewpoints, you can achieve a little improvement.
But one of the best ways to make tourists happier is the golf course, which can be found in the construction menu under luxury entertainment. If you build a golf course, the tourism value increases enormously, you can also build beach villas in the immediate vicinity of factories and garbage dumps, and the tourists still find this great.
Outro
Do you know more Tropico 6 tips and tricks? Do you have feedback, questions, wishes, or suggestions for the channel or blog page? Just write to me in the comments or in the community discord server; I'm looking forward to your contributions. And then I wish you a great day, have a good time, ciao ciao, your Zap.
You can read more episodes here:
Overview: All Tropico 6 tips and tricks, guides, reviews and help
Reading – recommendations:
A lot of detailed games news and information about games and gaming can always be found here at ZapZockt.de
There are also many game reviews that might interest you, and if you don't want to miss anything, subscribe to the newsletter. As a Google News reader, you can also go there and read the latest articles.
Shopping – Tip:
Advertising / Affiliate Link
Games can often be bought cheaper. You can do this legally, reliably, and safely at my partner site Gamesplanet. This game, all DLCs, many more RPG, tactic, and strategy games, or a lot of titles from other genres are available there and almost always much cheaper than at Steam, Uplay, Epic, or other shops.
For every purchase, via this link, I receive a small commission. So you get games cheaper and at the same time support my work, my thanks in advance for that.
Follow ZapZockt on Social Media:
ZapZockt Socials + Links:
---