More than 9 Two Point Hospital Tips and Tricks that should guide you to become a real hospital tycoon
Zap is playing Two Point Hospital. I show Two Point Hospital Tips and Tricks (German / English) and among other things about the following topics: international voice output, catching mono beasts, optimizing queues, catching ghosts by hand, further education needed messages, multiple staff rooms, path optimization for patients and all kinds of tips for interior design.
Switch Dark / Light Mode:
---
This post was created from a script to one of my YouTube videos, so you can choose if you like to read it, watch the video or both.
Two Point Hospital Tips and Tricks Video
(German, with many subtitles)
Two Point Hospital Tips and Tricks – Intro
Hi, this is Zap. Welcome, in this Two Point Hospital guide I show you TPH tips and tricks that will help you, to get a better Hospital Manager and to master the Tasks in your daily Hospital Life a bit easier. This will help you to get ahead in the more difficult levels and reach the 3-star ratings. Included are tips, tricks for beginners, and a few that can help advanced players as well.
Enabling non-English voice output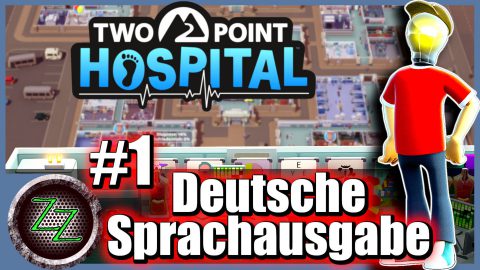 Little things first, if you don't know them, you might really be missing something in this case. Since a patch in December 2018, Two Point Hospital also offers different languages, not only English. Now there is also a German voice output and a Chinese (Mandarin) one.
Both the hospital announcer and the radio presenter were synchronized by German/Chinese speakers. This makes Two Point Hospital even more fun. However, the voice output may not change automatically, so if you still have English speakers, make sure to switch to German/Mandarin under Settings -> Language.
More Two Point Hospital Articles:
---
Catch Mono Beasts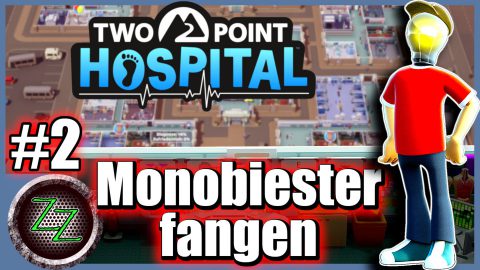 With the employee challenges it appears from time to time, there is also a Steam-Achievement, even with the map challenges it can happen, the hunt for the mono-beasts. These cute little creatures are the successors of the rats from Theme Hospital, where they came out of random mouse holes in the wall.
But you will look for these at Two Point Hospital in vain. Basically, you need a hospital that has been running for some time. In very fresh hospitals, there are no monobeasts yet. And then they hide in Two Point Hospital under objects in the corridors. They prefer garbage cans, but also vending machines for drinks and snacks are very popular with the little ones. Probably they can be hidden anywhere but for some things probably more than for others.
In order to find the little creepers, you have to lift up single garbage cans or automates in the corridors with a pressed mouse button to flush them out (if you know the button for consoles, please leave me a comment below, so I can add it here). Put the lifted object quickly aside again, because now the creatures will be running around in the area and try to find a new hiding place.
If you aim at them with the mouse, the mouse pointer will turn into a target cross and if you press the left mouse button at the right moment, you can shoot them down. This does not apply if you have set the speed to slow or pause. So normal speed is the best speed for hunting. With a little practice and patience, it should be possible to hit them.
---
Optimize queues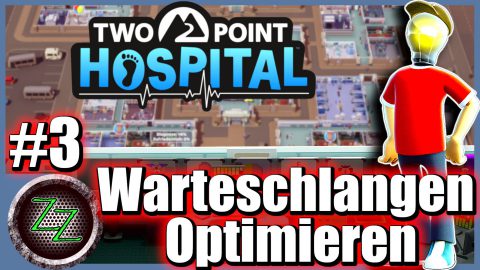 A point that is very important in the game, but that took me a long time to fully understand, is the queues. If several people want to go to the same diagnosis or treatment room, there is a "first come, first served" order.
As in real life, however, this order is not necessarily the best. For example, your doctors may treat the gentleman with the early stages of male flu first, while in a seat in the waiting room a patient is about to die.
Every patient has a health condition that you can check by clicking on him or her, doing mouseovers, or looking at the patient list. And in order to avoid deaths as much as possible, we should keep an eye out for patients who can't last much longer and push them forward in the queue they are currently in.
There are several ways to do this. The most obvious method is quite clear. The game shows a broken heart above the head of people who are about to fall over. Now, in our hospital, we can simply always look for these red markers with half an eye. Probably everybody does that anyway. Then just click on this patient and in his info window on the right there is an indicator for the position in the queue where he is at the moment. Then simply push the little arrow to the left in the queue to the front. Doctor, here comes an urgent emergency.
But there are also variants that are a little more hidden. For example, rooms with a queue show how many people are waiting. So if you select a room with a very long queue and click on the door of this room, you will get a list of all waiting patients. And here you can adjust the order of the queue by holding and dragging the patient with the least health up the list. So the almost dead ones to the front, the not so sick ones to the back, they can wait.
There is also a list of all patients, which can be found in the lower-left corner or simply called up with the quick key "2". You can also sort the list by column, and if you sort the table by health you have the top patients in the list above so that you can jump directly to them to check if they are far ahead in their queue.
These methods are also good for providing better care for patients from the temporary emergency tasks. And of course, if certain rooms have long queues outside the door all the time, it may be advisable to simply build more of them, if the hospital's cash register and the building site allow.
---
Hunting ghosts by hand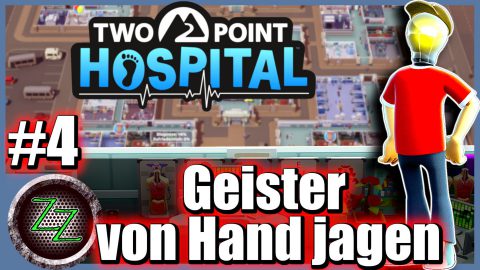 However, if our preventive measures have nevertheless been of no benefit, patients sometimes die. These can then become ghosts, we urgently need caretakers with training as ghost hunters. Ghosts cause fear and stress in patients in their environment and make them run around. Their condition does not get any better and this may delay the queues even more.
That's why we don't want to let ghosts be treated by the automatic, which will send a caretaker by sometime after all flowers are watered and the last toilet is flashing cleanly. So if we see a ghost, we best slow down, open the list of employees directly, either with the mouse in the lower-left corner or with the quick key "1" and switch to the caretaker.
We then look for a caretaker with the necessary training and click on him, then go to his window on the right to "pick up". Now we have the caretaker hanging from the mouse arrow and can throw him directly at the creepy ex-patient. The best thing to do is to make sure that the text box "chase ghost" appears so that the cleaning devil immediately accepts the job and sucks away the ghost annoyance.
When ordering around manually, you should always make sure that you don't take people out of their breaks, or possibly pull them away from important upgrades or repairs.
---
"Further training required" messages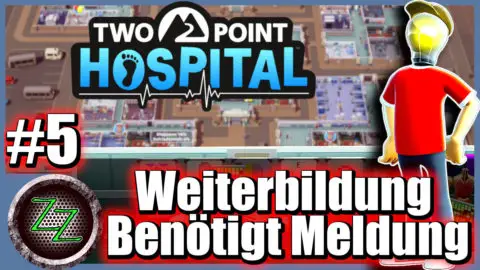 When the employees get more experience in their job, use gradually get letters saying that you should send this or that employee to further training. But you don't always have an empty training room for it, or there is a lack of money for the specialist, or it just doesn't fit at the moment because, for example, an emergency needs to be treated.
If you simply press the "not now" button on the message, the message will be completely deleted and the really helpful information about which employee needs training is lost. Then you would have to look for the corresponding employee again by hand.
That's why I always click on the X in the upper right corner of these messages and just close the window, I never press the "not now" button. Either start continuing education or if that's not possible, X, that's my tip for it. So these messages accumulate in the message list on the bottom right, and when the training rooms are empty and the cash register allows it and no emergencies come in between, I then send the people on the important training course.
---
Two Point Hospital Tips and Tricks – Rooms with multiple staff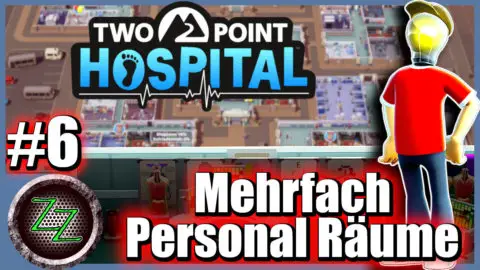 In almost all rooms, one employee is working and everything is already functioning perfectly. Sometimes the caretaker comes by, but every doctor and nurse has their own room.
The game doesn't know this directly, but there are rooms where you can send more staff. These are the station, the fracture station, the marketing department, and the research.
If you click on these rooms you will find the option "additional staff" in the info window on the right and with the + and – buttons we can define how many nurses or assistants should work in this room. There is then also a list of the staff employed in the room, which we can use to find the people directly if necessary.
Of course, it makes sense to install more treatment equipment in these rooms. As an example, more plaster casters can be set up in the fracture ward and thus several patients can be treated in parallel. In research, the projects that take a long time can be accelerated considerably and in marketing, the effectiveness of the campaigns can be increased.
---
Route optimization for patients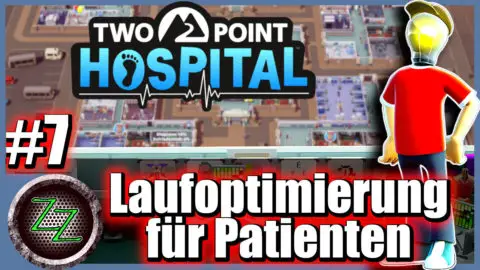 In very crowded hospitals, it becomes more and more important to keep the flow of patients fluid and to make sure that there is not too much confusion in the corridors. Wider corridors are of course a good thing here, but this is not always possible. Sometimes the rooms are simply too cramped, and you have to manage with 2 or even only 1 box wide corridors. But there, problems can quickly arise if too many patients and employees want to get through such a bottleneck.
Ideally, when building the rooms, we also think of certain sequences of walking routes, but this can only be planned in a very abstract way. So it is all the more important that we avoid bottlenecks as much as possible, i.e. don't make 2 boxes of corridors, better 3, and if there are bottlenecks, that we don't fill them up with things.
We already had the queues outside the rooms. Now we come to partly much more difficult queues. The vending machines also have a very big influence on the walking routes. Eating, drinking, entertainment, these are very important things for the patients and also the staff and if who walks to which vending machine is not so easy to plan. In front of some vending machines, there are sometimes long queues and these can make the paths almost impassable.
Because people standing and waiting in front of a vending machine are an obstacle for everyone passing by and this delays their way and in the worst case, there are real traffic jams. Therefore, you should avoid placing machines in narrow aisles or on very heavily used paths.
Also, the reception often has queues, of course, I recommend the right reception with several reception counters instead of the pure reception table. If there is enough money available, one should do this simply because, in this way, the staff gets a better atmosphere. But also, in this case, the waiting people are then spread over several counters and there is no crowd in the entrance hall. In hospitals with several buildings, the patients come from different directions, so it might make sense to build several reception counters at opposite ends of the property.
---
A few collected tips for furnishing and decorating the rooms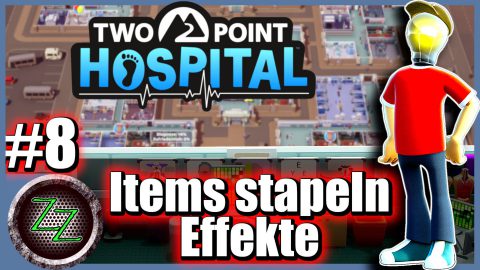 Items stacking effects
If you are furnishing a room where you want to get things done quickly, it is worth looking at the furnishings that give a boost to staff member's values. For example, items that allow the doctor to diagnose more quickly or items that make sure that students learn faster are particularly interesting for training rooms. And these items can also be placed several times and their effects stack up, so to speak.
A training room with 10 shelves that increase the speed is really noticeably faster. If you like it nice and varied, this tip is probably not for you, but otherwise, less decoration, more values in the rooms. The example shown here may be a little blatant.
---
Avoid lack of space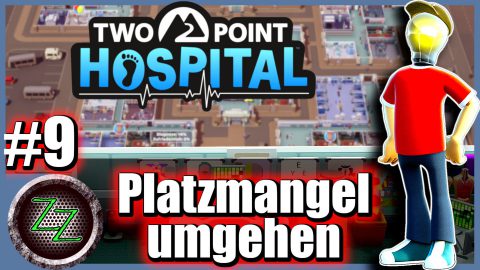 When you're in levels where lack of space is a big problem, it's extremely helpful to have items for the rooms that don't really take up any real space, so you can build the rooms very small and still get to level 5 Prestige. So you can hang pictures behind cupboards and in front of windows, at least for now. In order to get the room rating up quickly in a small room, it makes sense to unlock all pictures early in the game. At least, if you want some change for the optics.
Otherwise, it is simply important to have some pictures. These have different sizes, so it is easier to fill gaps of different sizes. A special form of the wall pictures are the certificates, these can be placed very closely and can also be hung in narrow places such as at the door.
Carpets are then excellent, you can put them under everything in the room, so they don't really need any space.
In summary, if you don't care about the appearance, you can simply furnish the rooms with useful things. So mostly the important functional items are enough, like 2 small heaters, 2 flowers, a fire extinguisher, and otherwise, I use several quick learning statues and where possible the medicine cabinets, which speed up diagnosis and treatment. Then there is a coffee machine and a candy machine so that people don't have to take such long breaks and "clog up" the corridors. After that, just put gold certificates and paste everything with them until the room reaches Prestige Level 5. This works very well.
---
Two Point Hospital Tips and Tricks – Outro
I hope there were some things for you that you can use in the game and didn't know yet. There are also some gameplay videos of Two Point Hospital (German) by me. Otherwise, I would be very happy about further tips, write them in the comments of the video linked above or in the ZapZockt Community Discord. Let it be well with you, Ciao ciao, your Zap
More Two Point Hospital Articles:
Links:
Steam-Page: https://store.steampowered.com/app/535930/Two_Point_Hospital/
---
Reading – recommendations:
A lot of detailed game news and information about games and gaming can always be found here at ZapZockt.de – As a Steam user, you can also follow the ZapZockt Steam curator to always be informed about my reviews directly on the platform.
There are also many game reviews that might interest you, and if you don't want to miss anything, subscribe to the newsletter. As a Google News reader you can also go there and read the latest articles.
Shopping – Tip:
Ad / Affiliate Link
Games can often be bought cheaper. Legal, reliable and safe is the way to do it at my partner site Gamesplanet. This game, all DLCs, many more tactics, strategy, and many more titles are available there and almost always much cheaper than at Steam, Uplay, Epic, or other shops.
For every purchase, via this link, I receive a small commission. So you get games cheaper and at the same time support my work, my thanks in advance for that.