New games presented, this time Mountaincore, Above Snakes, and Miasma Chronicles in a short review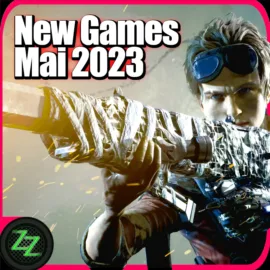 Become a dwarf king in Mountaincore, fight zombies in the Wild West in Above Snakes, or save the end-time USA in Miasma Chronicles, all this is in the article with the games news in May 2023.
Three new games from May 2023 are presented, each in a short review/test. Mountaincore and Above Snakes are indie games with survival, building, crafting, and some strategy and Miasma Chronicles is a sci-fi end-time role-playing game with turn-based combat and fancy graphics. All games are briefly presented in a kind of mini-review with gameplay in German / German. They were released with a release date of May 23rd on PC, and Miasma Chronicles also for PlayStation PS5 and Xbox Series X.
This post is available as text and a YouTube Video (German Voice-Over, English Subtitles). So you can choose how you like to enjoy it most.
New Games May 2023 – Mountaincore – Above Snakes – Miasma Chronicles Review Video
German Voice-Over, many subtitles
New Games May 2023 – Mountaincore – Above Snakes – Miasma Chronicles Review – Einleitung
Hi there, Zap here. In this video, I want to introduce you to 3 new games released in May 2023. I do this in a somewhat short and compact mini-review. Mountaincore and Above Snakes are two lesser-known indie games from small developer studios, while Miasma Chronicles is more of an AA game. If you are not interested in all games, you can easily jump to the game of your choice via the chapters in table of contents above.
I got free keys from the developers or the publishers. But as always, this should not influence my opinion, as I always look at all games with the thought in the back of my mind, "How would I feel if I paid full price?".
Mountaincore – 2D Dwarf State Survival Simulator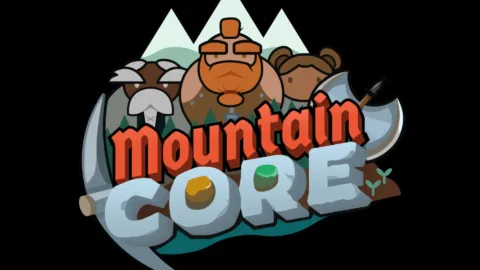 In Mountaincore we establish a dwarf state. Similar to Rimworld, Going Medieval, or Clanfolk, we start with a few inhabitants, build the first buildings, and develop increasingly complex techniques. Thus, we gradually build an entire dwarf kingdom under the mountain and trade with the surrounding settlements. The game is developed by Rocket Jump Technology and this is their first project.
The graphics of Mountaincore are pure 2D and kept quite simple, comparable to the models RimWorld or Prison Architect. The animations are rather sparse and overall everything is kept in block style and not particularly detailed. But nevertheless, over time it becomes quite a complex state system, not quite as extensive as in the model games, but it is already going in that direction.
The dwarves lay out fields, mine ores, and construct buildings in front of, but above all under the mountain. Because, as befits a dwarf race, the game is particularly aimed at building an underground settlement. And here it can get really extensive because the maps of Mountaincore are huge compared to similar games.
We start with 7 dwarves and dwarven women, all of them have equipment and clothing, and all sorts of simulated stats and needs, like hunger, thirst, sleep, and happiness. Each member of our dwarf tribe can learn 3 of 13 professions and get better at them over time. In addition, there is the option to classify them as soldiers or civilians.
Currently, the game offers 21 different room types, from quarry, forge, and storeroom to bedroom and kitchen. They are all available immediately, without further research. And each type of room then offers its own furniture and workshops, and for their operation, twelve varieties of tools are needed, but we can still make them from 18 different types of ore.
And for all of them, there are intermediate products, so we have to produce, transport, store, and manage dozens of materials, raw materials, semi-processed items, and finished products.
There are also seasons in the Dwarf Kingdom and this mainly affects the eight different types of grains and vegetables. All of them have their own growing and ripening times that have to be taken into account. And besides the vegetable food, there are also a dozen types of meat and many other details. Later in the game, we will also have to fend off attacks on our dwarf settlement, which will require defensive structures and soldiers.
Mountaincore was released on Steam in Early Access on May 18th. So development is still in full swing and the developers have all sorts of ideas and plans for new rooms, more features, and actually more of everything. At just under $23 or €, the price for the content offered is rather on the higher end of the scale, for my taste. But if you don't mind the simplistic graphic style, you can certainly find a few hours of fun here.
Mountaincore Gameplay Screenshots – Ingame Pictures
Click or tap on the image for a larger view.
In the enlarged view, you can scroll right and left on the edges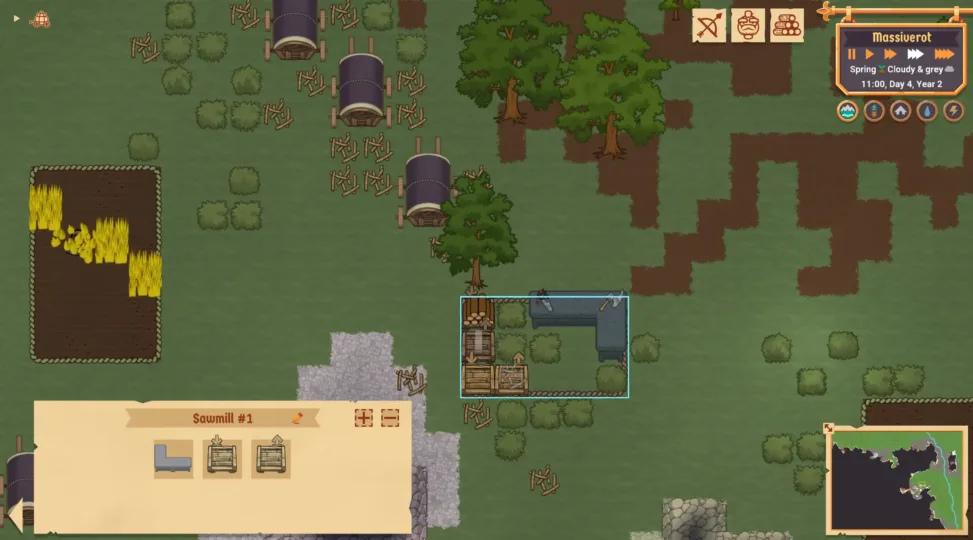 Above Snakes – cute zombie survival adventure in the wild west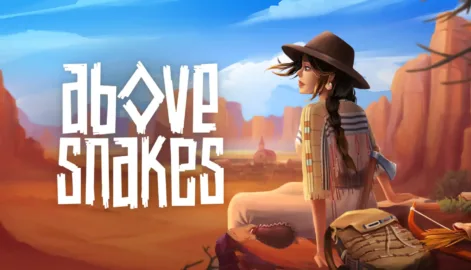 Above Snakes was pre-funded via a successful Kickstarter campaign and is being built by solo developer Square Glade Games from Germany. The basis is a light survival game in a Wild West world that is infested with zombies after a meteorite impact.
We play Aiyana, a young woman who we also learn more about gradually. We try to figure out how to save our world from the new threat of the walking undead in an easily digestible story. In the process, we get to know some NPCs, who almost always offer rather simple quests for us. So there are tasks like collecting the X item, finding NPC Y, or such simple things. And almost always it is connected with the fact that we first have to develop a new extra tile for the map, more about that in a moment.
Above Snakes, which means "still alive", in addition to the usual survival elements of hunger, thirst, and exhaustion, also offers a stat for the mental health of our heroine. We can better prepare her for the demands and threats of our world with equipment in 5 slots. In addition, we construct our own buildings, fields, and workshops from various construction elements. In general, resource gathering and crafting is a very important part of the game.
Especially at night, the world becomes more dangerous due to roaming zombies. So we should have a bed set up in a permanent house at our disposal. There is some character development through eight talents, for the various tools and weapons, as well as stamina, cooking, and fishing. We increase these simply by using the respective activity and can then work a little faster, fight a little better or run a little longer through the world as a result.
Speaking of the world, here lies a very special and also original and unique selling point of Above Snakes. Our world is not predefined or randomly generated, but we craft map pieces and can arrange them according to our wishes, like in a board game. This results in some replay value, because we may be able to arrange our cards differently next time.
Over time, we explore some standard maps like meadows, forests, deserts, ponds, and mixtures of these elements, but also some special map tiles that we need especially for the quests and main story. But in the end, it is enough to make a few cards of each biome and build the main cards once each.
Disappointingly, the system with the free arrangement of the map tiles doesn't offer as much variety as you first might think. And the story is rather shallow, and survival offers only a few challenges. Nevertheless, it's enough for about 15 to 20 hours of gameplay. Only once the story is played through, and you have fully developed your character, there is not much replay value, in my opinion.
Above Snakes was released on Steam with a release date of May 25, 2023, and unfortunately costs a bit more than I think is appropriate for such a small indie game and for its scope of play, at just under $25 or €. However, it runs very stable and really has some very unique ideas and fancy character designs, which I liked a lot. Above Snakes is also optimized for the Steam deck, by the way, so you get an entertaining little game for the on-the-go.
Above Snakes Gameplay Screenshots – Ingame Pictures
Click or tap on the image for a larger view.
In the enlarged view, you can scroll right and left on the edges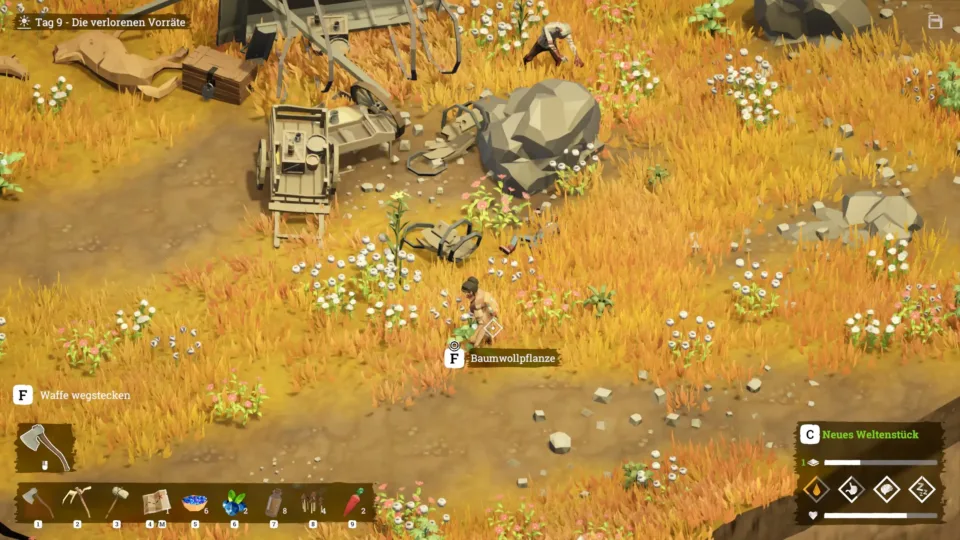 Miasma Chronicles – tactical sci-fi RPG with turn-based combat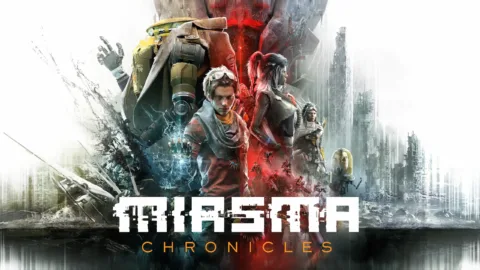 Let's move on to a completely different category of game. Miasma Chronicles is a science fiction RPG with turn-based tactical combat a la XCOM in an end-time version of the USA. And unlike the previous two games, there is no indie team behind this title, but experienced developers with a slightly larger budget, so it's more of an AA game.
Due to initially unknown circumstances, the formerly corporate-ruled world is broken and haunted by a strange threat called Miasma. This substance causes all kinds of destruction as well as a kind of dimensional shift. And on top of that, there are strange beings who worship the miasma as some kind of deity and want to exterminate all humans.
We play Elvis, the son of a legendary woman who could handle the miasma. But for unknown reasons, she passed through a wall of this strange substance, and so for the time being she is unreachable to us.
Young Elvis is very gifted in technology. His battle buddy and best pal, the robot Diggs is almost like a brother to him. And with a strange glove, his mother left him without any real guidance, he gradually gets special powers that let him control the miasma, at least partially. But before he gets full control of it and even understands what the miasma is, some time will pass.
Graphically, Miasma Chronicles has a lot to offer. The characters are nicely designed, and the world is divided into individual maps. These maps have a high-quality design and are very nice to look at, even though all kinds of end-time clichés are processed here. The dialogs are all fully dubbed and often feature small cutscenes. Although we mostly only walk through the world in an isometric top-down perspective, we get a lot for the eye.
In addition to settlements and places where the story progresses, there is a very tactically oriented parkour on almost every map, with hiding places, climbing possibilities, explosion barrels, traps, and other elements that we can then use in the tactical round battles. A moderately complex role-playing system allows upgrading our heroes with better equipment, stronger skills, and additional tactical options. And after some time our small group will get more company as well.
Miasma Chronicles was developed by The Bearded Ladies, the team behind Mutant Year Zero: Road to Eden. And with the publisher 505 Games, known for games like Control, Assetto Corsa, Death Stranding, or most recently Stray Blade, there is also some capital behind this game, which is also noticeable in the quality of the graphics and sound.
But I see all kinds of problems in the balancing because the fights are really crisp. And sometimes it gets frustrating to the point of pulling your hair out. The enemies are numerous and deal out a lot of damage, while healing material is very scarce and our hero group is often massively outnumbered. The cooldowns are usually way too long, and even for distraction skills you have to find empty bottles first, and they are strangely rare to pick up, although there are plenty of them everywhere as decoration.
In addition, even simple actions like healing and reloading consume our extremely scarce action points, so you're often simply overrun. And regenerating between fights doesn't work either. So, even if you know your heroes are badly banged up, you can't just go home and rest. You have to go into the next fight wounded, and first use action points and the rare consumables for that again. I find that very, very strange and not nice.
On some maps, you can make up for it by sneaking, sneaky ambushes, or clever use of the environment. And if you manage to resolve the almost puzzle-like difficult combat scenario of some maps and use the environment to your advantage, there's fun and satisfaction in having accomplished something.
But the story also often throws you into battles unprepared with half HP, where there are no opportunities to perform special placements or ambushes. This may certainly provide a great challenge for some tactics fans. However, I found it a bit too intense for my taste, even on difficulty 2 out of 4. There is also a story mode where the battles are then dialed down even further, but my goodness, can the game kick your butt sometimes.
So after 10 hours into the game, I've played some battles twice or four times and am far from having seen the end of the game. But always I was wavering between "I want to see more of the fancy world and learn more wacky miasma skills" and "boah, been surrounded and wiped out again, completely out of healing potions and not really had a chance, that sucks".
Miasma Chronicles came out with a release date of May the 23rd, 2023 for PlayStation 5, XBox Series X and S, and for PC on Steam and the Epic Games Store. While the presentation is mostly high quality, the price of €50 or $ seems reasonable. However, with the high frustration level due to what I see as immature balancing, you somehow can't fully enjoy this fancy world. And that somehow leaves the price tag with a very, very pale aftertaste for me.
Miasma Chronicles Gameplay Screenshots – Ingame Pictures
Click or tap on the image for a larger view.
In the enlarged view, you can scroll right and left on the edges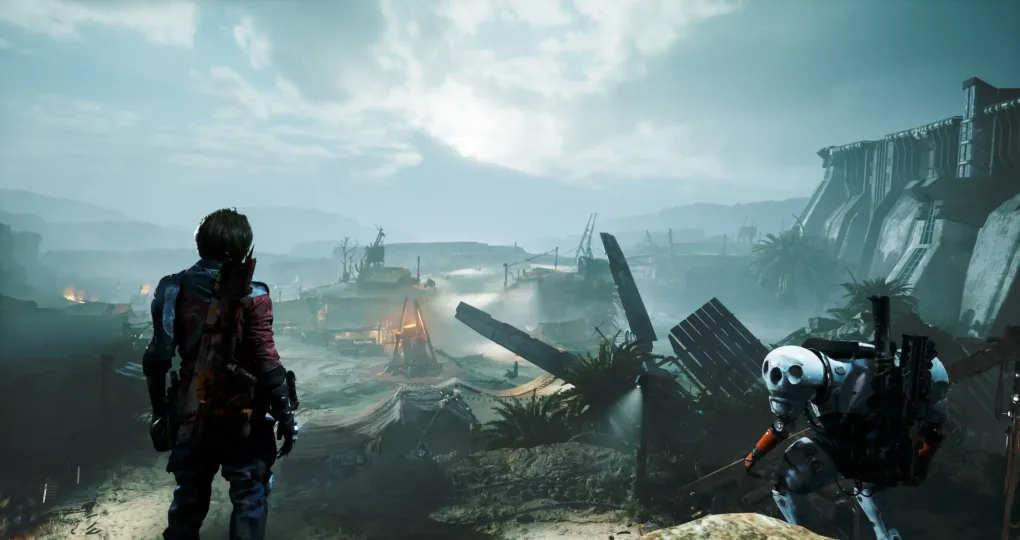 Outro
Do you like minimalistic strategy dwarves, zombies in the Wild West, and hard-hitting tactical battles? Or are you annoyed by high pricing and balancing that is either too shallow or too hard? Feel free to write me your opinion in the comments or in the Community Discord.
More gaming news, game reviews, and guides can be found on the YouTube channel or at https://zapzockt.de – thumbs up, subscribe, and share with friends certainly can't hurt, and then I wish you a great day, ciao ciao, your Zap
Links and Sources
---
Reading – recommendations:
A lot of detailed game news and information about games and gaming can always be found here at ZapZockt.de – As a Steam user, you can also follow the ZapZockt Steam curator to always be informed about my reviews directly on the platform.
There are also many game reviews that might interest you, and if you don't want to miss anything, subscribe to the newsletter. As a Google News reader you can also go there and read the latest articles.
Shopping – Tip:
Ad / Affiliate Link
Games can often be bought cheaper. Legal, reliable, and safe is the way to do it at my partner site Gamesplanet. This game, all DLCs, many more tactics, strategy, and many more titles are available there and almost always much cheaper than at Steam, Uplay, Epic, or other shops.
For every purchase, via this link, I receive a small commission. So you get games cheaper and at the same time support my work, my thanks in advance for that.