Little Big Workshop Review – Test of the Hardcore Business Simulation in Cute
Zap Zockt Little Big Workshop Review (English/German) – Little Big Workshop is a solid and complex economic simulation in which you build your own production factory.
The gameplay and graphics look cute, but you shouldn't let the cuteness mislead you. Everything worth knowing about the game, an exact analysis, and a rating you will get in this post.
In case you already know the game or even own it, and would like to read some Tips and Tricks about Little Big Workshop, I can help (just click the link, of course).
---
This article is available here as text, but also as video. So you can choose how you want to enjoy it.
Little Big Workshop Review Video
German voice-over, with many subtitles
Little Big Workshop Test: Intro
Hi there, here's the Zap. In this episode, I introduce the Little Big Workshop economic simulation. I'll show you what the game is about and how it plays. In the end, there is also a rating from me, but there should also be enough insight and information so that you can decide for yourself whether the game is something for you or not.
Little Big Workshop is developed by Swedish developer Mirage Game Studios and published by Handy Games and THQ Nordic. It was released on October 17th on Steam and if you look on Steam Little Big Workshop costs $19.99 (or €) or less. At the moment there is also a 10% release discount, you can get it even cheaper via the Gamesplanet Affiliate Link. (I get a commission for every sale – Ad)
The publisher has provided me with a free test sample, but this has no influence on my rating. My viewers and readers have the highest priority, so there is no bonus, everything is judged as if I paid the full price.
---
Game type – What kind of game is Little Big Workshop?
Little Big Workshop is a solid and complex economic simulation in which you build your own production factory.
The game offers a sandbox endless mode, with a small tutorial at the beginning. In total, there are more than 50 products, which are made of a lot of basic materials. Over time, we have access to numerous machines, different professions, and room types, which can be unlocked in a skill tree.
The game looks very cute at first sight. Everything takes place on a small table and seems to be based on a model-building company. At first, it seems a bit childishly naïve, but here you shouldn't be deceived. Little Big Workshop is economically and simulation-technically very strong when it comes to complexity.
---
Technology, Engine, Graphics, Sound
Since this title is based on Unity, there is a stable and proven engine behind it. Accordingly, I had no crashes and no performance problems.
The graphics are cute but still detailed. Most models and animations are solid, and the textures are chic. The game has a wide range of different looks for employees. And also the objects that you can build in the company are very varied. So the game as a whole is visually appealing, at least to me.
The sound is solid. Both the sounds from the vehicles and machines are good, as well as the simplified language of the employees. Sometimes the sounds are really cute, sometimes they make me smile.
The game offers extensive option menus, which I find very praiseworthy. It supports different resolutions, rules for the graphics and some technical refinements, there is nothing to complain about. So you can get Little Big Workshop to run on weaker PCs.

One small shortcoming, I think, is that you can only rotate the camera in 90° steps. A free camera would let me dive even deeper into the game.
.
---
Little Big Workshop Gameplay
The company starts out as a small carpenter's workshop that makes objects out of wood. It starts with decorations like garden gnomes, then tables, chairs, and cupboards. Soon metal, fabrics, and plastic were added as materials.
We buy appropriate workbenches, expand them with specialized machines, set up storage areas, hire employees, and everything that goes with it. Staff rooms, buildings, extensions and conversions, and such managerial activities are also part of it.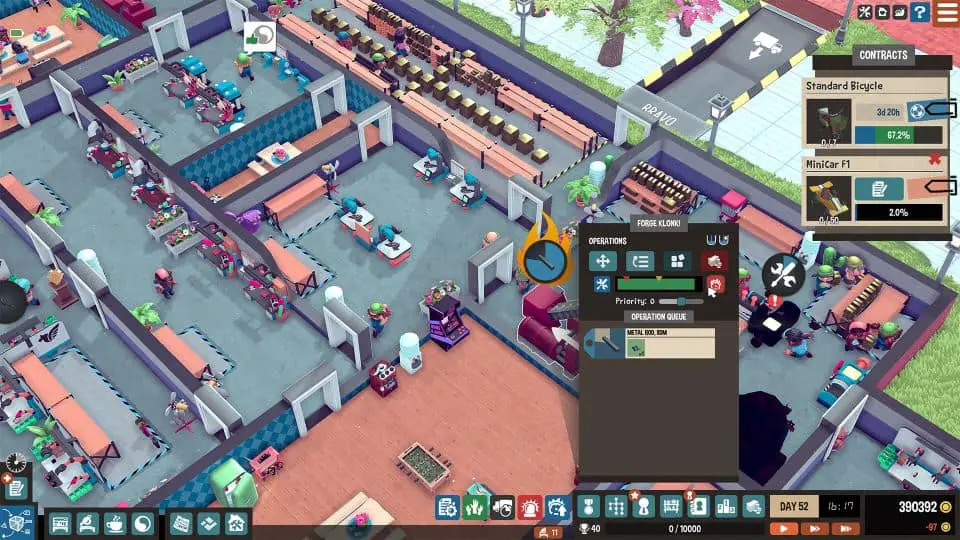 Precise plans must be drawn up for each product. We have to define materials that have an influence on the quality of the end product. We often have certain requirements that we have to meet. Here it is important to choose the material so well that the conditions are met, but the price does not rise too much because that would reduce our profit margin.
We must integrate the workstations into the plan and also consider material prices, yield, product quality, and market demand. It begins very harmlessly, but very quickly the game unfolds to an enormous extent here.
Reading recommendation:
All reviews and tests at a glance + How do I test?
Little Big Workshop Tips and Tricks
---
The Complexity of the simulation
When I first saw the game, I thought, "Well, that's cute." And I was afraid it would be really simple and more like a mobile title. Probably the name of the publisher Handy Games was also in the back of my mind.
Little Big Workshop is a tough business simulation. And right at the first attempts, I managed to go bankrupt several times. I was surprised and somehow impressed. Because I am certainly not a newcomer in the economic strategy genre.
The game starts really nicely and simply. But already at the first jobs outside the tutorial, you should think about what to do. Because it is very advisable to practice the numbers right away. Machine costs, personnel costs, material costs, rents, and salaries have to be compared with the revenues and the expected production times.
And the expansion of the business should not be approached too lightly either. The costs will eat you up very quickly if you are too daring here.
Not only the economic simulation in this game is very complex, but it also includes many other aspects besides the purely financial one. Here you have to take into account the routes, warehouse management, machine utilization, queue optimization, and and and.
In addition, the game also has other extensive side venues. The aim is to improve customer relations in order to get more and better orders. As a company, you gain experience and have to invest the points you earn in a skill tree. With this, you can unlock better materials, machines and all kinds of other possibilities. And the competition doesn't sleep either.
Every employee rises with time at the level. Then you can train them and give them specializations such as "woodworker". The equipment and machines can be clustered together to facilitate planning and enable parallel production processes. Priorities can be set. Individual machines can be accelerated, but they also break down more quickly. And, of course, the machinery has to be constantly maintained and repaired.
---
Little Big Workshop Screenshots – Ingame Pictures
Click or tap on the image for a larger view.
In the enlarged view, you can scroll right and left on the edges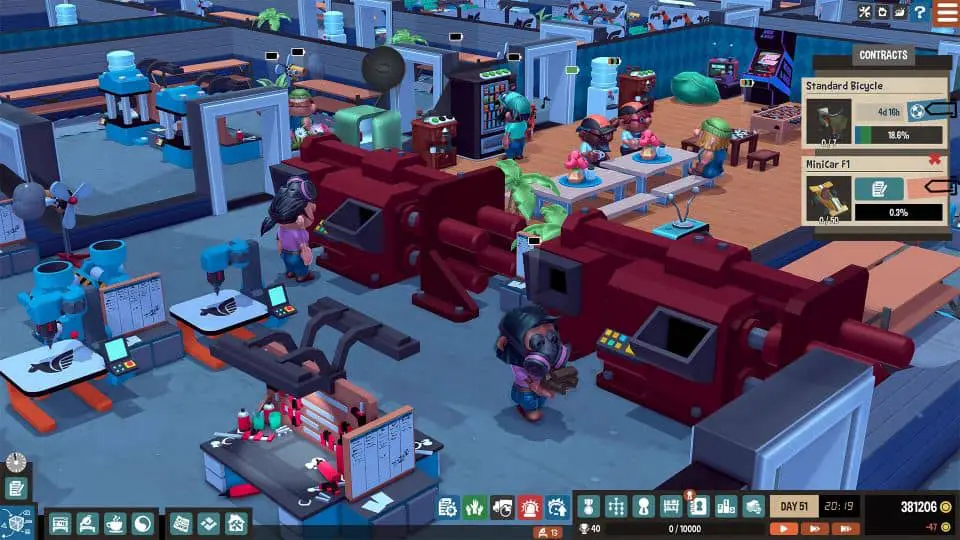 The mood of the employees is an important point and their exhaustion. Here we have to balance the annoyance by loud machines with relaxing decoration and offer good break rooms so that the employees do not collapse but work effectively.
There are so many details in this game that really make a real production company. Even after many hours, I'm still amazed at what the developers have taken into account. I think Little Big Workshop has at least some of the stuff for BWL students to use as an educational game.
And it remains a fun game. And it's fun, it's challenging and complex but never really unfair.
---
Events:
In order to bring some additional variety into the matter every now and then, there are still some abstruse events. This ranges from small gnomes who have to dig tunnels and be caught, to spies, diseases, rat infestations, and saboteurs from the competition who deliberately damage machines.
These mini-tasks are not stunningly innovative but still offer a little loosening up in the game process. And you can get additional income as a reward. If you don't like this part, you can activate the "serious business mode" in the options. This will deactivate the events if desired.
In addition, there are competitors who call us more often and mock us. I couldn't tell if this has any effect on the game, but some of the spells are a bit funny. And at least there's a ranking of the richest and biggest companies that could give you some extra motivation.
---
State of the game:
The game ran absolutely stable in the test. No crashes, no frame drops, and overall it was a very good performance.
The German translation is actually perfect. But this was certainly not to be expected differently with German and Austrian publishers. (OK, this is very uninteresting for English-speaking gamers :D )
I had a technical problem once. After an update, a production line no longer wanted to work. I couldn't repair it, move it, tear it down or sell it. So all I could do was finish this game and start from scratch.
I hope that the developers will not have to intervene so massively in the game in the future. Or that they at least pay more attention, not to corrupt savegames.
There are also other minor points of criticism. The AI often lets the employees work until total exhaustion, although a large break room is available, and then the employees constantly fall over in the middle of work. This part is a bit unattractive. Here, I would like to see a menu where you can set the percentage of exhaustion at which employees should take a break.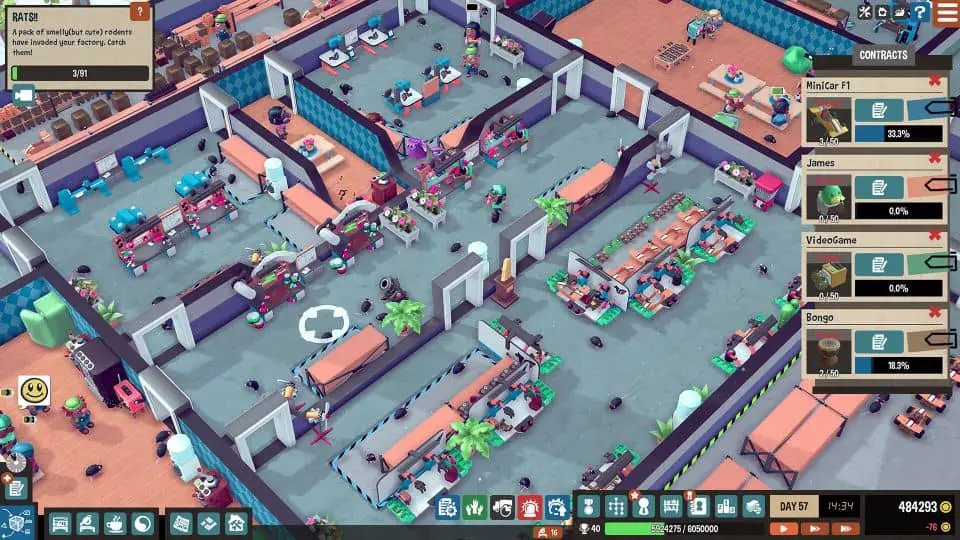 After a very long experimental phase, I found out that it is the break rooms themselves that are responsible. A break room can only support a maximum number of devices, and these devices are the actual recreational potential. So you urgently need several break rooms over time, and not one big one. This is a bit strange and not well explained, but after that, the fact, that the workers will fall down, is getting better.
When objects are stored, they are sometimes stored somewhat incomprehensibly far away. The decision as to where to go can still be improved in individual cases. And then it sometimes happens that the workers carry a certain stack of goods back and forth between two warehouses several times. This is quite pointless and keeps the workers away from more important things in time. So there is still room for improvement.
---
Little Big Workshop Test – Opinion – Conclusion
I'll make it quick, this game took me by surprise. I had expected a simple game due to the cute graphics and the somewhat childlike model setting on the table. And I was so wrong, that didn't happen to me for a long time.
Little Big Workshop is one of the most complex economic simulations I have encountered in recent years. And it manages to pack this complexity into a good, entertaining and challenging game.
Well, the game excited me, no question. And despite the complexity, it doesn't just seem appealing to absolute fans of business simulations.
My wife doesn't usually like commercial sims, but she did love this game. This game has not only depth but also charm. And so it also does engage not-so-extreme business sim fans, I think. I regard this as a special quality measurement.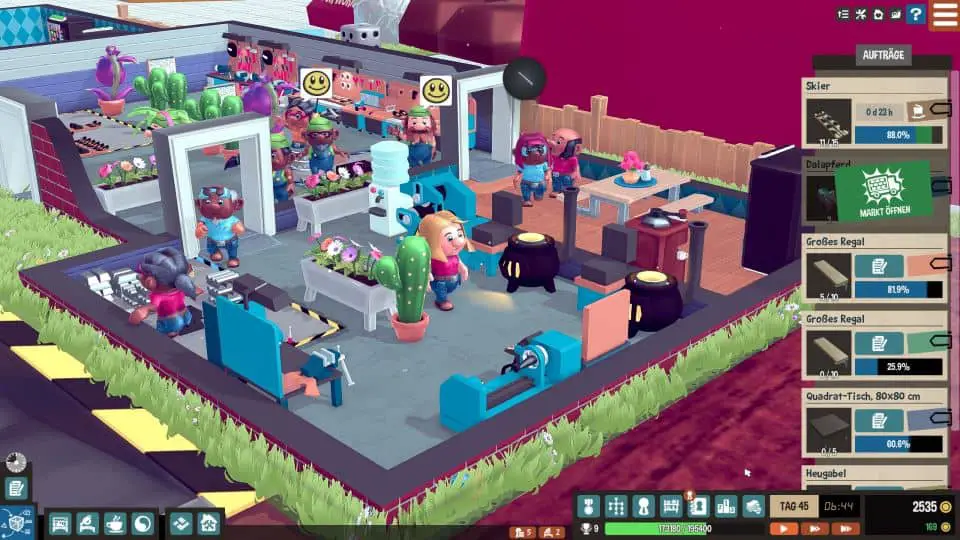 I really had a lot of fun in that game. And I think this title will keep me busy for a while after the review.
Mirage Games is a great product and I want more. I hope that the game will get more expansions and will be further expanded now after release. More products, machines, and events should be easy to maintain.
The game gets small cutbacks in the rating because it has no campaign. Here, the game could offer a little more long-term motivation if it could offer 10 scenarios. With certain targets and goals that could be achieved, I think that would be a sensible expansion.
The sandbox mode alone works well, do not misunderstand me. But with a few levels that would bring tricky situations to solve, the game would have been even better.
---
Little Big Workshop Review – Rating
It's been some time since I've been so carried away by a game. On top of that, it's almost error-free and cleanly programmed.
I looked, but I didn't really find many reasons to complain. Apart from the savegame problems I mentioned, which certainly don't happen often, and the employees who often sleep on the floor, there aren't many negative things. And while I'm writing this, I'm getting tired again, I want to keep playing.
I'd like to use this to praise Little Big Workshop and reward this great work with a very good 85% rating.
For the small problems with the break rooms or warehouse anomalies, I deduct 2%. And for the missing campaign, I will deduct another 3%. So there is an 80% final score from me.
That a campaign will be delivered later, I doubt. But the other problems could certainly still be repaired so that the rating has prospects for improvement.
For less than 20 €/$ you can get a great economic strategy game here. If you want to buy the game, you will find an affiliate link below. If you buy the game through it, I'll get a small commission without making it more expensive for you. On the contrary, with my partner Gamesplanet, you even get a generous discount, so it is much cheaper than with Steam directly.
Outro
So, did this review whet your appetite to immediately throw yourself into the production of tables and garden gnomes? Or does this kind of game leave you completely cold?
Did you like the review, or do you have suggestions for improvement or criticism? Please write to me your opinion in the comments, or also on my Discord Server.
Then I wish you a great day, let it be well with you, ciao ciao, your Zap.
Links:
Affiliate Link: (Ad)
https://de.gamesplanet.com/game/little-big-workshop-steam-key–4302-1?ref=zapzockt
Steam page:
https://store.steampowered.com/app/574720/Little_Big_Workshop/
Dev's Twitter Page:
https://twitter.com/Mirage_Games
Reading recommendation:
All reviews and tests at a glance + How do I test?
Little Big Workshop Tips and Tricks
Follow ZapZockt on Social Media:
---