Legend of Keepers – Career of a Dungeon Master – Prologue – (p)Review – Pixelart Dungeon-RPG Analysis + Test
Welcome to my Legend of Keepers Review. Legend of Keepers Career of a Dungeon Master Prologue is a role-playing tactic strategy mix with turn-based combat and dungeon management. Legend of Keepers Gameplay German for PC (Steam) is shown. The pixelart style game features tactical strategy game depth, chic animated monsters and the life of an evil Dungeon Lord.
This post is available here as text, as YouTube video (German, with subtitles in many different languages). So you can decide for yourself how you want to enjoy it.
► Video:
(German voiceover, subtitles in many different languages)
► Intro
Moin Moin, here's the Zap. In this episode, I want to give you a little overview of the upcoming Indie Game Legend of Keepers – Career of a Dungeon Master and show you what the game is all about. Legend of Keepers is developed and published by Goblinz Studios.
.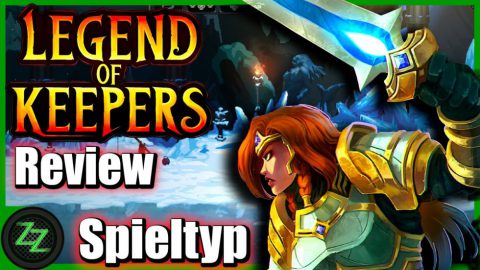 ► Game Type – What is Legend of Keepers?
Legend of Keepers – Career of a Dungeon Master is a tactical management game in which you take over the management and organization of an evil dungeon and must prevent the abysmally good heroes from stealing your precious treasure. We buy traps, recruit monsters and train our own centaur boss body to stop the disgustingly good and treasure-hungry heroes.
At the moment the game is not for sale. But there is a free alpha demo version for the PC at Steam, and a special version of the demo for people who want to support the development, that costs 3,99€. My preview is based on the free alpha version, which shows only limited gameplay as an example. The later game will have more scope and time.
How much the finished game will really cost at release is unfortunately not known yet. My estimate is in the range of 10 to 20 Euro, but that remains to be seen. If you are interested in the game, you can download the demo version for free directly from Steam and start playing right away. You can find the download link below in the description.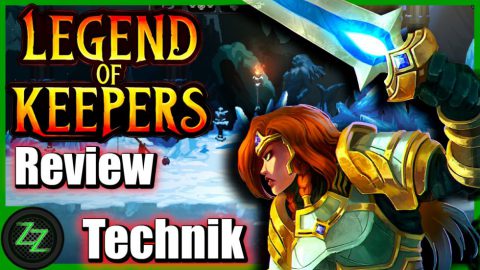 ► Technology, Graphics, Sound, and Engine
Legend of Keepers uses the Unity Engine. Since this is one of the more mature engines, many minor problems are eliminated. This makes it possible to publish Unity on other platforms later, as it works on PC, consoles and mobile devices. At the moment Legend of Keeper is only available on the PC.
The graphic is executed in the so-called Pixel-Art Retro-Style. The monsters, dungeons, traps and other screens are lovingly designed and animated by hand. For my taste and for this kind of game this is absolutely usable and appealing.
The sound isn't stunning, but most of the in-game stuff is noisy, there's some music here and there, also retro-style. You don't have to expect miracles here, but it's not boring quiet either.
► Legend of Keepers Gameplay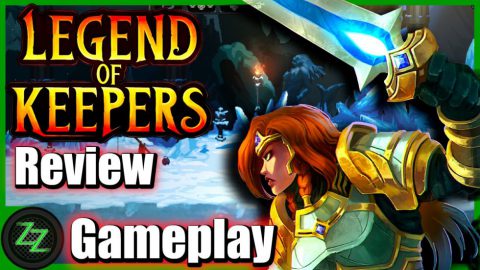 The course of the game is divided into a weekly rhythm. Each week we can choose what we want to do from certain events. For example, there are merchants who want to sell us monsters and traps or vampires who take their toll. Training sessions can be started or raids can be carried out on the surrounding villages. And besides many other possibilities, there are also random events that can have all sorts of positive or negative consequences. Every few weeks a group of heroes will appear to attack our dungeon.
In case of an attack, our dungeon will be divided into 6 sections. The first 5 can be either a fight, a trap or a skill phase where our dungeon master throws one of his skills at the heroes from a distance. If a monster is defeated in the dungeon, it is only out for this turn and can be used again for the next attack. Monsters can also be killed or injured by events.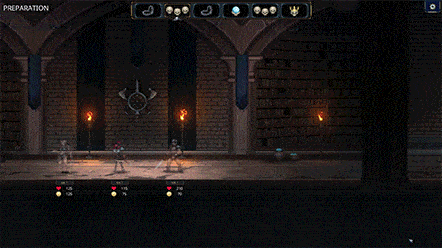 For the combat and trap phases, we can choose in a preparatory round which traps we want to set where and which monsters in which arrangement we want to oppose the heroes.
Then the heroes try to fight their way through our dungeon. The traps are then automatically activated, the battles are turn-based, and we can actively determine which abilities our monsters should use.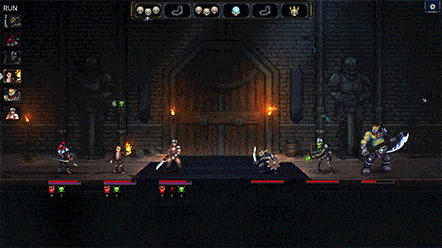 If the adventurers make it through the first 5 sections alive, we ourselves, in our Dungeon Lord monster form, must confront the heroes with our own skills and our own lives and try to destroy or drive them away. If we don't manage that, we are killed and the treasure is stolen, the game is over.
► Reading recommendation:
More reviews and how reviews are created here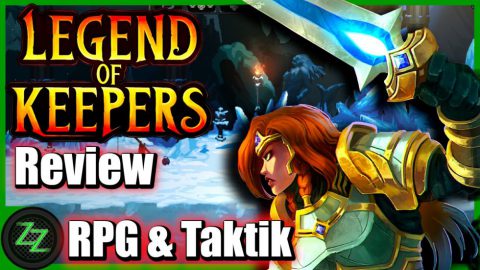 ► Role-play and tactics:
All traps, monsters, abilities, events and other things have exact information about which values they influence and how and these are also presented in detail in tooltips. So almost every click is a tactical decision, which should be based on the offered roleplaying values.
On top of that, almost anything in the game can rise in levels and improve its stats. Monsters need the training to rise in levels, but that costs gold. Traps can also be upgraded for gold in the workshop. The Dungeon Master can also become stronger, but this costs not only gold but also the more expensive resources blood and tears. And of course, the attacks of the heroes become stronger over time because they also come in higher levels.
► Talent System and Replayability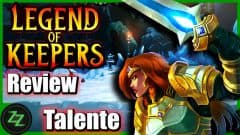 This game feature of Legend of Keepers only comes into play if you play more often. The Dungeonlords get experience points for their services and can move up in levels. For each level, you get a talent point, which you can spend in a hidden talent tree.
This talent tree is only displayed when starting a new round with a character who already has a level. You must have played at least one round to see it. Here you can buy permanent improvements for both the Dungeon Lord and the monsters.
And so the Dungeon Lord and his monster team get better and better from round to round. This is an additional motivation to play the game more often.
► Condition and further development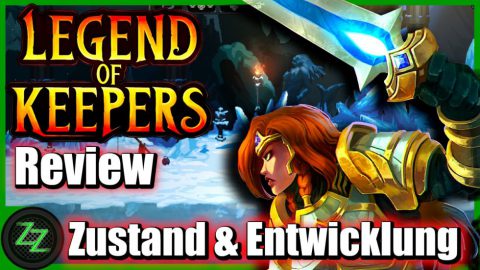 The game is currently an Alpha pre-release version. But it is already in a good playable condition. The translation into German is only 90% finished, but beyond that, it works absolutely reliable. I didn't notice any crashes, hangs or other problems and also in the gameplay, I couldn't find any really serious errors or problems.
The scope of the demo is limited to one year. So you can't say much about how the game will evolve afterward. It is already being teased that there will be 2 more centaurs besides the one Dungeonlord. And in the main menu, there is already a button with the inscription "Mods", which let us expect later player-made additional content.
Since I tested the game for the first time a few weeks ago and have now played the demo again, I can see that the game has developed well in any case. The developers are also listening to the player feedback that they collect mainly via their Discord Server. But soon the Steam Feedback section will offer more opportunities to share criticism and ideas.
Here I see good possibilities that the game matures more and more and will soon come to a good full version. If the game gets more features, more monsters, more heroes, more traps, it can only get better.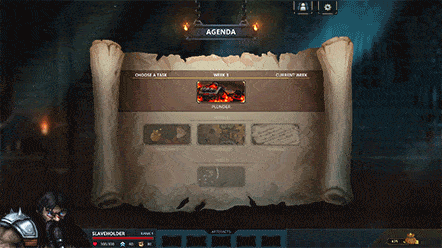 ► My impression and conclusion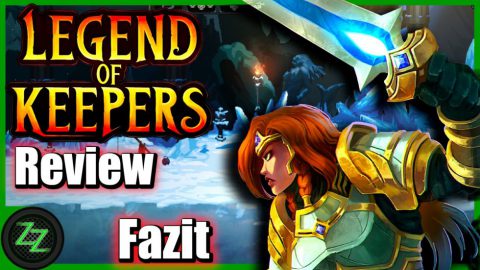 I was allowed to test the game in different versions and had fun every time and was actually a bit disappointed every time I reached the final screen and then couldn't continue playing. So it's absolutely fun, at least for me, and even develops a pull that animates you to continue playing. And because of the talent system, the motivation to start a new round is increased again and again.
Of course, the game will not be an ultra-rich management and strategy game, but rather a small game for in between. I would be very surprised if the gameplay of the later full version would go beyond more monsters, more levels, more items, and other random events.
But I can well imagine that the existing basic structure is also sufficient to lure you into the Dungeon for 1-2 hours every now and then. And even after a game, it will certainly be fun to start the game again from the beginning. More content from the developers and the prospect of mods that could change and expand the game make me think even more positively about the future.
Whether or not the game will be recommendable later on will be a question of price. I think, if the acquisition costs are in the range of 5-15 Euro, you can't do much wrong. But if the price is higher, I would be rather skeptical.
So you can evaluate the game only when the price is known. And that's why I won't give you a real rating for Legend of Keepers for the time being. As soon as I know a price, I will gladly mention it in the first comment and then add a rating. If I should forget this, you can remind me gladly of it.
► Outro
How do you like this little dungeon keeper RPG and strategy mix? Do you like to level off your monsters or do you prefer not to play the game? Don't you like the graphics or is that just what you like? Write me your opinion in the comments, and then we can discuss a little bit about it, also gladly on my web page https://zapzockt.de in the Community Forum there.
Then I wish you a great day, let it be well with you, ciao ciao, your Zap
► Links:
Homepage: https://goblinzstudio.com/game/legend-of-keepers/
Steam-Page (free Steam demo version of the game available here): https://store.steampowered.com/app/1151080/Legend_of_Keepers_Prologue/
Twitter: https://twitter.com/studio_goblinz
Discord: https://discord.gg/goblinzstudio
Reading – recommendations:
A lot of detailed games news and information about games and gaming can always be found here at ZapZockt.de
There are also many game reviews that might interest you, and if you don't want to miss anything, subscribe to the newsletter. As a Google News reader, you can also go there and read the latest articles.
Shopping – Tip:
Advertising / Affiliate Link
Games can often be bought cheaper. You can do this legally, reliably, and safely at my partner site Gamesplanet. This game, all DLCs, many more RPG, tactic, and strategy games, or a lot of titles from other genres are available there and almost always much cheaper than at Steam, Uplay, Epic, or other shops.
For every purchase, via this link, I receive a small commission. So you get games cheaper and at the same time support my work, my thanks in advance for that.
Follow ZapZockt on Social Media:
---