Immortal Realms Empire Wars Test and Beta (p)Review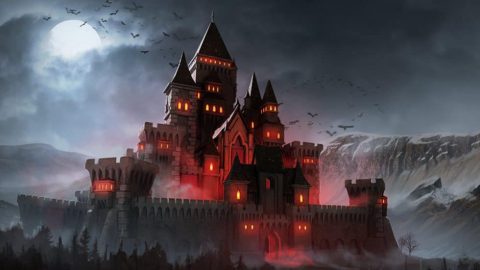 Immortal Realms Vampire Wars is a tactical strategy game with turn-based battles in a vampire setting. The new strategy game will be available for PC (Steam), PS4, XBox, Nintendo Switch and offers a very special mixture of bloodsuckers and medieval bloodthirsty. In this article, I would like to show you what the game is about, how it plays when it will be released, and what you can expect from it.
This post exists here as text, but also as a YouTube video (German voiceover, with subtitles in many languages) and as a PodCast (German only), so you can choose how you want to enjoy it.
► Video:
(German voiceover, with subtitles in many languages)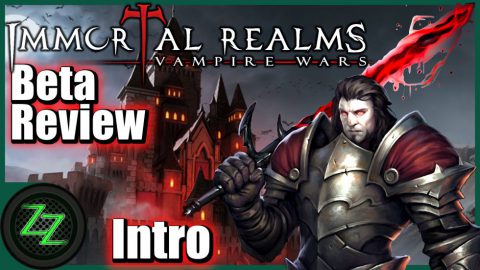 ► Immortal Realms – Intro
Hi there, here's the Zap. In this article, I want to introduce you to the upcoming strategy game Immortal Realms – Vampire Wars. The game is built by the Swedish developer studio Palindrome Interactive and published by Kalypso Media.
Kalypso was also so generous to send me a free beta test version. Thank you very much for that. Of course, it has no influence on my opinion if I got a game for free.
►Immortal Realms – Beta and Release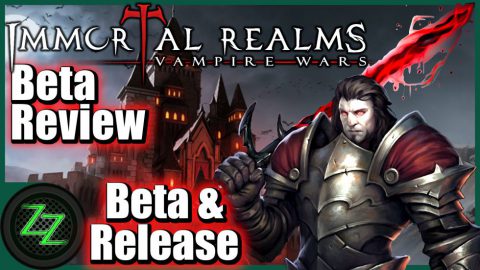 Immortal Realms is currently in a Closed Beta, where you can only try a part of the game and everything shown here may change until the release.
Immortal Realms doesn't have an exact release date for Steam yet, there is currently a PC beta version and an announcement for the full release for spring 2020. The developers will probably use the beta feedback to make a better game out of it.
Immortal Realms is currently in a pre-sale beta phase. So the game isn't ready yet, and it's not yet available on Steam. However, you can buy into the current beta via the website of the publisher Kalypso Media, where the game currently costs 33.99€. For the release, it will cost 38,99€.
---
► Reading – recommendation:
Meanwhile, there is a rough release window, for the period when the Immortal Realms release should take place, more information here
► Purchase Recommendation
Immortal Realms pre-order cheaper at Gamesplanet
(Advertising / Affiliate Link)
At my partner site Gamesplanet, you already get a discount on the pre-order version, this allows you a cheaper entry into life as a vampire king and general. For every purchase, via this link, I get a small commission.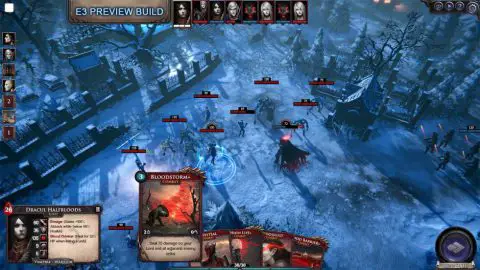 By buying the pre-order version you get immediate access to the beta. Of course, you also get the full version at release, and on top of that the pre-order DLC "Fangs & Bones". For the time being Immortal Realms is only available for PC. In September 2020 the game will be released for the consoles XBox and PS4 and Nintendo Switch.
The beta version offers only one of the three campaigns and is also partly limited in the game options. However, there are currently feedback functions available that allow you to send feedback, bug reports, and suggestions for improvements directly from the game to the developer. And so you can, if you like, influence the finished game before it is released.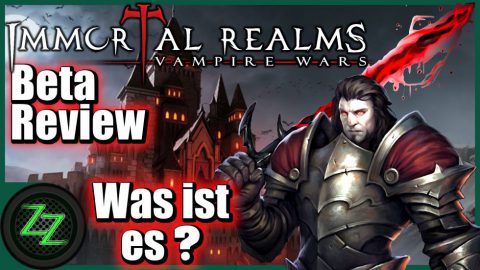 ► Game type – What kind of game is Immortal Realms?
Immortal Realms Vampire Wars is a turn-based tactical strategy game in which three different vampire clans war against each other and of course war against the human vampire hunters.
Roughly speaking, the game is a bit like a digital board game where you move units on a map, conquer squares, and fight against enemy units.
The game basically consists of two different modes. First, there's Kingdom Mode, where we recruit and move troops, explore and conquer the world, and then there's Battle Mode, where our troops compete against their opponents in a turn-based tactic mode.
In each game mode, we can use certain playing cards that give our units special advantages, injure enemies or recruit new units, regenerate injuries, and much more. I'll explain these cards and the two different game modes in more detail in a moment.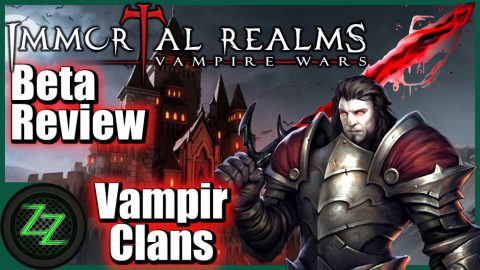 ►Gameplay – The Vampire-Clans
In Immortal Realms, we can choose from three different vampire clans. Here are the bloodlines of the bloodthirsty Dracul, the ancient Nosfernus, and the mystical Moroia.
The vampire clans differ in their leaders and units, in addition, there are special clan-dependent game mechanics, which can be unlocked over time using a kind of skill tree.
.
► Gameplay – Cards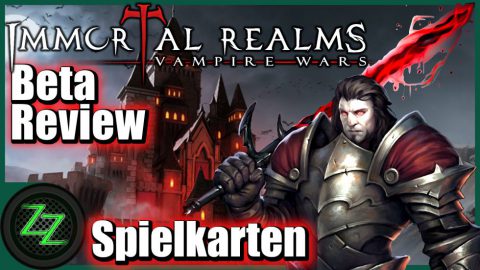 In addition, there are numerous game cards that we can find, purchase, and get as rewards for winning battles. These cards can be used both on the Kingdom map and in battle. Some are consumed on use, others can be reused after a cool-down.
There are many different cards here and every vampire clan has its own unique set of cards. Thus each vampire clan brings quite different tactical elements into the game.
The cards related to the units can also be improved with the unit's level up. Here you have the choice to convert single cards into three different improved variants. This allows you to customize your deck a little bit more.
► Gameplay – Worldmap or Kingdom Map
In the so-called kingdom mode, you look from above at a map that is divided into many small parcels. The individual fields of the map have different characteristics, so there are villages, castles, cemeteries, cult places, blacksmiths, and many other types of special fields.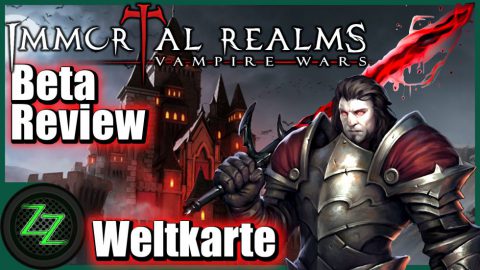 Some fields we conquer by moving our troops onto the field and claiming it, others belong to a certain fortress or settlement, which we must conquer first. Each area we conquer can bring certain benefits, such as renewable resources to create new units, new playing cards, or new equipment.
In this kingdom mode, we build our empire. Some settlements or fortresses can also be expanded. This requires blood points and action points, and some cards can reduce these costs.
This part of the game begins harmlessly but then becomes quite complex over time.
► Reading recommendation:
More Info about Immortal Realms
► Gameplay – The Combat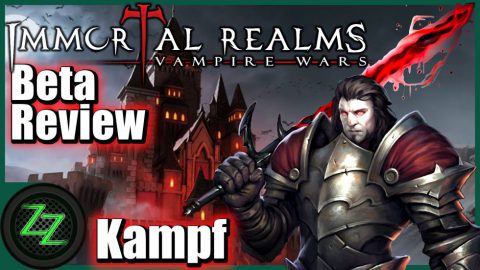 The actual battles are then executed on an extra turn-based battlefield. In this game element, Immortal Realms then resembles XCom or similar games. Also in combat mode the units can be expanded and improved by playing cards, enemies can be attacked or your own units can be protected.
On the battle map, there are numerous obstacles that can be used as protection or blockers. In addition, attack directions have a strong influence. So it makes a difference if you attack a unit from the front, from the side, or from behind.
In addition to positioning and attacking, the units can also exercise certain alternative abilities, depending on the unit type. Some units can heal themselves, others can strengthen their armor, and ranged fighters can focus on a specific ranged attack with increased range.
The combination of these game elements results in an interesting fight. The many different units and their unique features take a while to fully understand tactically. The approach should be according to developers, easy to learn, hard to master. And I think that this goal will be achieved as far as possible.
► Immortal Realms Screenshots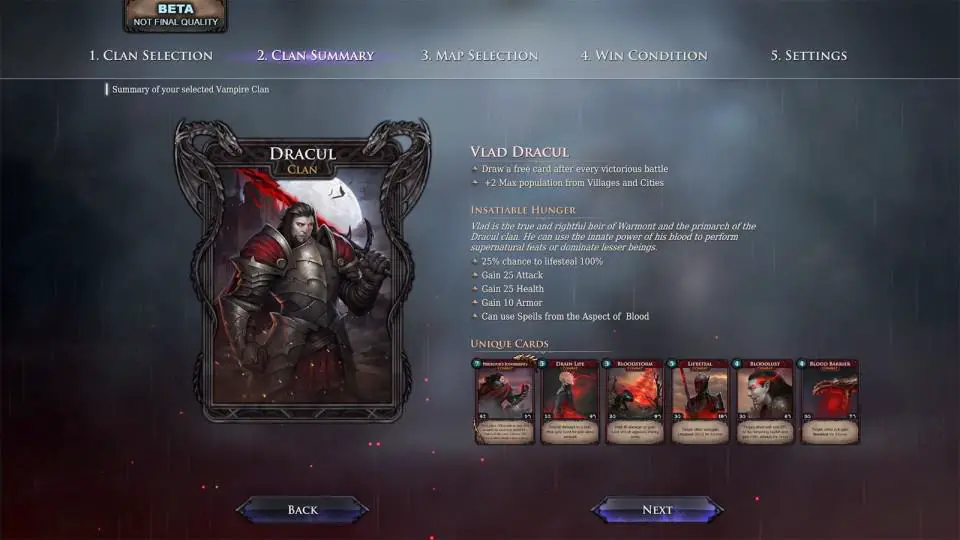 ► Technology, Graphics, Sound
Immortal Realms is developed with the Unity Engine. So there is a stable base here so that you don't have to expect too strong crashes and graphics problems. In the current beta version it never crashed for me and the performance is also fine.
Since it is a turn-based tactics game, no stunning graphical innovations are to be expected to come. The map and also the units in combat are drawn very stylishly and detailed and have the macabre touch necessary for a vampire game.
The map can be rotated freely, which provides a better overview on the one hand, but can also sometimes lead to a slight loss of orientation. Unfortunately, the zoom levels for the map are extremely limited, here I would wish for more zoom in both directions.
The game is properly set to music. So far only the English voice output is available in the game, but it already has very suitable voices, in my opinion. I still consider the fighting sounds to be a weak point, it would be desirable to have more and better fighting sounds.
The music is atmospheric and appropriately dark. The soundtrack of the fights is appropriate, but not outstanding.
► Campaign, Skirmish, Multiplayer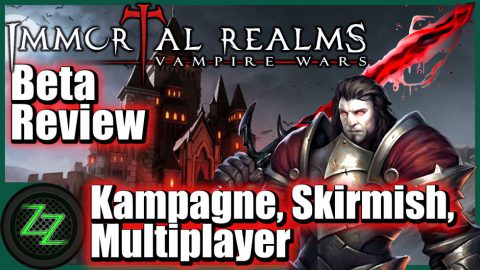 Immortal Realms offers a separate campaign for each of the three vampire bloodlines. These are subdivided into individual acts. I couldn't finish the one available beta campaign of the Draculs yet, so I can't completely estimate the extent of the single-player experience in the campaign yet.
In addition, Immortal Realms also offers a sandbox and skirmish variant. In the sandbox, you can create a game according to your own specifications on one of several large maps.
In the Skirmish, you choose units for yourself and the opposing army and can then fight short battles. I didn't quite get the point of this game mode.
A multiplayer is not yet included in the game and also not planned, according to the Community Manager. In my opinion, the developer is wasting a lot of potentials, because especially in such a tactical game there would be a high replay value through multiplayer. There might be a little hope that it might come after the release, but I'm not too optimistic.
► Opinion and Conclusion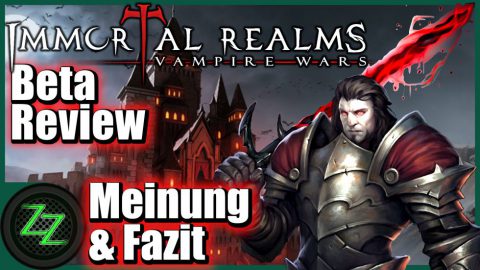 I like the calm and relaxed kind of tactical game behind the dark and macabre vampire setting. Immortal Realms is somehow a mixture of old Heroes of Might and Magic parts, XCom-style combat, and the playing cards add their own smart twist.
The course of the game already feels very smooth, but it's not too far until autumn. And then Kalypso wants to release the game finally. It remains to be seen how big the changes will be or whether the game will be released more or less in this form.
On the one hand, it is still a beta, on the other hand, you can buy it already. Therefore the rating is subject to the fact that you can't see the whole thing yet. There is already a lot to see what the game will look like afterward, but the scope, for example, is not yet fully evaluable.
There are a few minor problems, such as the names of the savegames, which are all so generic that you don't know exactly which savegame is that when you load them, but that will surely be fixed. So I won't include these little problems.
The fights are strategically good in my eyes but could be graphically better presented. It's a bit too peaceful on the battlefield, both for the eyes and for the ears.
The totally limited zoom is in my opinion a more fundamental problem, on the one hand, it prevents you from really diving in, on the other hand, you don't get enough overview in many situations and have to scroll around a lot.
The battleground maps are atmospherically drawn but don't offer any great surprises. In the end, it all comes down to being a kind of chessboard where some squares are blocked. And this is represented in some different graphic settings.
Beyond that, there are no real wow moments on the battlefield. Some enemy units are something special at first appearance, but that will wear off rapidly. Here, the game could use even more depth.
The missing multiplayer will limit the game. Without a co-op or a competitive multiplayer variant you will probably play through the campaign, and maybe 1-2 sandbox games. But due to the lack of multiplayer, you won't be motivated to get the game out again after months or years without paying for more DLCs.
And the Skirmish mode… well, it's not entirely clear to me why this mode exists at all. Here a fraction of the whole game is broken out of the game and displayed as a new game feature, but that alone seems pretty flat and boring to me. Especially since this fighting part isn't the strongest part of the game anyway. I dare to doubt that this is often used by players.
Okay, apart from this complaining, Immortal Realms Vampire Wars is a very good approach for a turn-based tactics game. The card part has its pros and cons because it's partly random what cards you get, which pushes back the tactics a bit. On the other hand, this randomness requires adjustments to the events, and that has its appeal. Basically, there are some interesting tactical possibilities hidden in the maps.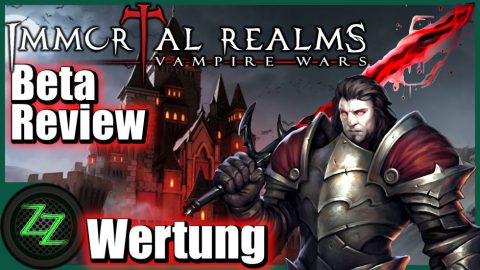 The upgrade system for heroes, cities, and areas is not extremely extensive, but I'm quite interested in it. You have to think about where to spend your points, there are many possibilities, and not all of them are helpful at all times. The Kingdom part does have its strategic moments, but I have the feeling that there could have been more.
Nevertheless, I am looking forward to the upcoming release and the full campaign. And then I am curious about what this new game franchise will have to offer in the future.
► Immortal Realms Rating
Immortal Realms Vampire War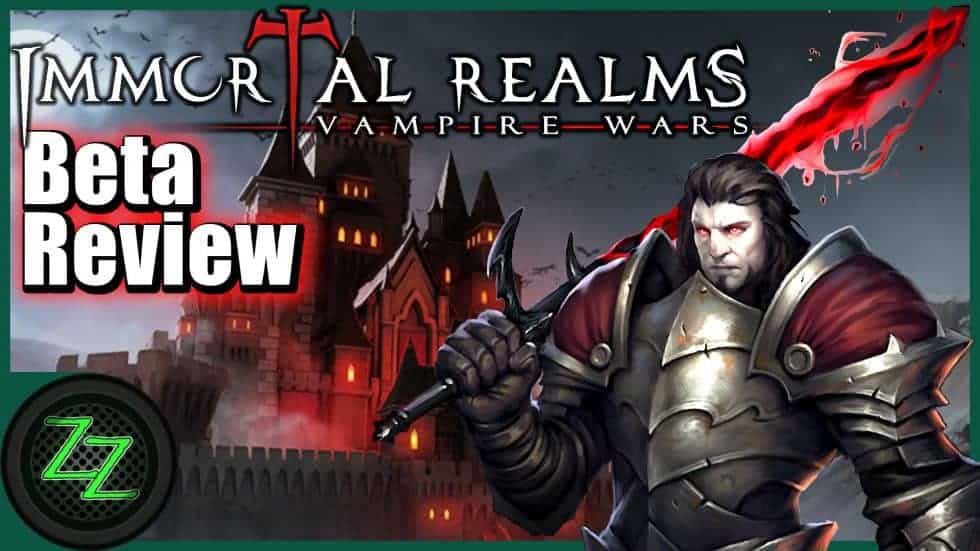 Immortal Realms Empire Wars Test and Beta (p)Review
Immortal Realms Vampire War Preview (English) – What's in the tactical bloodsucker turn-based war game?
Immortal Realms: Vampire Wars is a tactical strategy game with turn-based battles in a vampire setting. The new strategy game is released for PC (Steam), PS4, XBox, Nintendo Switch. It offers a very special mix with bloodsuckers & medieval bloodthirsty style. In this article, I would like to show you what the game is about, how it is played, when it is released, and what you can expect from it.
Immortal Realms Rating
If you look at everything in context, Immortal Realms deserves a good, stable 80% rating. At least if one assumes that the three campaigns will probably offer at least 20-25 hours of game time and the price of 38,99 € for the full version will be rather in the midfield. But I would like to deduct 5% for the missing multiplayer.
And I hope that the game will be polished until release. In the current state, there is still another 3% deduction for wasted potential and a bit flat ambiance in combat, a few blunders in handling like zoom or savegames. But I am confident that at least these last points will be cleared up until release.
For very convinced fans of vampires and Dark Fantasy, you can probably add another 5% on top, because this niche is not often served with strategy games.
All in all, the bottom line is 80% minus 5% minus 3%, and in the end, the result is a 72% rating. And for vampire lovers, the corresponding figure is 77%.
► Outro
How do you like the vampire strategy game so far? Please write to me in the comments if this game type could be something for you and if you liked the game itself. Also, feel free to write me feedback on my videos.
Then I wish you a great day, let it be well with you, ciao ciao, your Zap.
► Links and sources:
Publisher Info Page: https://www.kalypsomedia.com/eu/1003/immortal-realms-vampire-wars/ps4/download-version

Dev Webpage: http://www.palindromeinteractive.com/
Announcement Trailer: https://youtu.be/Dp_4aCMOr30
Steam Page: https://store.steampowered.com/app/1024480/Immortal_Realms_Vampire_Wars/
Buy Immortal Realms Steamkey at Gamesplanet for less and save money:
https://de.gamesplanet.com/game/immortal-realms-vampire-wars-steam-key–4170-1?ref=zapzockt (Affiliate Link)
► Reading recommendation:
More Info about Immortal Realms