The Cycle Review (Alpha Test) Is the upcoming Free2Play Shooter worthwhile?
Zap Zockt The Cycle Review English (Alpha) – Yager's new multiplayer shooter The Cycle is in the Open Alpha Test at the Epic Store. I have tested the game for you and collected all the info and here is my opinion about the Sci-Fi Shooter.
The game is a 20 player map based Lootshooter. In a 20 minute round, 20 players compete to see who survives in the end and has collected the most resources. This gets in the way of a monster, but you can also form a squad with up to 4 players and collect and fight in the team.
German Version:
This post exists as a blog post, but also as a video on YouTube (German Voiceover, subtitles in many different languages) and as a podcast (German only), so you can choose how you like to consume it most.
► Video:
(German Voiceover, subtitles in many different languages)
The Cycle Review – Intro
Moin Moin, here is the Zap, welcome to review article. In this episode, I introduce "The Cycle". The game is in an Open Alpha test. The Cycle is available at Epic Games for PC, Playstation and XBox and everyone can try it for free, I did that and want to share my first impression with you.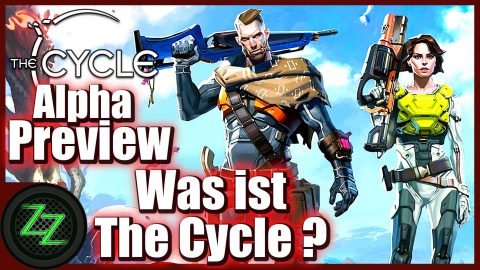 What is The Cycle? Genre, game type and features
The Cycle is a match-based shooter that lets you land on a planet as a lone warrior or in teams of up to 4 players. But a total of 20 players land on the map at the same time. The planet has a kind of energy field that revolves around the planet in a 20-minute rhythm, so you have to call the evacuation ship and use it to escape alive. On the planet it's about collecting ores and other resources, defending yourself against the monsters and the other players there and trying to get as many resources as possible in 20 minutes without dying. In the end, you have to escape from the planet alive and if possible be better in the final rating than the other survivors.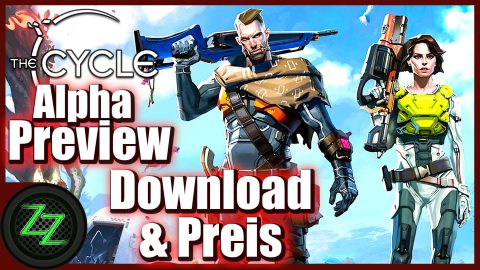 Where can I get The Cycle and what does it cost?
The Cycle is currently available for free at Epicstore and is still in alpha testing. It is probably also designed as Free2Play in the long run and has a shop where you can buy start-up packages despite the early development stage. However, these packages currently only contain skins and emote as well as item shop currency, with which you can buy more cosmetic items.
So at least currently there is no Pay2Win included in the game. The Cycle is developed by Yager Development from Berlin, who has so far attracted attention with the dark war shooter Spec Ops The Line and Dreadnought, a science fiction fighter flight simulator.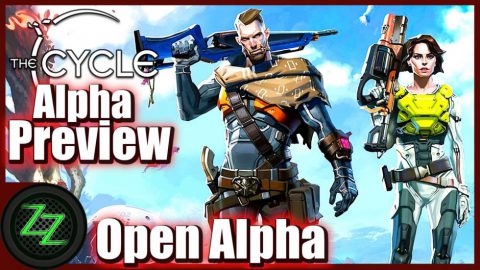 Open Alpha Development
Yager goes an unusual way, they want to develop the game together with the community and collect and implement feedback on the current version as early as possible, but also consider players' ideas. For this, there are Open Development Weekends, where everyone can simply look into the game and give feedback.
Because it is an unfinished alpha version there are bugs, unfinished game features, and the game can change in the course of the next months also still strongly. You should take this into account, and maybe check it out more often if you like the game principle. And since the game costs nothing so directly, you have nothing to lose.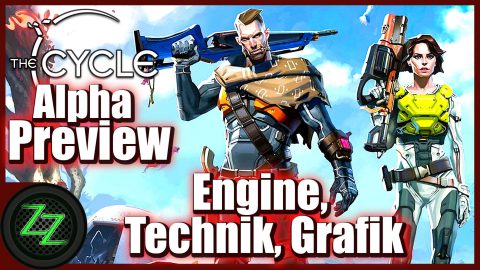 The Cycle Review: Engine, Technology, Graphics
The game is based on the Unreal Engine 4 and offers the usual good graphics quality and usable performance even on mid-range PCs. In my short test, it ran, rather unexpectedly for an Alpha, quite stable and without strong jerkers. But The Cycle had to struggle with massive pop-ins on some grass and bush objects that were sometimes visible and sometimes invisible, depending on how you stood. Flying mushrooms and grass models show that the design of the map is anything but finished.
The gunplay looked good and fluid in the short test. But the monsters didn't behave very believable in battle. They simply spawned somewhere, or jumped out of the ground and then marched straight towards the ore extractor until they noticed the character, then they just ran towards the character or spat at it with their slime. This way you could avoid the figure relatively well by running sideways and easily defeat the opponents.
But only if the random spawn didn't happen directly behind or even in the middle of your character. Then you got damage very quickly without really being able to dodge it. There's still a lot of work to be done on the spawn system and on the opponent's AI, which seemed very unfinished to me now. But there's probably a reason why the developers are writing alpha versions of the game.
Reading Recommendation:
More Reviews by ZapZockt.de could you find here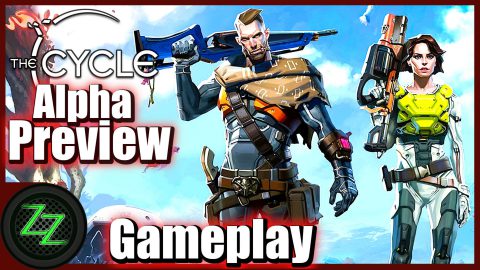 How do you play The Cycle? The Gameplay
First of all, you either register as a lone fighter or as a squad for a game. Then the matchmaking starts, which seems to take some time at the moment. You always need 20 players to start a match.
It doesn't start till then, so we have to wait until the 20 people have been found. Meanwhile, you can do exercises to pass the time, but this won't be so exciting in the long run. In the night I waited about 5 minutes until the game finally started. And even on a Saturday afternoon, I had to wait 3-4 minutes until it went down to the planet. And at some game starts, I kept trying and was kicked out of the match with 17 out of 20 people and the waiting time started all over again.
If you can then start a match, you will be sent to the planet with a capsule. The map is always the same at least at the moment, the starting location is determined randomly. Once you have arrived at the bottom, you can get out and start collecting resources for the contracts. Contracts are so to speak small collecting quests, for which you have to collect a certain amount of ores, mushrooms or other things.
So you put extractors on ore deposits or collect mushrooms, take bases and almost everything you do attracts monsters as well as other players. You can now ask these players to join a squad at a distance if you don't have a full group of 4 people, or you can shoot at them, which isn't a good idea if you don't already have good weapons and a team.
A match in The Cycle takes 20 minutes because the rotation of the planet causes the area to be covered by some kind of energy storm that you can't survive. So the game is set in a fixed schedule.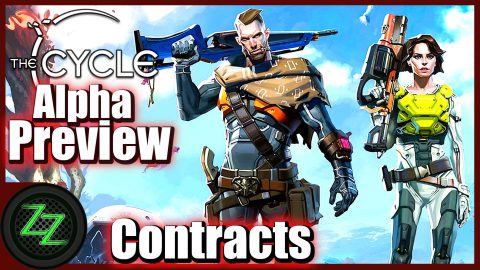 The Cycle – Contracts
The game offers small mini quests called Contracts. Every contract, just like every dead opponent, gives you money or resources as a reward. For the money, you can have new weapons beamed to the planet or collect them to upgrade weapons later in the main menu with other found materials, unlock new weapons, etc..
These contracts seem to be for the most part pure collection tasks, which let you obtain a certain amount of ores, mushrooms or other resources. Once you've collected that amount, you'll directly get a " collect more of it " task. Then there's another hard mission, where you have to conquer and hold a laser drill for example, this goes more in the direction of King of the Hill or similar shooter ways of playing.
At least, at first sight, this seems to be not very imaginative and not very interesting. But for a competitive multiplayer shooter, this might even be enough. But I think more variety and interesting little stories in this area wouldn't hurt the game.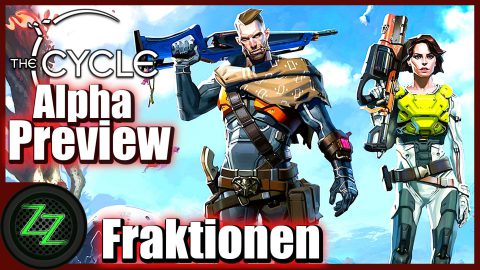 The Cycle – The factions
There are also already factions in the game, these have different orientations. At the beginning of a match you decide for which of the factions you want to fight, and then you get to experience with that faction.
As the level increases, the factions then unlock different equipment. Korolev Heavy Industries, for example, tends to give heavy weapons and thick but slow armor, while Osiris, on the contrary, tends to give speed and evasiveness and the Independent Civilian Advisory pursues a balanced approach.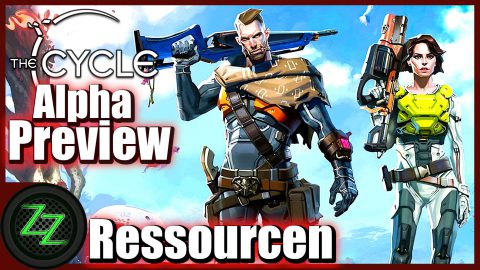 The Cycle Review – gather resources
When traveling on the planet, you collect money and all kinds of resources, which you can use for crafting. There are 18 different materials to find and some of them are very rare. Sometimes you can find finished items on the surface and certain materials can only be found in the buildings that are being fought for.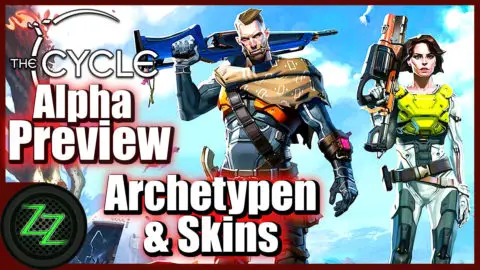 The Cycle – Archetypes and Skins, Emotes, Costumes
The game currently offers 5 different archetypes that you can customize. As far as I could see, these characters only differed in appearance. The game offers a lot of skins, emotes and costumes to finance the game.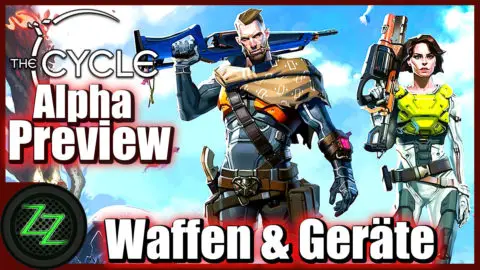 Weapons and equipment (kits)
At this early stage of the game, there are already almost 30 different weapons to unlock that vary greatly. In addition, each weapon can be improved with four mod slots, so that you should be able to adapt your arsenal to your own playing style over time.
Es gibt auch Zubehör wie einen Revitalisierer, mit dem man seine Squadmitglieder heilen kann, einen Richtscanner, der Ressourcen und andere Spieler aufdecken kann und einen Teleporter, mit dem man einen Rückrufpunkt definieren kann, so dass man sich schnell aus brenzligen Lagen entfernen kann.
Additionally, there are the so-called kits, where you can buy improved double-jump possibilities and improved dodging, thicker shields or an improved jetpack. Since you can only select one of these kits at launch, there's probably some tactical depth hidden here as well.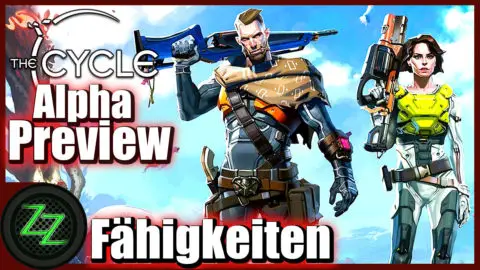 The Cycle – Skills
You can also unlock a selection of currently 6 abilities via the ranks of the factions. There are orbital attacks, traps, healing fields, guns, warp fields, and radar. But since there are only four ability slots available, which are also used for remedies and grenades, you have to choose which things to equip and which not.
So the abilities bring further tactical considerations into play and an approach of individualization of the way of playing. If you play in a fixed squad, you can probably coordinate your equipment a little and act more skilfully as a team.
The Cycle Alpha Review – first impression, conclusion and opinion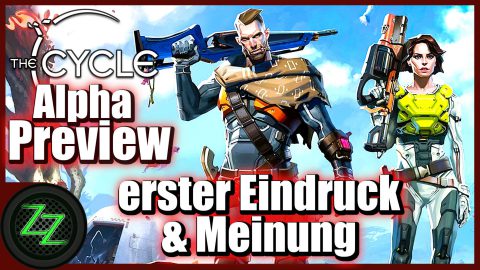 The Cycle looks pretty but looks very reminiscent of No Mans Sky. An alien planet with strange color combinations, lots of shimmering spores, mushrooms, strange monsters. Also, the collecting of resources roughly reminds of the game of Hello Games.
But as it comes to combat, The Cycle turns into a competitive multiplayer shooter, and the time pressure of the 20-minute matches creates a completely different fighting experience.
Dropping on the planet at a random location brings back memories of the typical Battle Royale titles like Fortnite, and there is also quite a large part of this game mechanics included in The Cycle. By improving the weapons overtime over multiple matches and gaining reputation with the factions, the "everyone starts from scratch" that is typical for Battle Royale games is no longer applicable.
I think The Cycle offers an interesting mix for shooter fans, through the Squad System it also has a strong co-op component. Here you have the possibility to build up a powerful team with your friends, which contains characters adjusted to each other. So at the moment, I don't know how good the game will be for single-player players in the long run, even though it's very easy to interact with other players directly in the match.
For pure PvE players, however, The Cycle is absolutely nothing, at least to the present extent. Even if there is the possibility that all 20 players will not shoot at each other during the whole match, but only collect resources competing to win, there is no way to be untouchable and there are no non-PvP matches at least for the moment. And the possibility to shoot at each other is simply not rejectable for most players.
In my opinion, Yager is pursuing an interesting new approach with The Cycle, as a mixture of collector game, loot shooter and team shooter. I am curious to see how it will develop in the coming months. For an Alpha, the game is already running unexpectedly well. And due to the current Free2Play approach without the Pay2Win component, it certainly has some potential to find a bigger player base.
What do you think of The Cycle? Have you already played it or are you planning to download it for free? Let's discuss together in the comments
Oh well, and if you play any games at Epic Games and are asked for a Creator Tag, I would be very happy if you enter "ZapZockt" there, doing so you will support my work and I thank you for it very much. Then I wish you a great day, have a good time, ciao ciao, your Zap.
Links and Sources:
Download the Cycle here for free
The Cycle Website:
https://thecycle.game/
Dev Twitter
https://twitter.com/YAGERdev
DEV Facebook Page
https://www.facebook.com/yager.de