How to download your own YouTube videos – YouTube Tips 2020
This post is also available in:

Deutsch
Sometimes you want to download or store your own videos on YouTube, for example to save them, edit them or use parts of them for new videos. So how to download your own YouTube Video?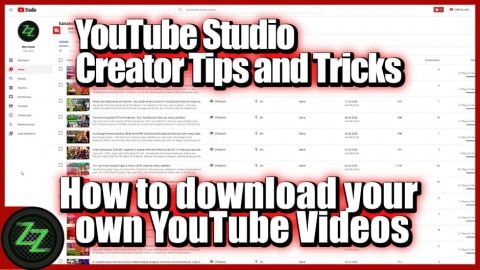 There are some cases where it makes sense to want to download your own video from YouTube. For example, a live streamer might want to edit his stream, either to shorten the YouTube live stream or to have this stream as a file that can be edited and enhanced to upload it again later. I'll show you how to download your own YouTube Videos easily.
German Version:
Table of Contents – YouTube Creator Studio tips and tricks – download your own video
Even if you run a high risk that the channel will be deleted because you might have gotten copyright strikes and you don't know if the channel will exist for a long time, you can download your own YouTube videos, save them on your hard disk and upload them later on another channel.
It is also good to know how to edit your own videos and livestreams, for example if you want to cut out highlights or download your own YouTube video for a BestOf and edit several videos together.
Read recommendation – More YouTube tips and tricks:
Many more YouTube tips and tricks for Creator can be found here at ZapZockt.de
More questions about YouTube?
If you have more questions about YouTube, or would like other tips and tricks for YouTube, write me below and I'll try to help you.
Download your own YouTube videos – How to do it – Step by step
Step by step guide to download your own videos from YouTube (on Desktop PC):
► First of all you have to be logged in to your YouTube account of course
► then go to the YouTube studio
► Click on the "Video" list on the left hand side of the screen
► Find the video you want to download in the list
► Then move the mouse over the video in the list to display the context menu for this video. This should look like this:


► Now click on the three dots to open the context menu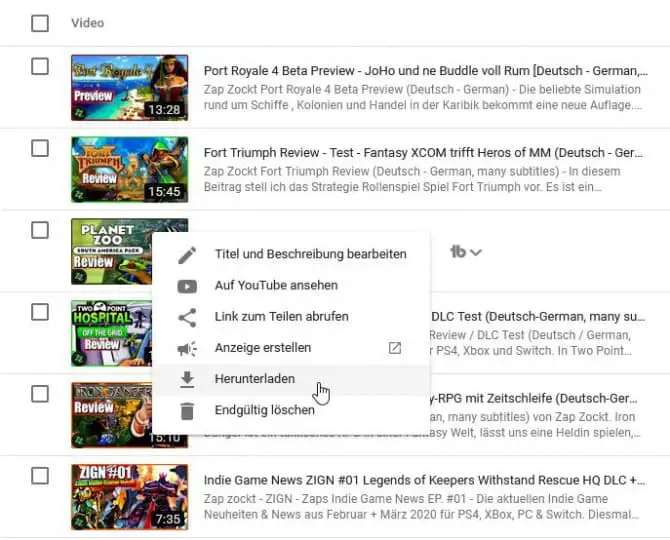 And now you can download, save, edit, revise, modify or whatever you want to do with your YouTube video.
Social Media:
This post is also available in:

Deutsch