The YouTube channel Zap Zockt now has more than 7500 subscribers
Hi there, lovely people, dear viewers, readers and accidentally-once-in-a-while-visitors,
Thank you!
It has been a while since I've had a news item on the channel or site. Today the number of subscribers of the ZapZockt YouTube channel has grown to more than 7500 subscribers. Of course I'm very happy about that and I want to say a big "thank you" to all of you who are following me here and on YouTube, no matter if it's since a few days or since years. And if you haven't subscribed yet, maybe you like to have a click now?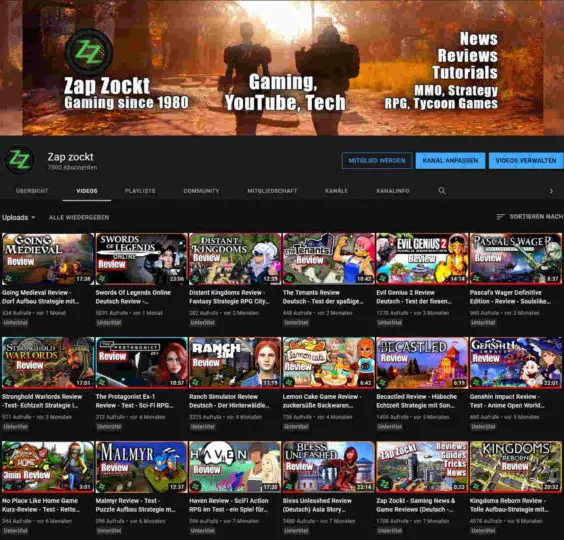 About 4 1/2 years ago the channel started with small quest and dungeon videos from ESO and a playthrough of Mass Effect Andromeda. And now it has become a library of more than 670 videos, which have already been viewed more than 1.25 million times in total.
Meanwhile, I don't know how many times I've been told YouTube Gaming is so crowded and actually dead, you can't become or grow anything with it. But I stay on it, and am also confident that even more of my goals, such as more than 10k YouTube subscribers and most importantly also many satisfied viewers and readers who like to come back, will be absolutely achievable. As interesting editorial content as possible and no more standard lame Let's Plays are the way I want to go. I'm excited, let's see where the journey will still lead.
I will keep on producing as good content as possible for you. And hopefully, you might check in from time to time, watch, read, listen and even give your opinion no matter whether on social media like Twitter, Facebook, Instagram, LinkedIn, or maybe even in the ZapZockt Community Discord.
Great to have you on, thanks :)
Have a great time,
Your Zap