With Praetorians HD Remaster another remake of a classic is coming up on 24.01.2020.

Praetorians HD Remaster offers real-time strategy in a Roman setting in a modern technical outfit. Kalypso Media provides, just like Commando's 2 HD Remaster, an old gem of the strategy genre with support for current operating systems, modern screen resolutions and improved textures. Praetorians was first released for PC in 2003.
German Version:
Also the technical basic structure was worked diligently. Textures on higher quality, support for modern graphics cards and high-resolution monitors and many other technical improvements. In addition, the game will be simultaneously implemented not only for the PC like its predecessor, but also for Playstation 4, Xbox One and Nintendo Switch. Linux players and Mac OS fans can also look forward to versions for their devices. Versions for mobile devices such as iOS and Android are also in the works.
Praetorians HD Remaster Release Date
The Praetorians HD Remaster release date is January 24, 2020 and then the remake will be available on Steam and all consoles. The price is with 18,99 € in the moderate range and now there is also a small discount for pre-orders directly on the publisher page.
Buy Praetorians HD Remaster cheaper
From the release day on, our partner site Gamesplanet also offers a small discount for the game, so you can buy Praetorians HD Remaster cheaper there. (Advertisement / Affiliate Link, for every purchase I get a small commission):
Buy Praetorians HD Remaster cheaper at Gamesplanet
Praetorians HD Remaster Gameplay – How does it play?
In Praetorians we play ourselves from the small leader of a troop through more than 20 campaign missions to the throne of the emperor of the Roman Empire. We command the troops in battle, explore the surroundings and use the terrain to our advantage. All units have special abilities, such as the scout who can send out his falcon to explore the surrounding area.
It starts with small skirmishes and ends in big battles with hundreds of units, army camps, fortifications and big tactical decisions. Tactical formations play an important role in Praetorians, because the different abilities of the units can only be used effectively with the correct positioning of bow guns, lance carriers and other units.
My first impressions
In my first personal warm-up sessions, I quickly developed the feeling of a Roman troop moving through enemy territory, always having to proceed carefully and well planned. Exploration and terrain really play a big role. For example, a single squad of archers on a mountain with a steep cliff can defeat half an army if they have to run around the mountain to find their way up. And if there are also some melee units blocking their way up, it is possible to defeat a much larger pack of enemies with only a few troops, simply by clever planning and positioning.
In Praetorians the feeling of old real time strategy classics like in the predecessor or also in Age of Empires or Age of Mythology came back quickly. Even though Praetorians doesn't focus so much on building up, but more on special troops, formations and terrain. Here Praetorians HD Remaster makes nothing different, as well as, because the gameplay is exactly like in the original game of 2003.
Read recommendation:
At the same time as Praetorian's HD Remaster, a new edition of the famous Commandos series is being released. With Commandos 2 HD Remaster, Kalypso Media also brings back this pearl of the Schleich strategy in World War II scenarios:
Read more about Commandos 2 HD Remaster here
More news, information, guides and tutorials from the areas of strategy, real-time strategy and economic simulations are always available here at ZapZockt.de
Praetorians Hd Remaster Trailer (Gamescom 2019):
The feature list of the Praetorians new edition reads very promising:
Features:
The first time for consoles
Revised in HD with adapted controls for consoles
Three different armies: Gauls, Egyptians and the Roman legions
Over 20 campaign missions in different locations in Egypt, Gallium and Italy
Unique abilities and formations for different units and characters
Take advantage of the different terrains when planning your battles
Fast-paced action: Where every decision counts, a calm mind is needed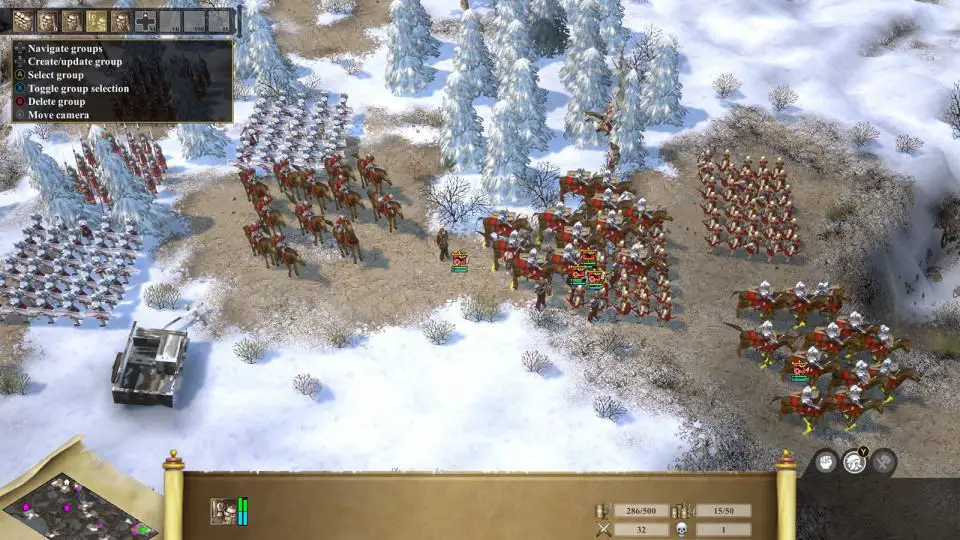 Kalypso Media Product Introduction
Experience the acclaimed real-time strategy classic Praetorians new in high definition.

Praetorians is set amidst the political intricacies of the emerging Roman Empire. Return to the dusty battlefields of Egypt, the battlefields of Gaul, and finally to the heart of the Empire itself, Italy, and command massive campaigns until you rise to become Emperor.

Your task will not be easy, as the Empire is defended by a variety of different troops and war machines, all of which have special abilities and individual strengths. Your path to emperor depends on your strategy! You must learn to combine your units and take advantage of the enemy's weaknesses. But the closer you get to the Emperor, the harder it will be, as you will have to face his personal guard, the Empire's most powerful and deadly force – the Praetorian Guard!

Praetorians HD Remaster Kalypso Media Product Introduction
Commandos 2 and Praetorians HD Remaster Doublepack:
More information about the Commandos 2 and Praetorian HD Remaster versions is also available directly from the publisher in this video:
Read recommendation:
At the same time as Praetorian's HD Remaster, a new edition of the famous Commandos series is being released. With Commandos 2 HD Remaster, Kalypso Media also brings back this pearl of the Schleich strategy in World War II scenarios:
Read more about Commandos 2 HD Remaster here
More news, information, guides and tutorials from the areas of strategy, real-time strategy and economic simulations are always available here at ZapZockt.de
Links:
Steampage:
https://store.steampowered.com/app/1100420/Praetorians__HD_Remaster/
Publisher Info-Page:
https://www.kalypsomedia.com/de/996/praetorians-hd-remaster/pc/steam-version
Buy Praetorians HD Remaster cheaper
From the release day on, our partner site Gamesplanet also offers a small discount for the game, so you can buy Praetorians HD Remaster cheaper there. (Advertisement / Affiliate Link, for every purchase I get a small commission):