Valve announces that all games in the Half Life series are free to play until the Half Life Alyx release in March
Developer Valve has switched the entire Half Life series to free in the Steam Shop. This is, of course, promotion for the soon to be released Half Life Alyx, which is announced for March. An exact Half Life Alyx release date is not yet known. But at least there is now Half Life free for everyone.
German Version: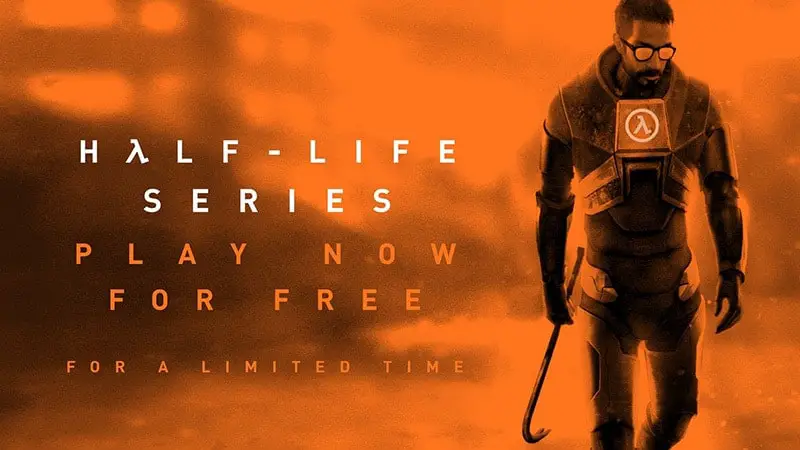 Official Half Life Alyx Event on Steam
There is already an event announcement on Steam that gives more details about this Half Life Free promotion. Among other things it says:
Half-Life: Alyx is coming in March, and we are celebrating early by making all games in the Half-Life Collection FREE to play for Steam users, from now until the day it launches!

Half-Life: Alyx is set before the events of Half-Life 2 and the episodes, but the games share characters and story elements. The Half-Life: Alyx team believes that the best way to enjoy the new game is to play through the old ones, especially Half-Life 2 and the episodes, so we want to make that as easy as possible.

From now until Half-Life: Alyx launches, visit the game page of each Half-Life game to install it and play as much as you want, right up until the day Half-Life: Alyx is released!

If you already have Steam installed, you can click the following links to start playing now!

Valve's Half Life Alyx Event Ankündigung – Half Life free to play Event

Download and play Half Life for free
The games are still offered for sale. But under each title is now a "Play" button, with which you can download the respective Half Life for free and then play it for free until the Half Life Alyx release. These now free playable Half Life titles are listed below and also linked directly to the respective Steam Shop pages where you can start the download with the "Play" button.
Read recommendation:
The latest game news, gaming news, and game reviews and stories about gambling are always here at ZapZockt.de
Half Life – one of the most famous game series ever
Half Life is a veteran of the FPS 3D shooter genre. The stories around Gordon Freeman are enormously popular and well loved. Many people have been waiting for a continuation of the series for many years, for a Half Life 3. With Half Life Alyx comes in March at least a VR adaptation, which will probably be a spin-off of the main series.
With the event taking place now, you can enjoy Half Life completely free of charge and watch the story of Gordon Freeman and his fight against the invasion of an alien race as a whole.
Half Life Alyx:
Half Life Alyx will be released on Steam in March, an exact Half Life Alyx release date has not yet been announced. Half Life Alyx will be a VR title, taking the series to a new, more modern level.
Half Life Alyx takes place before the story of Half Life 2, where you play Alyx Vance, who fights against the Combine Aliens together with her father Eli. It is the continuation of the game series that has been dormant since 2007 with the release of Half Life: Episode Two.
Half Life Alyx Trailer
Half Life Alyx is not Half Life 3
Many players have long wished and sometimes vehemently demanded a continuation of the story, but so far Valve has remained silent. This led to the fact that "Half Life 3 is coming soon" became a kind of standing idiom in player circles. A placeholder for unfulfilled player wishes and developers who don't care about their game IP.
With Half Life Alyx the series is now being expanded, but there will be no Half Life 3 here either. It will be a spin-off, a story in the same world, but with different characters, different locations and different storylines. Maybe Half Life Alyx will surprise us and still offer more points of connection than generally expected. But I wouldn't put too much hope in the title.
Half Life as PR for the weak VR equipment market
Sales of VR equipment are stagnating, and although the quality is increasing and prices are tending to fall, the market for VR equipment has remained more of a niche market. It remains to be seen if the concept of combining the popular Half Life series with the somewhat weakened VR technology will work out to breathe more life into this market.
With the Valve Index Valve develops and sells very high-quality eyewear for virtual reality applications and games. Also in the Steam Shop, a lot of effort has been made for several years to bring the VR market further forward. But so far with rather little success. If you look at the Steam statistics for VR headsets, the numbers of Steam players with VR headset are even decreasing rather than increasing:


For many players, the space in the apartment needed for proper VR is a problem. To enjoy the game in the right three-dimensional space, you need at least a free area of 3×3 meters, better 5×5. And in most apartments, there is simply no space for such a playing surface. Even the additional equipment in which you stand as a Player on mechanical platforms, which allow you to walk on the spot, has neither gained acceptance nor is it affordable in any way. And VR in a sitting position is only the beginning of the real VR.
Apart from that, wearing glasses in the home, which you may share with your husband/wife, children, family or other roommates and pets, is quite a blocker. Because under the glasses and with headphones you cannot see your surroundings, you do not notice when other people are in the apartment, etc. Even sitting on the couch with your glasses next to your roommates could easily lead to rising divorce rates and unintentionally thrown away glasses.
Thus VR is a great technical experience, is wonderfully suitable for trade fairs and demonstrations, but in private use, it is only suitable for very few. If you own a large house, there is certainly the possibility to set up your own VR room, but only very few people can afford it.
Whether the Half Life free event will change anything about the bad market situation of VR products on the gamer market is doubtful. But some people will certainly be inspired to buy new VR glasses for Half Life Alyx.
VR Headsets Examples
If you are interested in Half Life Alyx and would like to purchase a VR headset, here are a few examples of established devices:
(#ADS – Affiliate Links / For every purchase I get a small commission without changing the price for you)
Oculus Quest All-in-one VR Gaming Headset