All information about Cyberpunk 2077, like Cyberpunk release date, map, vehicles, character creation, multiplayer, modding and more
Everything I know so far about the upcoming action roleplaying game hit Cyberpunk 2077, information and details about the Cyberpunk 2077 release date and the different versions, where you can pre-order it and what else you should know about CD Project RED's new Cyberpunk roleplaying game.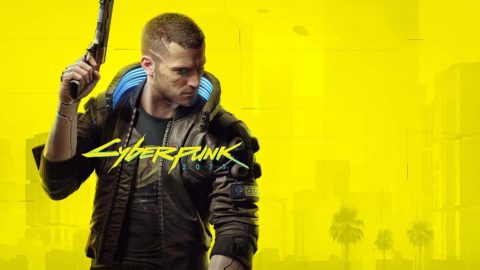 German Version:
Note:
This article is "work-in-progress", it will be extended continuously and will be expanded with more information, details, rumors, and everything interesting about Cyberpunk 2077 until the release. A German version of this Cyberpunk 2077 Info-Page can be found above.
For interested readers I would like to collect some background information in this article, who is behind the game, which story serves as a basis, what you can expect technically and in terms of content and much more. So this will be a little longer and with the time I will surely extend it several times.
With this article, I don't claim to be 100% accurate, but of course, I try very hard to research details and backgrounds. In many places, I have indicated sources so that one can check and deepen my information if necessary. If you have more information or want to correct the mistakes, I would be happy to hear from you in the comments below (no registration required).
For the very impatient, the most important information first:
Cyberpunk 2077 Release Date (new):
Cyberpunk 2077 will be released on September 17th, 2020 for PC (Steam, Epic Store, GOG.com), Playstation 4 (PS4), Xbox One, Google Stadia. This Date is quite fixed if CRPR is not going to shift the release again ;).
At first, Cyberpunk 2077 was announced to be released at April 16th, 2020, but this release date was moved to the new Cyberpunk 2077 Release in September 2020. I have high hopes, that this will make the game only better, although we have to wait 5 months longer.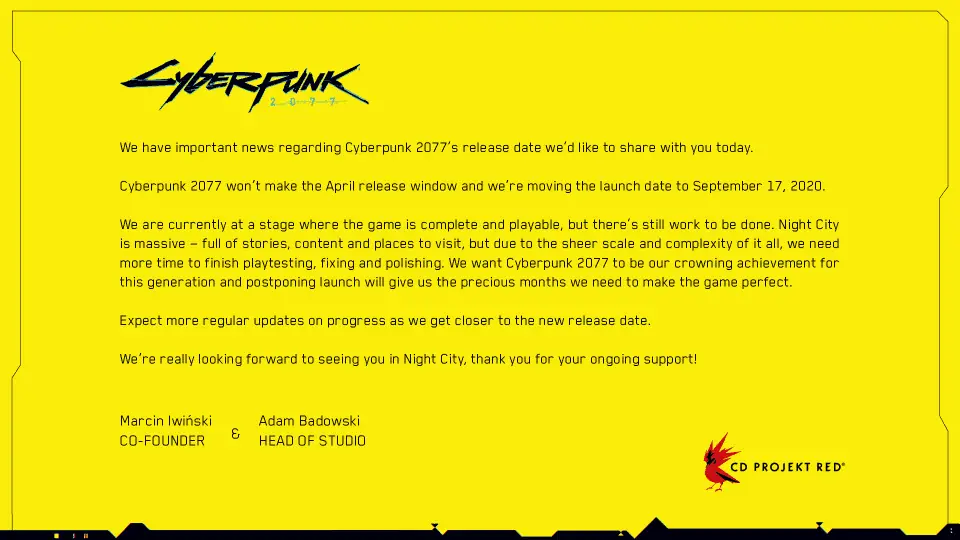 Buy Cyberpunk 2077
Cyberpunk 2077 can be pre-ordered at the Epic Games Store, among other places, and for 59.99 € you can get the game on release day as well as the soundtracks, an art booklet with a selection of artwork from the game, a "Cyberpunk 2020" source collection, and wallpapers for desktop and mobile devices. You can buy this via the following affiliate link, I would get a small commission for each purchase and you would support my work, thanks in advance for that if you do.
Preorder Cyberpunk 2077 at Epic Games Store
(Advertisement / Affiliate Link)
History & Background: Developer CD Project RED
CD Project RED is known for the games of the "The Witcher" series, which have gained additional popularity through the new Netflix series The Witcher. While The Witcher parts 1 and 2 were still relatively small, The Witcher 3 – The Wild Hunt really went through the roof.
Hardly any other game has won so many fans in the role-playing area and has been able to captivate for such a long time. The game rose to the same level as Bethesda Softworks' The Elder Scrolls V: Skyrim and in terms of player numbers on Steam, The Witcher 3 might have passed it by. But I can only assume that, since I don't have any more exact numbers, and Skyrim has been available for a lot longer and was released by Bethesda and publisher Zenimax Media in many variations and on all platforms.
CD Project RED is originally a purely Polish company, but in the meantime, it operates worldwide and as far as we know, there are more than 500 employees from all over the world working for the popular software forge. CD Project RED emerged from a Polish software pirate group before the fall of the Soviet Union, which then gradually became a real game development company by localizing international titles for the Polish market.
Little by little everything became more professional and after localization of, for example, Baldur's Gate for BioWare, CD Project Red eventually licensed Bioware's Infinity Engine and built their first own game "The Witcher 1", based on the novel by Andrzej Sapkowski. There is an extremely interesting documentary about the creation of CD Project RED from the YouTube channel NoClip, which I can only warmly recommend:
Background 2: The cyberpunk genre
Cyberpunk is a science fiction style that is especially based on books by Phillip K. Dick with the novel "Do Androids Dream of Electric Sheep?" (1968), which was the basis for the enormously popular dystopian android movie Bladerunner and was later expanded by very strong influences from William Gibson (Neuromancer Trilogy, 1984). Of course, there are many other authors who have written in this field, but I think these two were the "inventors" of the Cyberpunk art genre, on which the tabletop roleplaying game (Pen&Paper, PnP) series "Cyberpunk 2020" was later built, which in turn formed the basis for the upcoming computer roleplaying game "Cyberpunk 2077" by CD Project RED, which is what this is actually about.
Most cyberpunk stories are about the merging of man and computer, the demise of the individual states and their replacement by corporate-controlled government systems. Artificial intelligence, cyborg-like people improved with machine parts and a decline of democracy creates a dark, dystopian mix that takes place in a not too distant future.
Very often so-called runners play an important role in the stories. They are a kind of mercenaries who offer services for companies, gangs or other clients. Often it is about hacking in the so-called matrix, penetration into high-security systems of companies, search and/or kill orders or procurement tasks. Frequent stories also revolve around the problems of human-machine-hybrids and their loss of humanity, and digital cyber drugs (so-called Better Than Life – BTL chips) are treated quite often.
Background 3: Cyberpunk 2020 – table role-playing game (Pen & Paper)
Cyberpunk 2020 is a complex tabletop roleplaying book series based mainly on the work of Mike Pondsmith. Pondsmith has adapted the stories from William Gibson's Neuromancer into a tabletop game and created a world of its own, with precise rules, characters, background stories and all the details that go into a pen&paper role-playing game.
There are numerous publications by Pondsmith on this game series. The first books were published in English by R. Talsorian Games in 1988 and later in 1992 also in German. Meanwhile, there are also revised versions of the rule books and in Germany, some remainders of the books are distributed by Games In Verlag.
In Cyberpunk 2020, most of the stories take place in the fictional city of Night City, which is located in the rest of California. Also in the computer game adaptation Cyberpunk 2077, we will dive into exactly this city. In the Pen&Paper series the famous musician, Johnny Silverhand is also a sometimes appearing character, and this one will also play an important role in Cyberpunk 2077 (Keanu Reeves).
Cyberpunk 2077 Trailer
There is a lot of video material about Cyberpunk 2077, let's start with the trailers:
There is also already gameplay to marvel at:
Cyberpunk 2077 Gameplay Video – 48min Gameplay
Game details
From the trailers and the announcements, you can already extract a lot about the game or interpret it into it. Some things are already certain, some things are only presumed so far.
Considered safe:
Character and character creation:
The main character is named "V", as a player, you can define the appearance, gender and also the voice. CD Project Red has already pointed out that they will not set any fixed gender assignments, so you can also combine all the characteristics such as breasts, beards and sexy legs completely free in one character if you want to. This does not mean that you have to, of course, you can be completely male or female if you prefer.
Reading Recommendation:
More News about Games and Gaming? All interesting Gaming News here on Zapzockt.de/en/ in English
Minimum PC Specs / Hardware requirements
The exact hardware requirements for Cyberpunk 2077 are not yet known. There are some sites, that tell wrong information about the requirements. There was a demo demonstration where the hardware is known, so it will definitely run with that, but this hardware does exceed the minimum requirements:
Prozessor: Intel Core i7 8700K at 3.70GHz
Mainboard: Asus ROG Strix Z370-I Gaming
RAM: GSkill Ripjaws 5, 2x16GB 3000MHz CL15
Grafikkarte: Nvidia GeForce GTX 1080 Ti
Speicher: Samsung 960 Pro 512 GB M.2 PCIe
Netzteil: Corsair SF600 600W
The world of cyberpunk 2077:
Cyberpunk 2077 is set in Nightcity, the city is divided into 6 districts:
City Center: Shops and big companies, huge skyscrapers
Watson District: Asian-influenced, rather run-down buildings of former corporations, many Asian immigrants
Westbrook District: also called "Japantown", home of the city's rich elites
Heywood: the area of numerous gangs, strong Latino shares, but nevertheless rather one of the richer districts
Pacifica: The slums of Night City, lawless zone and home of the meanest gangs
Santo Domingo: industrial area
The size of the map of the city should be a little smaller from the base area compared to the "The Witcher 3" Map. But this is more than compensated by the strong three-dimensional construction. A lot of buildings in the city should be completely or at least partially accessible, so a skyscraper alone can offer more content than a single village in a traditional role-playing game.
It is to be assumed that it might also be possible to get into one of the space stations around the Earth or onto the Moon. Whether this will already be available in the main game or only with later DLCs is however unclear. But the corresponding contents were teased and also on the city map in one of the trailers you can already see the spaceport as a location.
The Music of Cyberpunk 2077
There is already a lot known about the game music, so numerous well-known bands will contribute titles to the game. The music of the band "Samurai", which includes Johnny Silverhand (Keanu Reeves) in the game, will be performed by the real band Refused and they have also created some titles just for the game, of which 2 are already known:
Vehicles in Cyberpunk 2077
In Cyberpunk 2077, similar to e.g. GTA V, you will be able to travel with many different vehicles. Cars, motorcycles, boats and at least in special missions also airplanes and helicopters. But there should not be generally available airplanes, the technical effort, if you could fly "everywhere", would be too big.
In any case, the developers have already said that with these vehicles you can explore the whole city seamlessly, without loading screens or cutscenes. In the gameplay trailer above you can already see vehicles and driving scenes.
Cyberpunk 2077 Multiplayer
Meanwhile, the developers have confirmed that they are working on a co-op multiplayer mode for Cyberpunk 2077. This mode will probably not be directly available for the release in September but will be delivered later. This is a very interesting thing, especially regarding the also planned modding and the big Pen&Paper universe behind the game. Because here modders could later add some kind of group adventure to the game, or maybe CD Project Red and Mike Pondsmith themselves will even offer modules that can be played together as a group. This is a very rumored topic, but this would certainly give the game an extremely large community and a very long life.
Cyberpunk 2077 Modding
This point is also confirmed, there will be modding tools for Cyberpunk 2077. I don't expect them to be released with the release, but rather a few months later, but already for Witcher 3 there were extremely good mods, and through the PnP stories there would surely be many new stories added to the game (see above at Multiplayer).