HD Remastered version of the legendary 2001 Commandos 2 – Men of Courage

Recently the Commandos 2 – HD Remastered BETA was launched. Publisher Kalypso Media presents with this revised version of the real time strategy 2nd World War classic Commandos 2 – Men of Courage from 2001 a new edition, which should be adapted to modern systems. The original game of 2001 was created by the developer Pyro Studios. This studio does not exist anymore, but Kalypso wants to transfer the most successful games of the former very popular studio into modern times. More information about Pyro Studios can be found here. Meanwhile Kalypso has even announced that they have founded a new studio to create a completely new, modern game for the Commandos series.
German Version of this article:
In addition to pure improvements of textures and objects, there will also be numerous other upgrades, such as an improved and modernized user interface, a completely revised tutorial and many other detail improvements.
The Commandos 2 HD Remaster BETA can be pre-ordered now, directly from publisher Kalypso Media. The game will cost 18,99 € for the release in January 2020, on which pre-orderers currently get an 11% discount. In the bundle with the also newly released Praetorians HD Remaster you can save even more, so that you will only pay 13 € per title. After the release in January 2020 Commandos 2 HD Remaster will be available at my partner site Gamesplanet (Affiliate Link).
Pre-orderers of the HD Remaster versions of Commandos 2 and Praetorians will immediately receive full access to the respective BETA version, which contains all game features and the complete campaigns. Praetorians also offers the multiplayer mode immediately.
Commandos 2 HD Remaster comes also for consoles, Linux, Mac and Mobile
In spring 2020 the revised version of Commandos 2 will also be available on the consoles. Optimized versions for Playstation 4 (PS4), Xbox One (X) and the Nintendo Switch are in the works. In addition, the title is being made available for Linux and Mac and also for Mobile devices working on Android and iOS.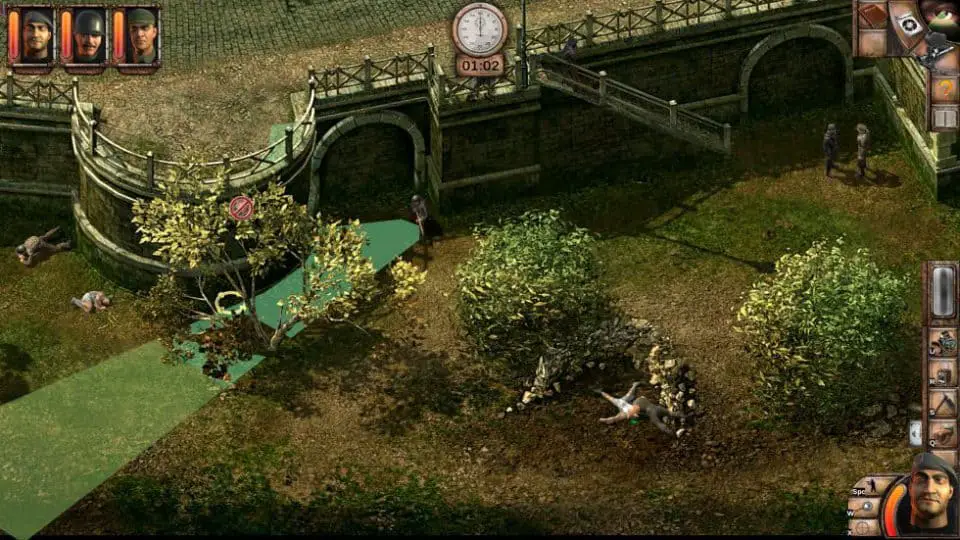 Commandos 2 HD Remaster – How do you play it?
In Commandos 2 HD Remaster – Men of Courage, players take control of a special unit of the US Army, which operates behind the enemy lines of the Axis powers in World War II to decimate the strength of the enemy troops with attacks, information gathering and sabotage. There are 9 different types of soldiers to choose from, all of them with special abilities. These abilities vary greatly from soldier to soldier. This results in special tactical decisions, which soldier is used when at which position.
Since the whole game works with lines of sight, and the enemies can very quickly become aware of us as a result, and can also raise the alarm, we have to proceed very carefully and planned. In rare cases there is also the possibility to storm, but almost always a quiet and hidden approach is the only working variant.
I played the game – First impressions of the Commandos 2 HD Remaster Beta
From my own gaming experience with the Remaster Beta, I have to say that the old feeling of the classic is already coming back. The graphics look very decent on my system with 1440p. Of course you shouldn't expect complete miracles here, but it's definitely nothing you want to look away from because it would be so pixelated. But very quickly you get that strategy feeling for which the series became so well known and loved. I had fun in the first missions right away.
But in my opinion, the revised control system and user interface has not yet completely arrived in modern times in its current form. Here the developer studio still has a lot to do before you can really feel like in a game of 2019/2020. Huge amounts of hotkeys are used and these are often chosen completely random and from my perspective it' s unnecessarily complex. I feel a bit too much reminded of the 1990s, in the not so good way.
Since this is a beta, there will probably be a lot more to do here. An InGame Feedback function also asks the players directly for feedback, so that the Developers can make improvements to the game before release. But I have my doubts if all of these problems can be solved before the release in the short beta period, which is not scheduled to be too long with the release in January. But we will be able to see more details in next month.
The list of planned features is long.
Commandos 2 HD Remastered Feature List:
Commandos 2 as HD Remaster: Graphically reinterpreted with reworked controls, modern user interface and overhauled tutorial.
In action: Fulfill your objectives by stealing enemy uniforms and weapons, climbing masts, swinging on cables, swimming, using vehicles or infiltrating buildings, ships and planes.
Nine Commandos: Among other things, they control a Green Beret, a sniper, an explosives expert, a thief, a seductress and even a dog.
Completely new 3D engine: Rotate the camera view 360 degrees, move seamlessly in/out of buildings, submarines, airplanes and underwater and infinitely variable zoom.
Innovative camera control: Simultaneous control over several game windows in real time.
Detailed World War II settings: Complete ten missions in nine different environments day and night with real weather effects.
Historic vehicles and weapons of the Second World War: Use jeeps, tanks, trucks, ships, bazookas and flamethrowers